Edition 2012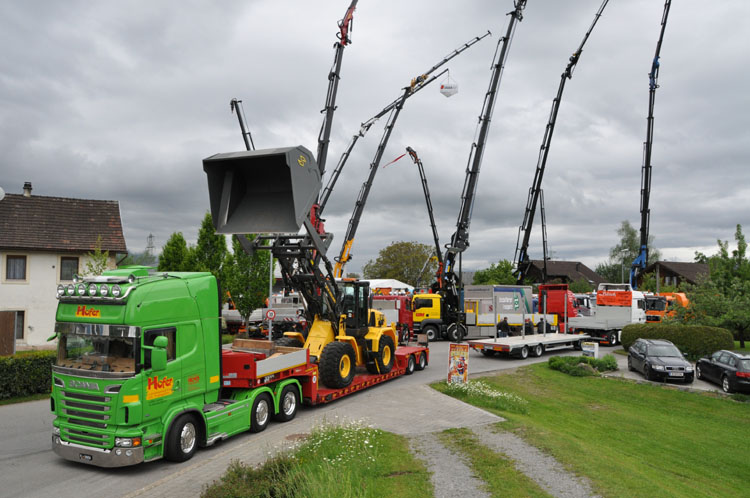 This year the transport faire was held again at the yard of Helmut Schertler from Wolfurt (A).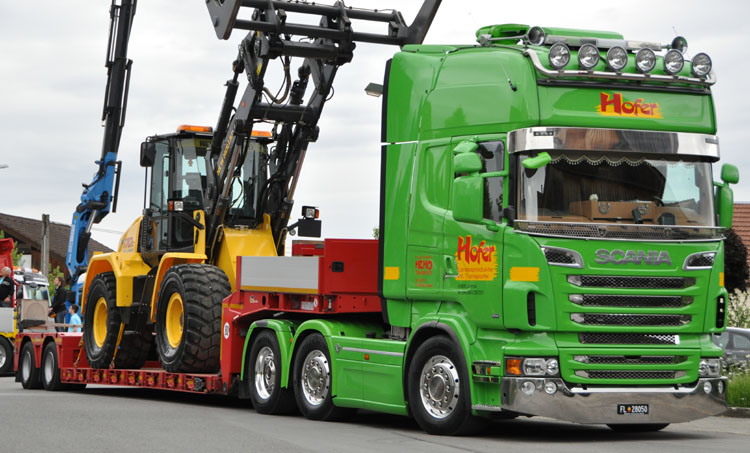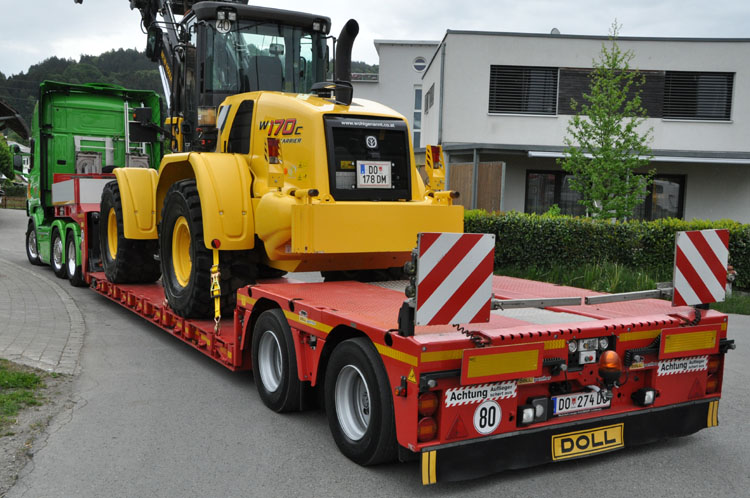 At the entrance stood this nice Scania R500 6x2 tractor of Heho from Liechtenstein. It's coupled to a 2-axled Doll Panter lowloader, loaded with a New Holland wheelloader.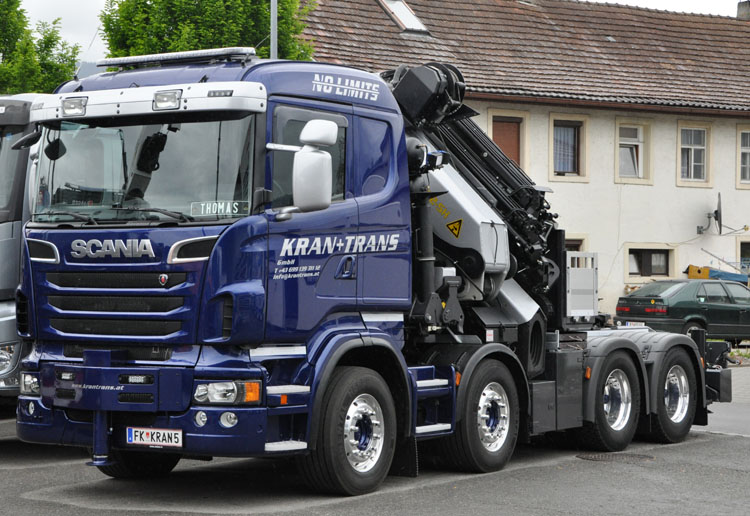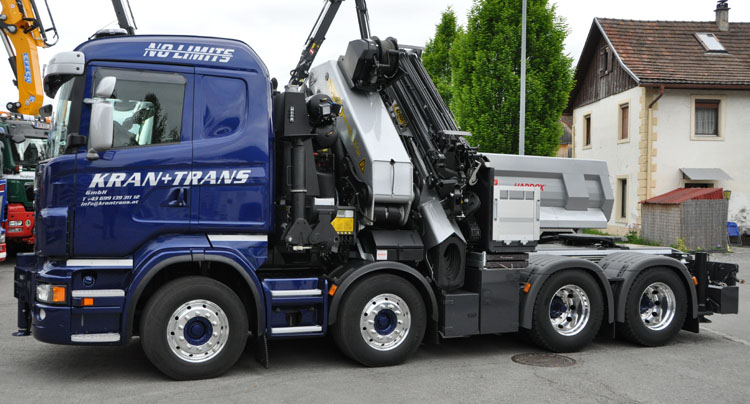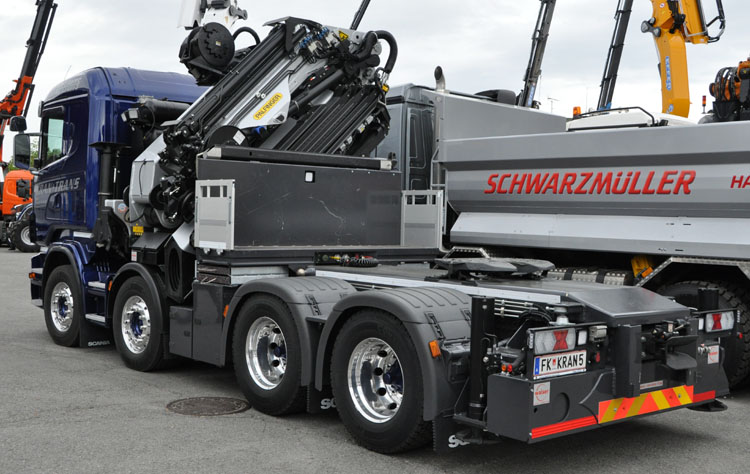 There where several trucks with Palfinger cranes, this is the new one of Kran + Trans. It's a Scania R560 in 8x4 layout and it is equiped with a Palfinger PK78002-SH crane. It's the F-version, the 7x extending unit that reaches about 18 meters far. The PJ125 jib makes that 31 meters. The headbord of a demountable flatbed stays on the truck, the flatbed is mounted onto the twistlocks. On top of the bord lies 1 manual extension. During the planning and construction of this truck, the company looked very closely at the overal heigt, that has reached the low value of 3,45 meters. That makes it also suitable for lower hallways and doors. The truck was built by Walser.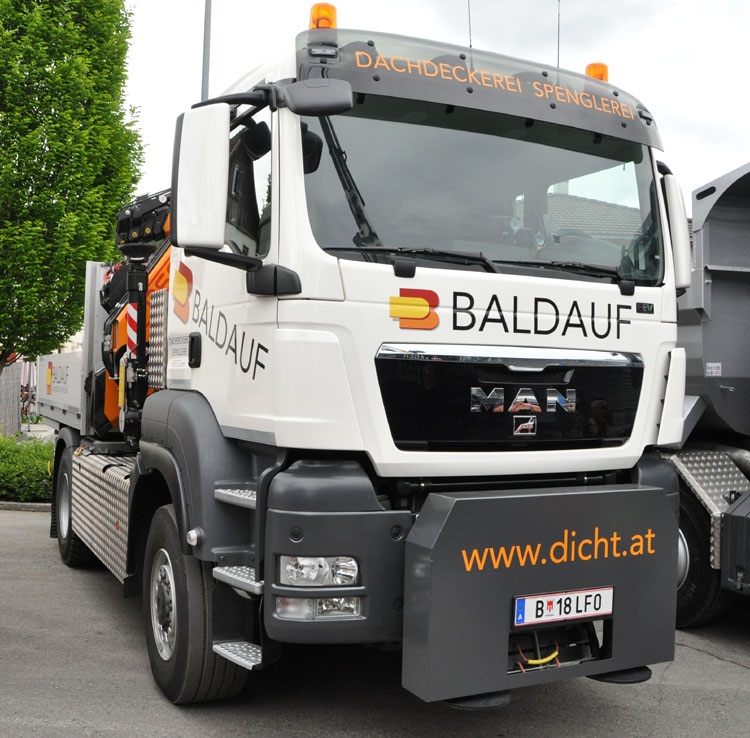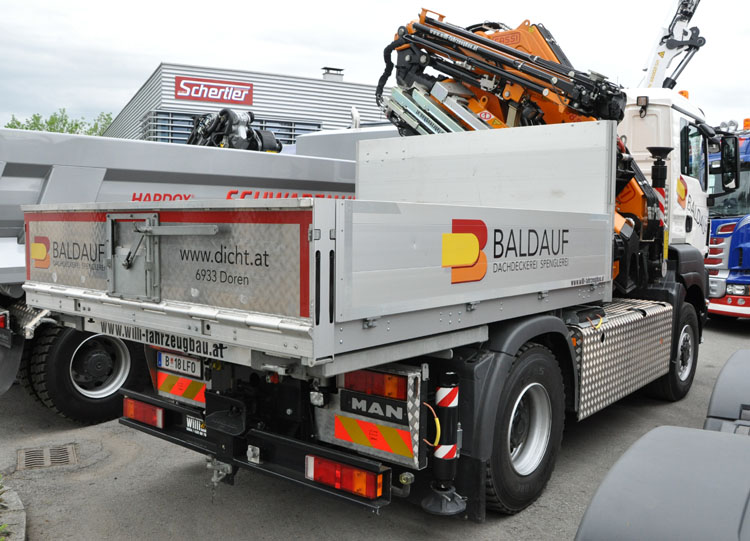 This compact truck is a nice crane truck of the roofinf company Baldauf. The MAN TGS 4x4 is equiped with a 6x extending Fassi F385 together with a 4x extending jib. With the heavy chassis reinforcements to the front, the crane can work in all directions. The flatbed can be taken of, there is a fifth wheel underneath it. The truck was built by Egon Willi Fahrzeugbau.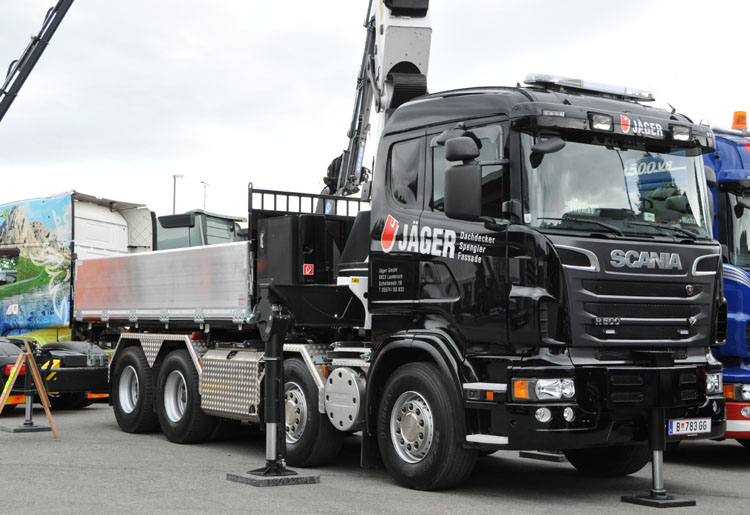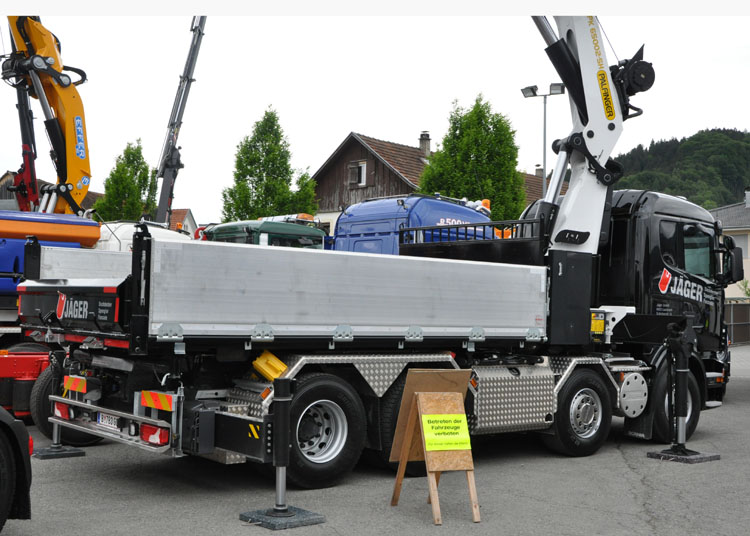 This nice truck also belongs to a roofing company, the company Jäger. It's a nice looking Scania R500 8x4 that is equiped with a Palfinger PK65002-SH in the 7x extending version, together with a 6x extending PJ125 jib. This one also reaches about 31 meters. Behind the crane they installed a 3-way tipper, a unusual configuration.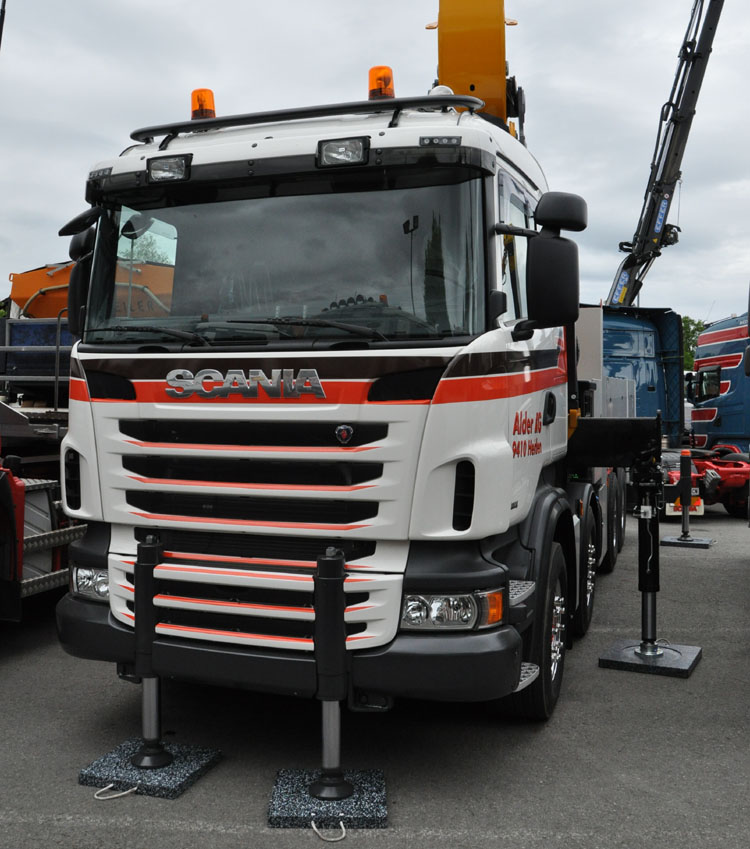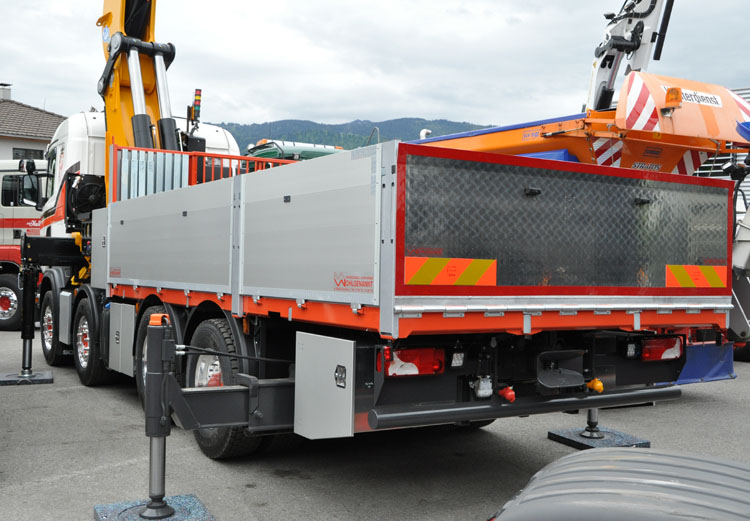 This is the new Scania of the swiss company Alder AG. The Scania is equiped with an Effer 955 crane in the 8S version (20,5 meter) and a 6S jib. That gives an outreach of 33,5 meter, with 2 manual extension it becomes 37,76 meters. The chassis to the front has been reinforced to the front so that the crane can work in all directions.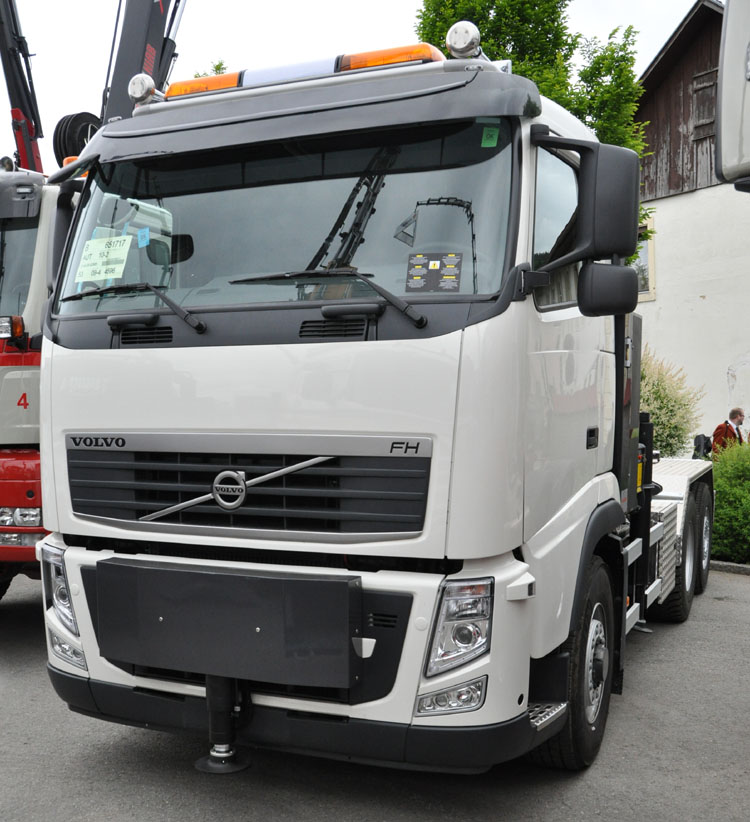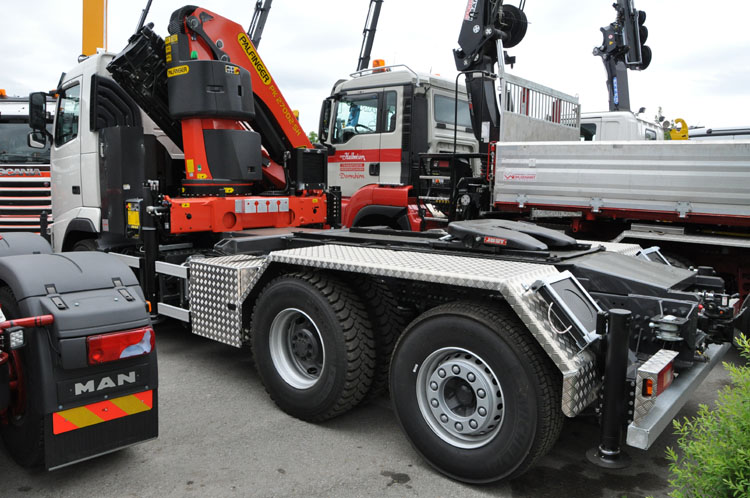 Not really heavy, but with an interesting chassis. This Palfinger PK27002-SH has been mounted on a Volvo FH with day cab and a hydraulically driven front axle, an option that is provided via Terberg Techniek.
Page 2 >>