The truck on this picture's collected the 50 ton Caterpillar demolition excavator which had been delivered by Westdijk's MAN 41.604. The tractor of this combination is a MAN 27.502, which means that this unit is equipped with the powerful 18 liter V10 engine. This engine produces 500 hp in this truck, but is nowadays available with 660 hp in the new TG-A.
Another feature of this tractor is it's torque converter. It's a ZF WSK-400 unit. The cooler of this converter isn't as big as that of a WSK-440 and is therefore not visible on the pictures. The cooler is mounted somewhere between the chassis. The torqueconverter gives the truck the ability to tow away such heavy loads without damaging the clutch.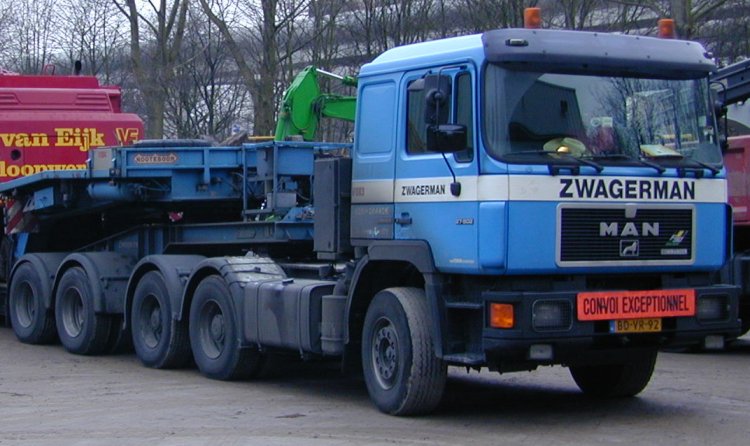 Owner of this truck is "Zwagerman". After being sold twice they now are part of the Westdijk group. This truck is still in the colors of the last owner, "Van Tunen". Van Tunen is a company that is active in the rental and leasing of equipment, but also acts as contractor at projects where they use there own equipment. They also, together with another firm, exploit a harbour  company.
The trailer is a Nooteboom unit and consist of a 2-axle Jeepdolly and a 5-axle lowloader. The Jeepdolly acts as a weight spreader so that the (only 3-axled) tractor isn't overloaded.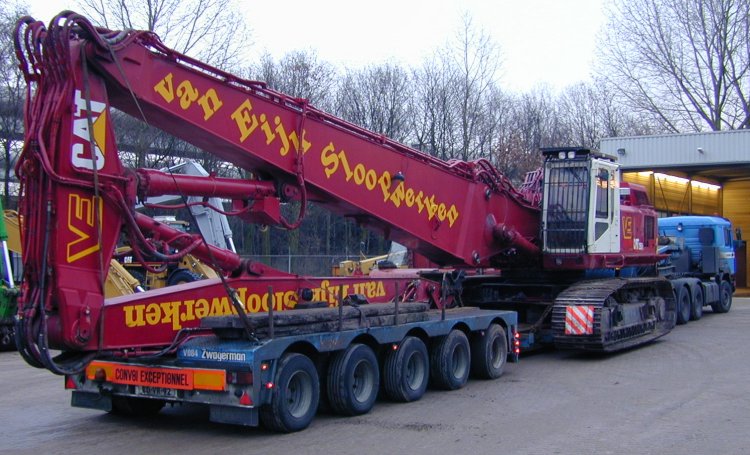 Here we have a good look at the load: a Caterpillar 350 L with demolition boom. This excavator has a boom with a total length (or height) of about 25 meters. It is used for the demolition of tall buildings. The cabin has been equipped with a guard and bullet-proof glass for falling bricks and concrete. The machine is loaded with its tracks hanging beside the lowloader. This has been done to keep the total transport height as low as possible. The boom has been layed in the "excavator-gutter" at the  back of the lowloader for the same reason. Also mark the belt that has been used to keep the hoses of the boom down!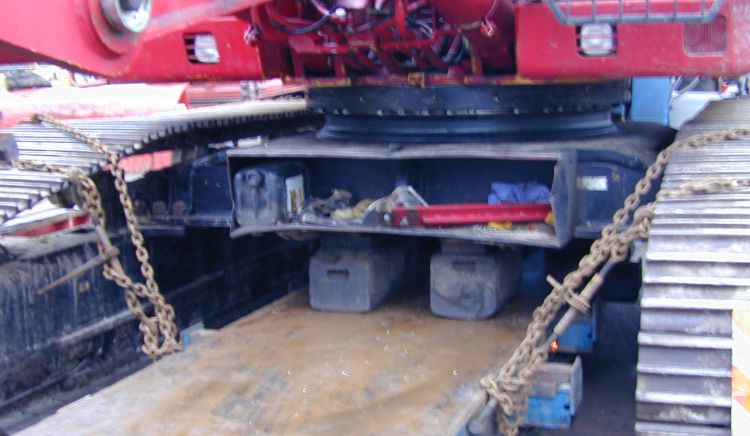 Here we see how the excavator stands on the lowloader. The machine stands on wooden blocks to compensate the distance between the undercarriage and the lowloader-floor.

Here we can clearly see the function of the Jeepdolly. The weight of the lowloader presses on the middle of the dolly, who distributes it on the dolly axles and the rear tandem of the tractor. The excavator is loaded backwards (as usual) and is placed far to the front, so the Jeepdolly is absolutely necessary here!
Back to the MAN index