The company Westdijk b.v. is the owner of this powerful M.A.N. 41.604. This tractor is equipped with the 600 hp version of M.A.N.'s 18 litre V10 engine, an engine which is very capable for this kind of transport. The tractor is combined with a Scheuerle 3-bed-5 module trailer. The load is a Caterpillar 350L with demolition boom.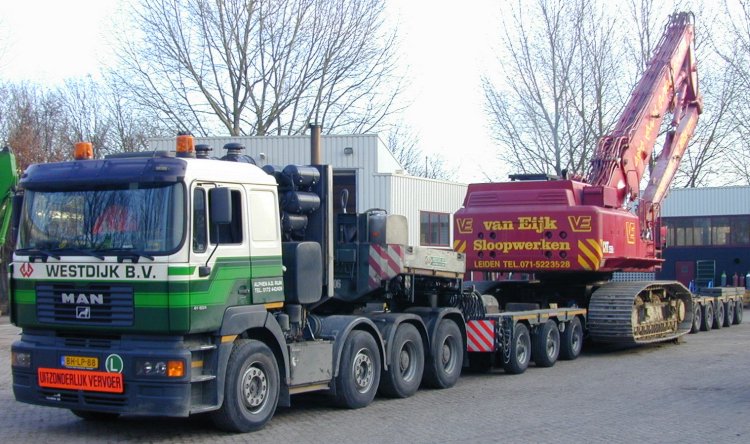 These tractors are being built by ÖAF from Vienna, a special division of M.A.N. They are specially designed for the heavy haulage sector. This 600 hp version is equipped with a ZF WSK-440 torque converter. Because of the high fuel consumption with these kind of loads, it has a extra dieseltank mounted on the goose-neck of the trailer. With these heavy transport combinations it is often impossible to get extra diesel on the road while most gasstations have a roofheight of only 4 meters.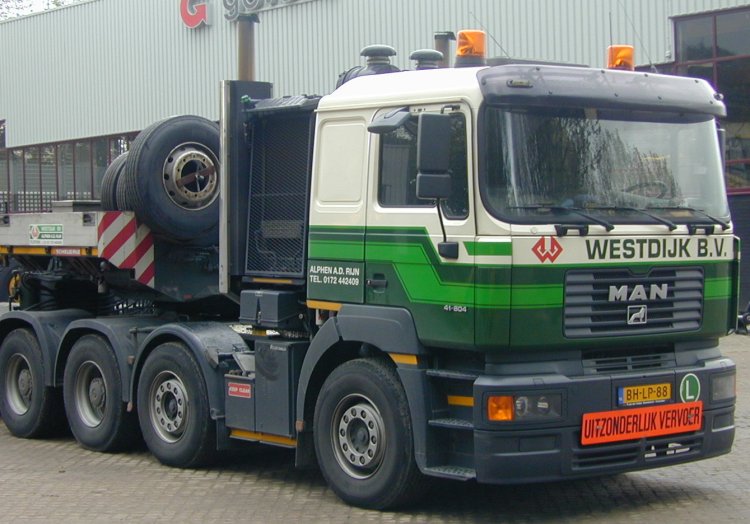 Behind the cab we see a big extra cooler. This cooler is a supplement to the standard engine cooling. The small cooler in front of the big one is meant for the hydraulics (for the trailer and cooling fan). The cooling fan is mounted behind the big cooler and is activated when needed. Above the chassis (behind the cab) there is another cooler which is meant to cool the torque converter and retarder. It looks like overkill, but it is absolutely necessary!! When, for example, the truck is manoeuvring and needs it's full engine power it doesn't have any drivewind on it's standard engine cooler. During manoeuvring the lock-up of the torque converter is also opened. Therefore the torque converter produces a lot of heat too!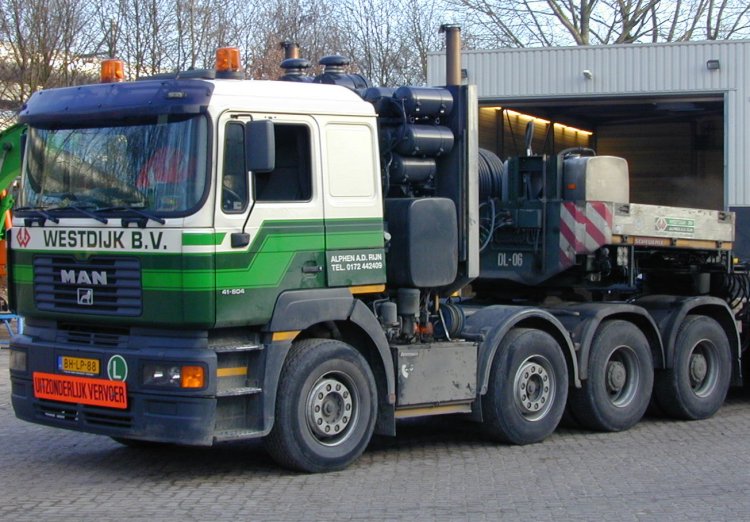 The dieseltank and the air barrels are mounted on the other side. The air filters are on top of this construction. Because of the lack of space between the wheels the truck is equipped with raised exhausts.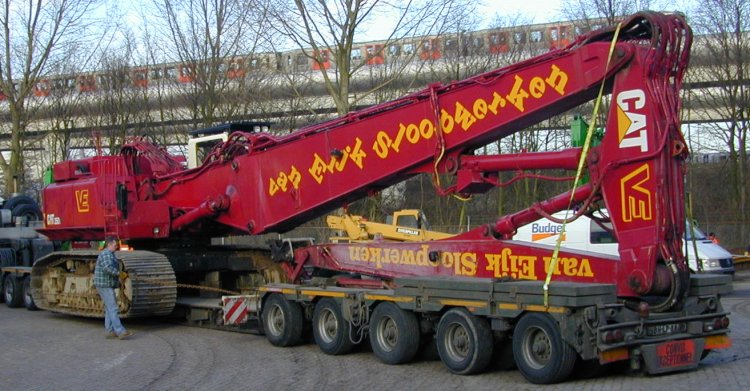 The load is a Caterpillar 350L excavator with demolition boom. Mark the belt that reduces the height of the hoses which are mounted on the boom. This prevents problems at fly-overs!!
Click here for pictures of the unloading
Back to the MAN index