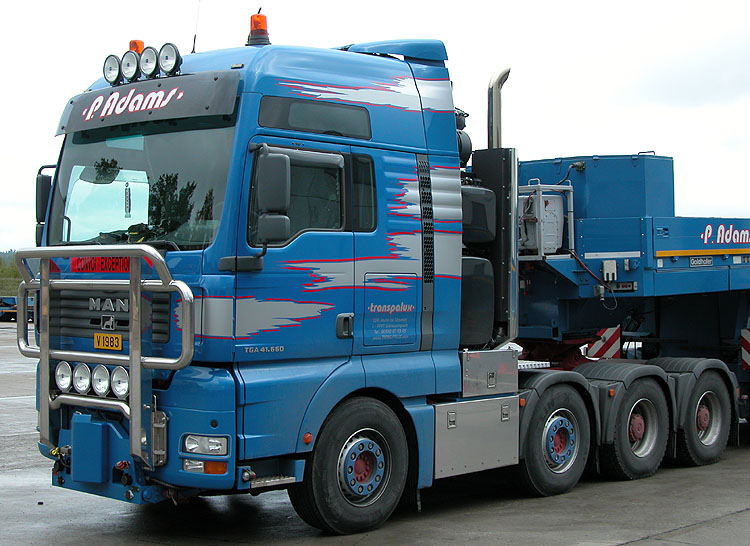 This MAN TGA 41.660 belongs to the company P. Adams from St. Vith in Belgium. It is one of the first four that where delivered, other went to Goll, Felbermayr and Kothmaier. This new heavy transport tractors are equiped with the well known 18 liter V10 engine that delivers 660 hp and 2700 Nm. The gearbox consist of WSK 440 torque converter combined with a Tipmatic (ZF AS-Tronic) with 12 gears.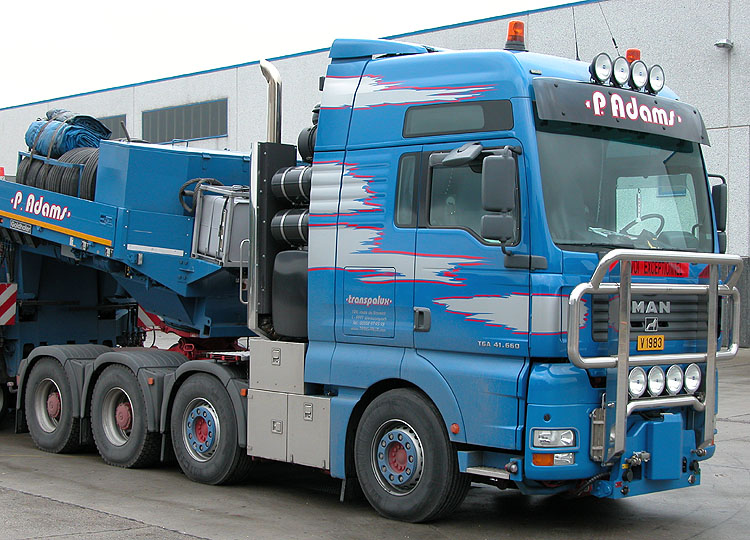 The TGA is, before it was taken into service, converted to the "Adams look". This means, a lot of chrome and rost-free steel parts and a very nice colour scheme. Also the bullbar, several spot-lights and several other nice details like storage cases and exhausts belong to this conversion.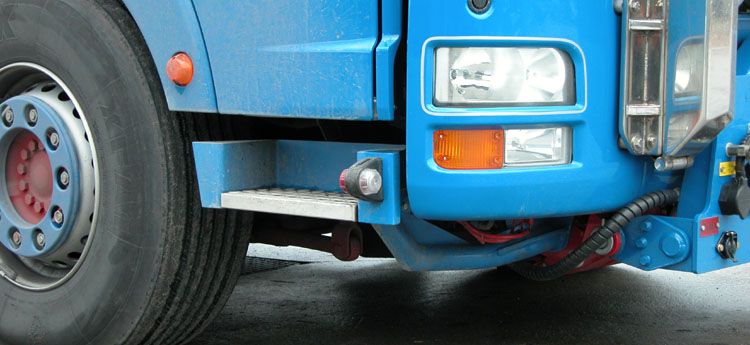 At this TGA the steps have been adjusted. Normaly this is only a steel tube with a plate. Here it has been nicely rebuild to a closed step.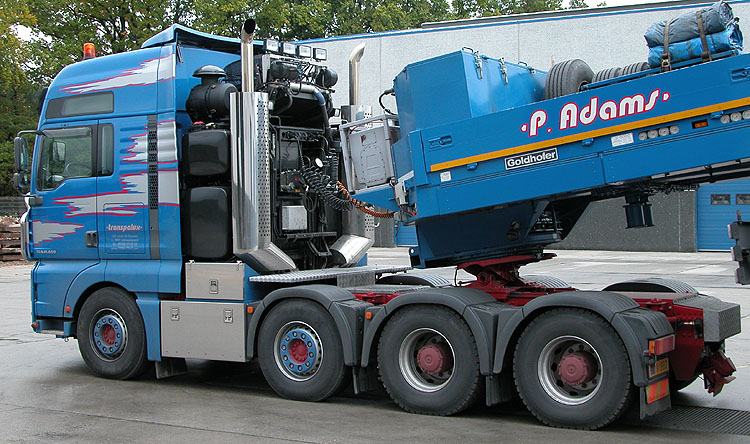 At the drivers side they mounted two storage cases on the place where normally the batteries are mounted. The heat-exchanger of the gearbox is hidden by a part of the lower case. At this side of the tower we see the dieseltank, oiltank, air filter and a shiny rost free exhaust. The tractor has cardanic fifth wheel, this means that it can rotate in 2 ways.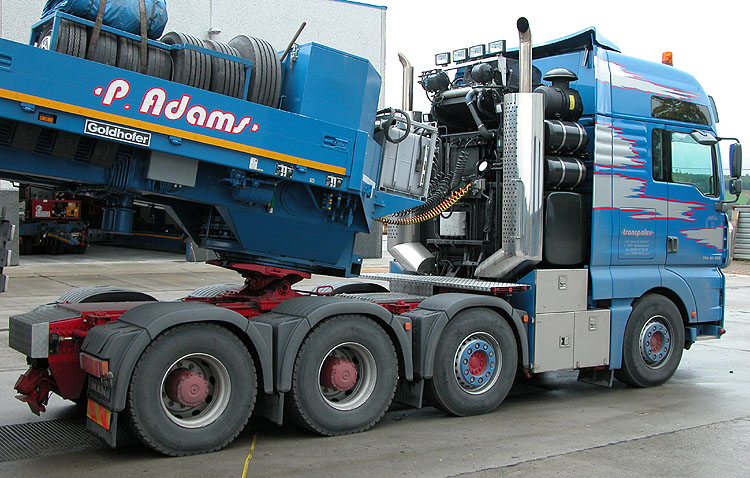 At the other side they also mounted several cases. Here we again see the dieseltank and several air barrels. At the top of the tower lays a large engine- and gearbox cooler. There they also mounted a rack with spot lights. At the back of the chassis we find a heavy drawbar trailer coupling. Twistlocks can be seen at the front and the back of the chassis. They can be used to mount a ballast box on.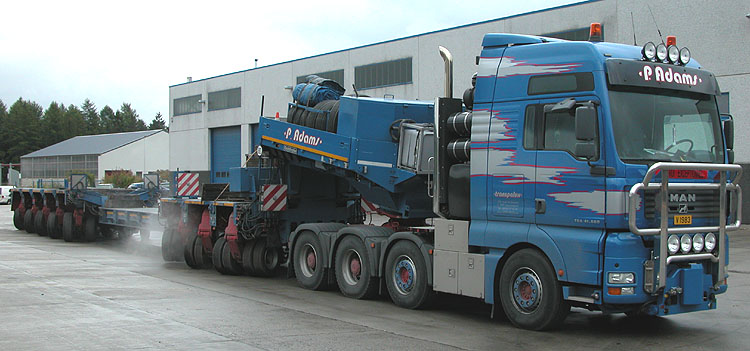 The MAN was coupled to a Goldhofer moduletrailer in a 3-bed-5 layout.
>> Update: 2 Pic's made on a sunny afternoon <<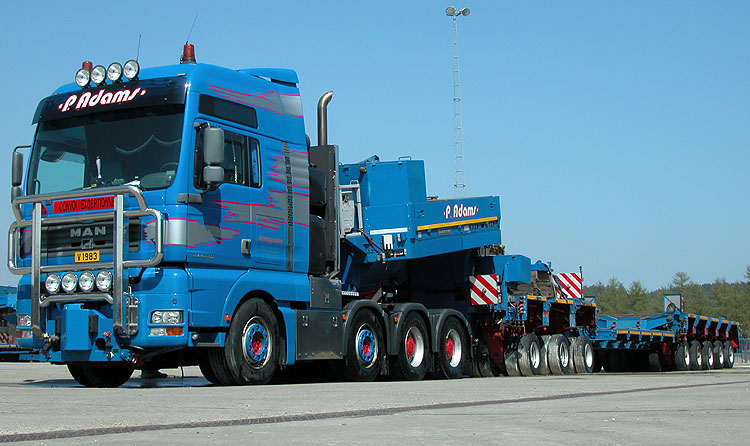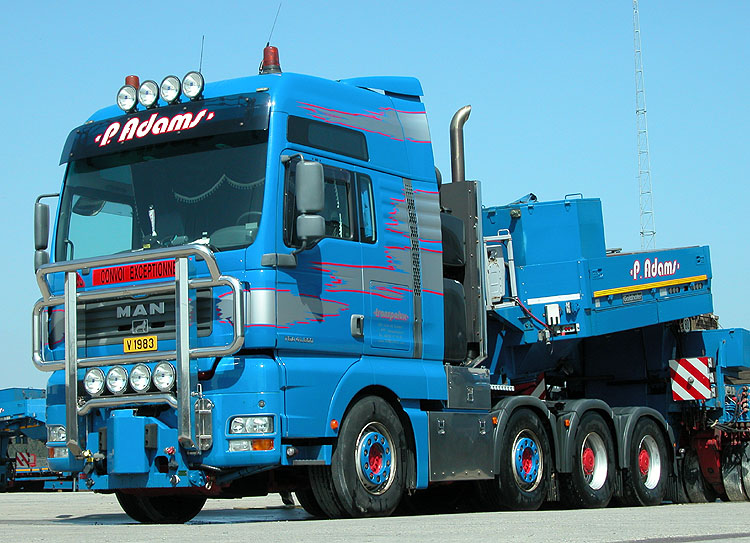 Back to the MAN index