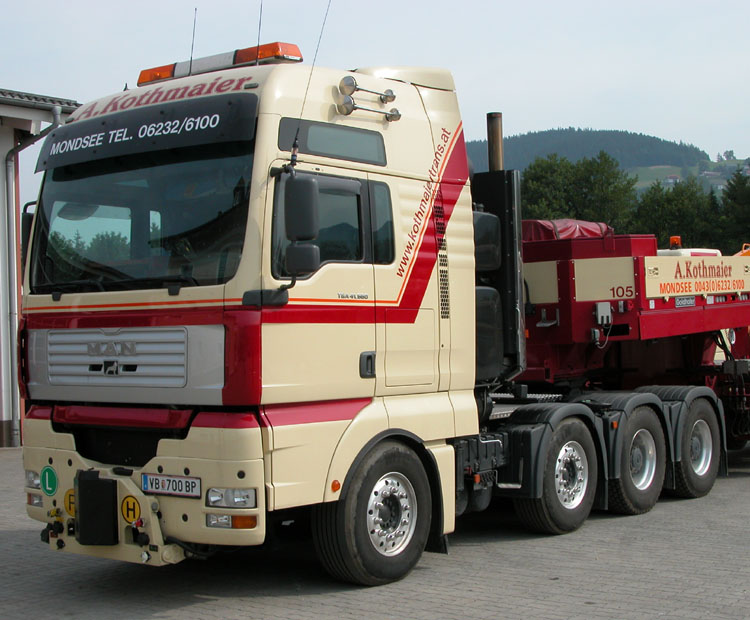 During my vacation I was at the company Kothmaier from Mondsee(A) to photograph their new MAN TGA 41.660. This is one of the first of four of these that have been delivered. This truck is the succesor of the well known FE600A heavy transport tractor. With the switch to the TGA modell many things have changed.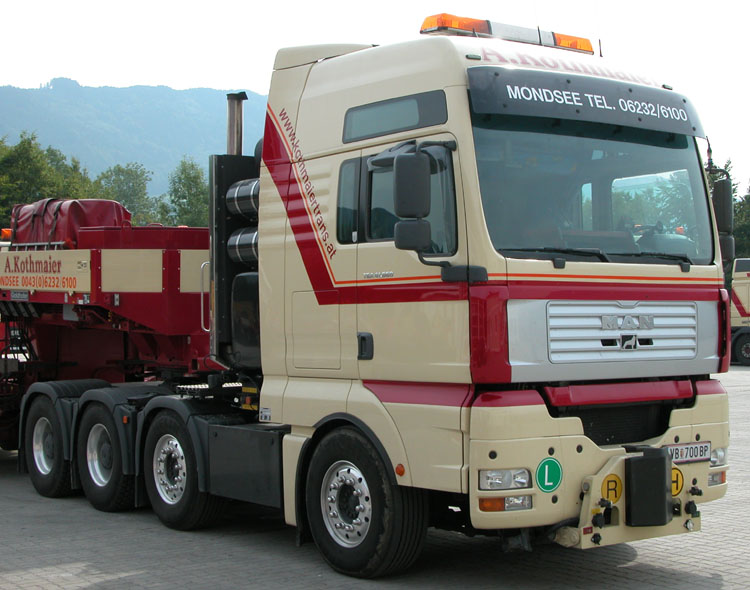 Largest change is of course the new and much larger TGA cab. The bumper has also been renewed, but more about that later on. The engine is still the same 18 liter V10 that already was used in the FE series, only now it delivers 660 hp. The maximum torque didn't rise, and is still 2700 Nm. They had to limit this value because the gearbox and torque converter can't handle more inputtorque. At these pictures the lower steps had been removed. They where being modified to look the same as the standard TGA steps. The standard lower steps that come with this bumper only consist of a steel tube with a step on it.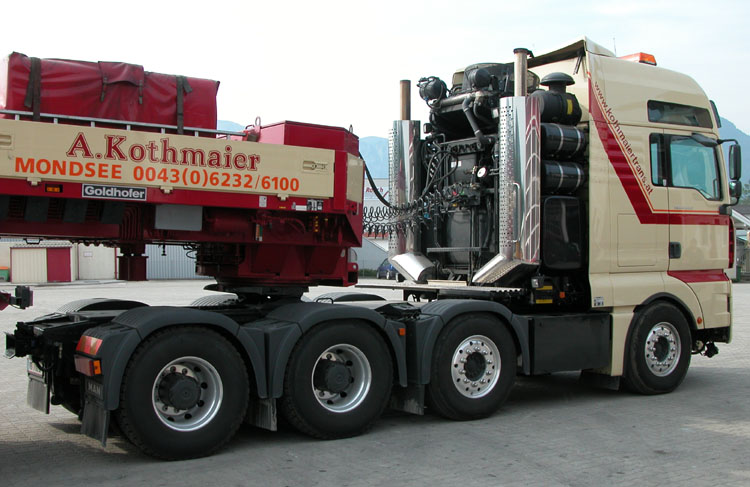 The old MAN models all had a handshifted 16 S251 gearbox which in the TGA has been replaced by a automated 12 gearbox, the TC3001 Tipmatic (ZF name: AS-Tronic or FreedomLine). A WSK440 torque converter has been placed between the engine and the gearbox.
The 2nd front axle is electricaly-hydraulicaly steered nowadays. On the right side you can choose for a toolbox or an extra 300 liter dieseltank.
On the drivers side they mounted, directly behind the mud-guard, the heat-exchanger for the torque converter. On this side we also find the batterybox.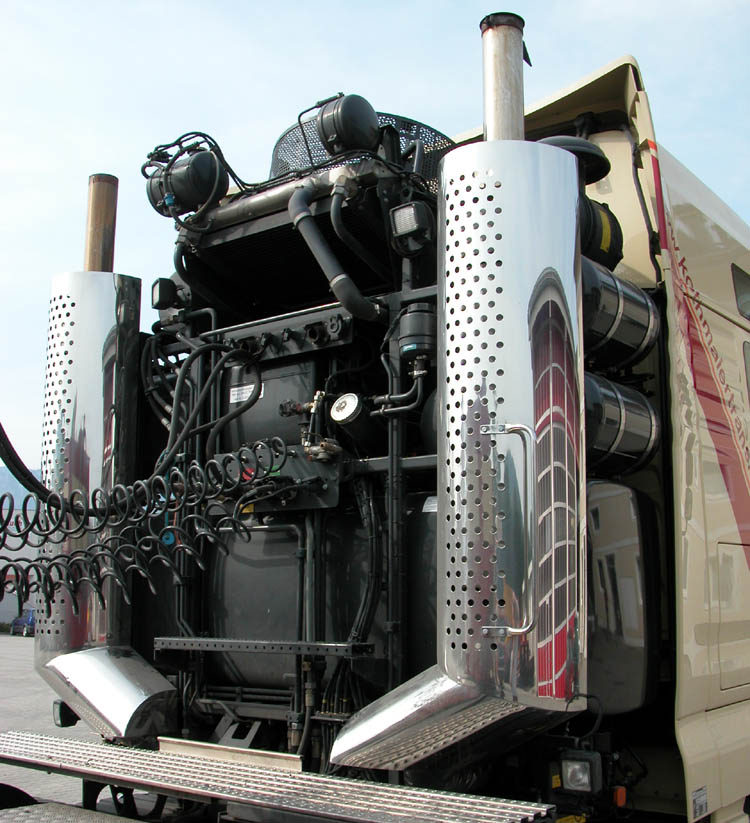 The tower for the TGA's has been modified heavily. Especialy the cooling was alterted a lot. At the old models the cooling was at the right side, but now it has been placed on top of the tower. This gave the opportunity to place a 1000 liter dieseltank at the bottom of the tower. At the top we find the second torque converter cooler (oil-air) and also a extra cooler for the engine. This combination of coolers provides even more cooling-power than the cooling system found on the last FE series. The larger cooler fan on top delivers enough cooling air during low speed driving.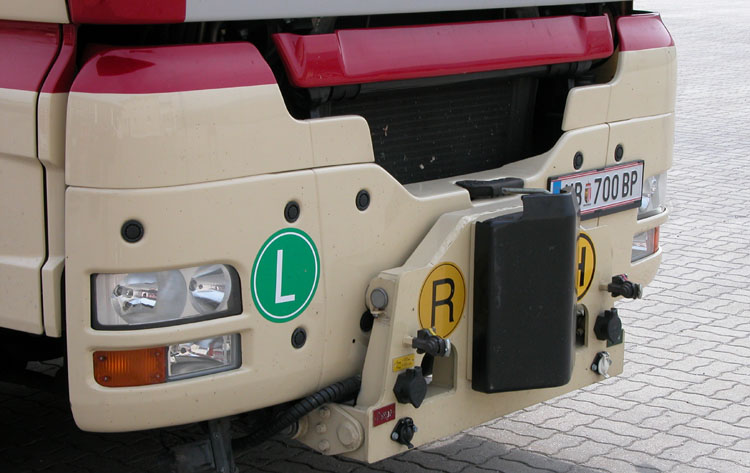 The front bumper is also a new design. The large opening is good for the engine cooling. The heavy duty coupling is smaller as the ones on the FEs. It also has all the important connections (air/current) mounted directly on it. At the FE series these things where mostly mounted somewhere on the bumper.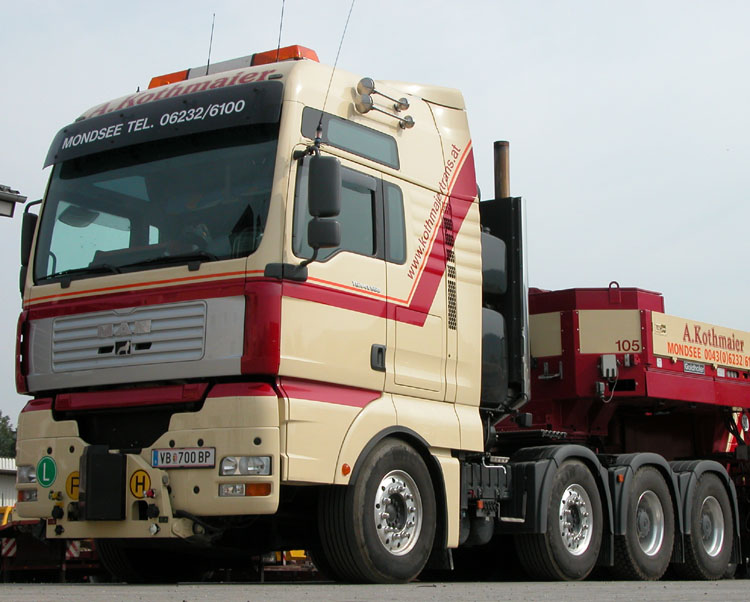 Many thanks to the company Kothmaier!!
Back to the MAN index