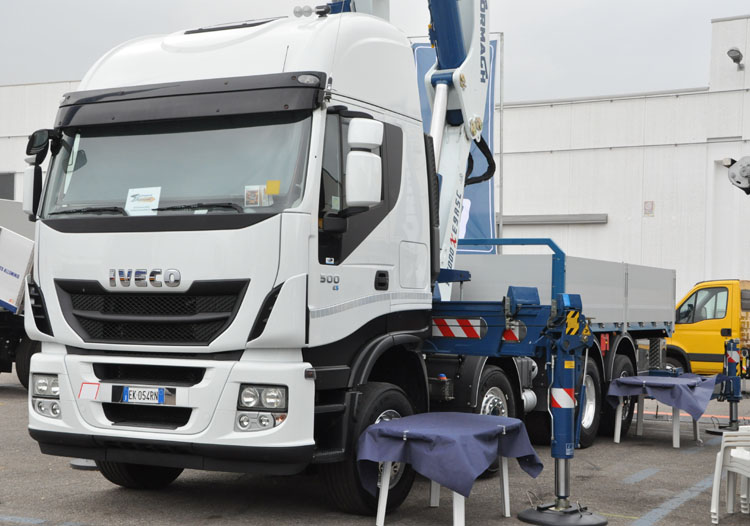 At the Transpotec in Verona this Cormach at Iveco Stralis 500 8x2*6 stood at the Cormach stand. It is owned by Bissoly Trasporti from Verona and is mainly used to install tanks throughout the country.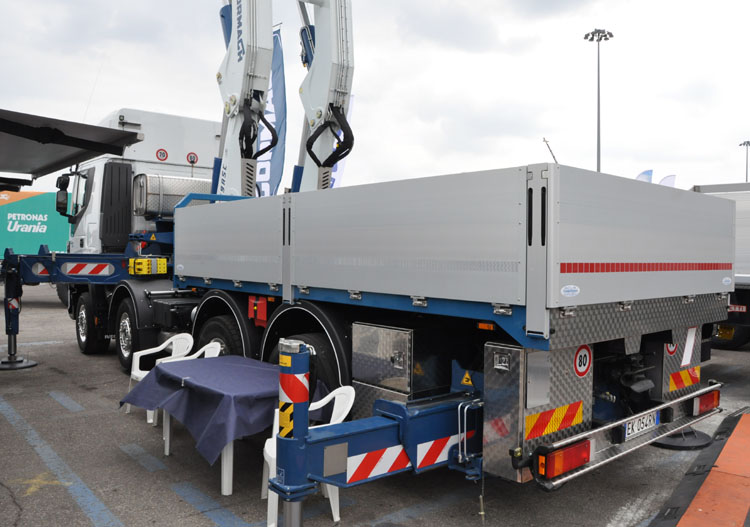 The Iveco is equiped with a Cormach 135000X E9, a 9x extending crane with an outreach of 19 meters. There the crane can still lift 4,6 tonnes. Closer at 9,71 meter it will lift 10,28 tonnes and the maximum capacity is 30 tonnes at 3,35 meters.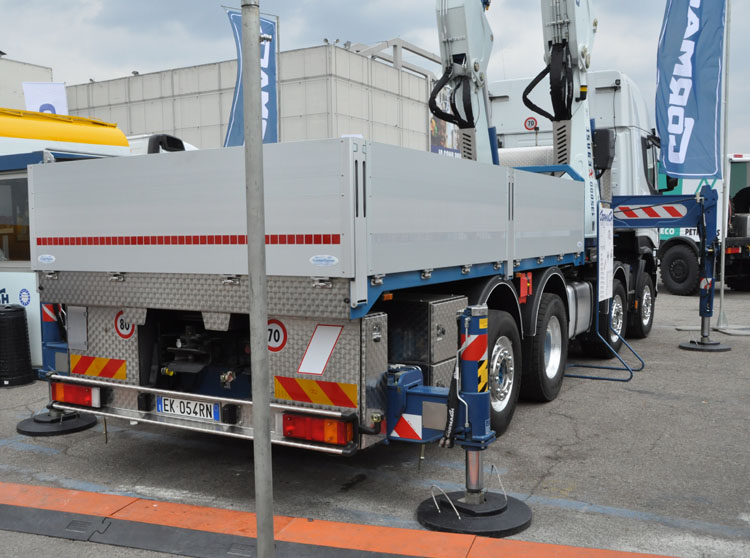 A flatbed has been installed behind the crane. The space around the rear outriggers is filled with storage boxes. The Iveco has got the heavy rear axle with planetary drive as it can also be used with a drawbar trailer.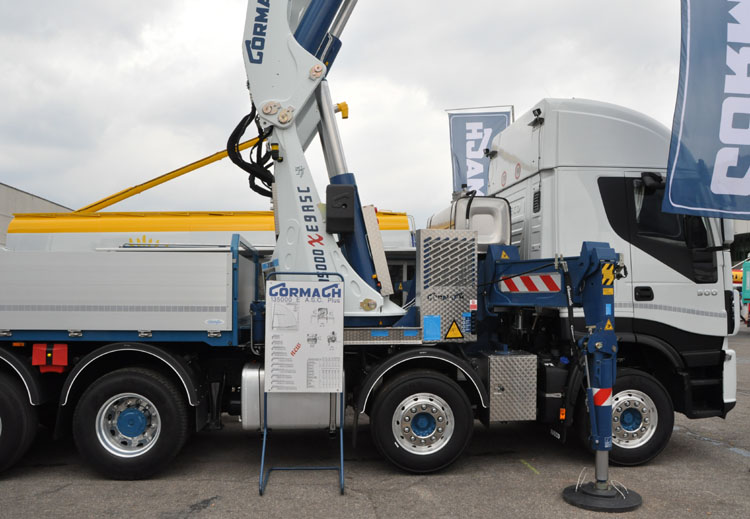 The X in the modelname indicates that it has got the crossed outriggers. The front outriggers are mounted over eachother and are crossed, so they extend out sideways and to the front. This way the crane has got full capacity all around.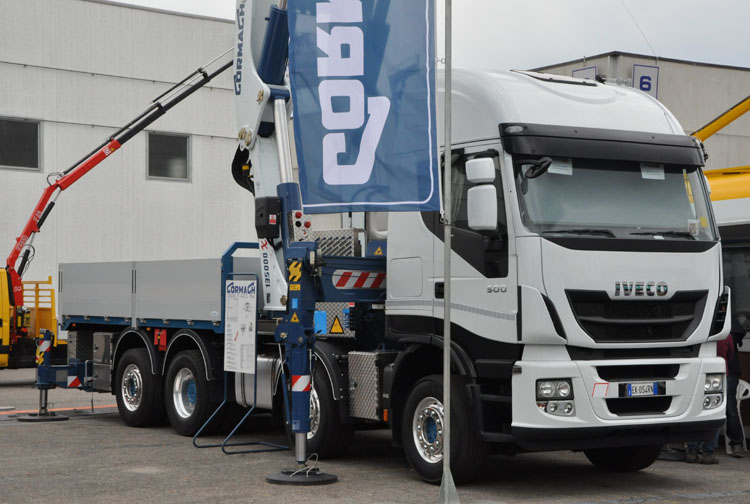 A nice unit and very manoeuvrable because of the steering rear axle.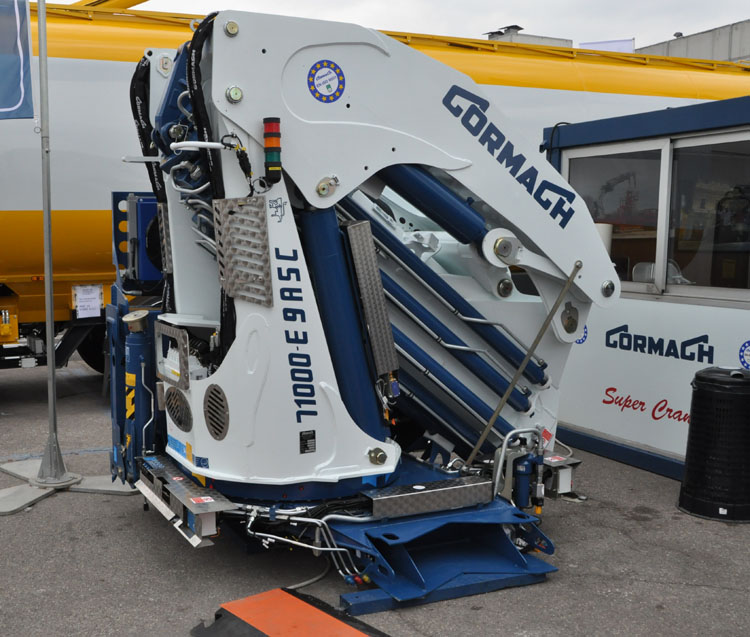 As seperate crane this 71000-E9 ASC was displayed. The E9 version reaches up to 20,3 meter far en still lifts 2 tonnes. The optional E11 version even reaches up to 24,5 meter far.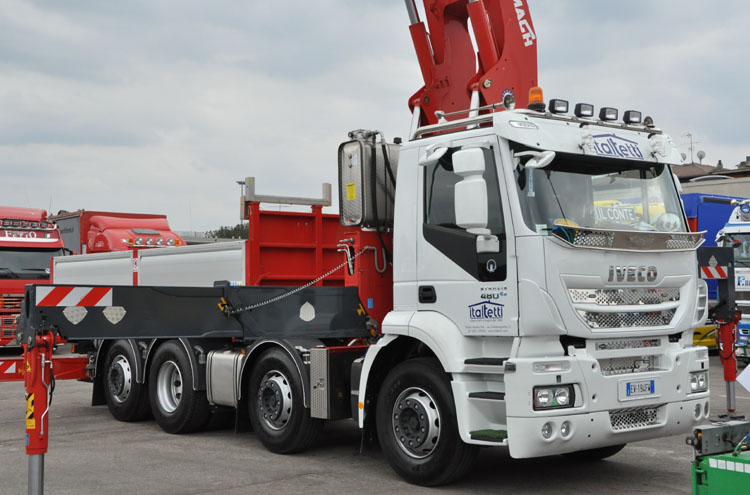 At the showtruck area this remarkable Iveco Stralis 480 8x2 of Italtetti was displayed. Italtetti is a construction company from the town Busto Arsizio.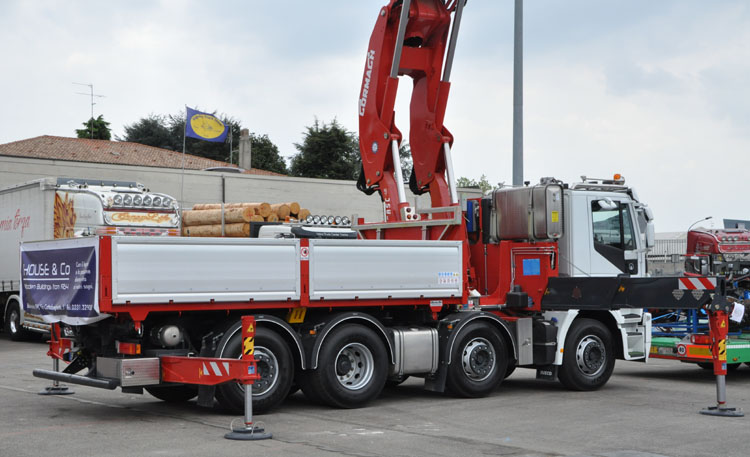 Behind the cab stands a Cormach 71000-E7 with a F186 jib. The base crane extends 7x to 16,07 meters where it can lift 3,05 tonnes. Maximum capacity is 13,15 tonnes at 4,2 meters. With the 6x extending jib an outreach of 28,35 meters is reached with a capacity of 710 kg.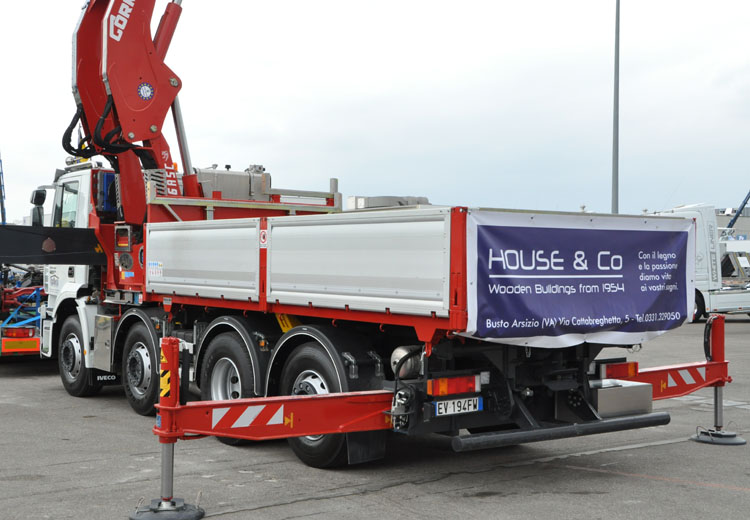 The truck has got a 3-way tipper body, ideal for the diverse construction business.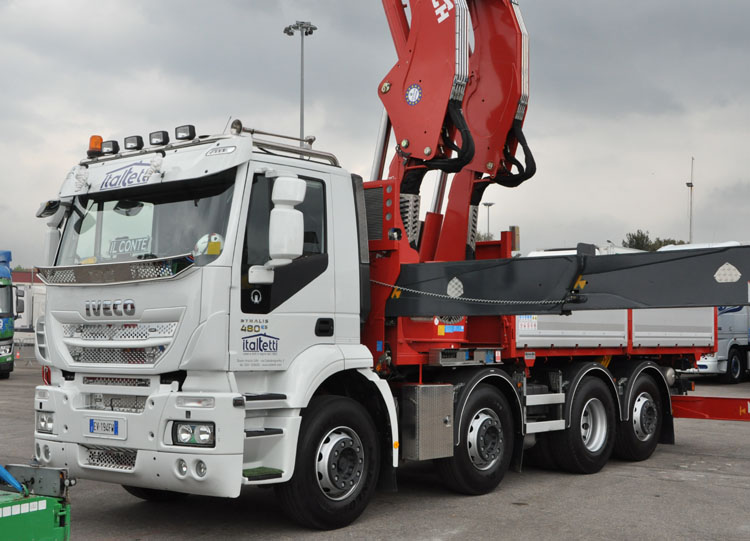 The installation length of the crane stays compact as Cormach installs both outriggers on top of eachother.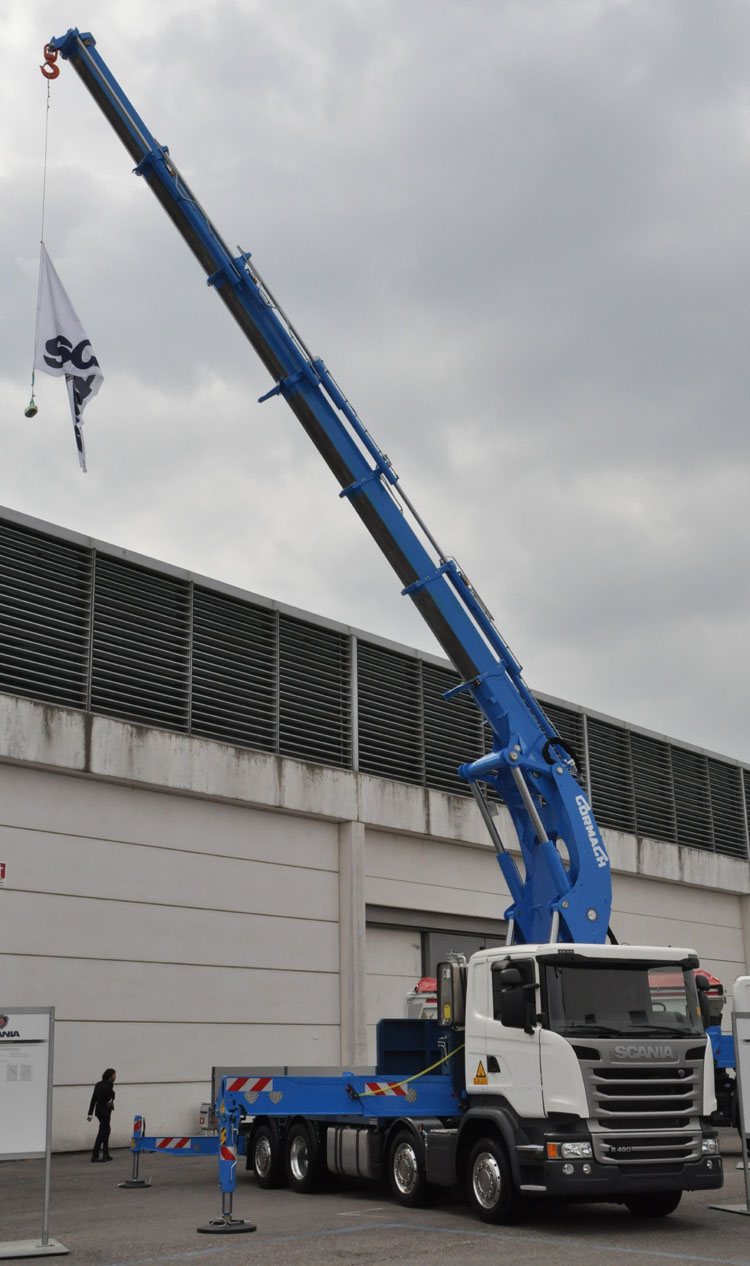 The 3rd Cormach of this fair was standing outside at the Scania area.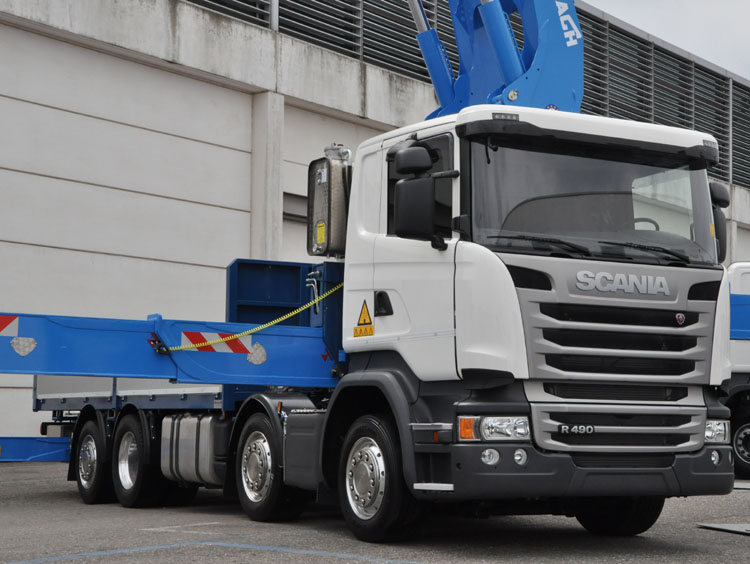 It's mounted onto a Scania R490 Streamline in 8x2 version with the half-long daycab.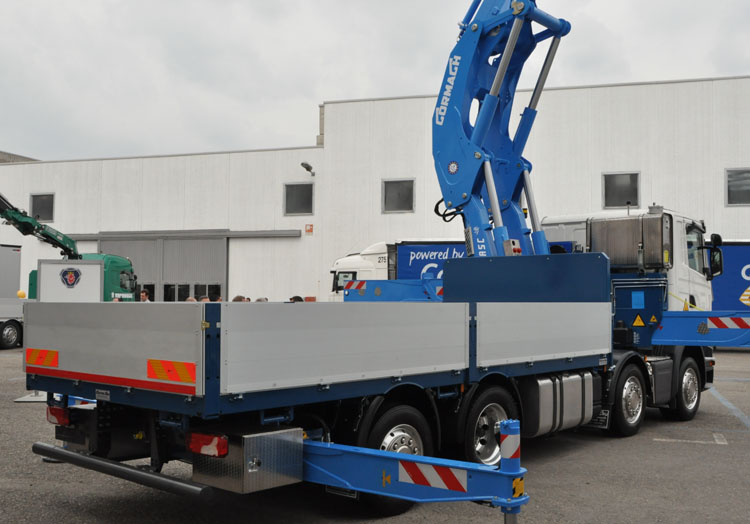 A long flatbed is installed behind the crane.
The crane is a Cormach 87000-E6 ASC Plus, a crane that extends 6x to 13,8 meters where it can lift 4,78 tonnes. The crane is deliverd without a jib. Here we can see the specific Cormach design. Both outriggers are mounted on top of eachother and the base of the crane has 2 parts, between those the telescopic boom folds down.