The Transport CH is the transport fare of Switzerland, it takes place in Bern. Click here for the 2011 edition.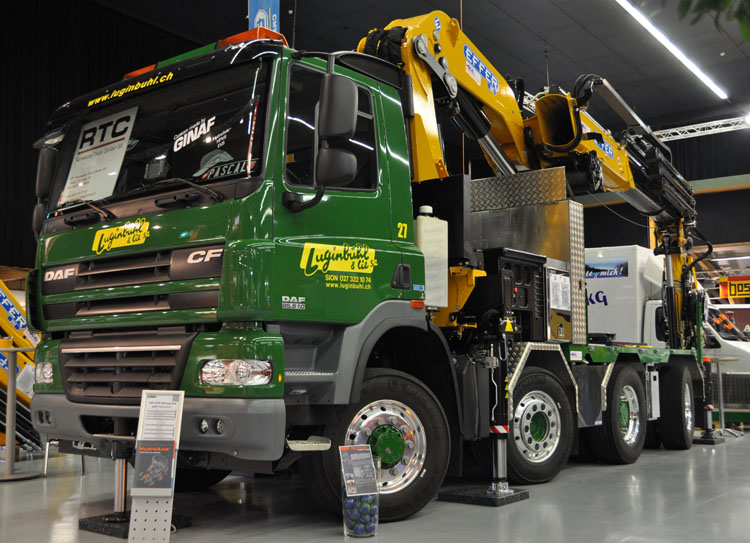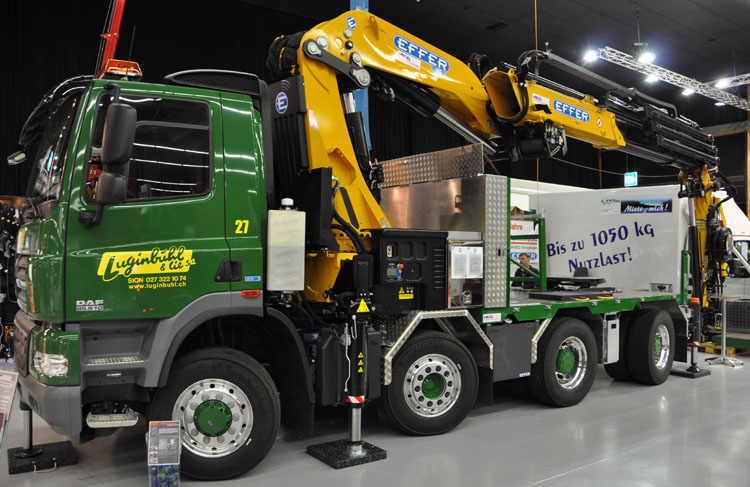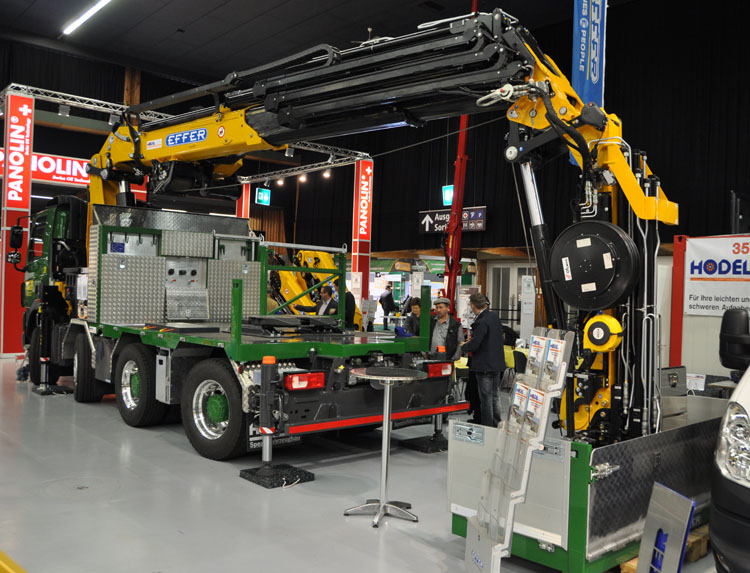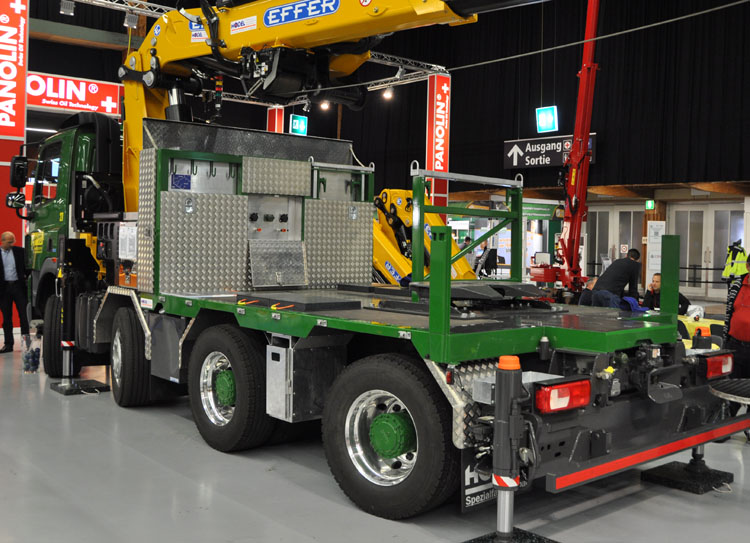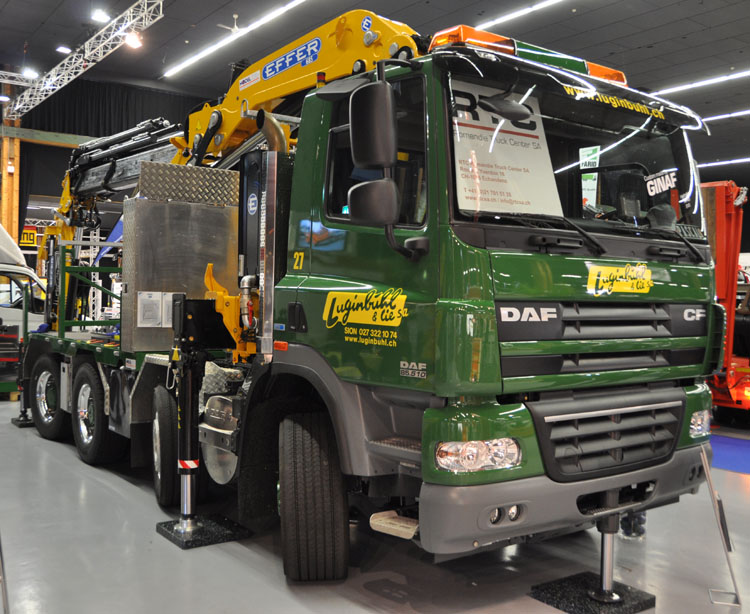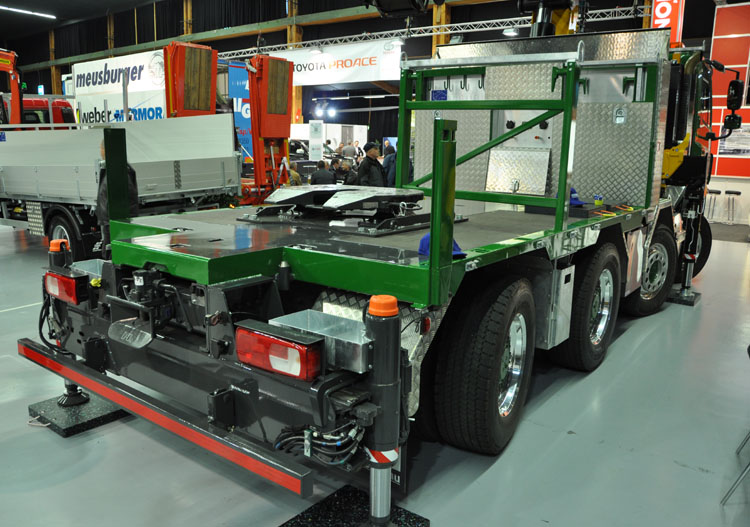 At the stand of Hodel (Effer importer for Switzerland) a very interesting truck could be seen. It says DAF, but in reality it is a Ginaf. It's an 8x4 with a steering rear axle (EVS) and hydropneumatic suspension at the rear axles (HPVS). It's driven by a 510 Hp DAF MX engine, it's also equiped with a DAF CF cab. More traction is provided by the hydraulically driven front axle, HydroAxle+ it's called and it was developed by Ginaf for use on all types of DAF trucks. The total weight (with permit) can reach 42 tonnes (2 x 9 front, 2 x 12 rear), the rear axles are seperated 1,80 meters which gives them 12 tonnes per axle (10 tonnes without permit). The Ginaf was equiped with an Effer 685 6S + 6S heavy duty jib. The base crane lifts 2,93 tonnes at 17,13 meter, with the jib the outreach is 30,09 meter with 810 kg capacity. This strong jib lifts a maximum of 4,7 tonnes. The chassis was reinforced to the front so the crane is all around stable. The Ginaf is demonstrated as a tractor. It can also be used as a truck with flatbed by simple adding the seperate piece of loading floor to the rear.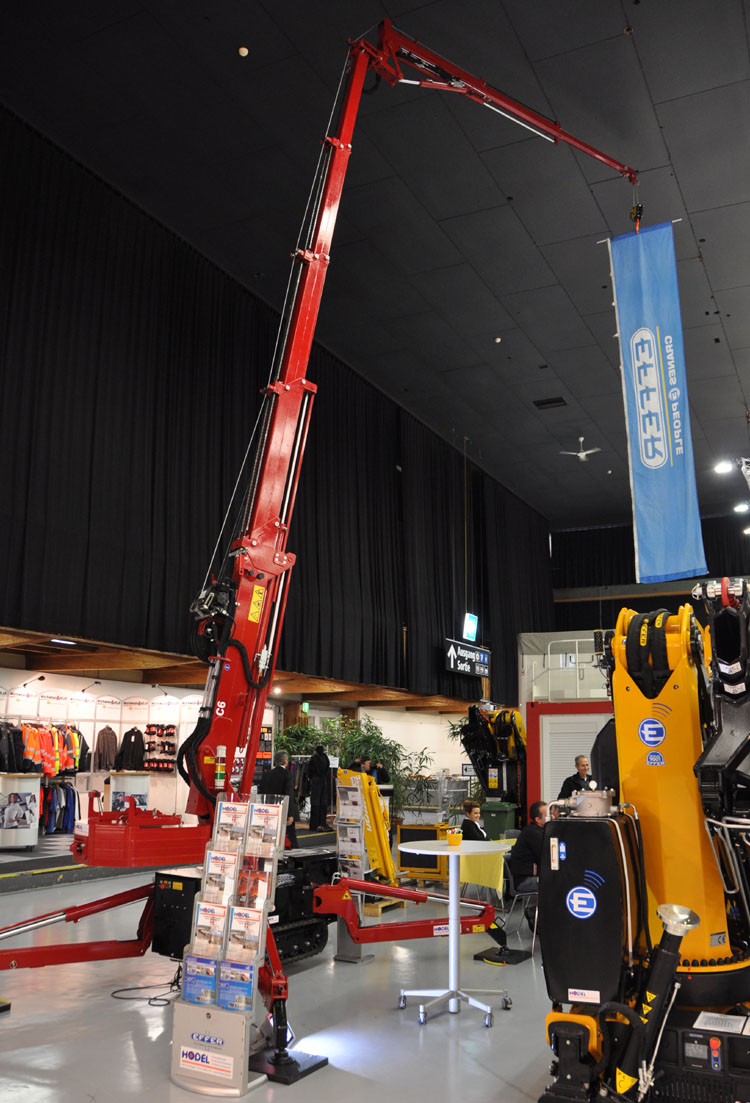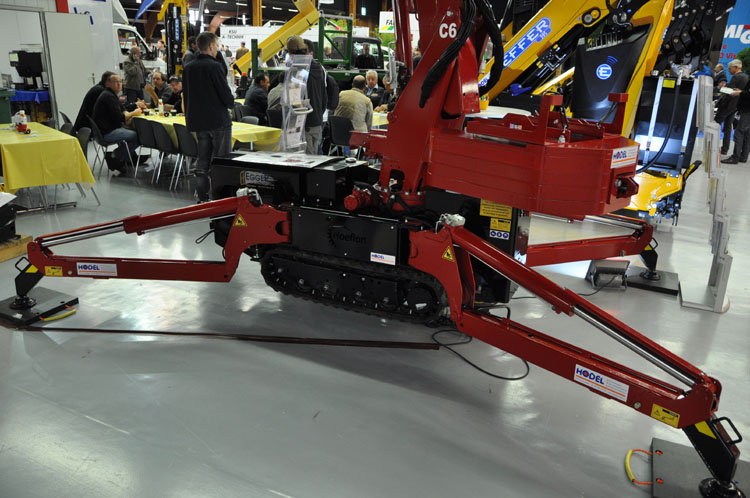 Also on display at Hodel was this Hoeflon compactcrane, a product from the Netherlands. Here we see the C6 model, a very compact tracked crane with only 75 cm width and 1,71 meters height when folded together. The base boom extends 4x to 10 meters (11,5 meter height) and can lift 480 kg at maximum distance. The maximum load is 2,95 tonnes. The jib reaches up to 16 meters height where it can lift 500 kg. The ballast can slide, this gives more flexibility at cramped work locations.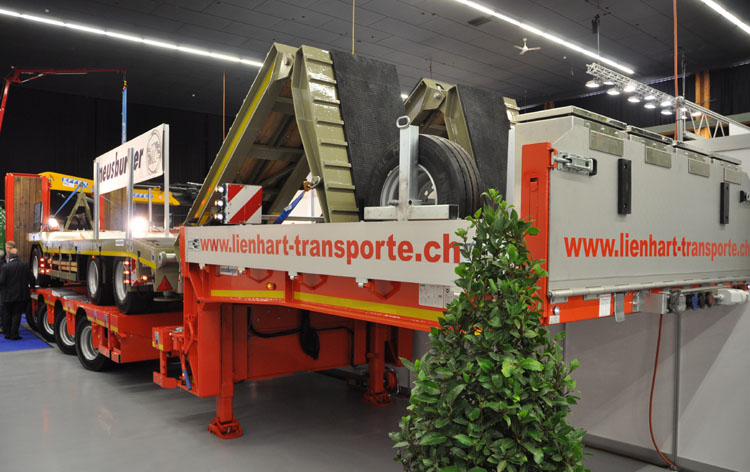 Meusburger showed this 4-axled semi lowloader and a 3-achs drawbar lowloader that stands on top.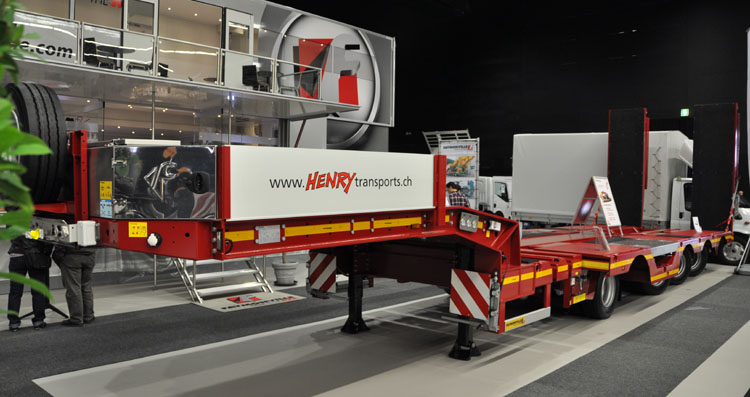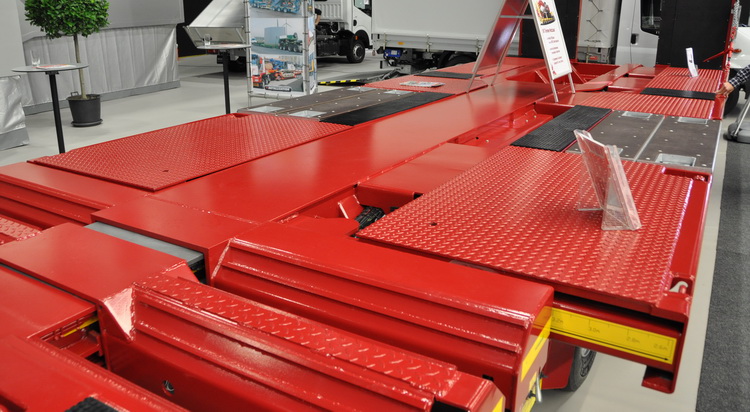 Faymonville showed this 4-axled semi lowloader. It is equiped with the Hydro Shift loading floor. The width of the floor is adjustable hydraulically. With this the trailer can be wide when needed, and narrow (within legal width) when carrying a smaller machine or when it's empty.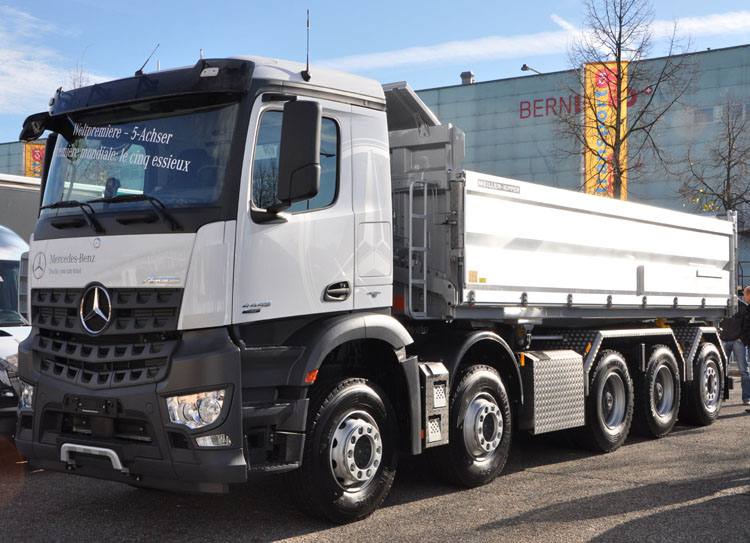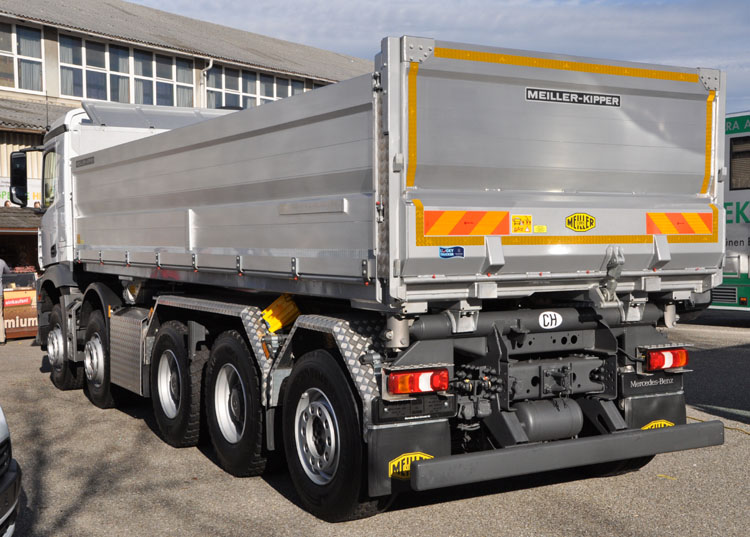 Shortly before the fare started Mercedes announced the 5-axle model of the Arocs. Off course this model was present here, like this version with a Meiller tipper. It's a 4448, meaning 44 tonnes with a 480 Hp engine. The conversion isn't done in Wörth, but the Molsheim department does this, they already are specialized in non-series models.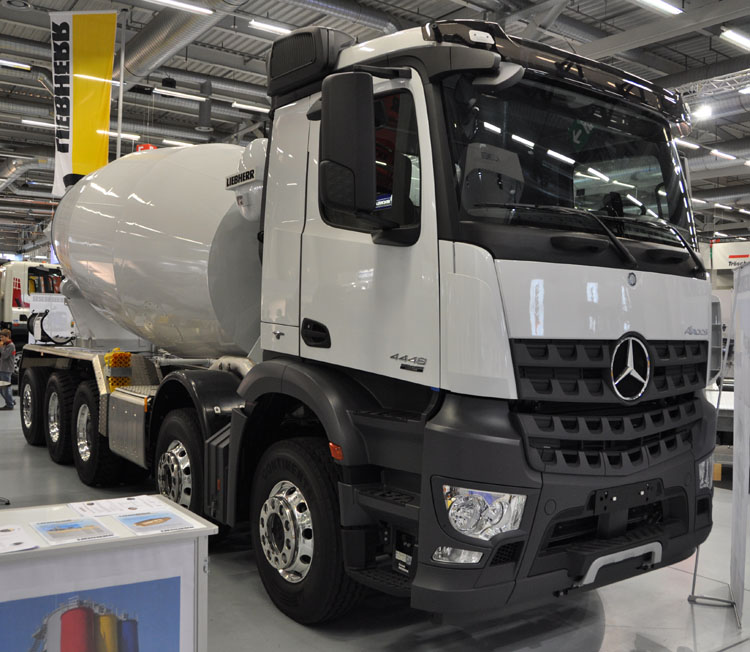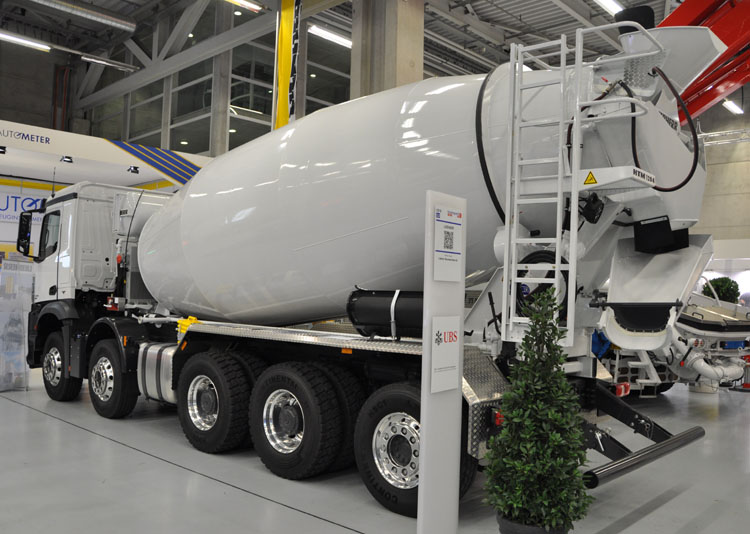 A 2nd 5-axled Arocs 4448 could be seen at the Liebherr stand, this time with a Liebherr concrete mixer. The mixer is a HTM 1204, a 12 m3 mixer.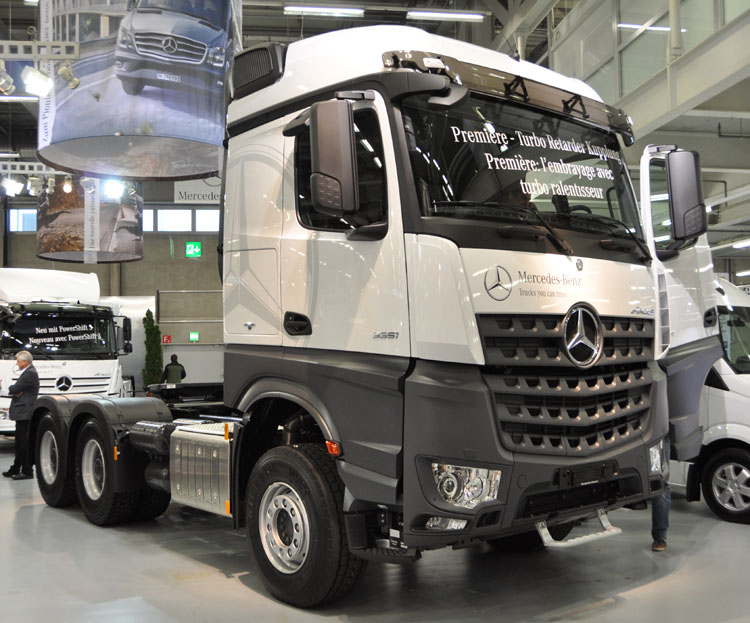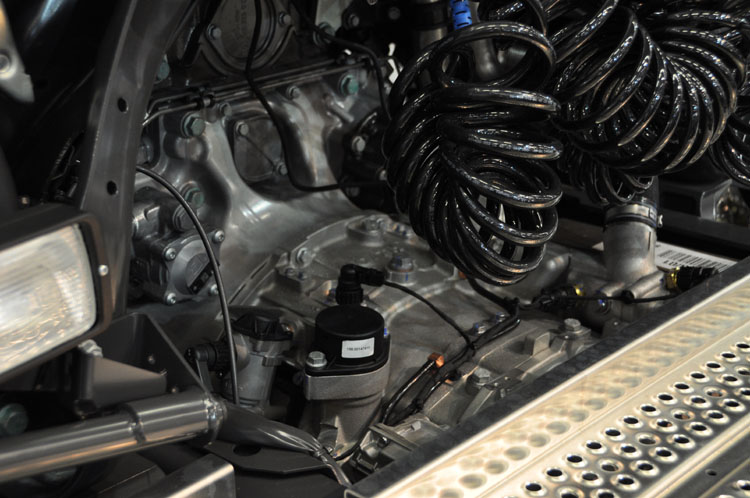 The Mercedes stand showed this Arocs, a 6x4 tractor in the 3351 version (33 tonnes, 510 Hp). Interesting in the use of the Voith VIAB in this lighter tractor. This makes this hydraulic coupling also available in lighter units, probably the ones that fill the range up to 150 tonnes of total weight. This truck doesn't have the big additional cooling as the large 250 tonnes SLT models have.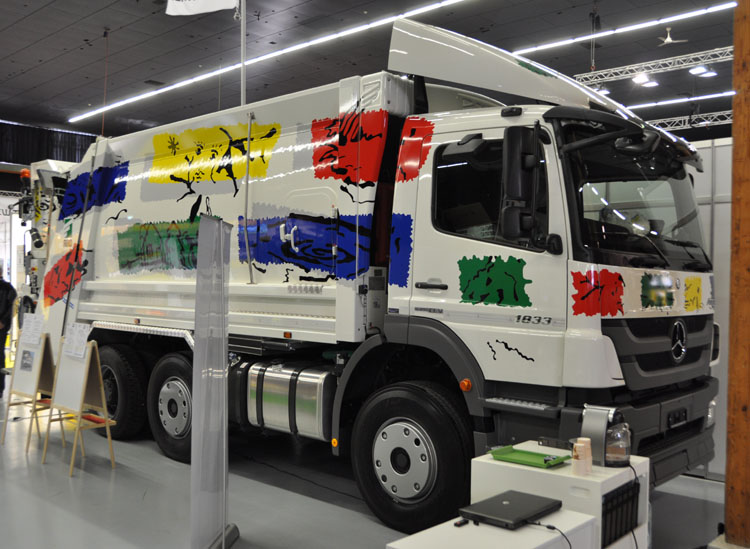 Not heavy but still special, this conversion done by Paul. The Axor 1833 was converted to 2,3 meters width and was equiped with a 2nd front axle. It is equiped with a Farid waste collector.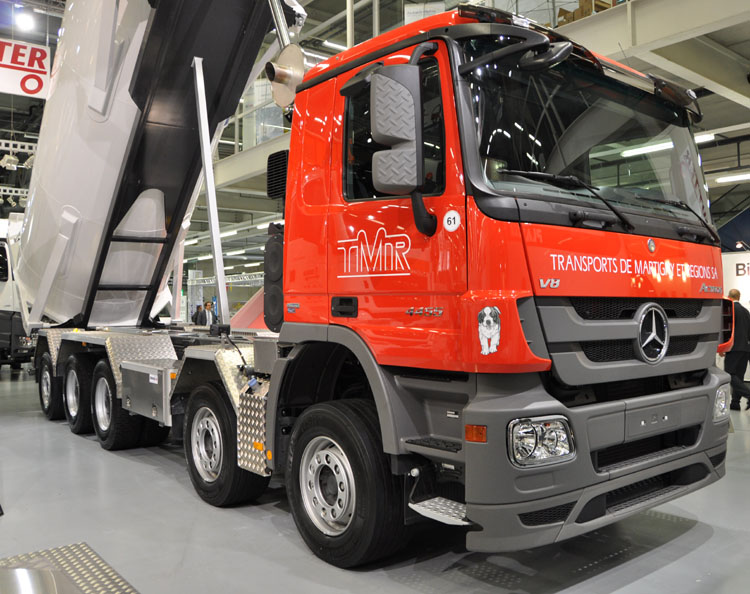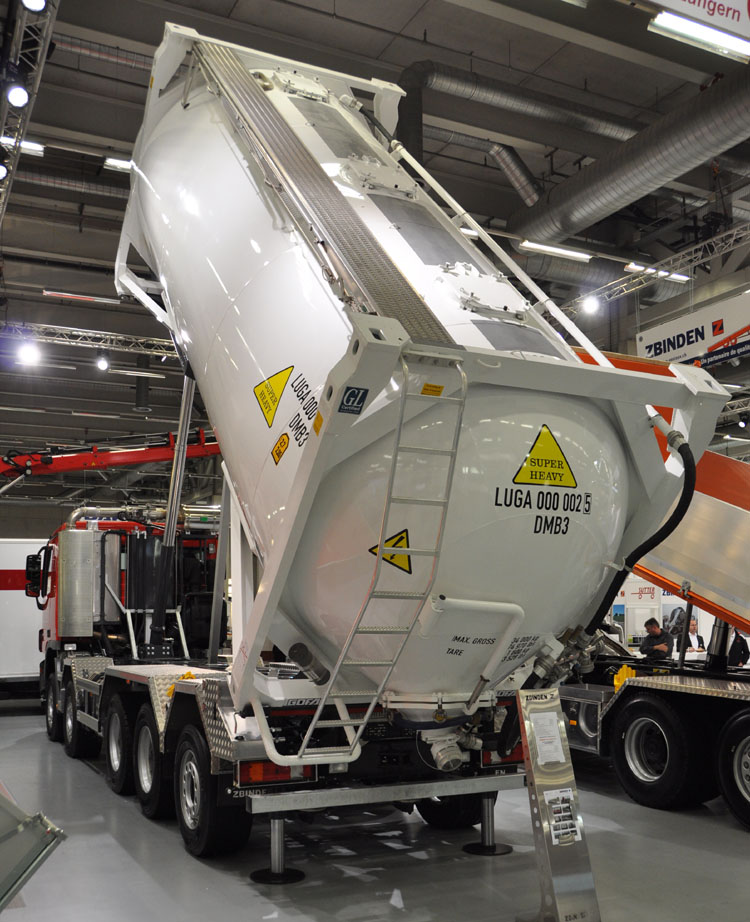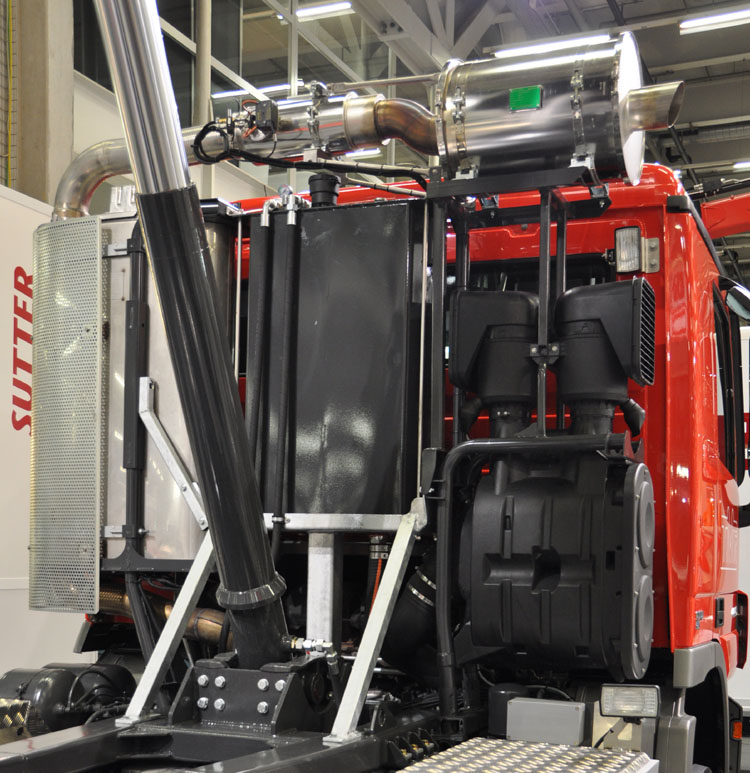 Another 5-axled unit, this one stood at the Zbinden / Suttel stand. This Actros 4455 is equiped with a Zbinden tipping unit for cement silos. Interesting is the exhaust, it is equiped with a additional particle filter.