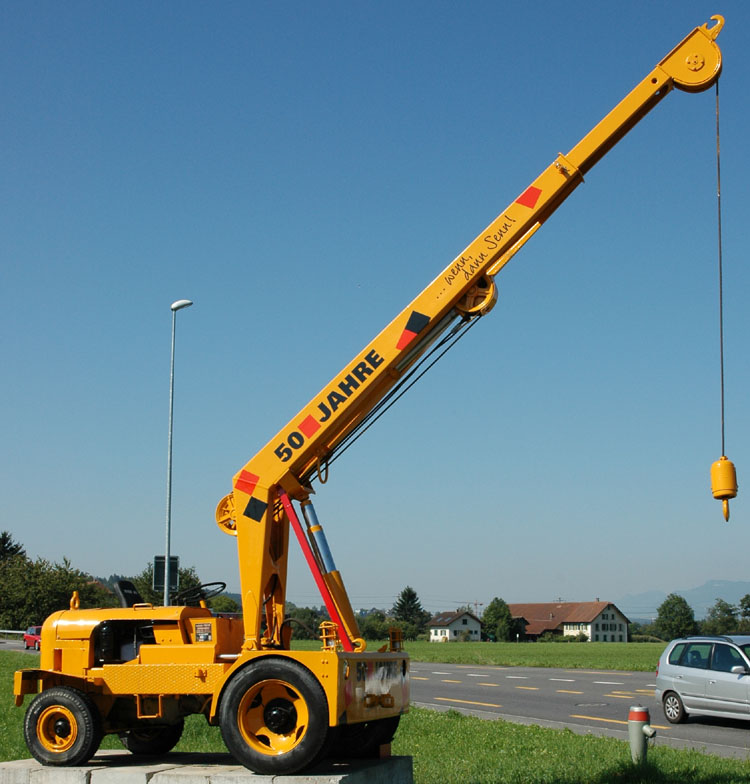 The company Senn AG had an open day because of their 50 year aniversary. At the entrance of the yard stands this old Demag crane.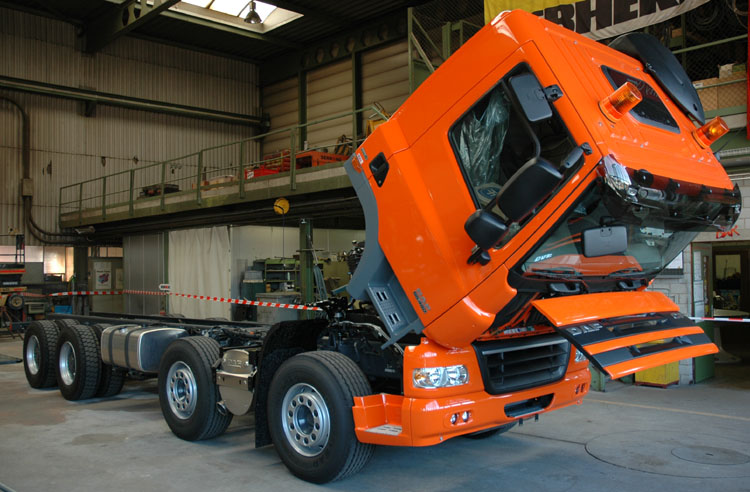 In their own garage stood this new DAF CF 85.460 8x4 that has to be equiped with it's body.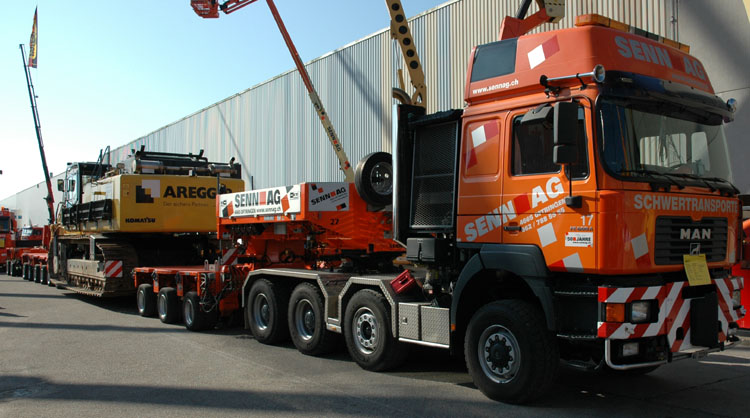 At the outer area stood the well known MAN FE 41.600 A in 8x6 layout. Here it is connected to the new Golfhofer axles. More pictures of this MAN can be found here.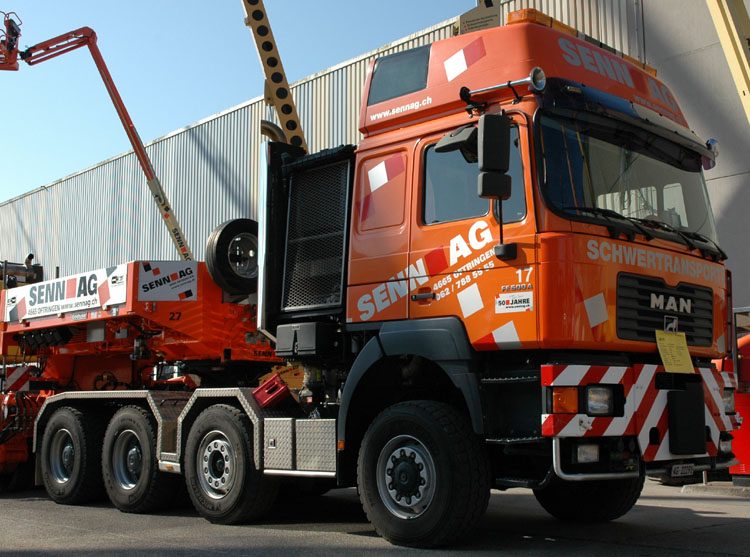 The tractor is a 6x6 that has gotten a 4th axle at Toni Maurer. It is equiped with a ZF WSK 440.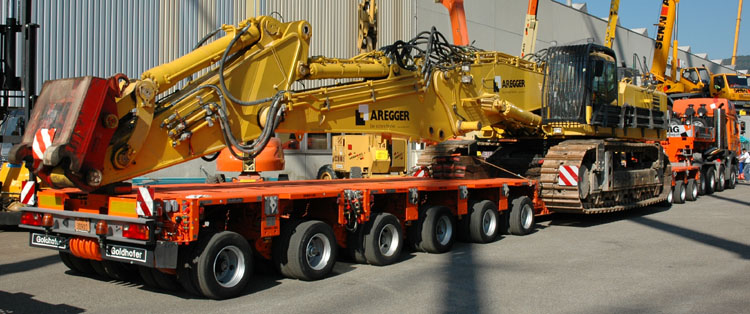 Behind the tractor hangs a 3-bed-6 Goldhofer lowloader on which a Komatsu PC 750 demolition excavator is loaden.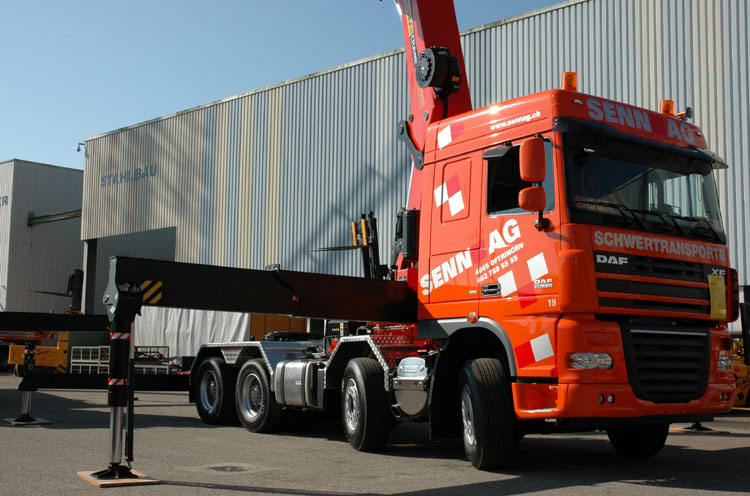 A highlight of this day was the new Palfinger PK100002 at a DAF XF 105.510 8x4.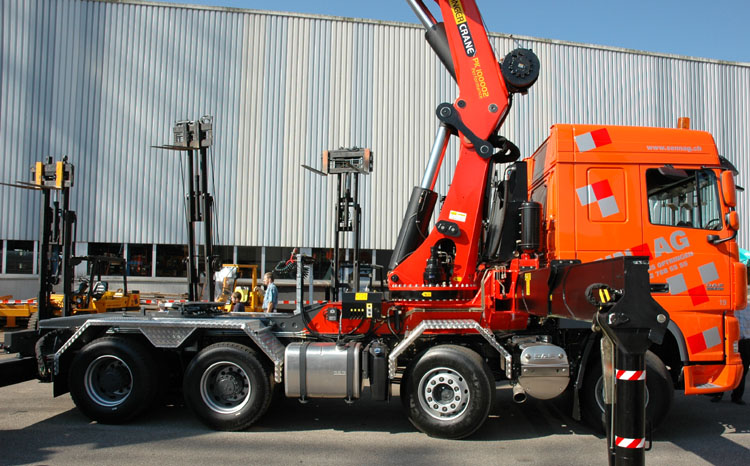 The tractor is not ready yet. The crane has been completely mounted to the rear. In the front direction they have to reinforce the frame as the crane will get extra outriggers in that direction.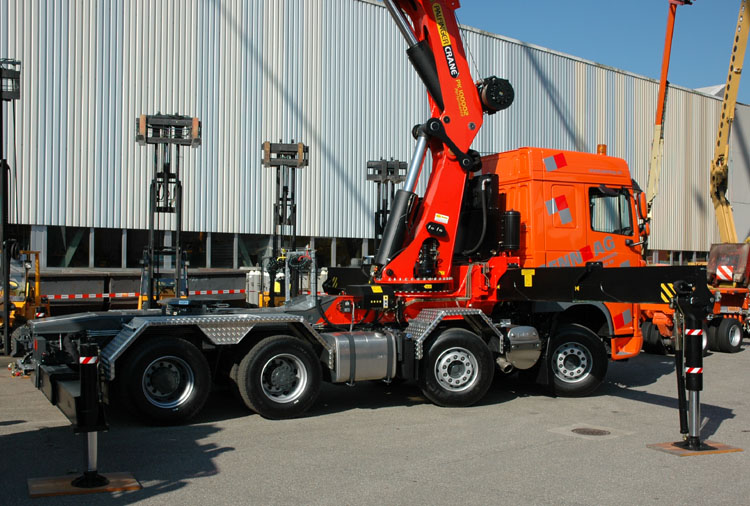 These outriggers will not be mounted to the bumper but under the chassis, near the front axle.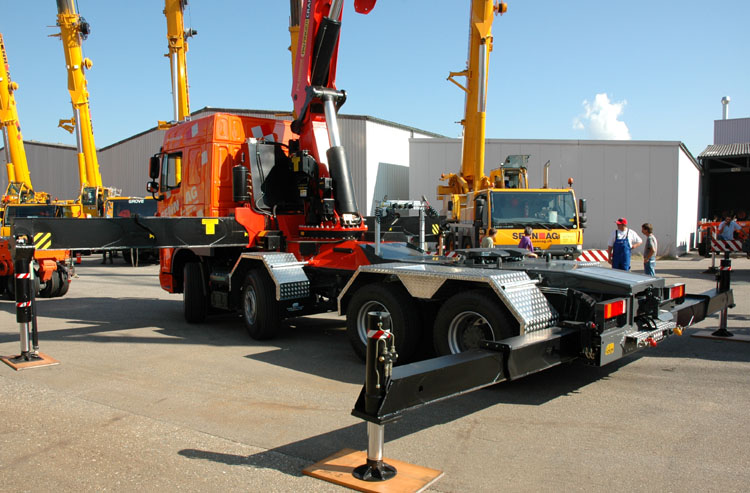 The crane is a PK100002, the G model (8x hydraulically, 19,6 meters) that is equiped with a PJ170E jib (6x hydraulically, 32,5 meters) with 1 manual extension that gives a total outreach of 34 meters. With the Dual Power System the jib can lift heavier loads when the last extension of the crane is not extended.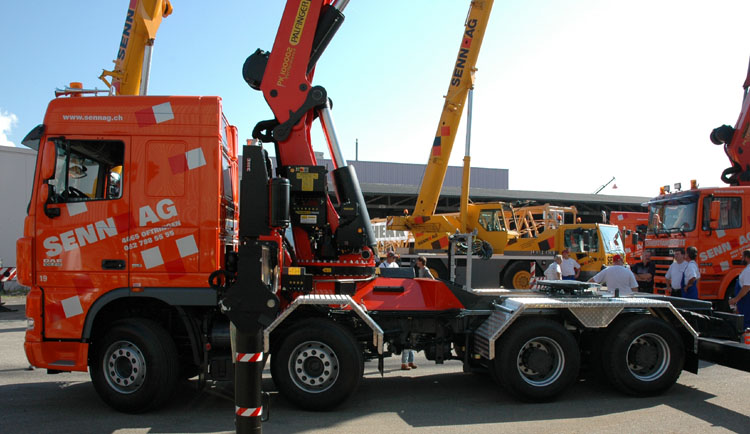 A very nice tractor that will be combined with a 2-axled Goldhofer extendable semi-lowloader.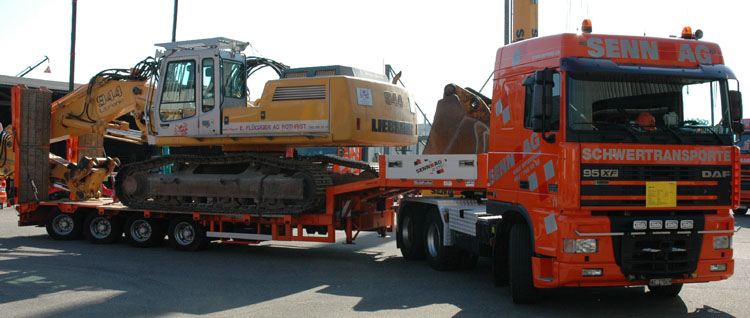 Another rare DAF is this 95 XF 480 in 6x4 layout.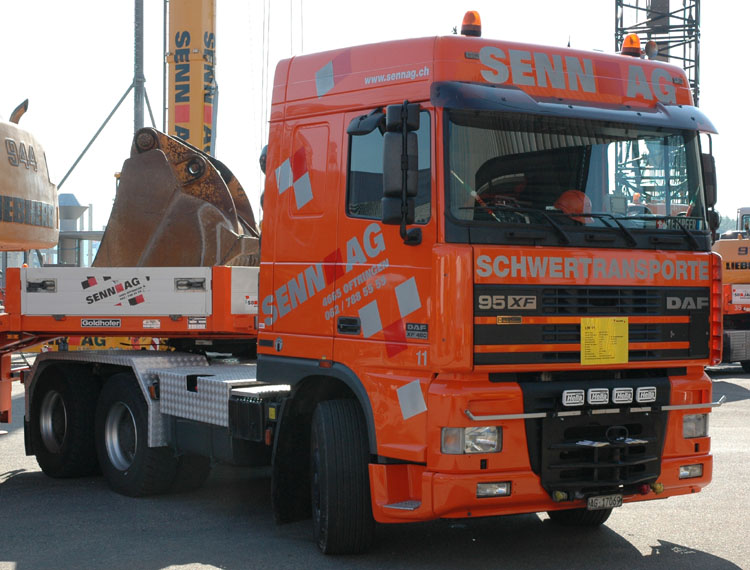 It is rare because of it's Allison automatic gearbox.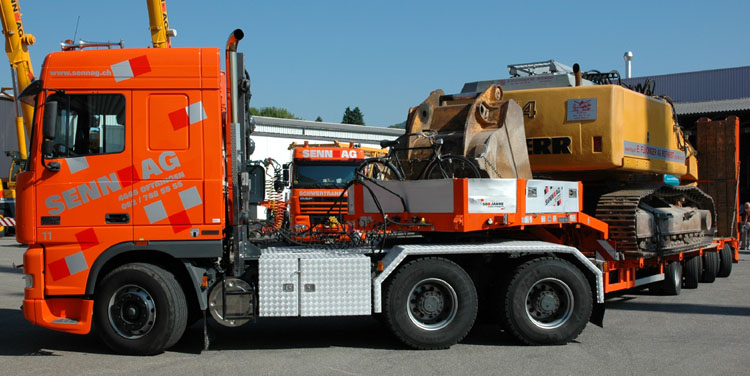 Behind the tractor hangs a 4-axled Goldhofer semi-lowloader with a Liebherr 944 excavator on it.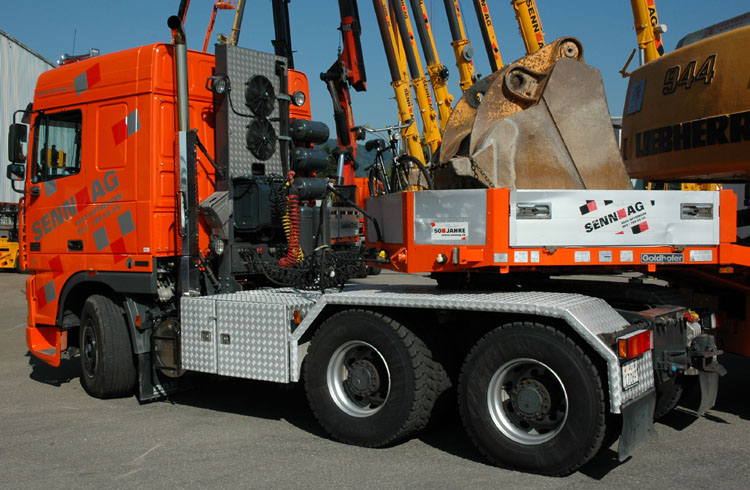 Behind the cab are two coolers that cool the oil of the gearbox during heavy jobs. This truck can be used for heavy transports as an automatic gearbox is equiped with a torque converter. Below the coolers is an oil tank for the trailer hydraulics.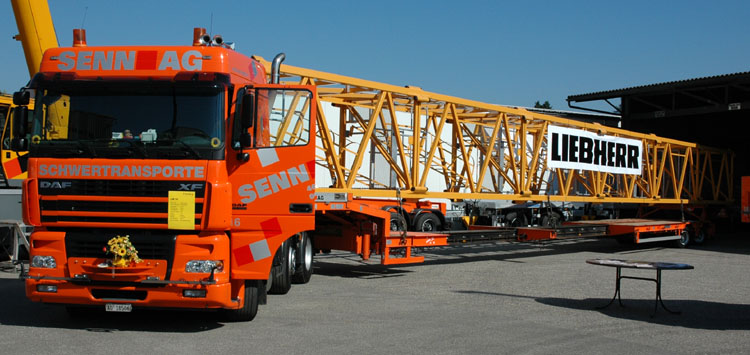 Beside it stood this DAF XF 95.530 6x2 with a extendable Goldhofer 2-axled semi-lowloader, loaded with a part of a tower crane. The nice drawbars at the front are produced by Senn itself.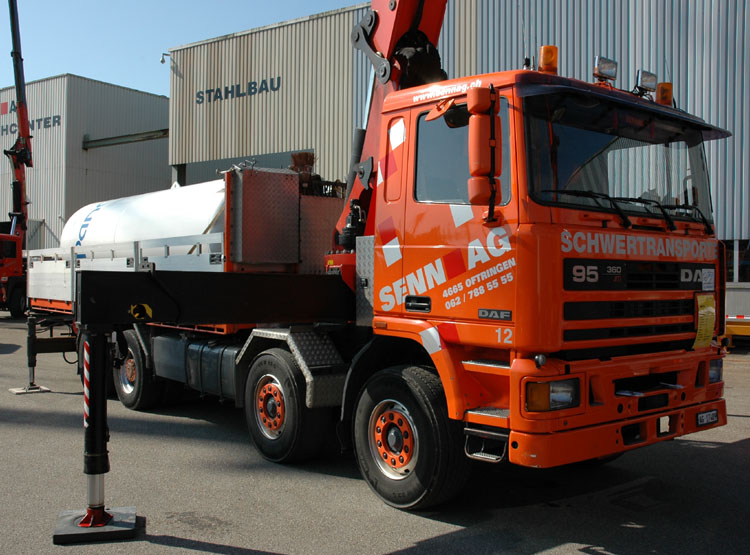 One of the older crane-trucks in the fleet is this DAF 95.360 8x4 with a Palfinger PK72002.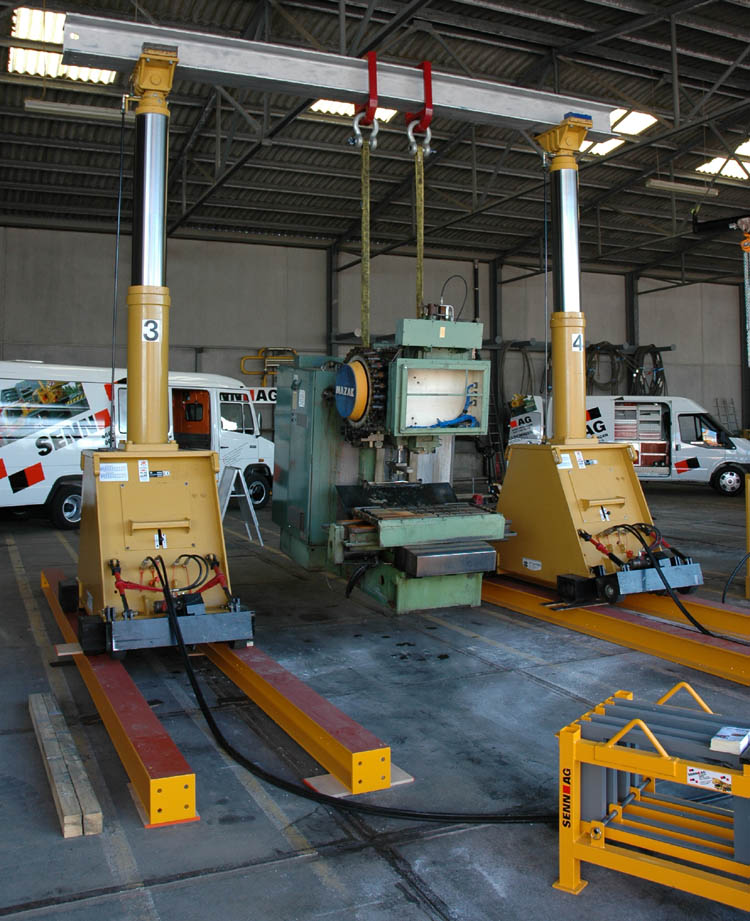 This hydraulic lifting portal can be used for machinery movements.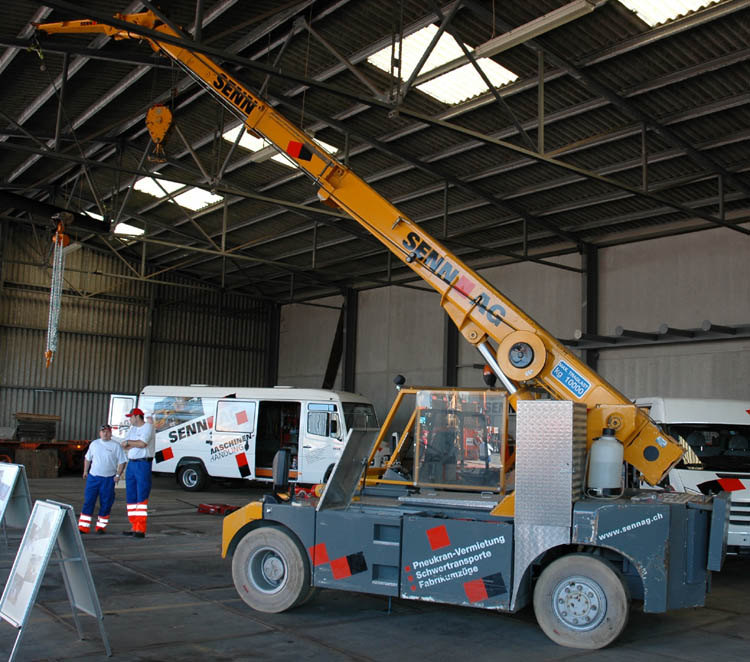 This 9-ton Ormig crane is also used for this purpose.
Back to the events index