Eurogru - Amici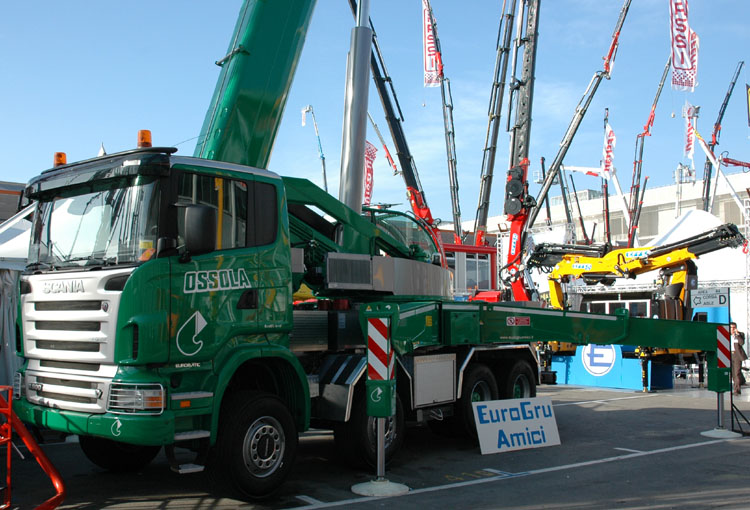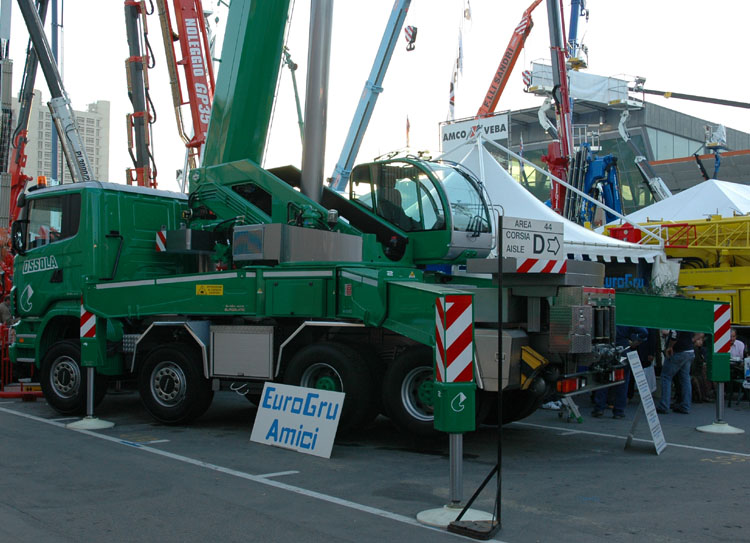 Eurogru-Amici showed this Euromatic.2. It's a 100 ton telescopic crane with a boom length of 41 meter, with jib up to 55,7 meter. By using high tensile steel (Weldox 900 for the structure and 1100 for the boom) the total weight can be kept at the legal allowed 32 tons. A 150 and 160 ton model are also available. This 100 ton unit is mounted on a Scania R500 8x4 and is sold to Ossola.
Tadano Faun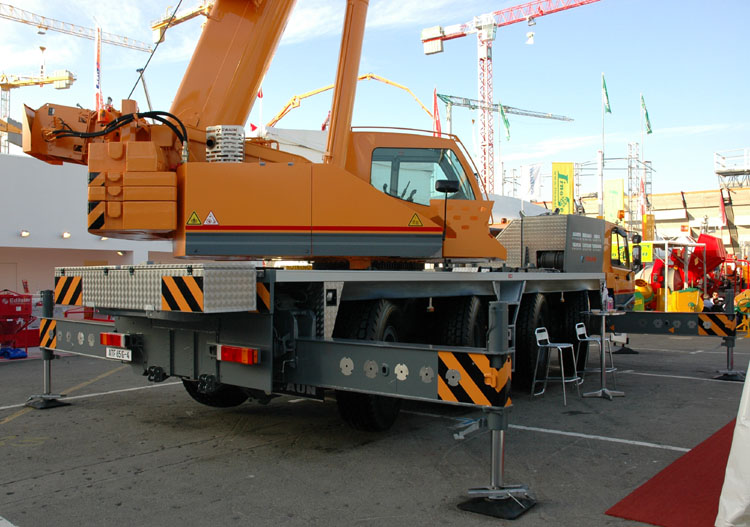 Tadano Faun showed this ATF 65 G-4 that is sold to the company Rigar s.a. from Spain.
Idrogru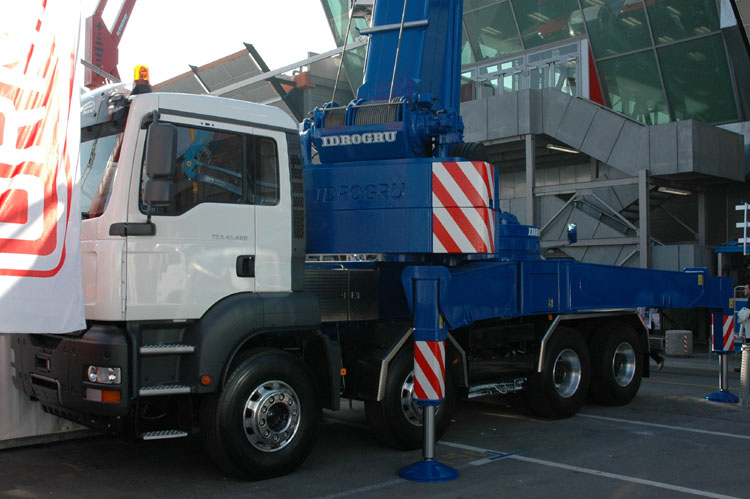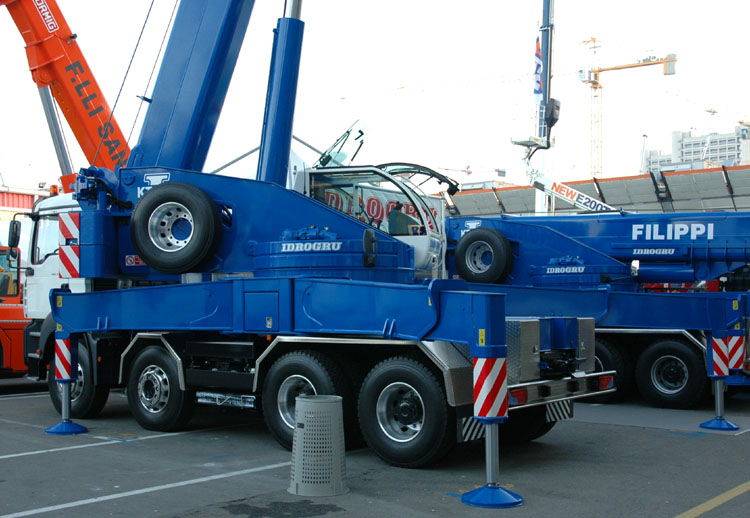 Idrogru displayed two KT 140 models, both mounted on TG-A 8x4's.
Liebherr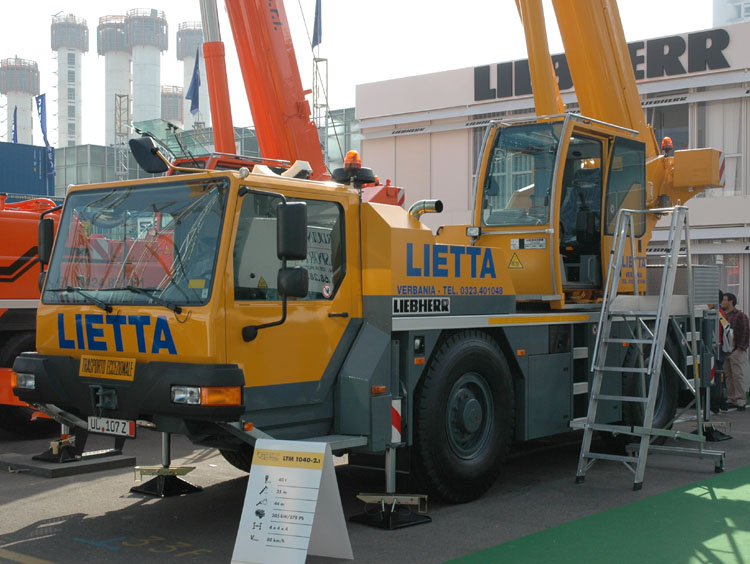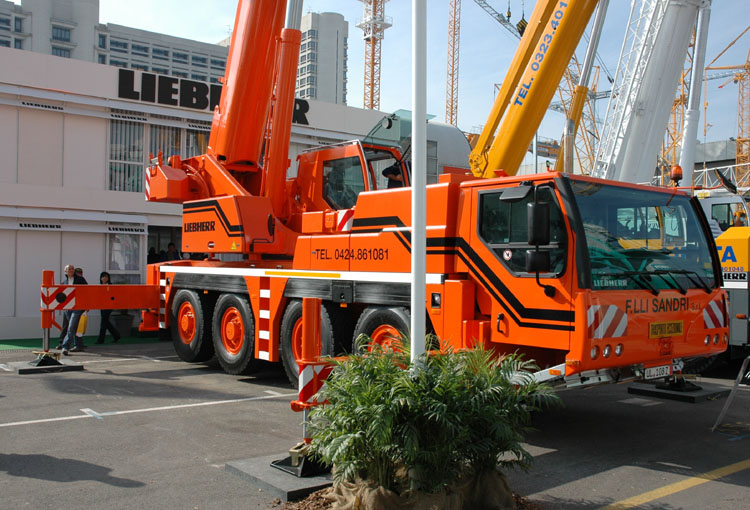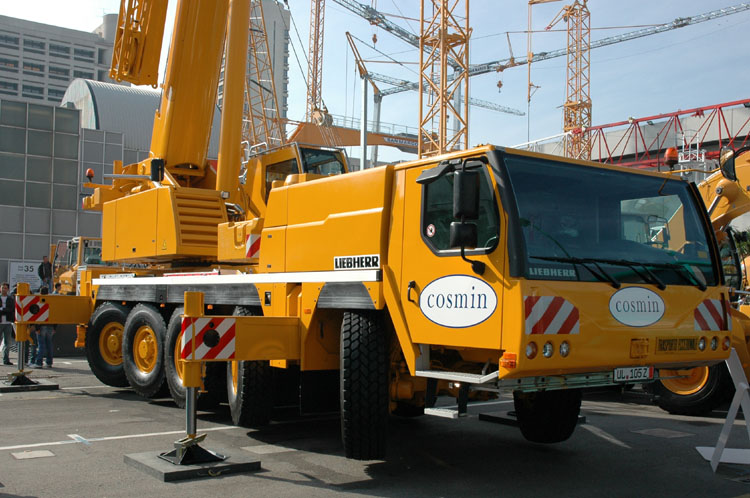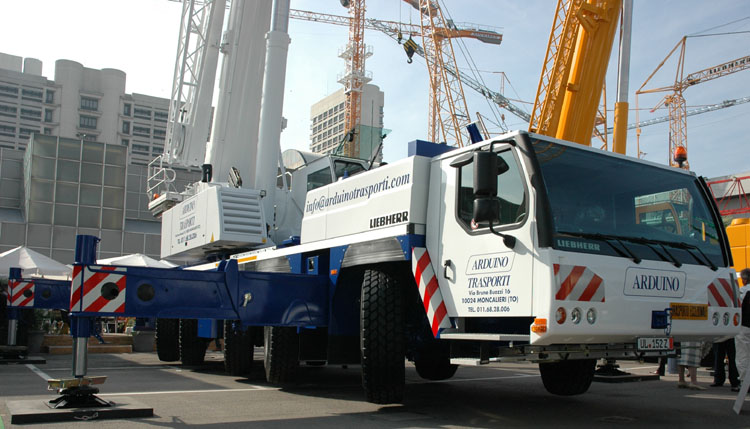 Liebherr had 4 telescopic cranes on display. From top to bottom that are:
LTM1040-2.1 of Lietta
LTM1070-4.1 of Sandri S.r.l.
LTM1095-5.1 of Cosmin
LTM1200-5.1 of Arduino Trasporti
Locatelli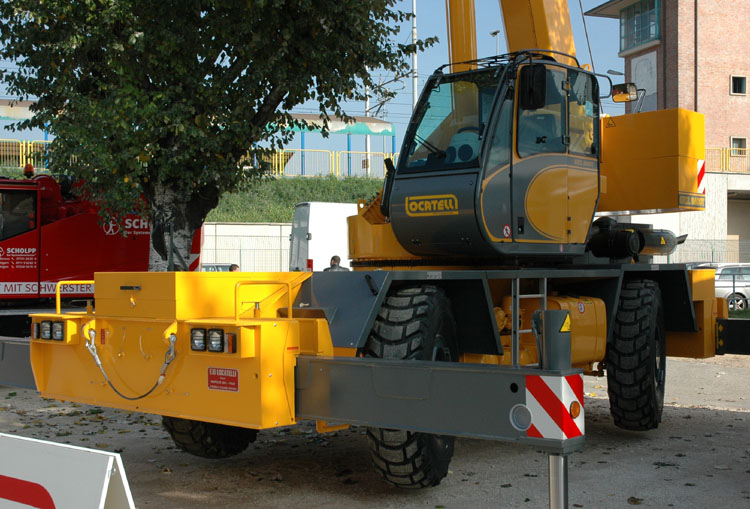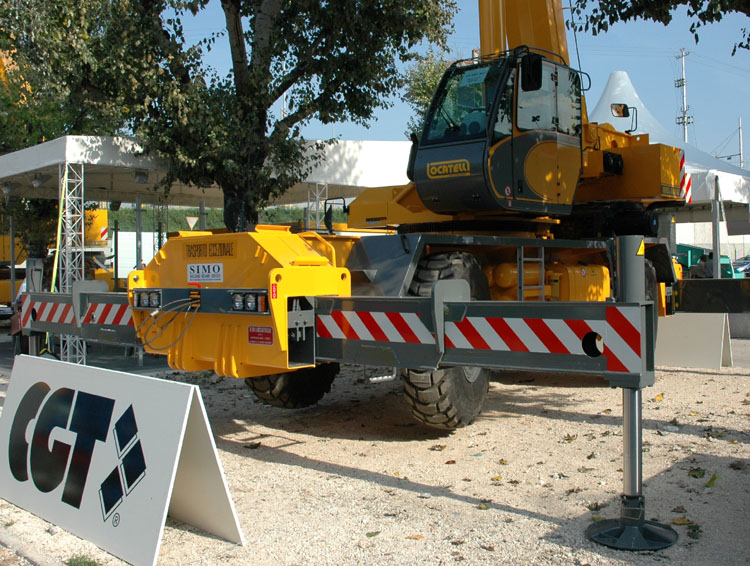 At the stand of Locatelli where 2 AT cranes, the 40 ton Gril 8400 T (top picture) and the 60 ton Gril 8600 T that was already sold to Locatelli. The cranes have booms of 32 meters length and weigh 28,2 and 36 tons.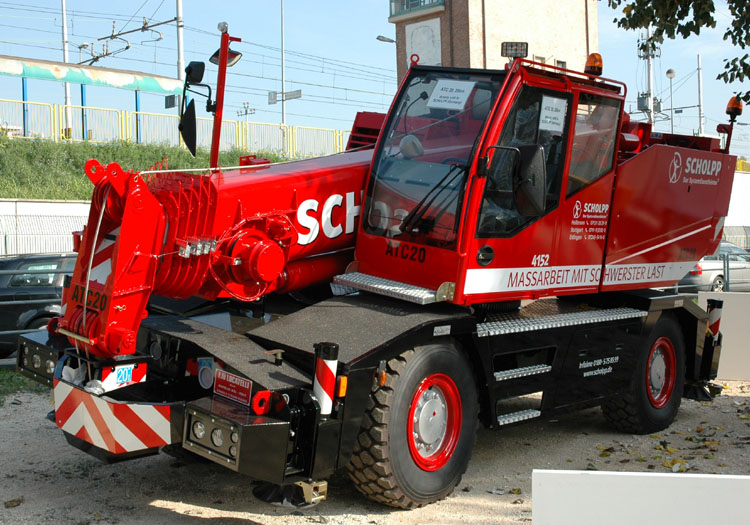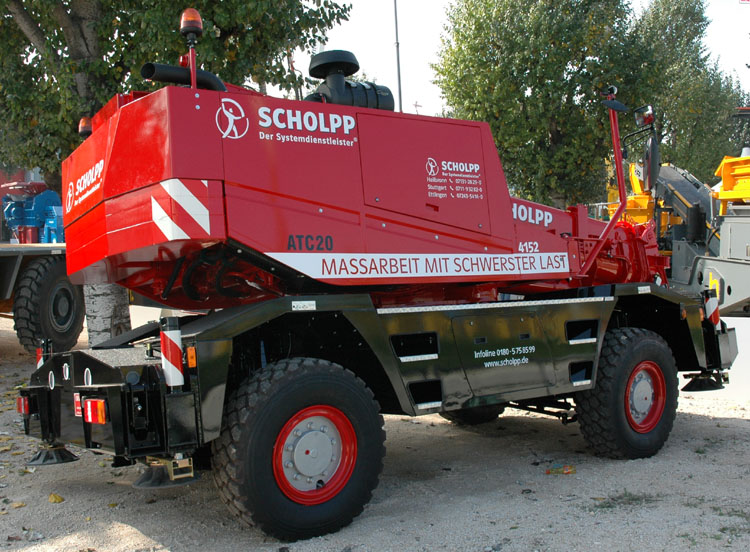 A different kind of Locatelli crane is this ATC 20. It is already sold to the german crane rental company Scholpp. It is a 20 ton city crane with 4x4 drive (hydrostatic). Both axles steer for good manoeuvrability. The axles have hydropneumatic suspension, which is demonstratet here. Boom length is 23,8 meter, lifting capacity is 20 tons. With a height of less then 3 meter and a width of 2,32 meter it is very compact. The 240 hp Iveco engine gives it a maximum speed of 71 km/h.
Mister Gru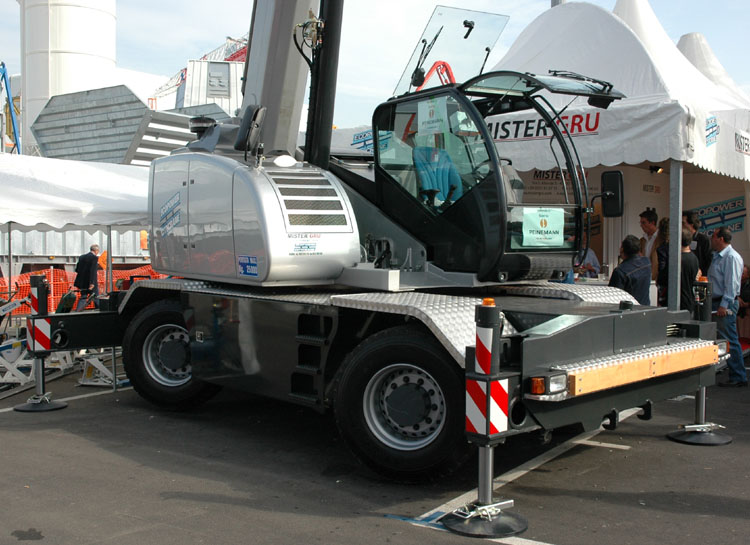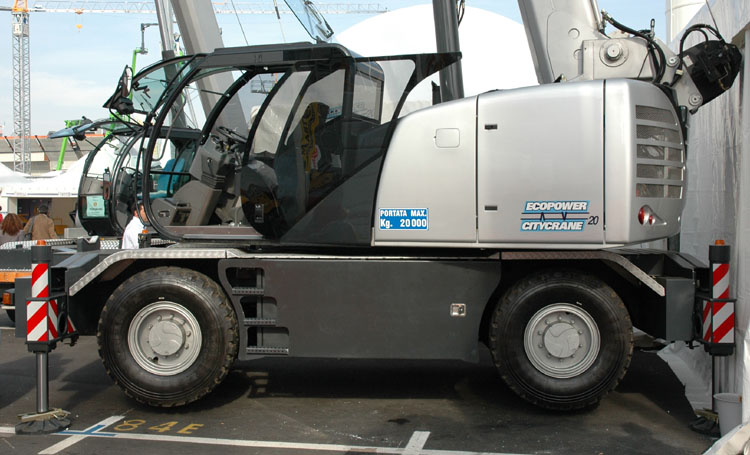 Mister Gru showed 2 Ecopower-Citycrane models this year, a 20 ton and a 25 ton unit (top picture). The 25 ton unit has been sold to the dutch crane rental company Peinemann. These crane can be operated on diesel aswell as on batteries. The maximum speed is 40 km/h. The 25 ton unit has a telescopic boom of 25,6 meter on which a (optional) jib of 4,5 meter can be mounted (telescopic and tiltable to a 45 degree angle). With this jib a height of 32 meter is reached. It is driven by a Volvo 6-cylinder engine that produces 190 hp.
TCM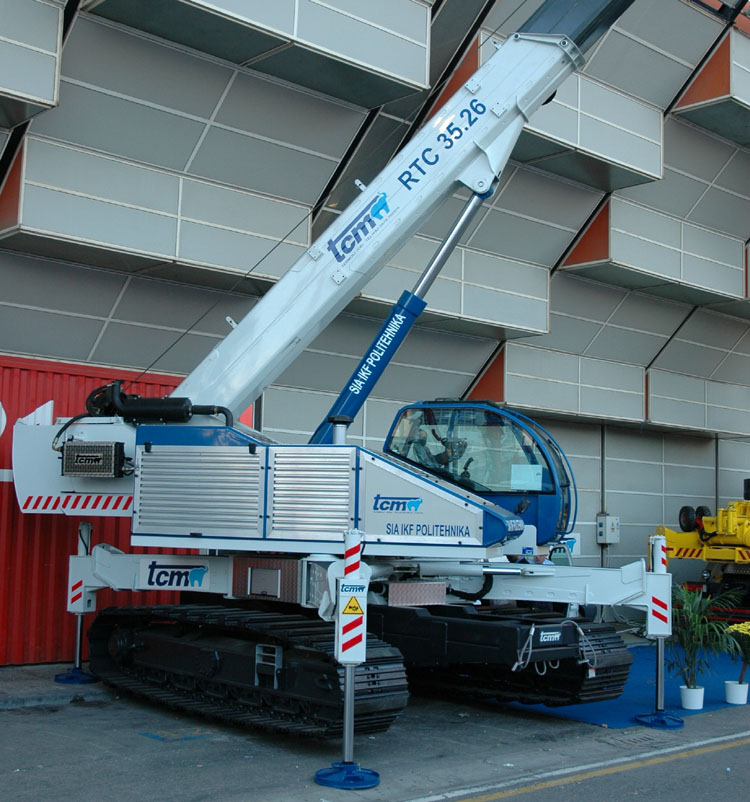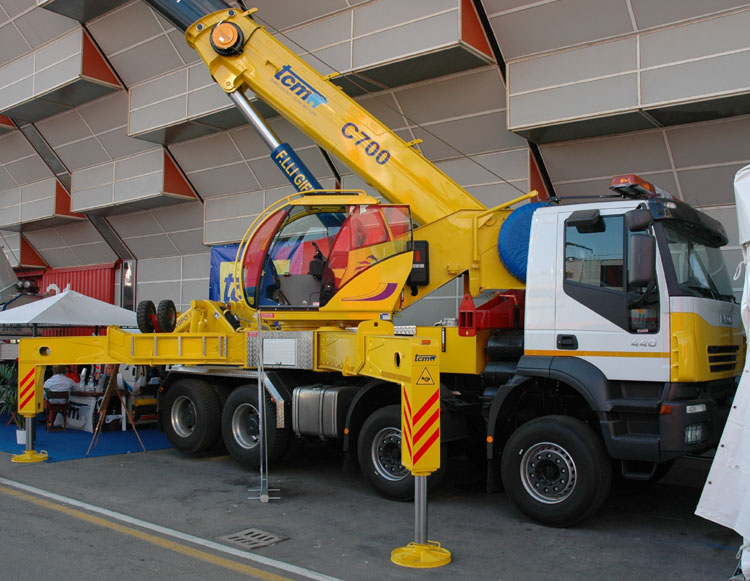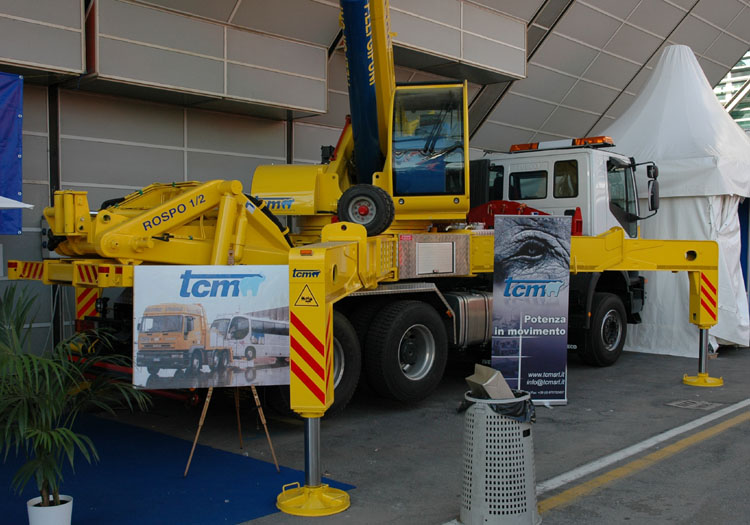 TCM showed 2 cranes, a RTC 35.26 tracked crane and a truck mounted C700 with a rear mounted recovery unit. The tracked crane can lift 40 ton at 3 meters (standing on outriggers and with 6 tons of ballast) and reaches a height of 26 meters. The C700 is mounted on a Iveco Eurotrakker 440 8x4 and can lift 70 tons. The recovery unit is also from TCM, type Rosp 1/2, and is a foldable construction.
Terex Demag / Terex Bendini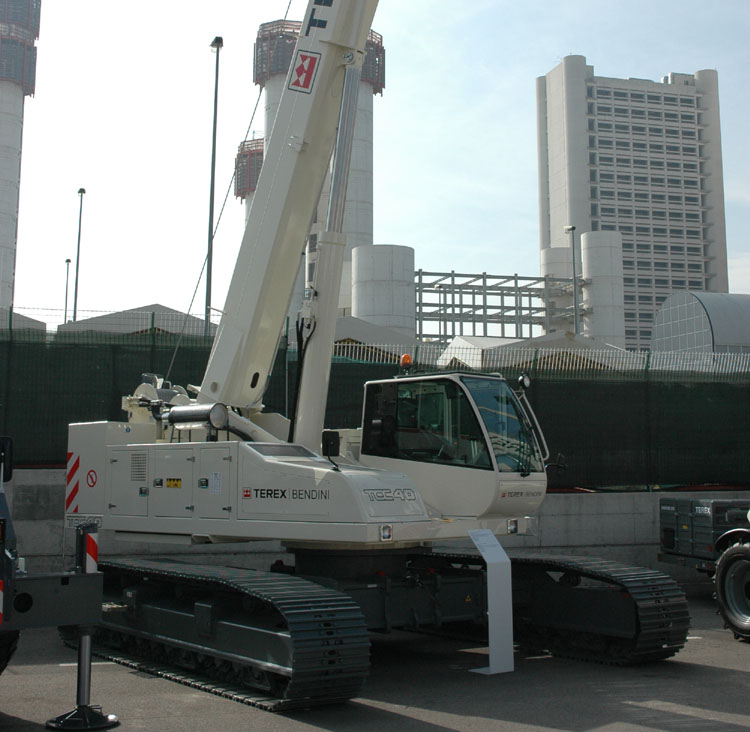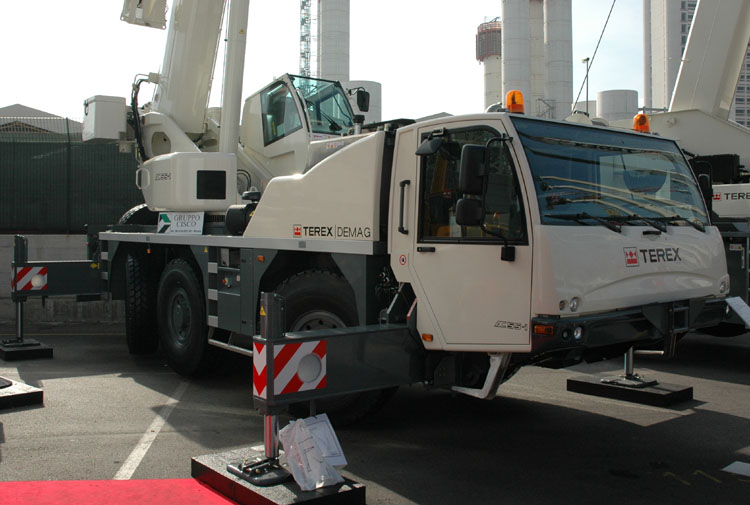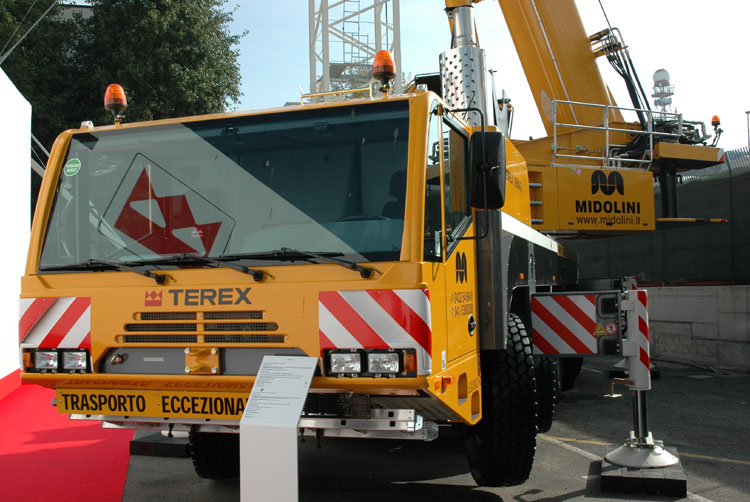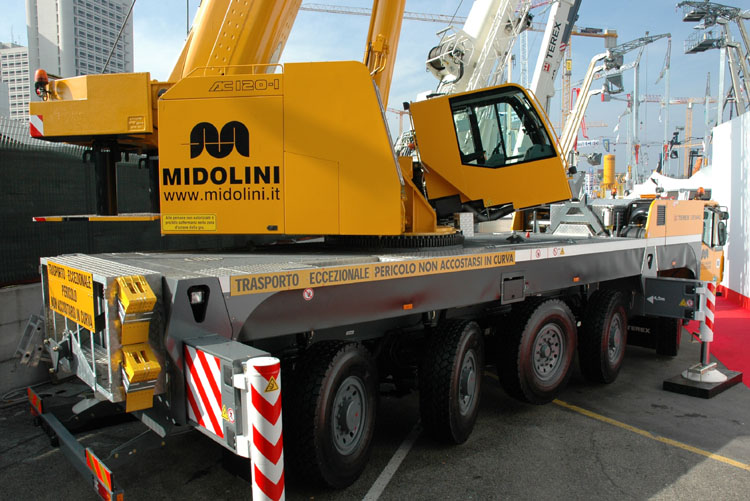 Above are some of the cranes that where displayed at the Terex stand. From top to bottom:
Terex Bendini TCC 40 telescopic crawler crane
Terex Demag AC55-1
Terex Demag AC120-1 of Midolini
Valla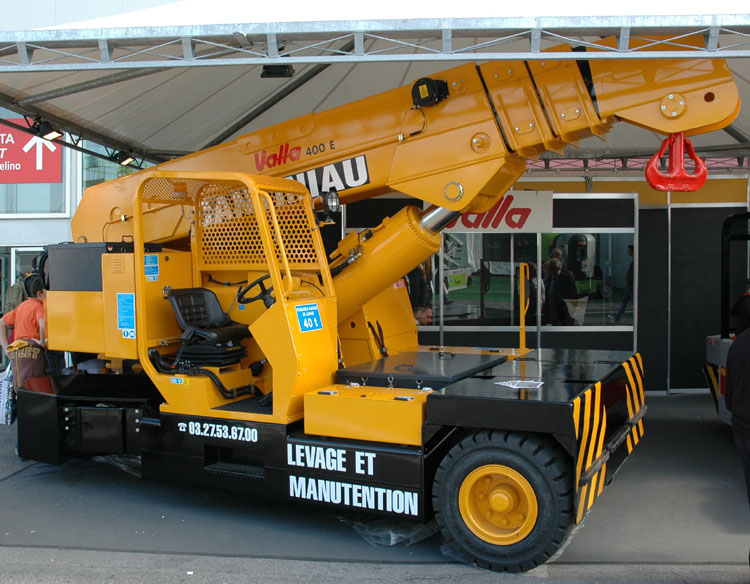 Valla showed a Pick-and-Carry unit of the type 400E which was sold to the frence company Cantiniau. It is electrically driven crane that is mainly used for machinery movement. The capacity is 40 tons. The crane doesn't have outriggers and is driveable under full load. The boom extends 7 meter. The steering is on the rear axle. The ballast is also mounted to this axle. This axle can be extended to the rear for more lifting power. The own weight is 28 ton.