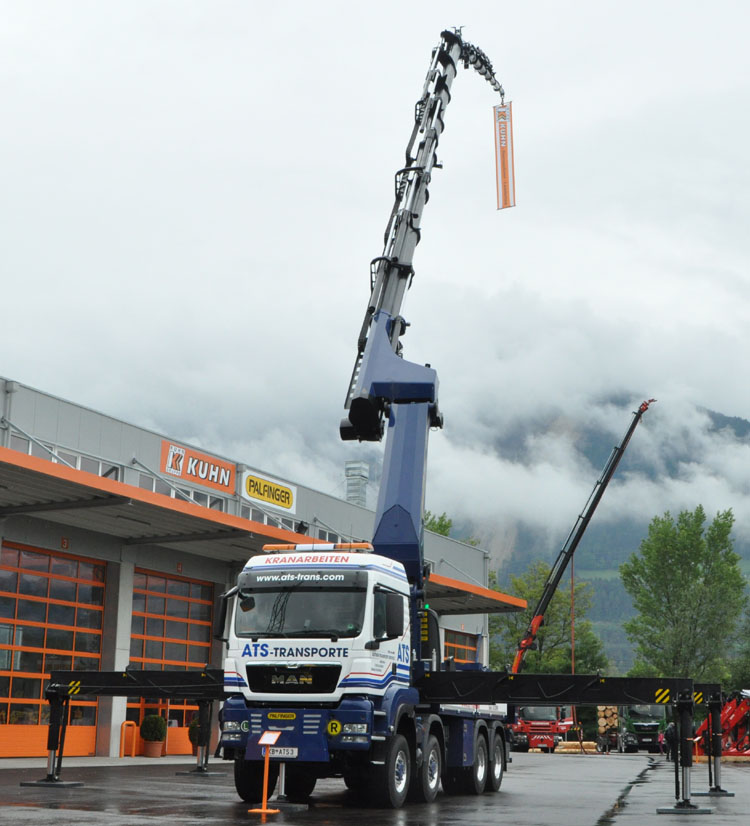 In may this year Kuhn opened a new building in Stans, a village not far from Innsbruck.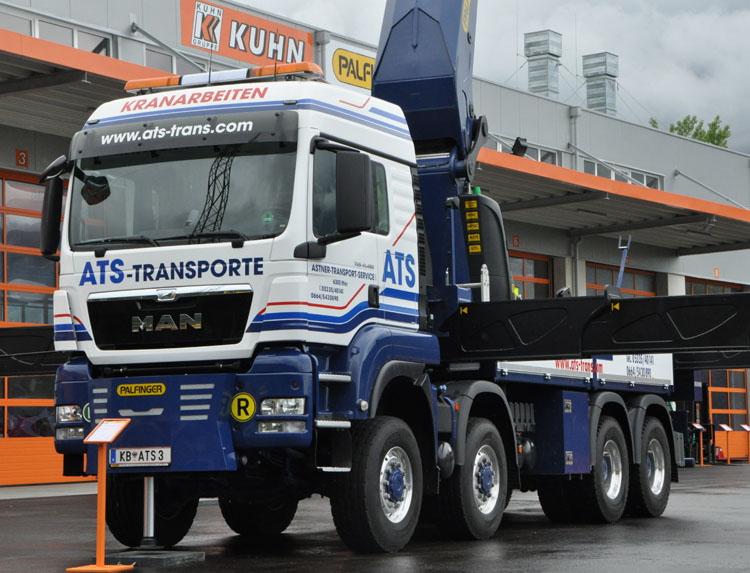 The highlight of that day was this MAN TGS 41.480 of ATS, an 8x8 crane truck.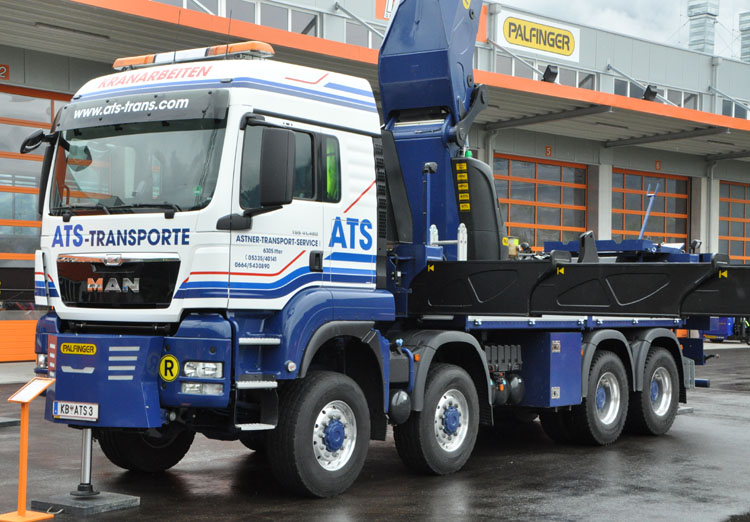 The crane is a Palfinger PK200002L-SH in G version. This crane extends 8x to 25,4 meters where it can lift 3,95 tonnes. This is the first unit to be built on an 8x8, the previous models where mounted on 8x4 or 10x4 chassis.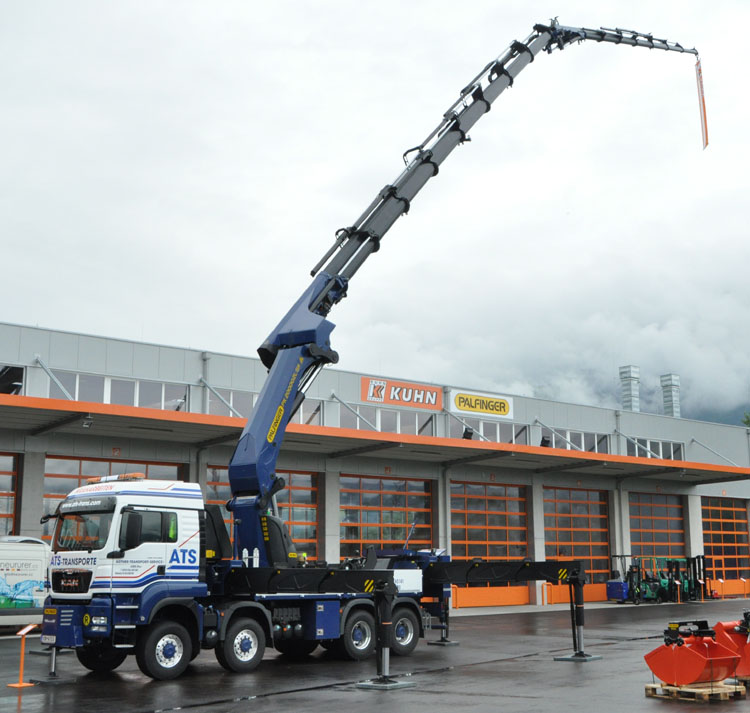 It was on display with it's jib mounted. It's the PJ300LF that extends 7x, reaching out at about 45 meters with 500 kg capacity. In the setup here, the jib can lift a maximum of 6200 kg, when the 8th extension of the base crane is pulled in, the jib can lift up to 8200 kg (DPS System). All the lifting capacities of the jib are higher in that setting.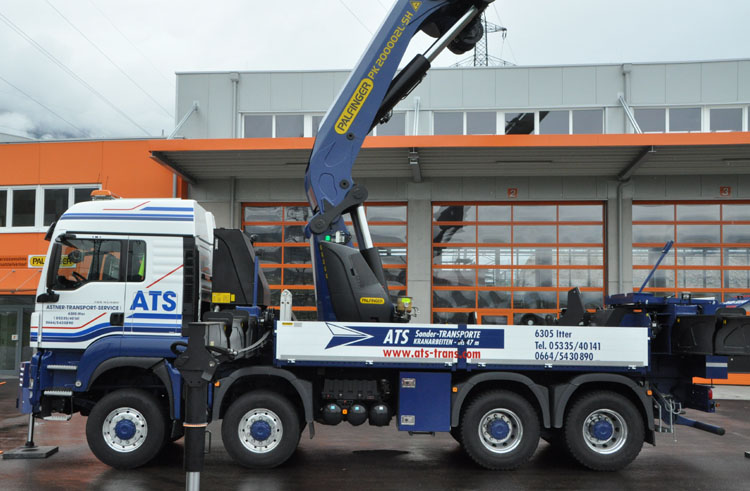 The crane is mounted as 1 unit, that means with subframe and outriggers. The foot of the crane is not mounted at the front of the subframe, but a little bit back. This way the front outriggers also provide some stability when the crane is used to the front. Together with the outrigger at the front bumper, the crane has a good capacity when working to the front.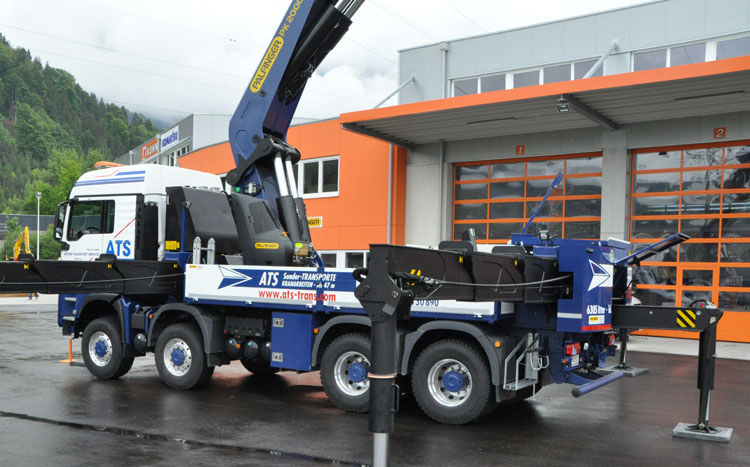 The 3x extending outriggers give a supporting width of 10,4 meter. The space between the axles is filled with battery's, air barrels and a toolbox.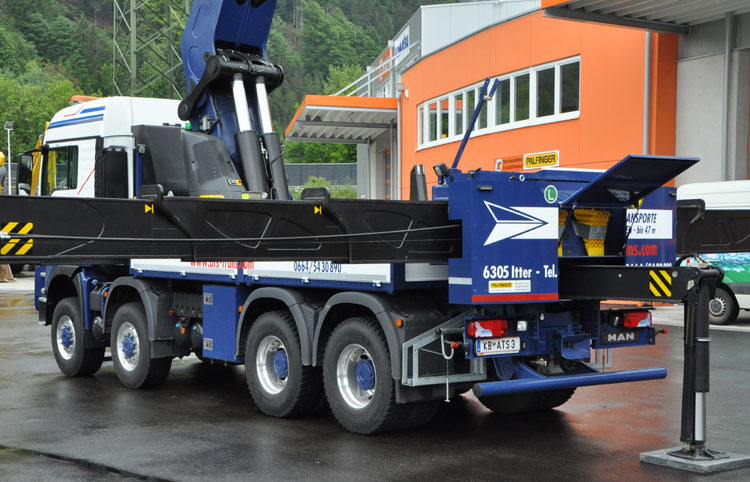 The rear also holds a storage compartment, on top of it a worksman basket can be parked, which isn't mounted in this picture.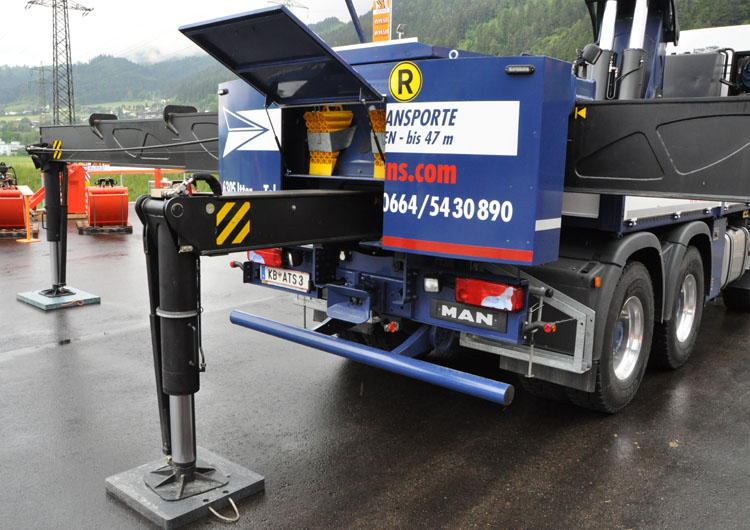 The rear outrigger comes out of the subframe. It lies in the subframe, and tilts down when it comes out.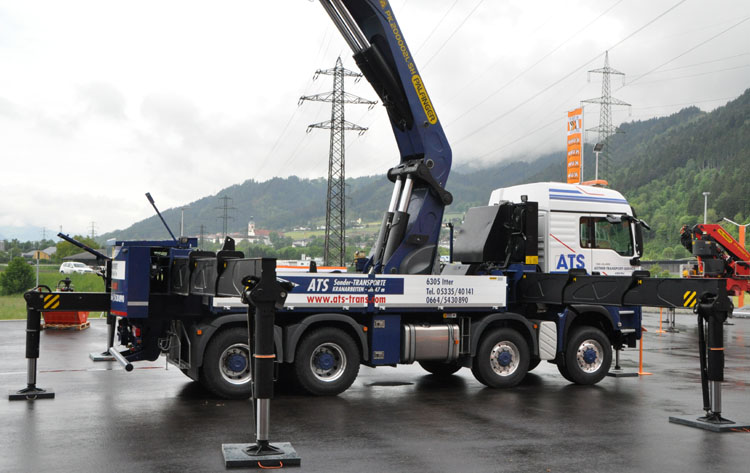 At the front of the subframe stands the large oiltank of the crane, together with 2 coolers.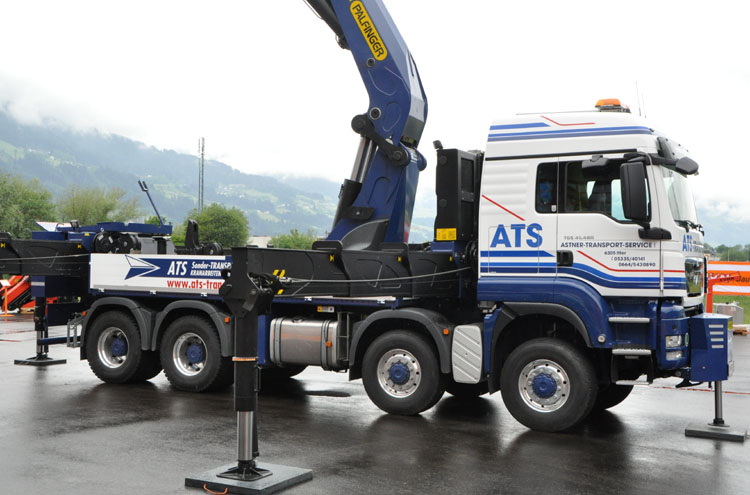 This side holds the dieseltank, the mufler and a storage compartment.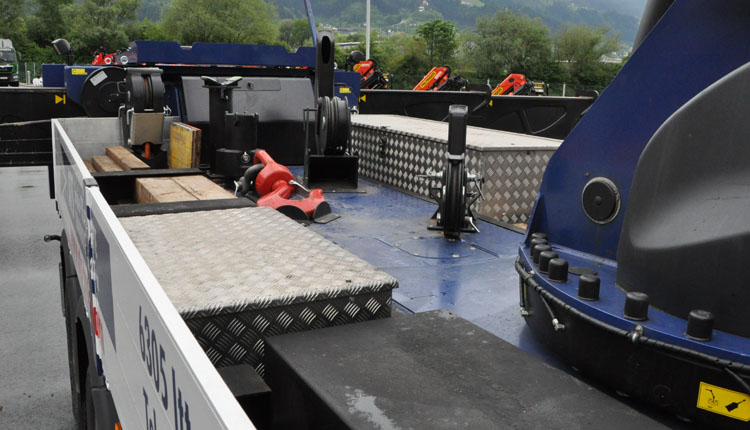 The loading box holds several attachments for the crane.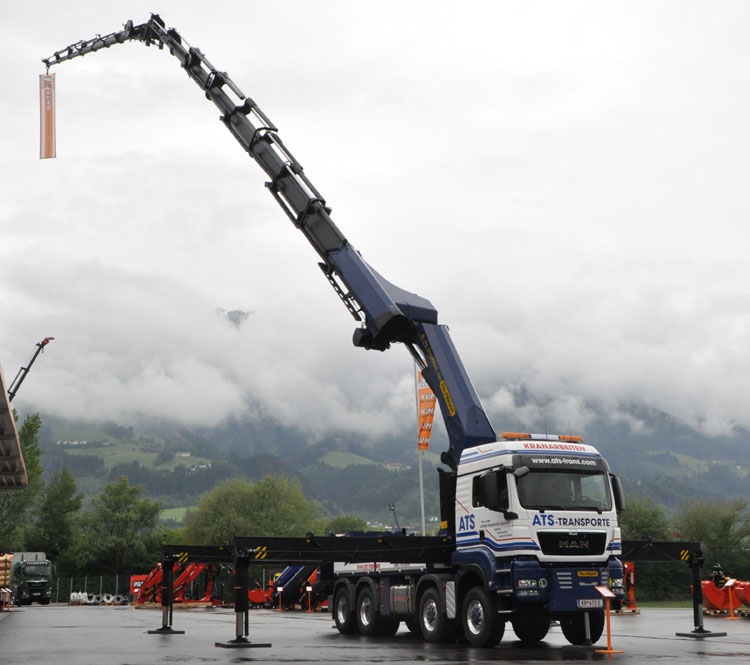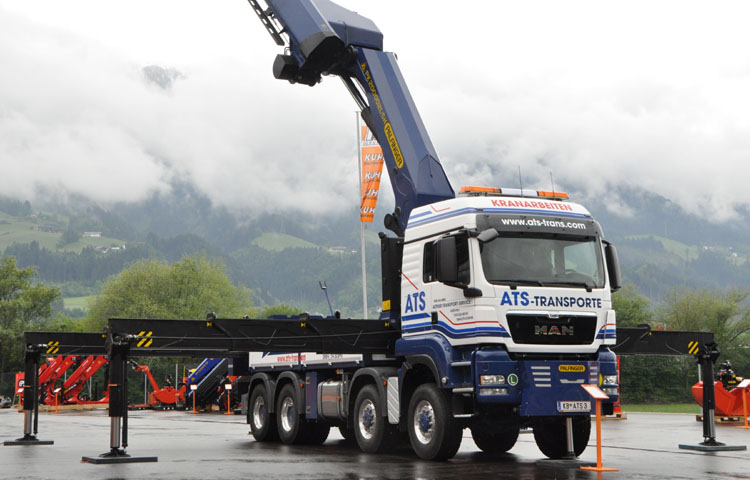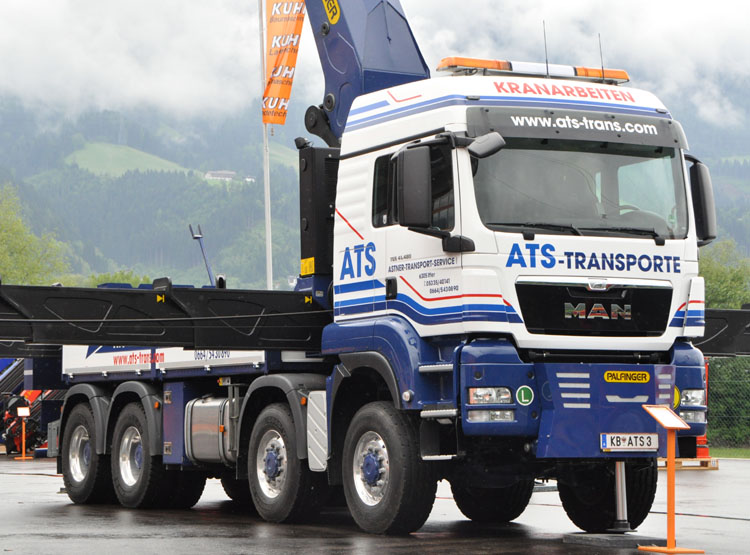 A very nice crane truck that is only interesting because of it's looks, but also technically.