Cormach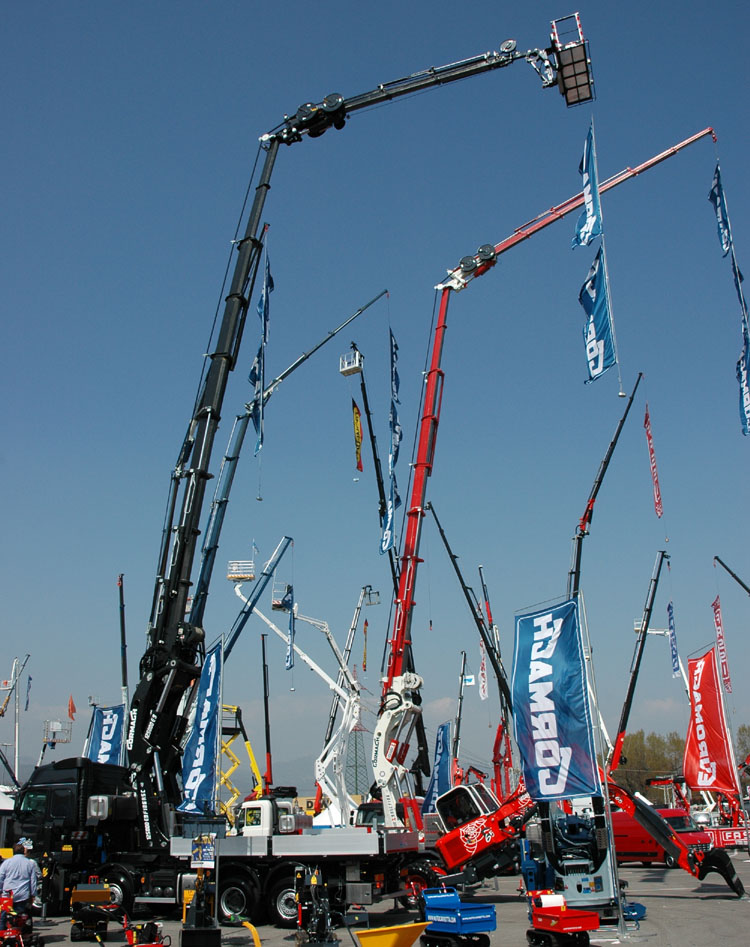 Ath the stand of Cormach stood these 2 nice cranes, the one in the front is a 125000 and the one in the back is the new 135000X model.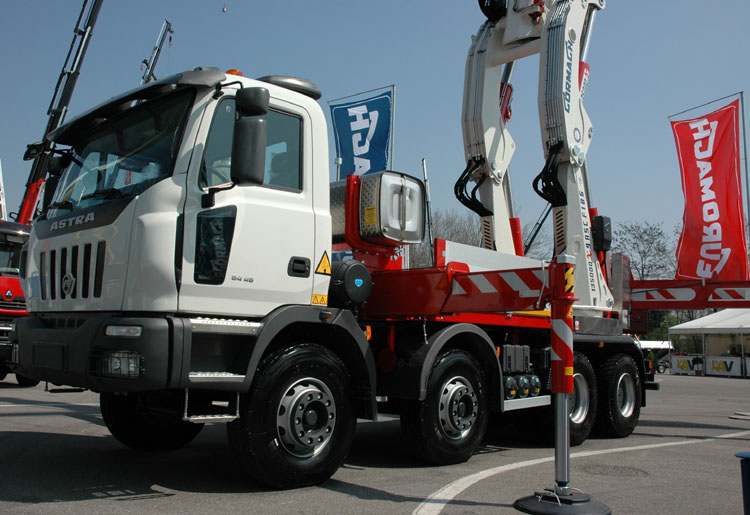 The new Cormach 135000X was presented here for the first time. It is rear mounted on a sturdy Astra 84.48. This is a 8x4 chassis with a 480 hp Iveco engine. The truck goes to a customer in South Italy.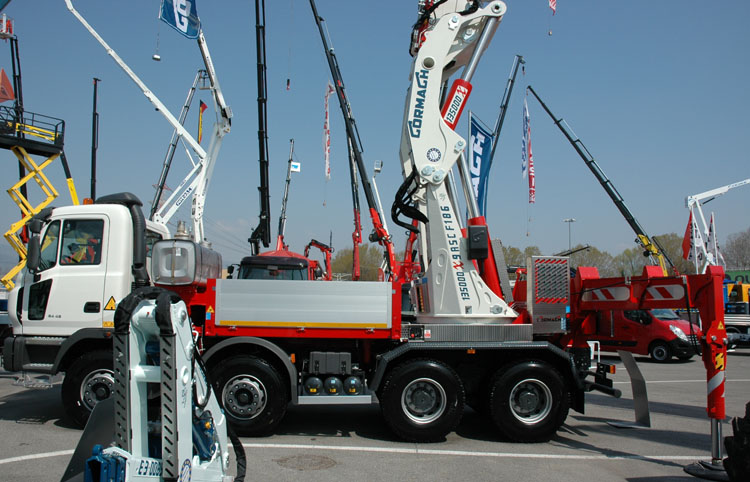 It is a very short chassis for a crane in this class. The crane is mounted above the tandem which gives a good weight distribution.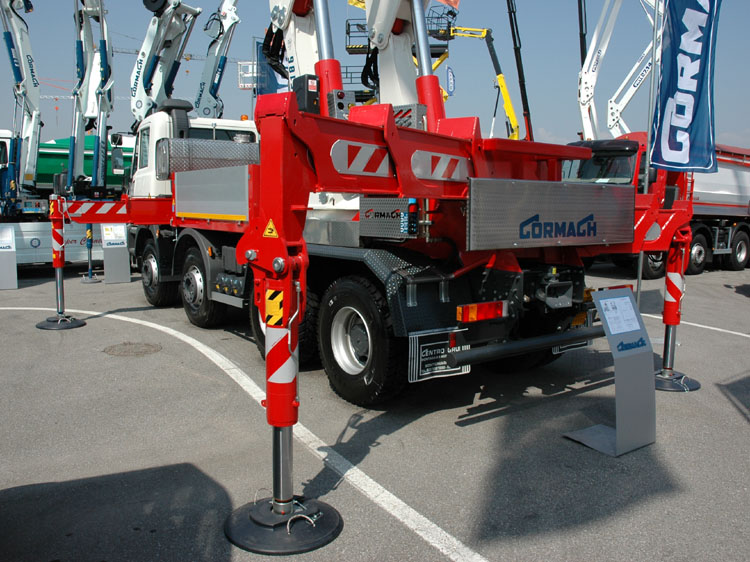 The crane is a new model, the X in the name marks the crosslegs that are installed. This way the crane can also be used to the rear and still be stable on this short chassis. This off course also works to the front when it is front mounted.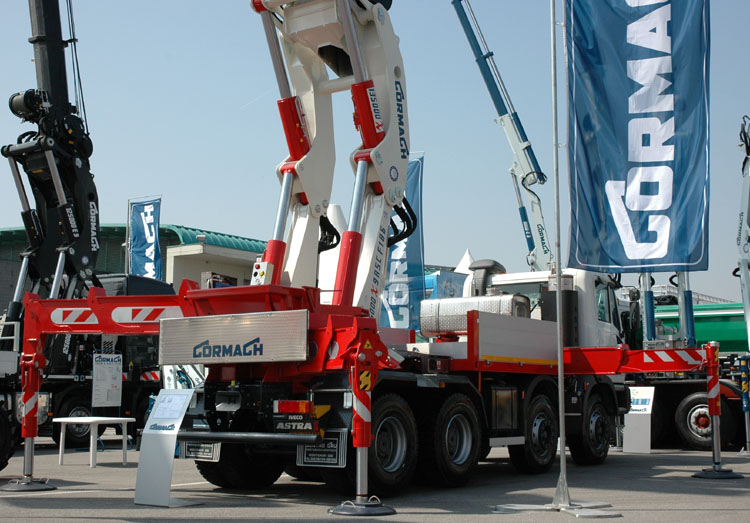 The base crane of this model is a 125000 E9 with a F186 jib. There will also be a E8 version with a new F308 jib. This 8x extending base crane gives an outreach of about 17 meters, with the 8x extending jib this becomes 32 meters with a capacity of 1,25 tonnes. The heavy F308 jib can lift a maximum of 11 tonnes!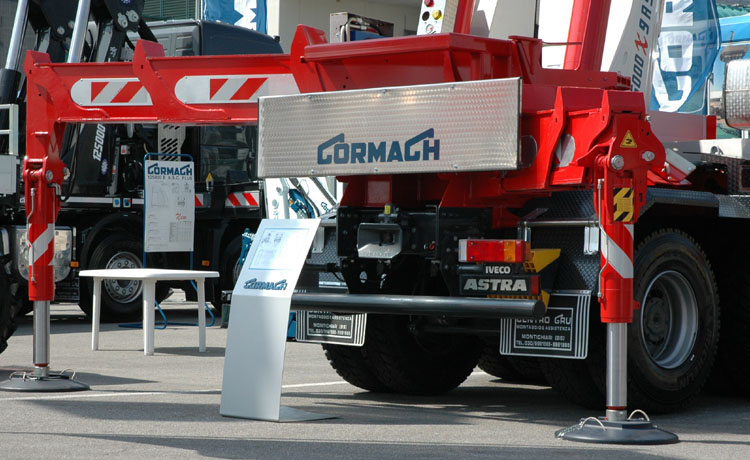 Here we have a better view of the crossed legs. The outriggers of the 125000 base crane are already mounted on top of eachother, these are asswell but are also mounted under an angle.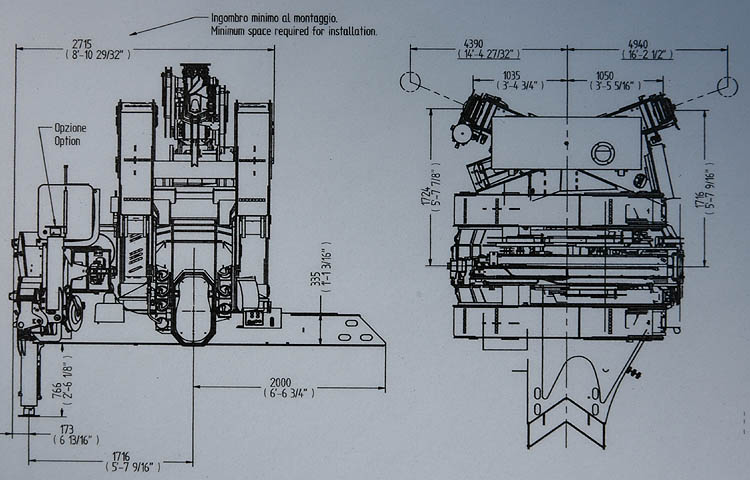 Here we see a drawing of the crane, the top view at the right shows the position of the outriggers.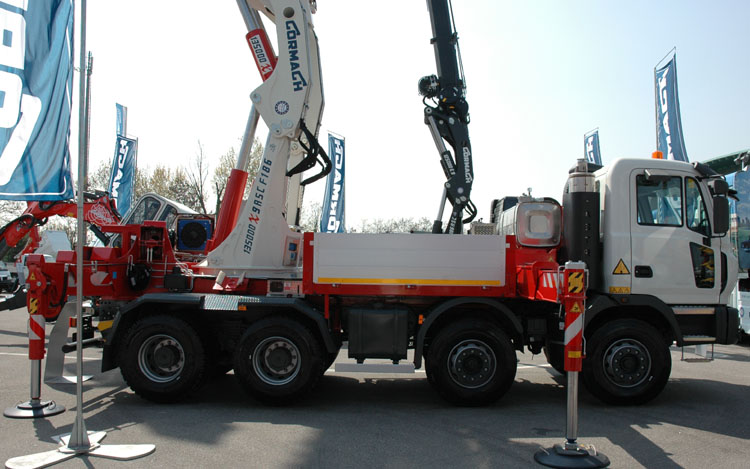 Here we see again how short this truck is. The oiltank was mounted above the front outriggers. It can also be mounted above the outriggers at the crane base.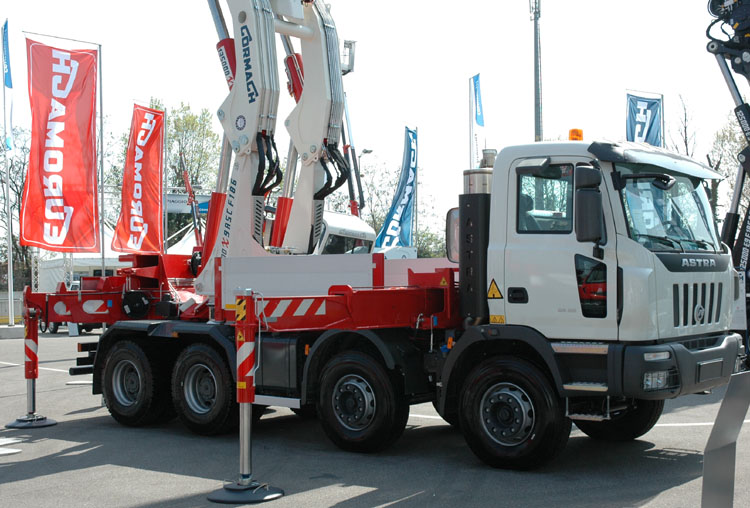 A very nice combination !!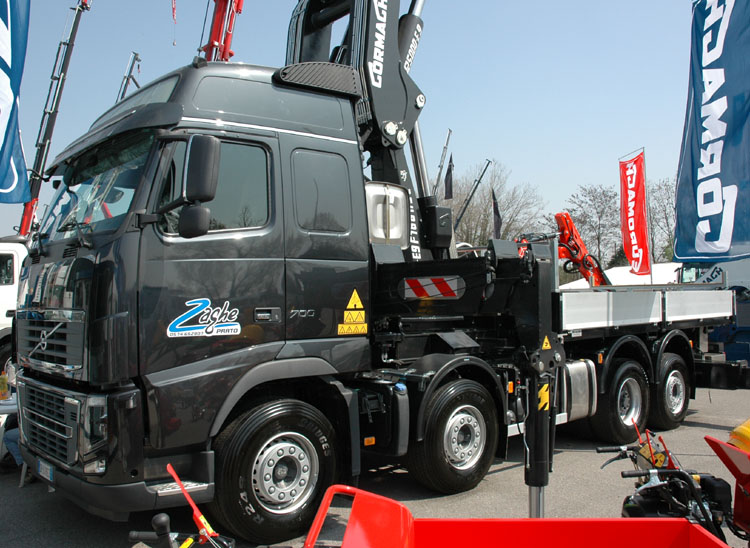 The second truck at the Cormach stand was this nice Volvo FH16-700 in 8x2*6 version of Zaghe from Prato (I).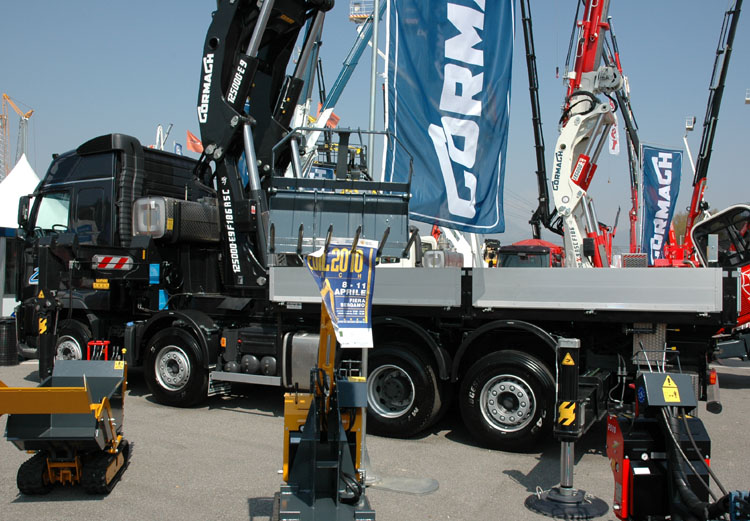 Behind the cab stands a Cormach 125000 E9 with a F186 jib. The base crane extends 9x to 18,93 meters and can lift 4,55 tonnes at that distance. The 6x extending jib gives a total outreach of 31,15 meters with a capacity of 1100 kg. The maximum load that the jib can handle is 7,1 tonnes.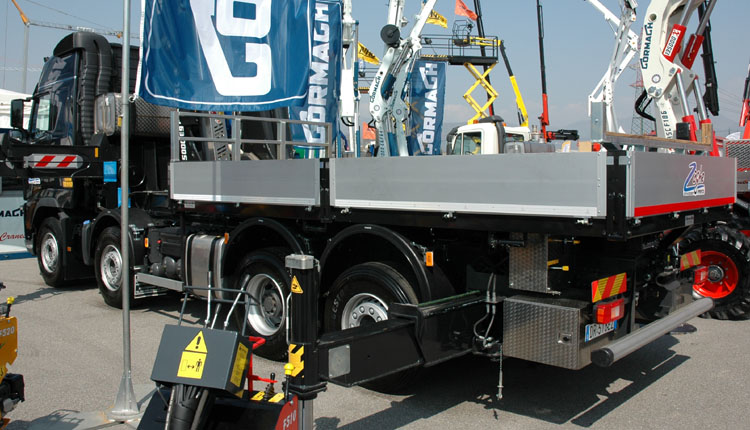 The support frame and rear outriggers are assembled and installed at the daughter company, Centro Gru.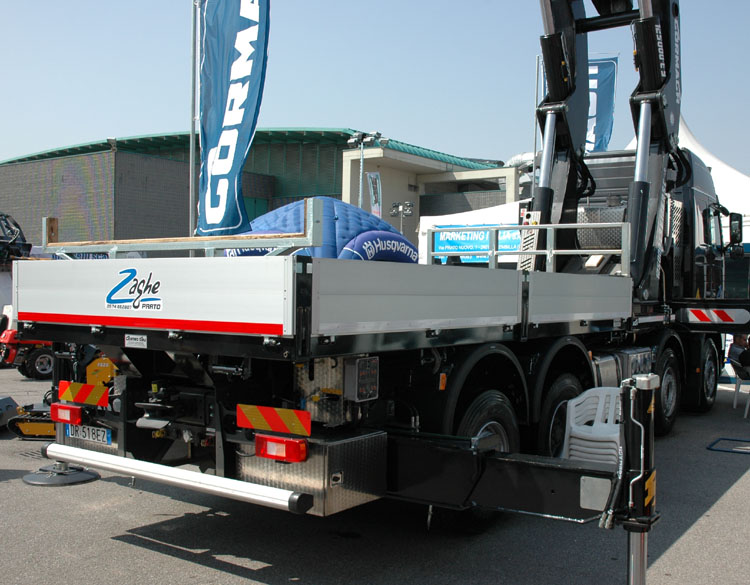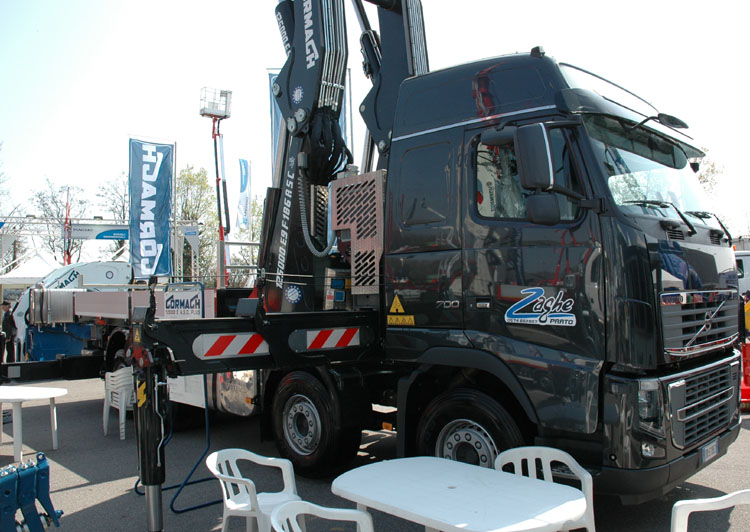 Also a very nice combination !!
On to page 2 >>