Cormach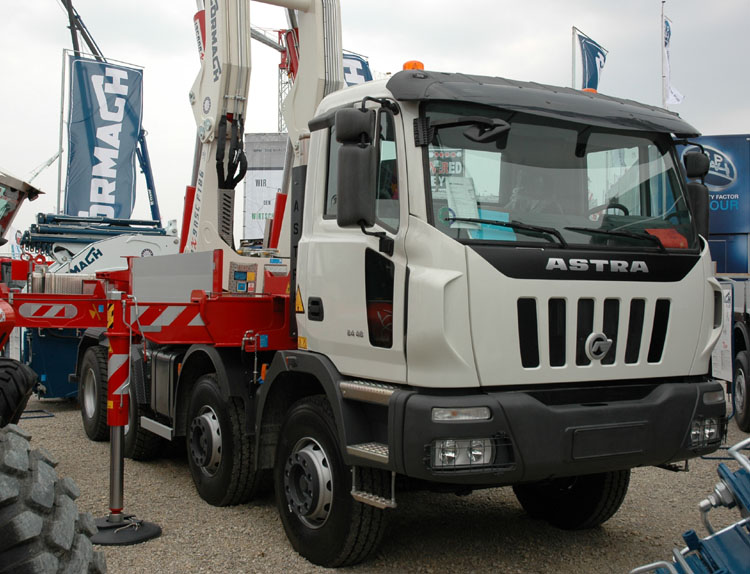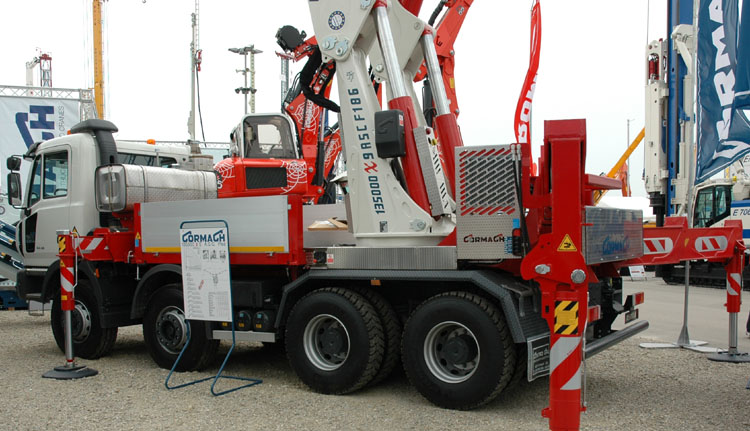 Cormach had the same 2 cranes on display as they had on the Edil in Bergamo. This is the new 135000 X with cross legs. It has cross legs for stability to the rear (or front when it is frontmounted). A new jib is available for this model, it has about 30 ton/mtrs capacity and can lift up to 11 tons!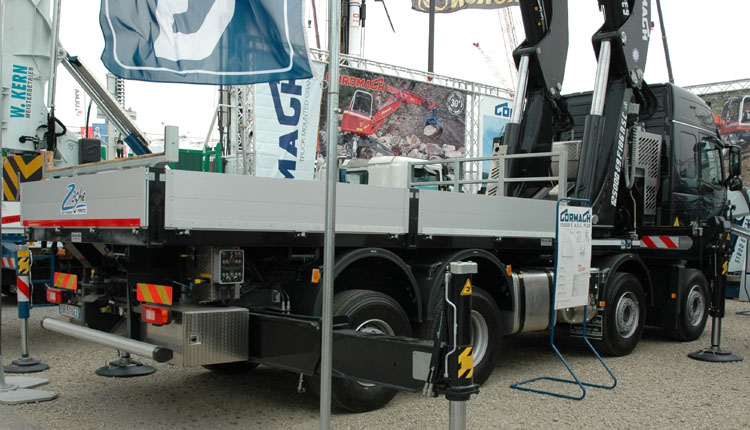 This Volvo also stood at the Edil in Bergamo. It is a FH16-700 8x2 with a 125000E9 with F186 jib, good for about 31 meters of outreach.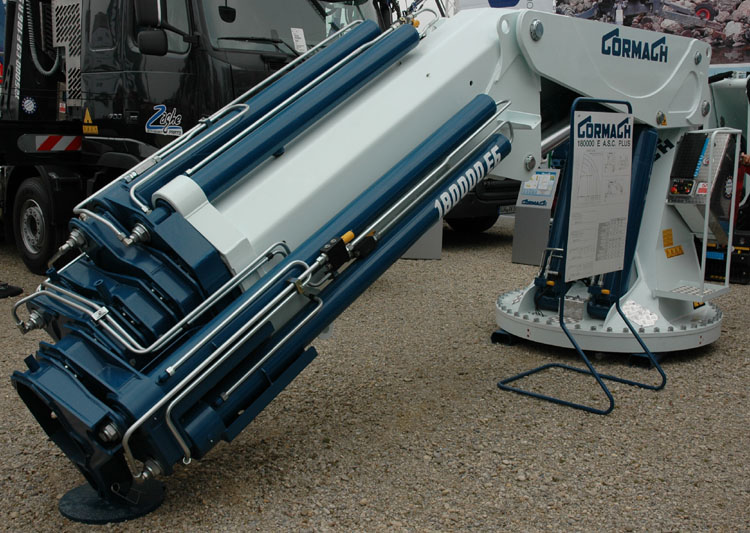 Not truck-mounted but still interesting is this 180000 model in E6 version. It can lift a load of 7,76 ton at 16,5 meters.
Effer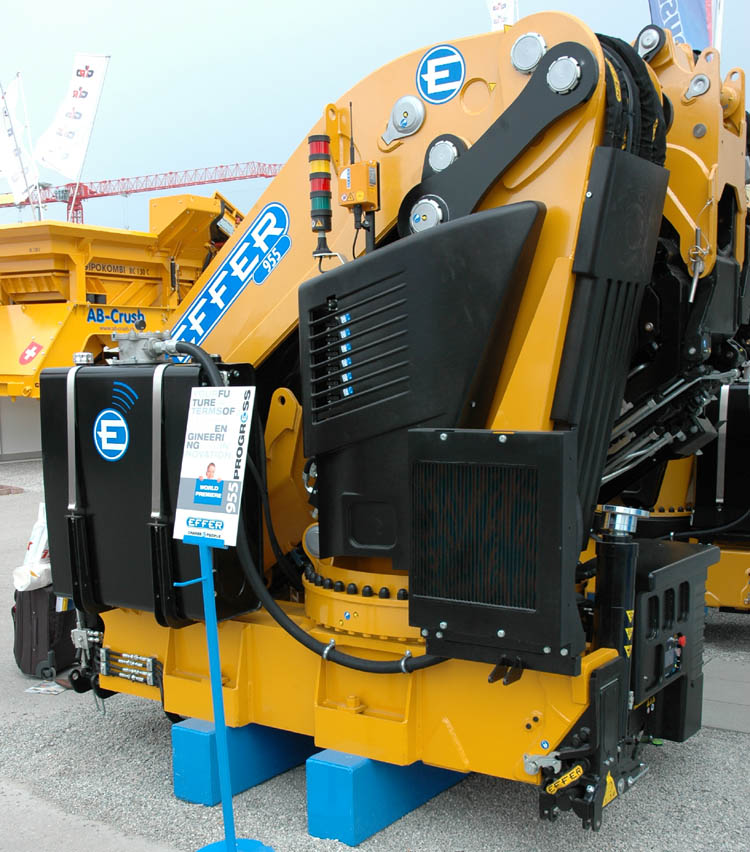 Effer introduced the new 955. It has a capacity from 73 till 78,4 ton/mtr. This is the 8S version with the 6S jib, it has an outreach of 20,58 mtr (2,82 t) at the base crane and 33,55 (720 kg) in total.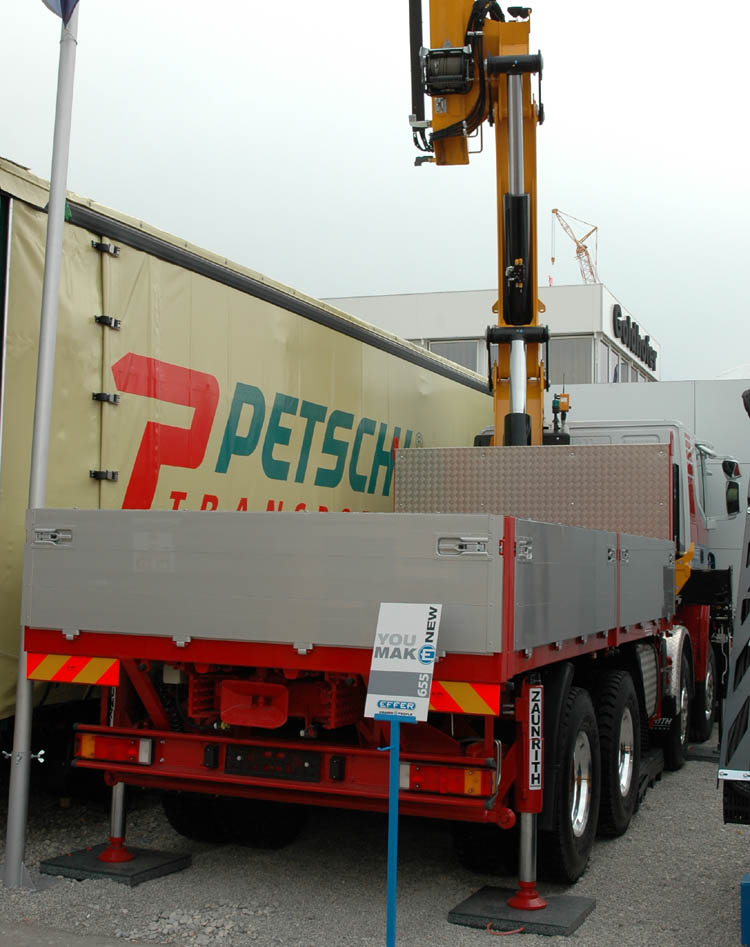 This is the new Effer 655. It is mounted on a interesting Iveco Trakker 8x8 of Spiegl Transporte from Austria.
Erkin / World Power Crane
A new competitor on the european market is the Turkish company Erkin. They build a full range of knuckleboom cranes from 9 t/m up to 450 t/m! Also available are telescopic cranes and a recovery unit. The Erkin cranes will be available in Denmark via Skaks from Rodekro (DK).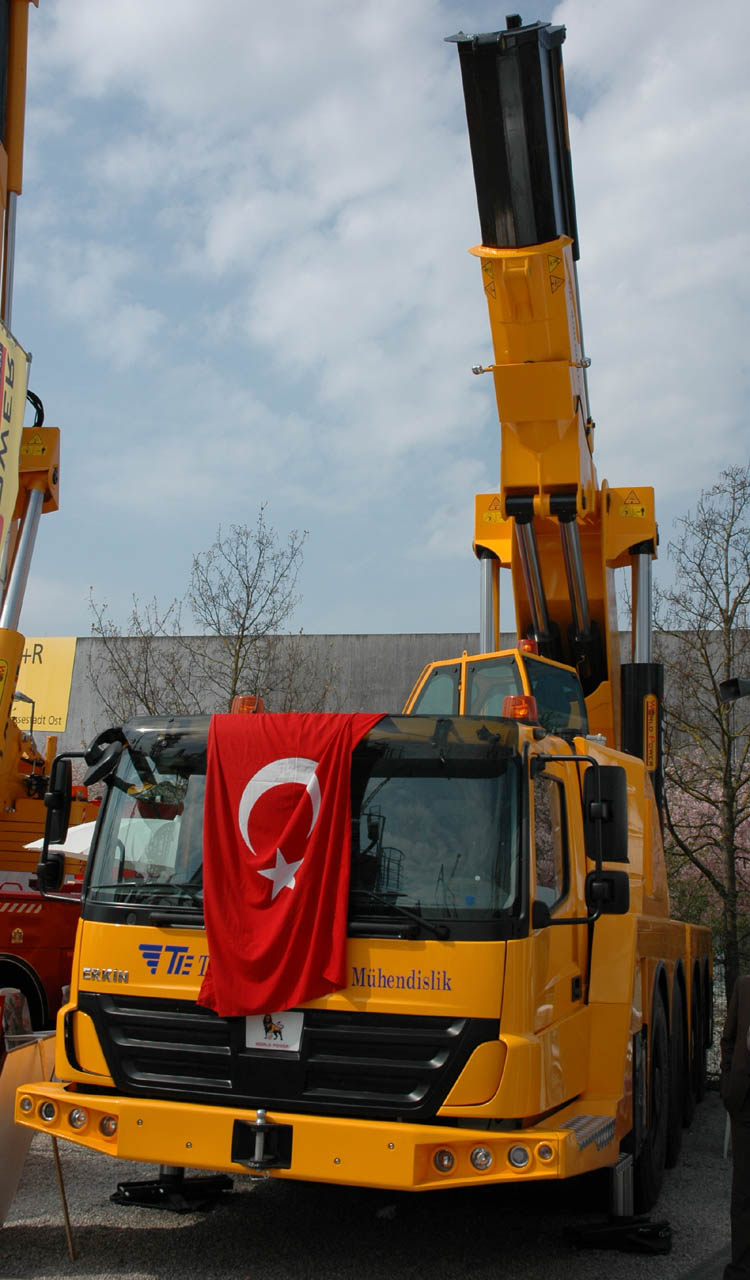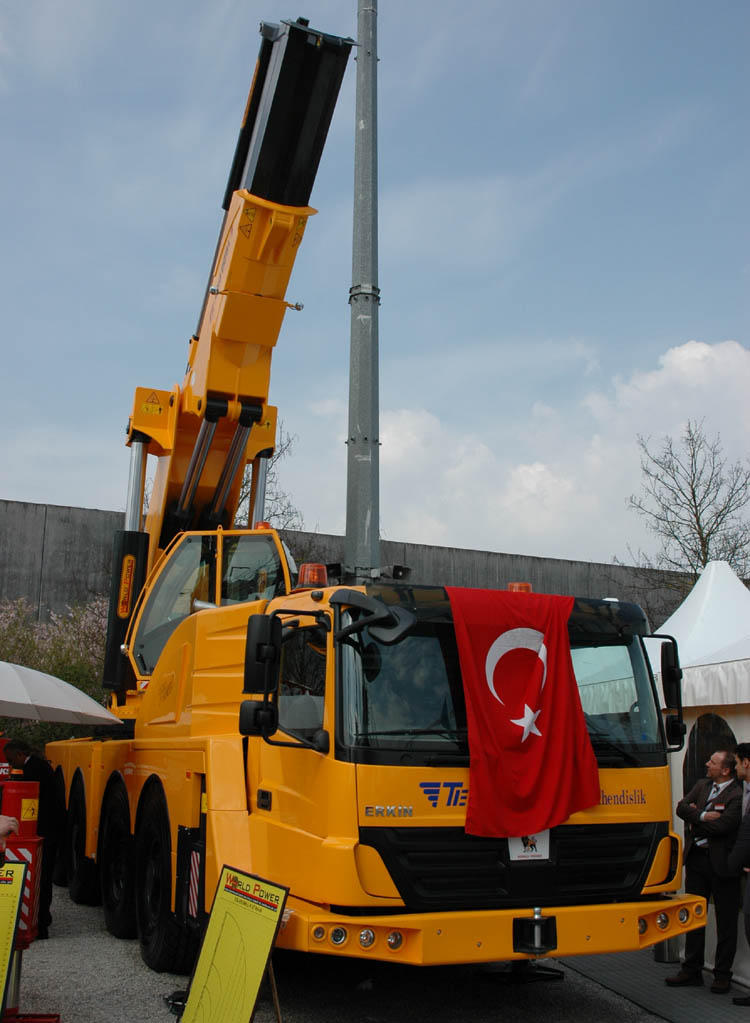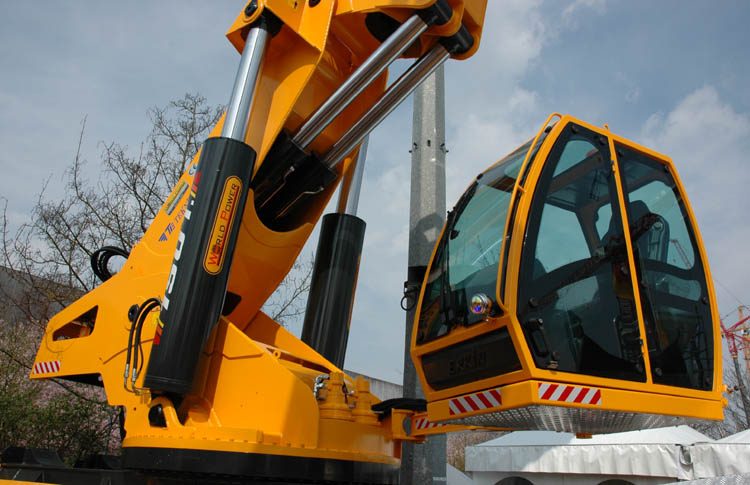 Not even finished yet, but already at the Bauma! This is the completely new designed crane, the ER-450.000 L-8. It is mounted on top of a self propelled carriage with a Mercedes Atego cab. The carrier has 8x6 drive and steers on all wheels. The crane can lift up to 92 tons at about 4,5 meters. The maximum outreach is 20 meter with 8 extensions. It can still lift 14 tons there! The cab of the crane can rotate into position.
Note: the crane isn't finished here, only the first extension of the main boom is installed!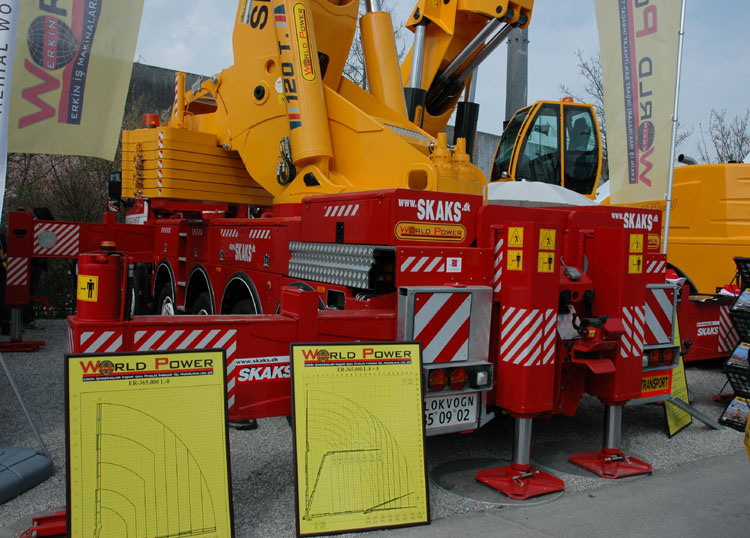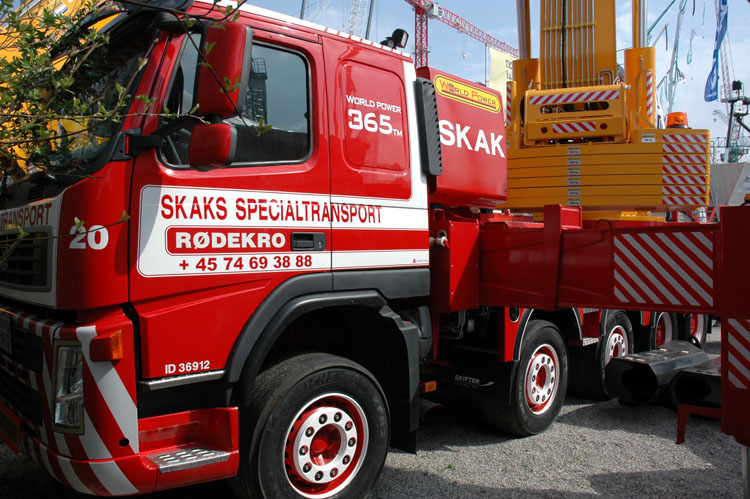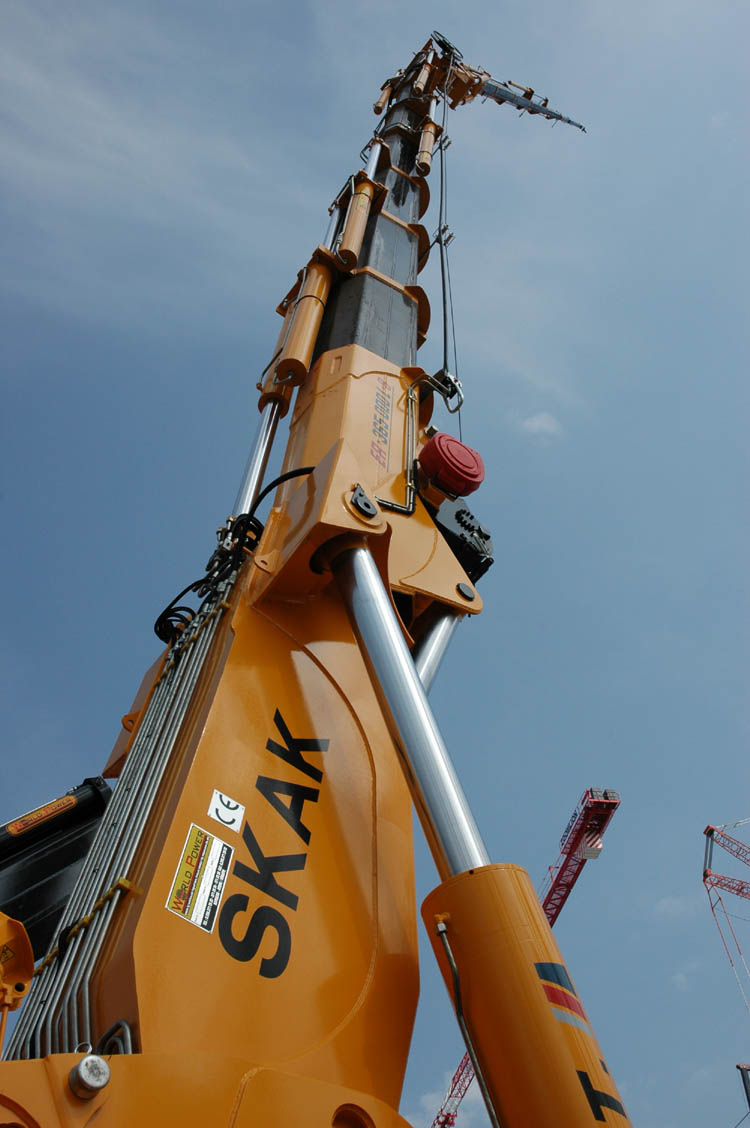 The second crane on the stand is the first unit to be sold in Europe. It is a ER-365.000 L-8 that has a lifting capacity of about 340 ton/mtr and an outreach on the 8x extending base crane of 22,5 meters with a capacity of 9,3 tons. The 5x extending jib gives it a total hydraulic outreach of 38,8 meters, with 2 manual extensions this becomes 45,5 meters! The crane is mounted on a Volvo FM in 10x4 version. It is fully air-suspended and is converted by OA-Opbyg, the base chassis is a 6x4 with planetary drives on the tandem. The low car-transporter roof gives room to put the boom over the roof. This crane model can also be factory fitted with a cab, if necessary.
Fassi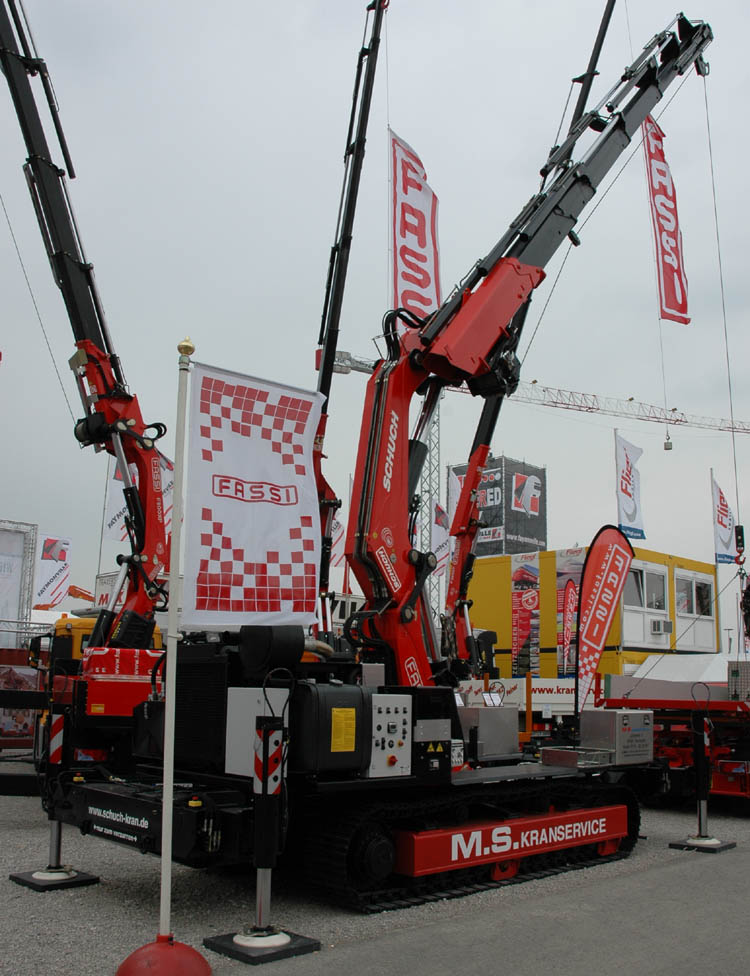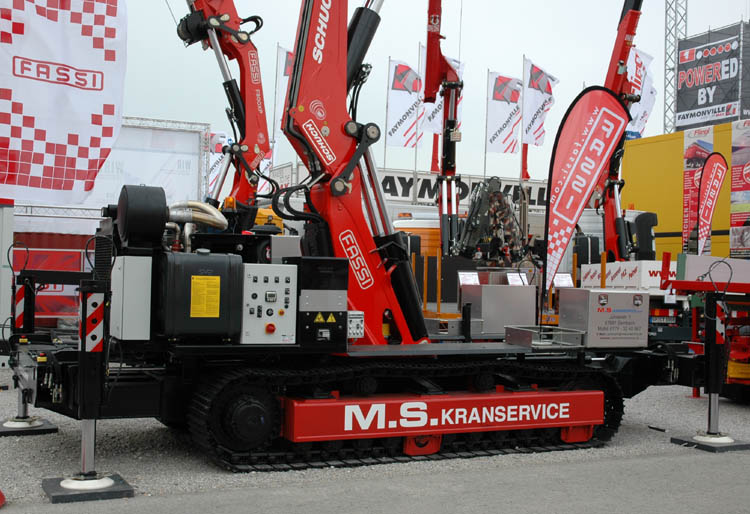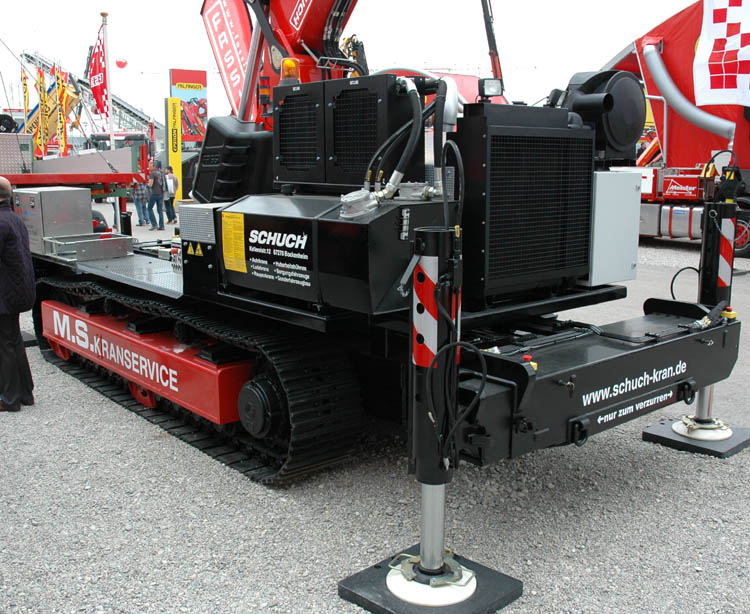 The combined Fassi & Schuch-Kran stand showed this very interesting track-mounted Fassi 950. The tracks give it good manoeuvrability and provide access to very narrow sites. The complete crane is remote-control operated. It still needs it outriggers to be stabel, they are extendable to the front & rear for compact transportation. The crane is propelled by it's own powerpack that can be seen here. A similar version was built with a 150 t/m Palfinger.