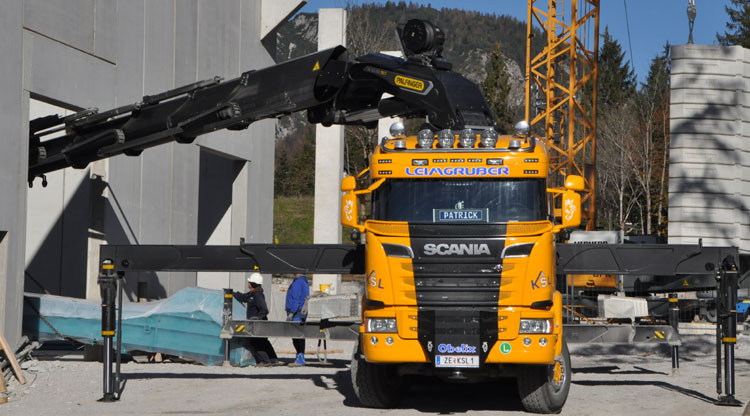 Here we see the Scania of Thomas Leimgruber / KSL Kran from Viehhofen (A) lifting some equipment.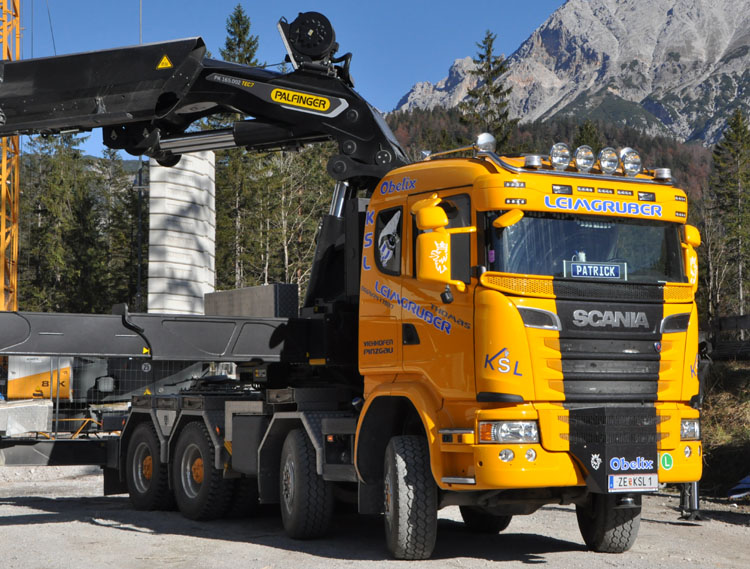 For the work in this mountaines region, they chose a Scania G490 8x6 as a chassis.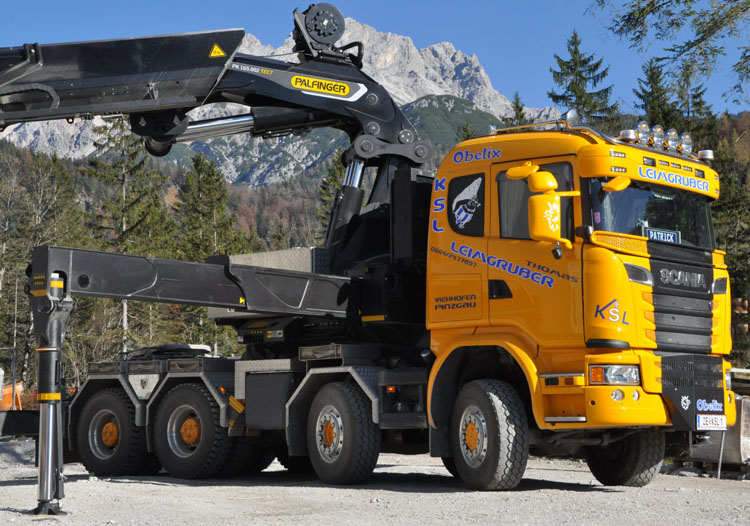 The truck named Obelix is equiped with a Palfinger PK165002-TEC7 crane in G-version. This means that it extends 8x hydraulically to 18,5 meter with a capacity of 5,6 tons.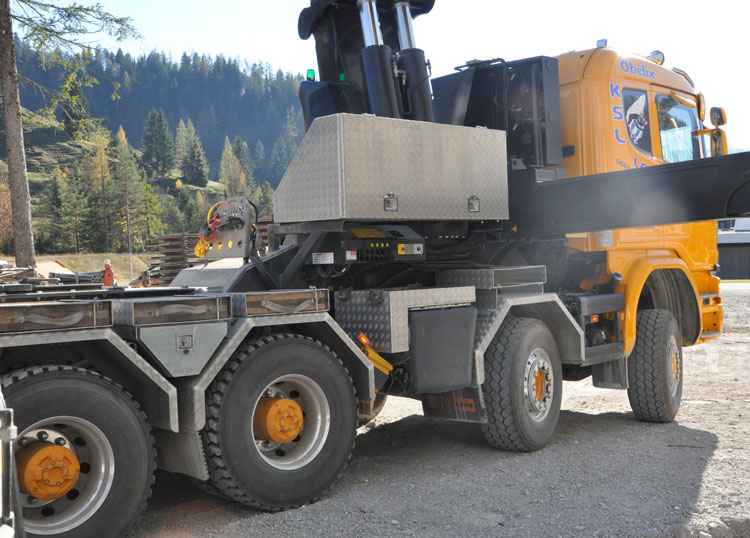 The crane is mounted directly behind the cab. On top of the outriggers we see the large oiltank and the coolers. Between the axles hangs the muffler. All other space was used to store all kinds of stuff, like lifting equipment, outrigger plates, etc. Besides the crane they installed another large toolbox.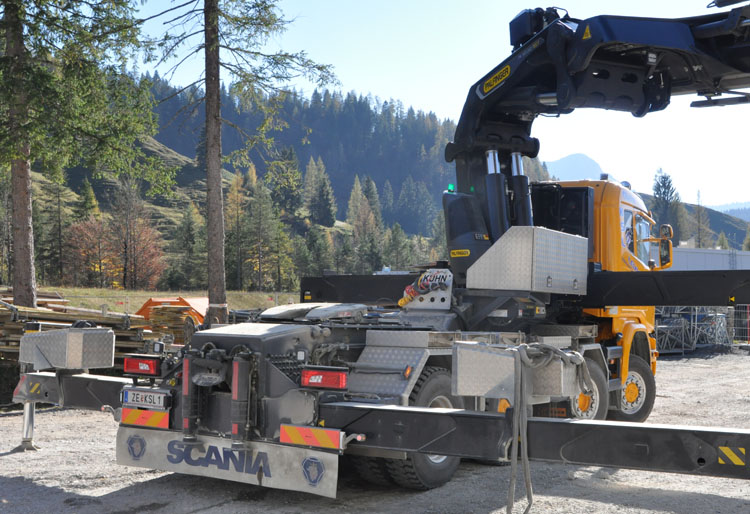 On top of the rear outriggers they mounted some boxes for ropes and chains. As these extend with the outriggers, they are also accessable when a trailer is connected. They also hold some crane parts, for example the rolls when using the winch.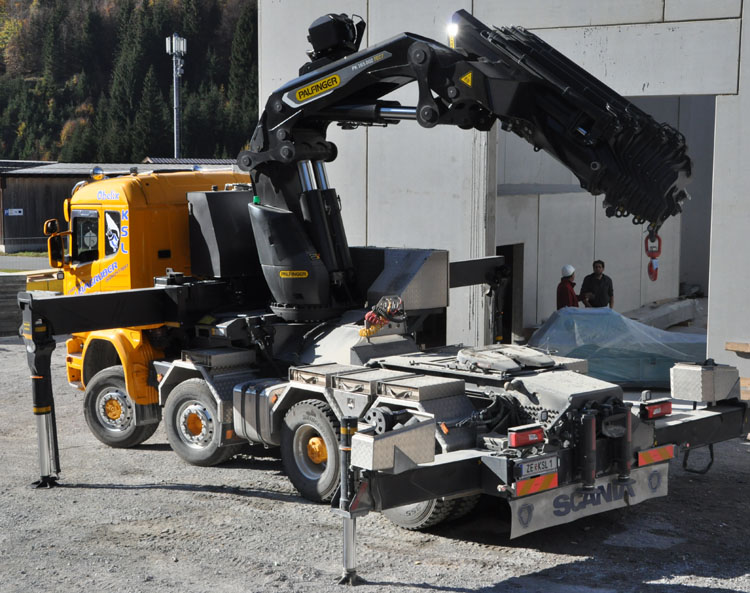 At the back of the chassis they mounted 2 additional outriggers. These help prevent bending of the normal outriggers when the crane is doing heavy work to the rear. This is a side effect of the short wheelbase, which in it's turn is important for the manoevrability in the mountains.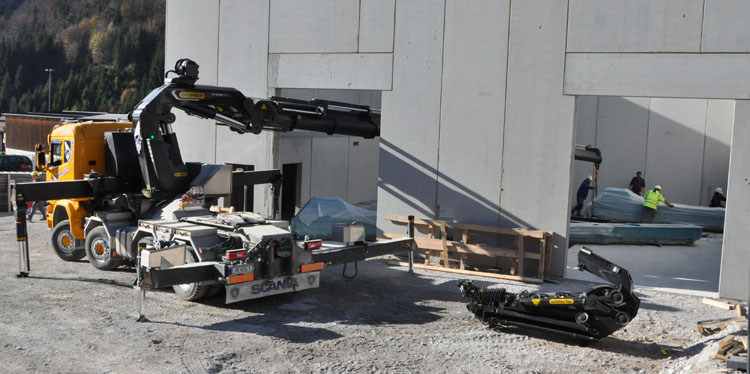 The parts where lifted through an opening in the new hall. One side has been put on industrial rollers, the other side is lifted. To the right we see the PJ240E jib, it gives a total outreach of 31 meters. Maximum load with active DPS is 8 ton at a height of 20 meters. Up to 13 meters of height it can lift the maximum load of 11,5 tons.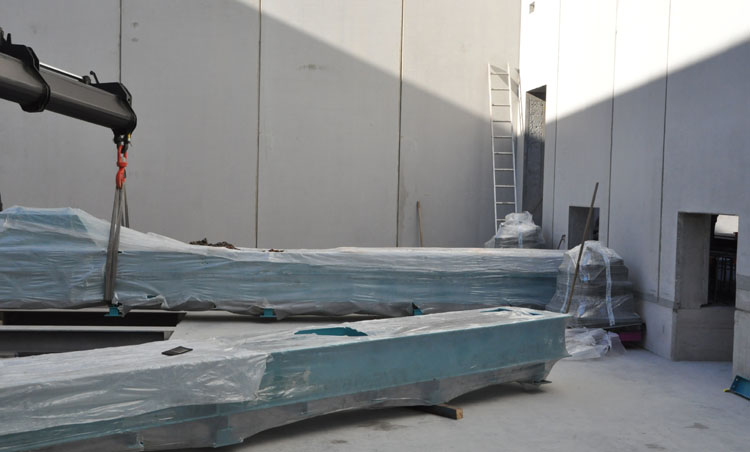 The crane lifts the other side and then rolls the part through the narrow hole at the right side. With this method also larger objects can be placed in very confined spaces.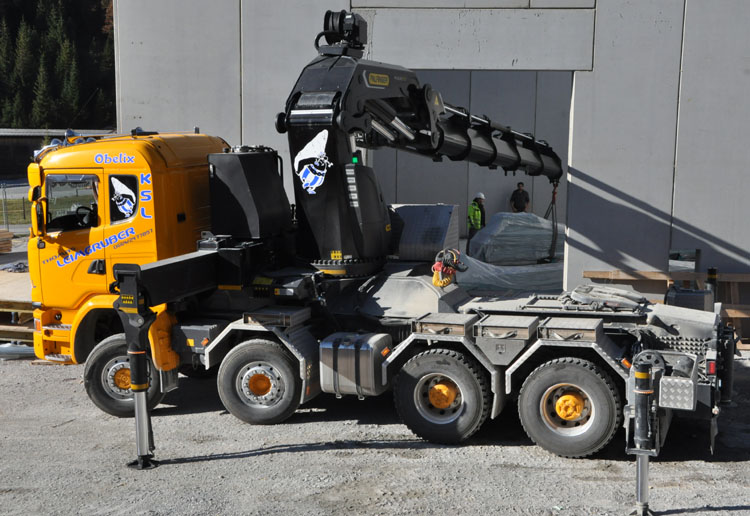 Beside the 5th wheel some ball type hitches can be seen. On these a small flatbed can be mounted, so that it can be used as a truck or even in combination with a drawbar trailer. Here you clearly see the advantage of a knuckleboom crane, when you have to lift through narrow openings.
From the side you can notice that the wheelbase is roughly the same as of a regular 8x4 truck. This side of the truck holds the dieseltank and the batteries.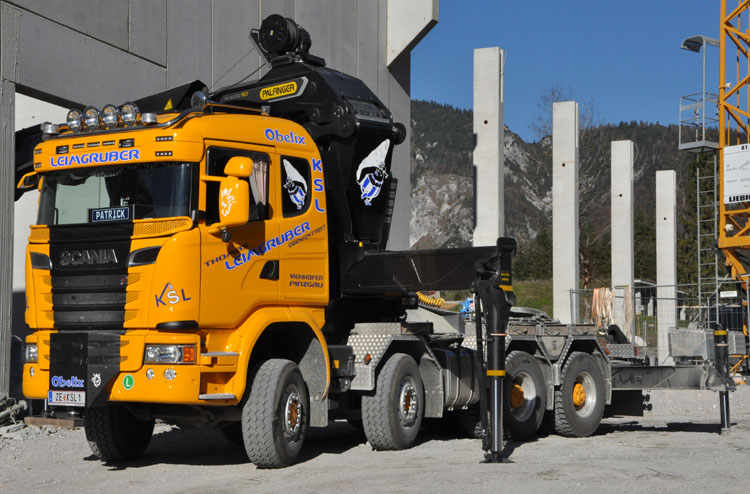 The front bumper holds a additional outrigger. This provides extra support when it is lifting to the front. The truck is placed on aluminium rims, unusual for an offroad vehicle.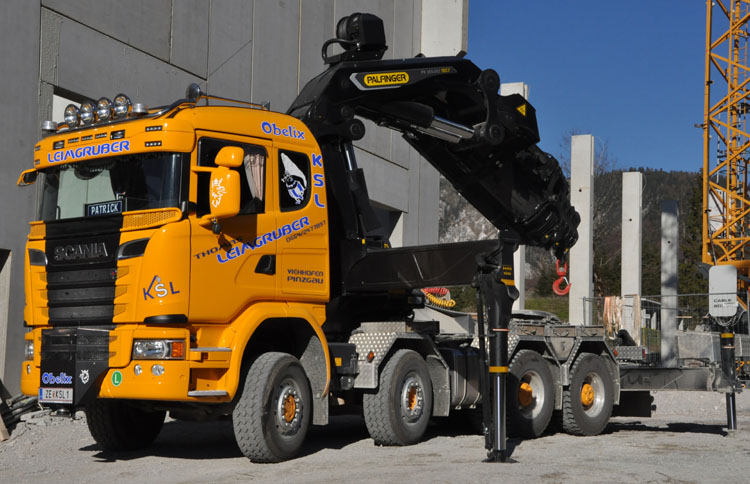 A very nice crane truck and a nice exception between the many MAN's and Mercedes trucks in Austria!
Below you can see some video material of this truck at work.
Back to the: Scania index / Palfinger index