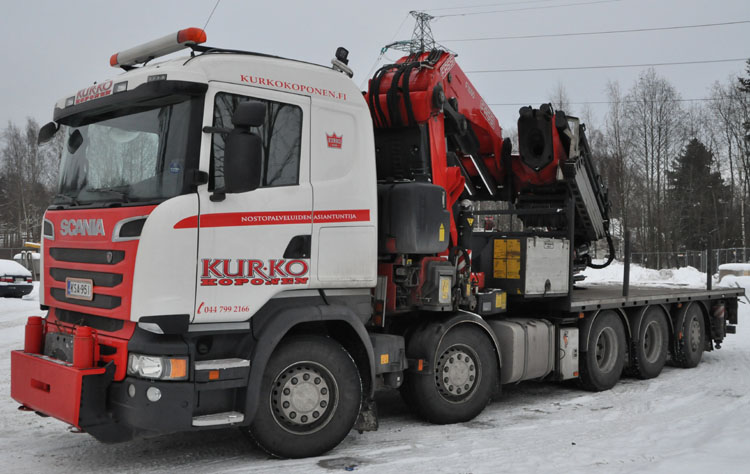 The finish company Kurko Koponen Oy has extended it's fleet of knuckleboom cranes significantly over the last years. The fleet mainly contains of Fassi cranes. They use the name Kurko Crane to also build these crane trucks for other customers. Here we see a Scania R520 V8 10x4 with Fassi 1550 of them. At the last Bauma a similar truck with a Fassi 2150 could be seen.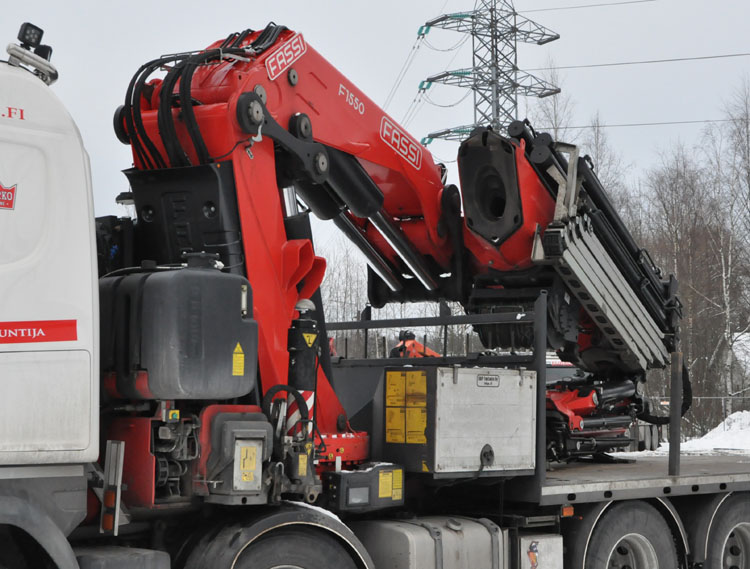 The F1550 is a model with a lot of similarity to the 1500. Currently it cannot be found anymore on the Fassi website, to me it looks like it is now called the F1600.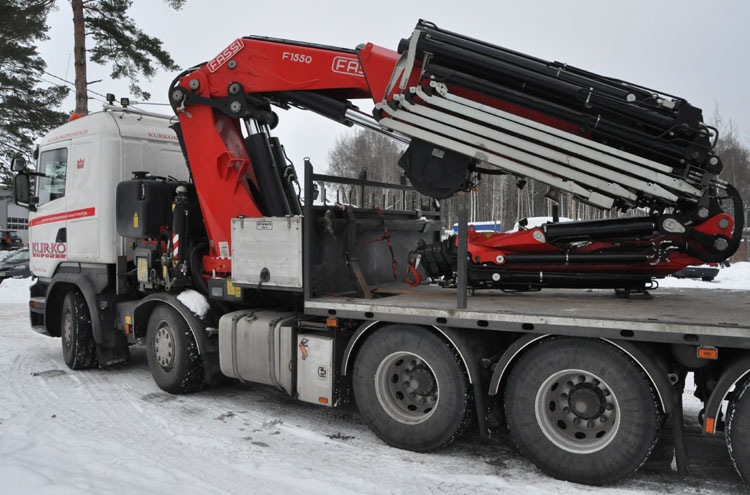 Here they installed the longest version, the F1550RA.2.28. This extends 8x hydraulically and can pick 4,84 tons at 19,4 meters. Maximum capacity is 30 ton at 3,7 meters. There are 3 optional manual extensions available, that gives an outreach of 26,8 meters.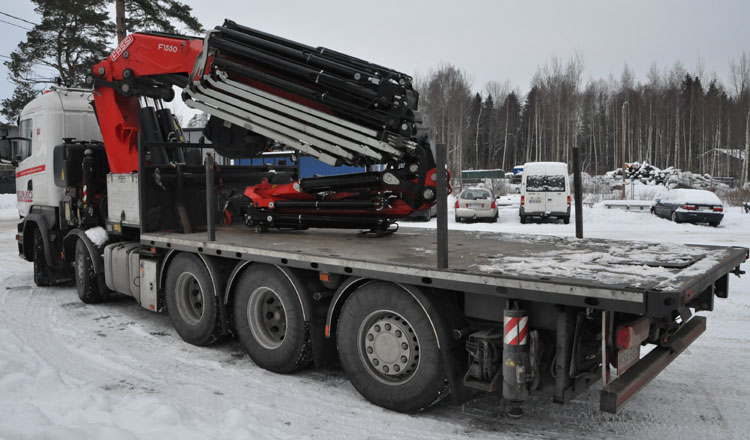 This side holds the dieseltank and 2 storage compartments. The Scania chassis has got 2 driven rear axles and a steering tag axle.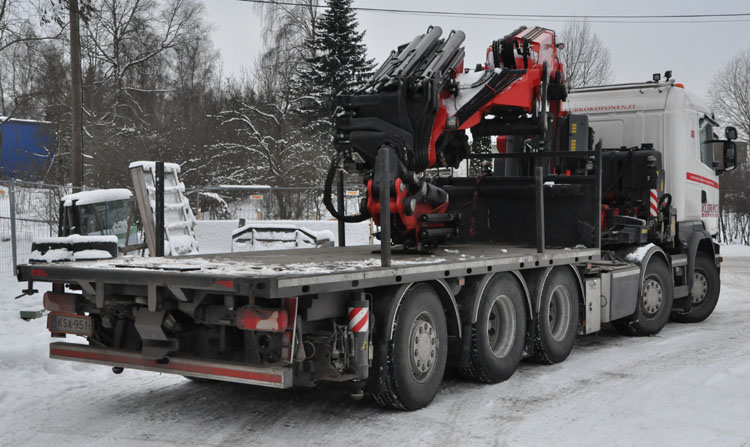 In Finland the use of 5-axled trucks is quite common, also with a trailer. Nowadays Scania delivers these 5-axled chassis directly from the factory, as the demand has gone up, also due to the swiss and dutch markets.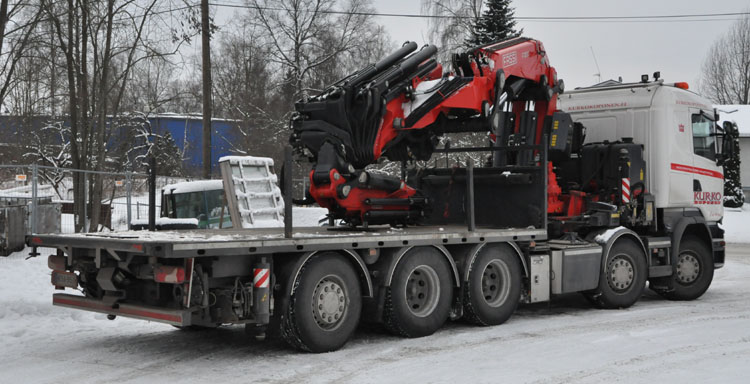 The long chassis offers enough space for a large flatbed. This side holds the mufler and a small compartment.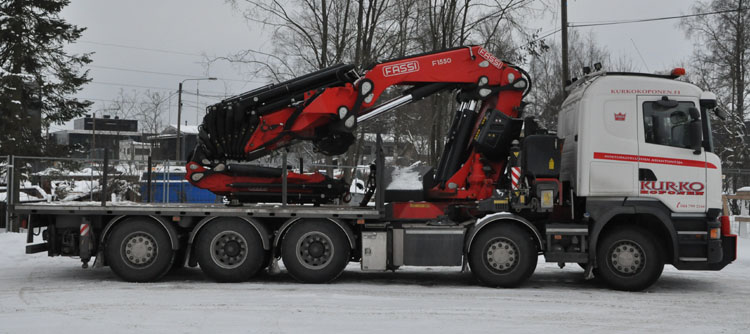 The L816 jib gives a total outreach of 31,3 meters with 1265 kg capacity. This can also be combined with 3 manual extensions, that provide a total of 36,7 meters outreach.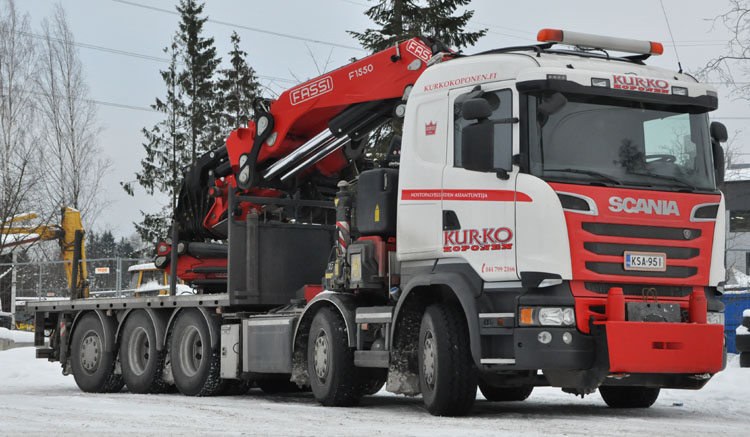 Seen a lot in Finland, the heavy supports on the front bumper. The chassis was also completely reinforced to provide full capacity for the crane in this direction.
A nice truck in the fleet of Kurko!
Back to the: Scania overview / Fassi overview