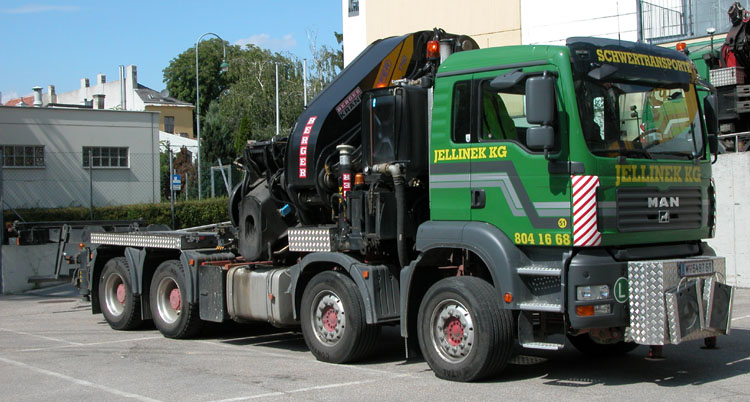 In 2005 the company Jellinek KG from Vienna (A) added this new MAN TGA 41.480 8x4 tractor to their fleet.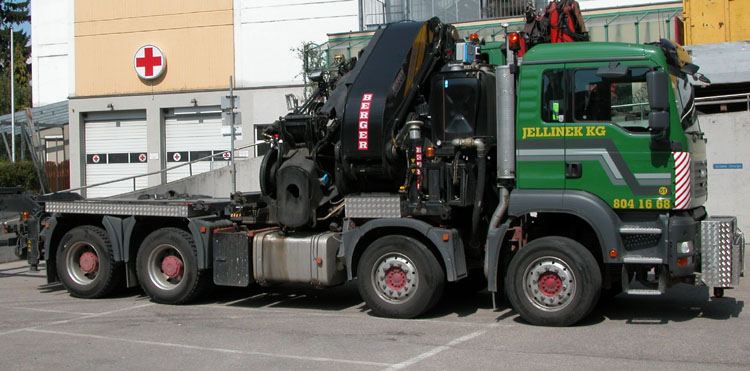 The truck is equiped with the first Effer 1750 that was delivered to Austria. This one is built up by Berger.

The truck is equiped with a chassis extension that makes it possible that this tractor can also transport a 20-foot container. The fifth wheel has to be taken of for that functionality. The extension is mounted to the rear of the chassis and is demountable.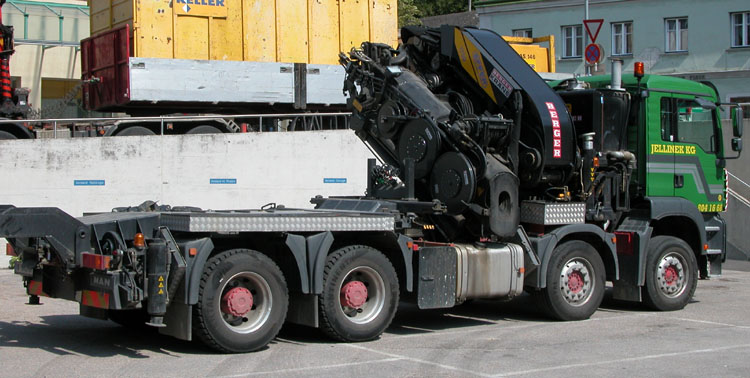 It is the normal version of the Effer 1750, this crane can therefore be folded behind the cab. It is a 1750-8S, a 8x hydraulic extending crane with an outreach of 20 meters. At this distance it can still lift 5,3 tons. The lifting capacity of this crane is about 120 ton/meter.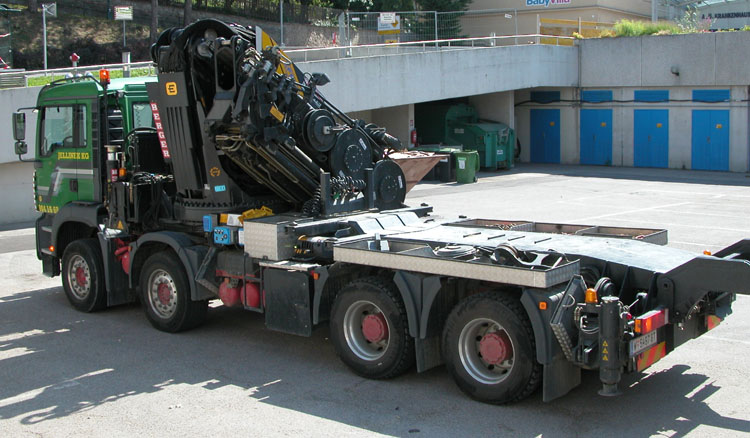 The crane is completed by a 6x hydraulic extending jib (not mounted here) that extend the outreach to 32 meters.

A top view displays the impressive size of this crane. Also clearly visible here is the container chassis. Above the rear axles they mounted some storage space for chains. Instead of a container it can also be fitted with a small loading box.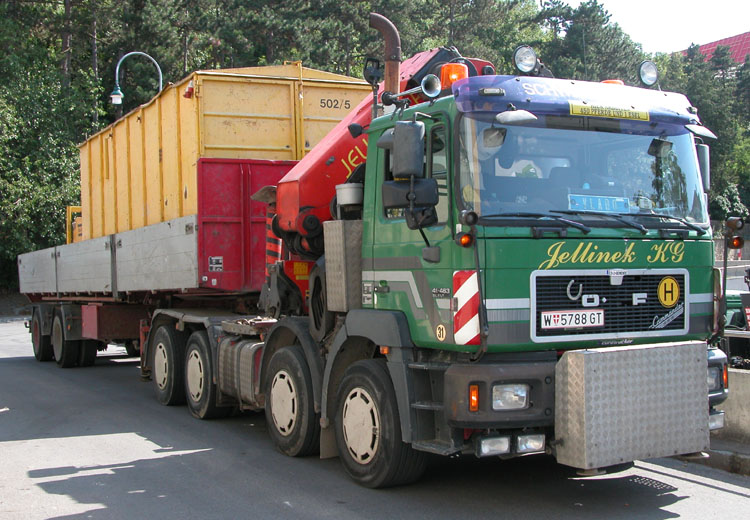 The crane had to lift some parts of concrete pump installation. The first load was deliverd with this MAN 41.463 8x4 that is equiped with a Palfinger PK 66000.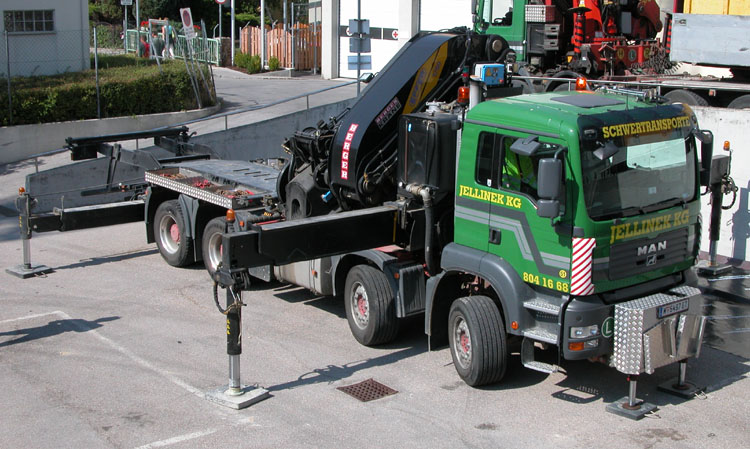 The crane is prepared for the first lift. It has 6 struts, 2 at the back of the chassis, 2 at the crane and 2 at the front bumper.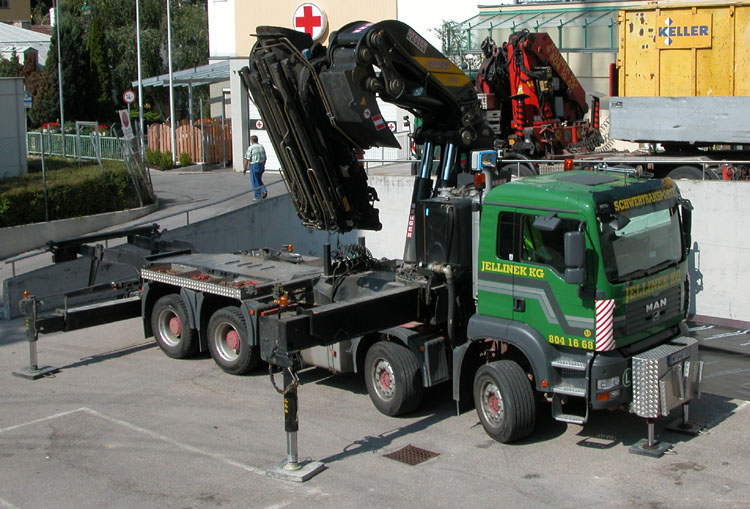 The truck is standing on its struts and the crane can be unfolded.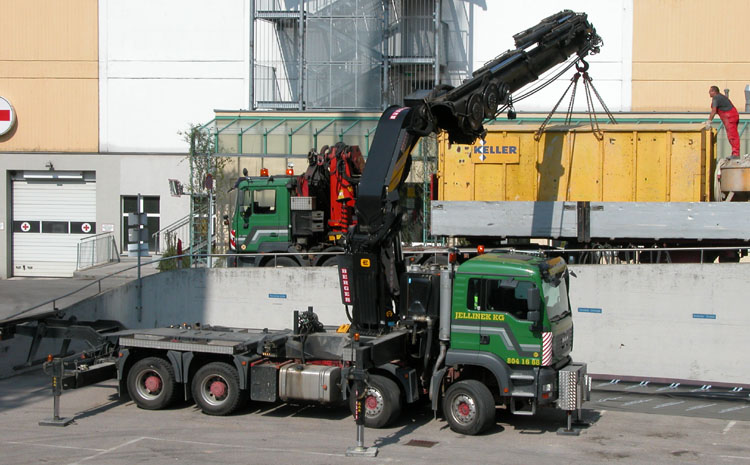 The first container with materials is hooked ...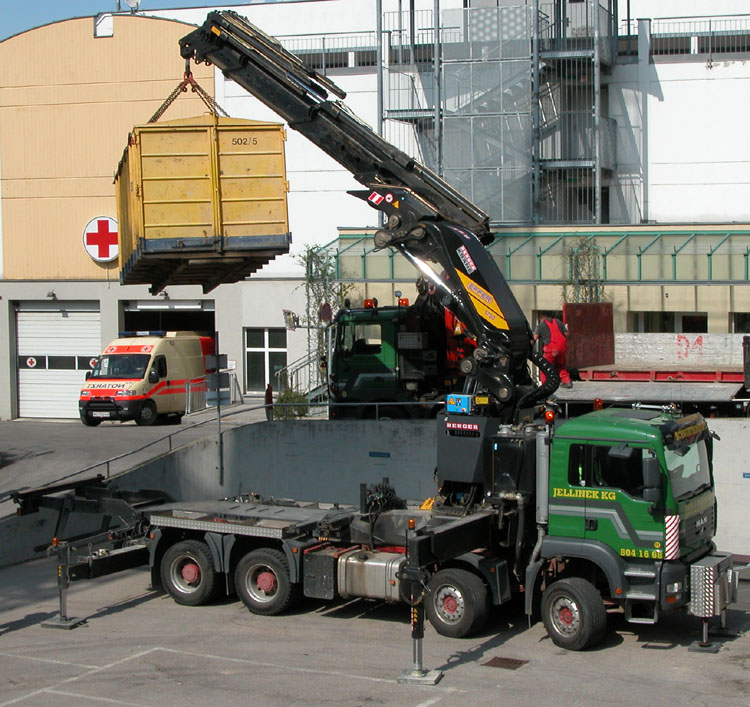 ... lifted from the trailer ...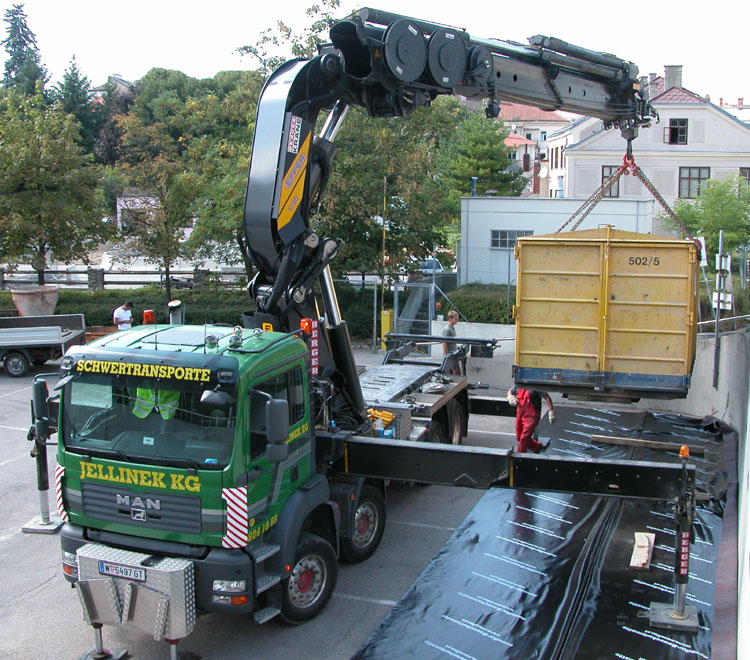 ... and placed between the truck and a wall.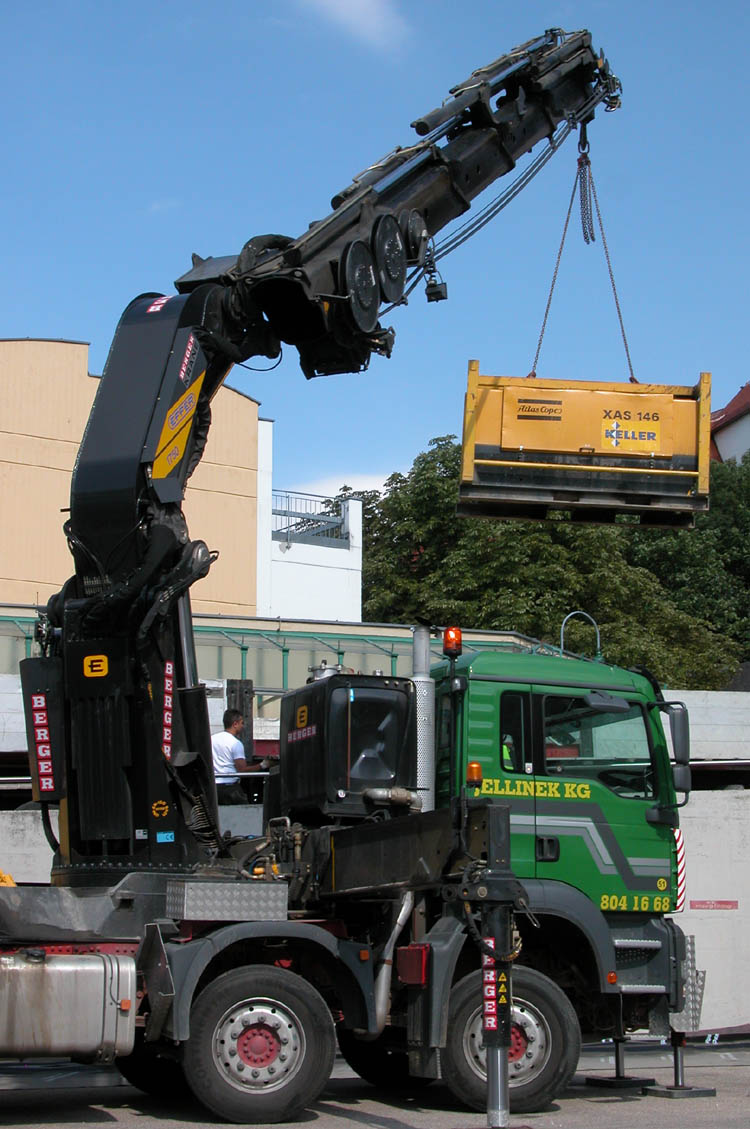 After that, some other smaller parts where lifted from the trailer. Above the struts we see the large oiltank.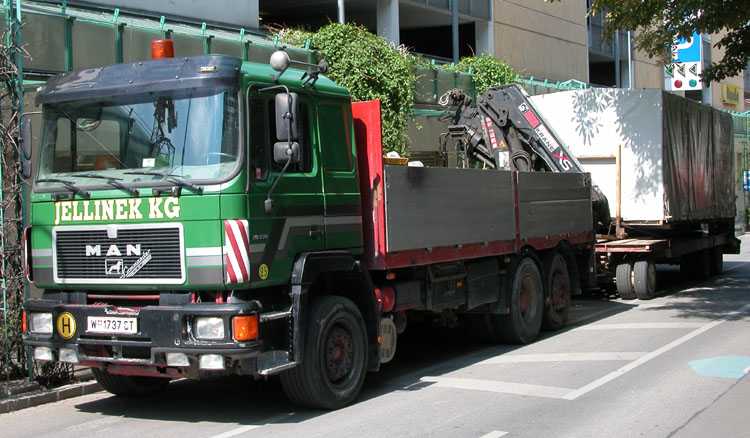 The second load was brought with this MAN 26.372 6x2 with rear mounted Hiab crane.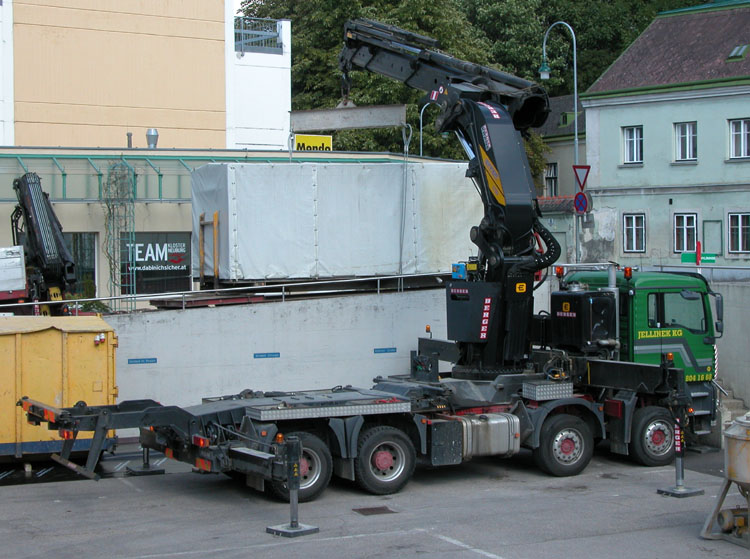 This one transported the heaviest part, the pump itself. This weighs about 15 tons.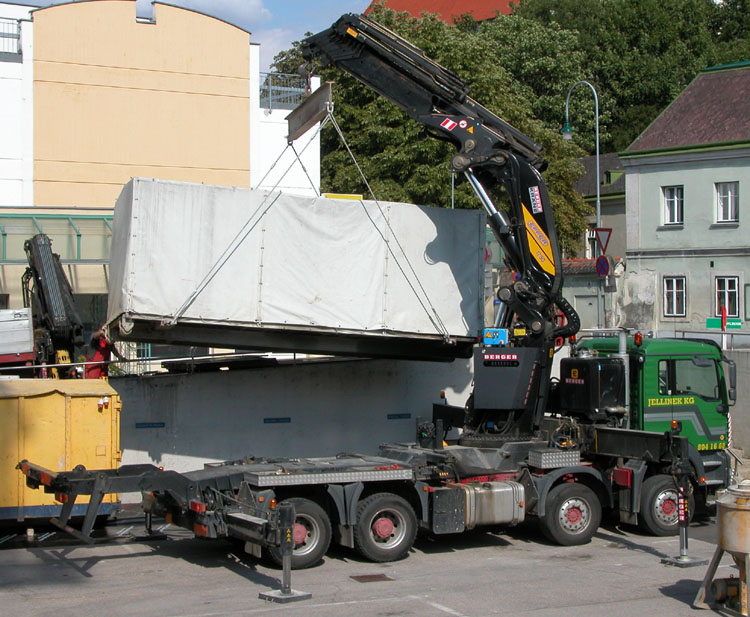 A spreader is used here because the lifting points are mounted very low.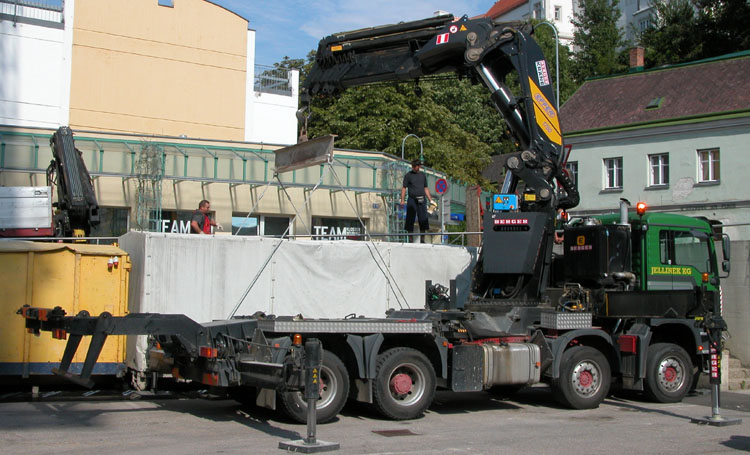 Back to the: MAN index/ Effer index