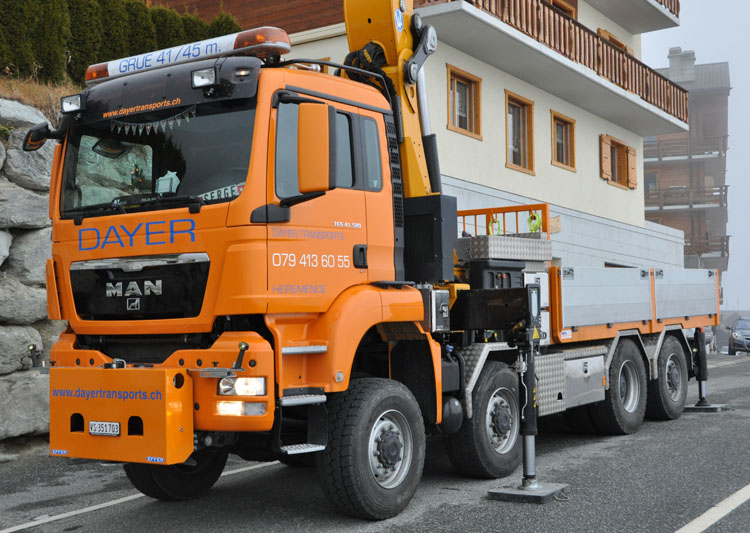 The company Dayer Transports from Hérémence (CH) has got this interesting MAN TGS 41.480 in it's fleet.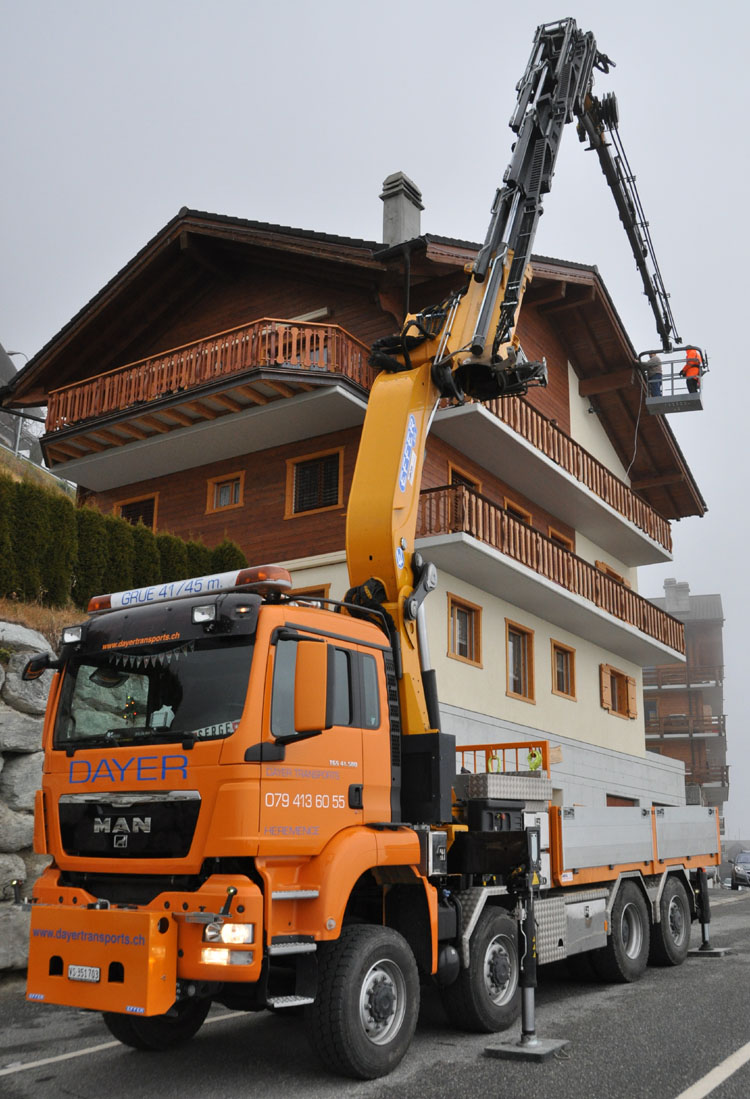 The MAN has got an Effer 850 in 8S verseion, meaning it extends 8x hydraulically, mounted behind the cab. At this crane, wich reaches to 20,7 meters, hangs a 6S jib that extends the outreach to 34,2 meters. Even more outreach is available with the 2 manual extensions or with the 2nd jib that the builder (Hodel Betriebe) of the truck can deliver optional. The 2nd jib is a very light 3S jib that mainly gives more outreach and height. The outreach is about 41 meters with that unit.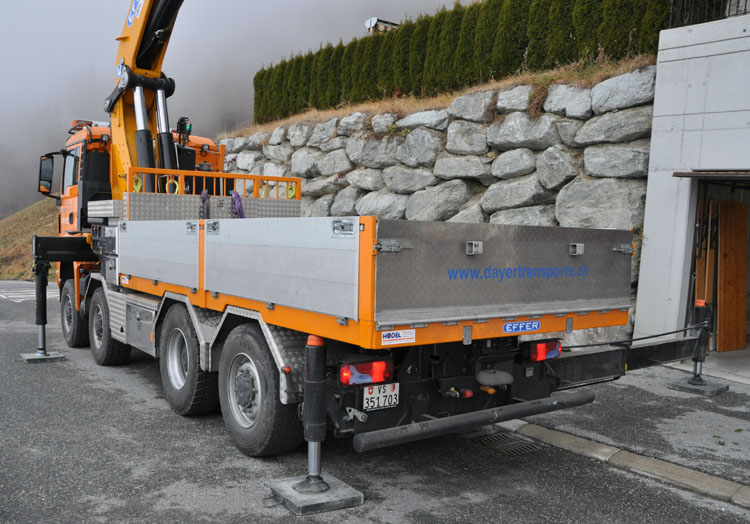 The MAN chassis was a standard 8x8, wich is necessary for the area that is filled with steep mountains, traction is a must. But a standard 8x8 is not very manoeuvrable, so this unit was converted by Toni Maurer. The normal tandem was replaced by a air-suspended tandem and the 2nd rear axle was replaced by a steeren and driven version. This gives us this unique chassis, a nice piece of work!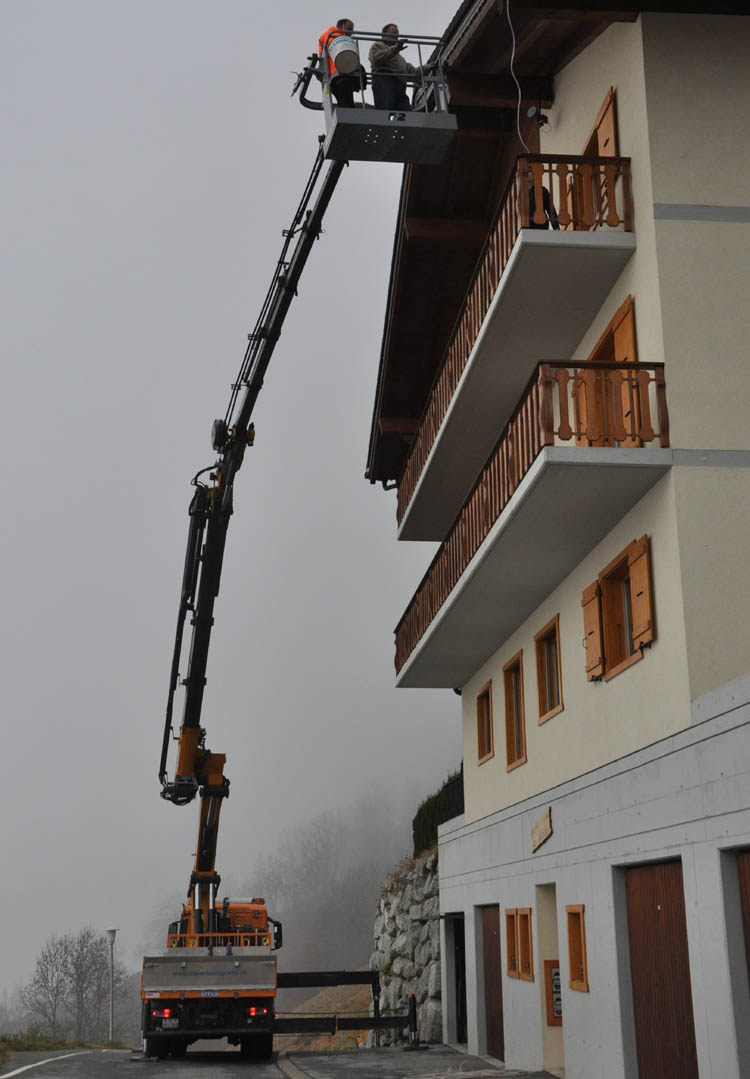 Here we see the truck working of a house in Hérémence. I was there in early December, so Christmas was nearing and they hanging up the lights here :). Not a heavy job, but it demonstrates good how you can use a crane like this and not block the entire road during operation. Only the necessary outriggers need to be extended.
The 8x8 truck is equiped with a flatbed here, but that can also be demounted. Then it can be used as a 4-axled tractor unit with a trailer.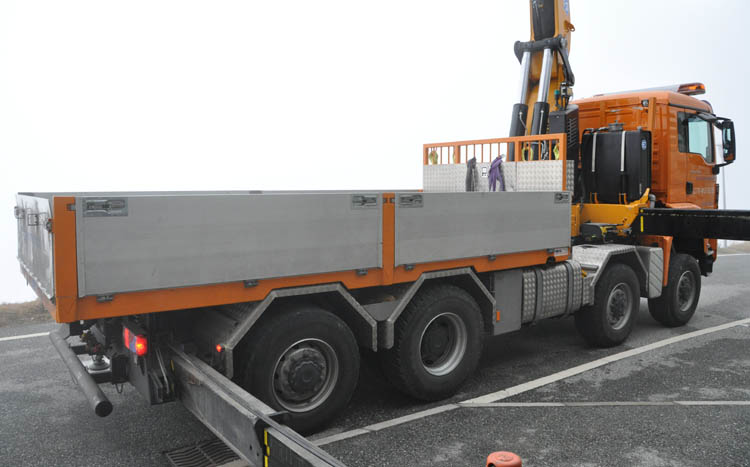 Here we have a better view of that. The body, built by Hodel, has got cut-outs in the bottom for the mud-guards that stay mounted to the truck at all times. We also see the different axles, the rear axle only has super-single tyres because it steers.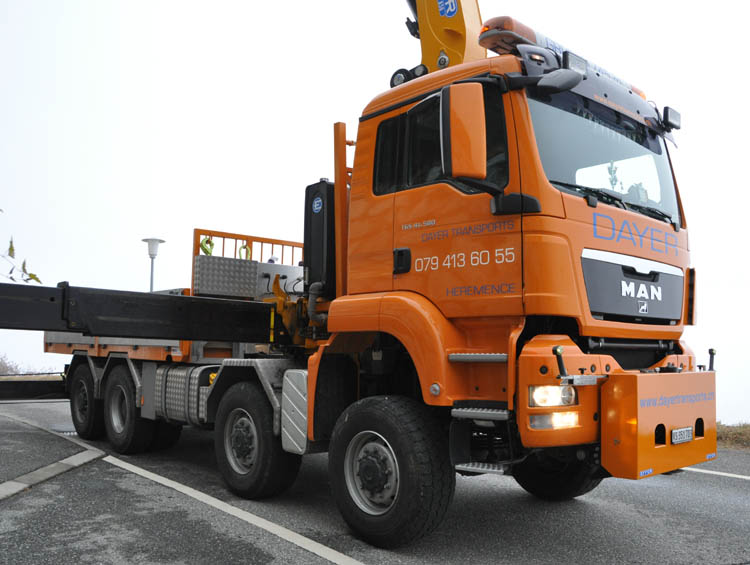 The front bumper has got a outrigger, but the chassis in this area isn't reinforced. This means that the crane will be able to lift more to the front then usual, but is still limited in it's capacity.
A extremely nice truck that has been custom-made for it's tasks!!
Back to the: MAN index / Effer index