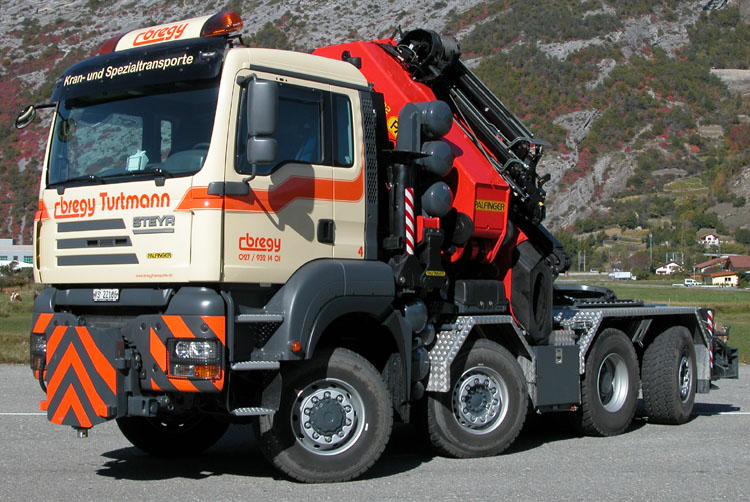 This interesting Steyr 37.430 was added to the fleet of Bregy Transports from Turtmann (CH) in 2005.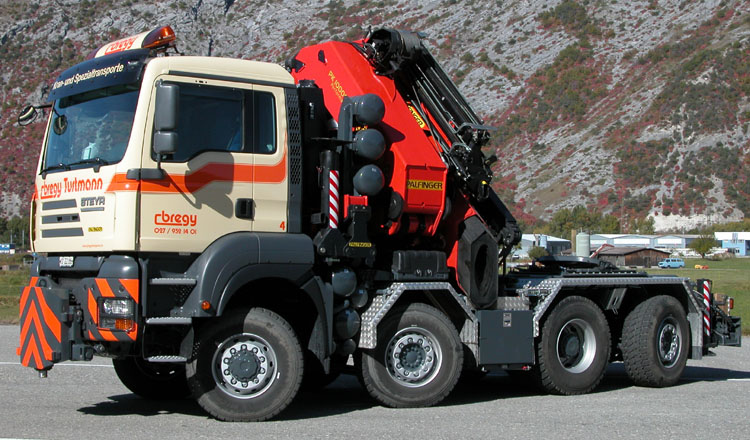 The standard chassis where it all began with was a 6x4/4. This chassis consists of a driven front axle, a fixed driven rear axle and a non-driven steerable rear axle. The chassis then went to Toni Maurer who added the 2nd front axle which is non-driven.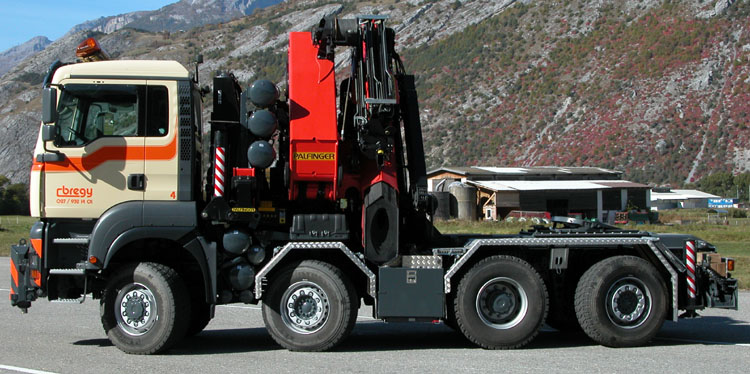 This resulted in a very compact truck that is also very manoeuvrable because of the 3 steering axles. This manoeuvrability is important for the use of this truck very small and windy mountain roads. The driven front axle gives the vehicle enough traction so that it can also be used off the road.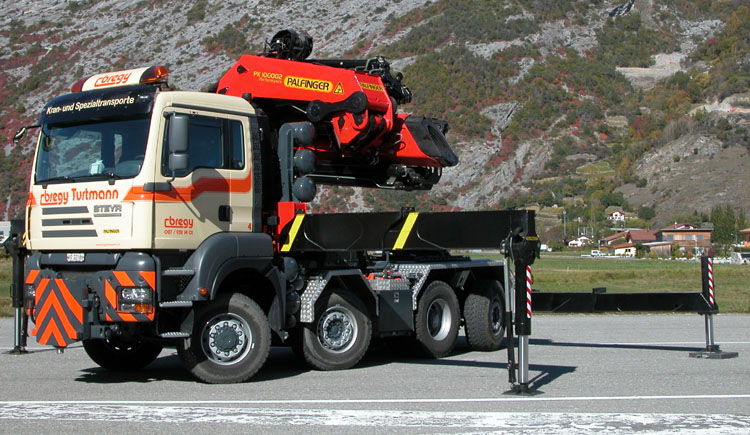 The rebuild from a 6 to an 8-wheeler was done to create enough capacity for the placement of the crane. They have chosen a Palfinger PK100002G together with a PJ125E jib. The crane was demonstrated here, the outriggers are already extended...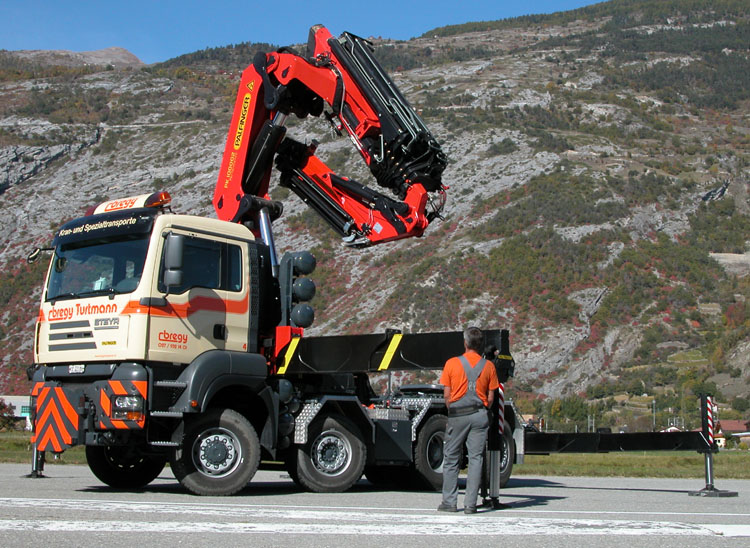 ... and also the crane is being unfolded. The G-version of this Palfinger has a maximum lifting capacity of 82 ton/meter. It extends 8x hydraulically to a length of 19,6 meters where it still lifts 3,35 tons.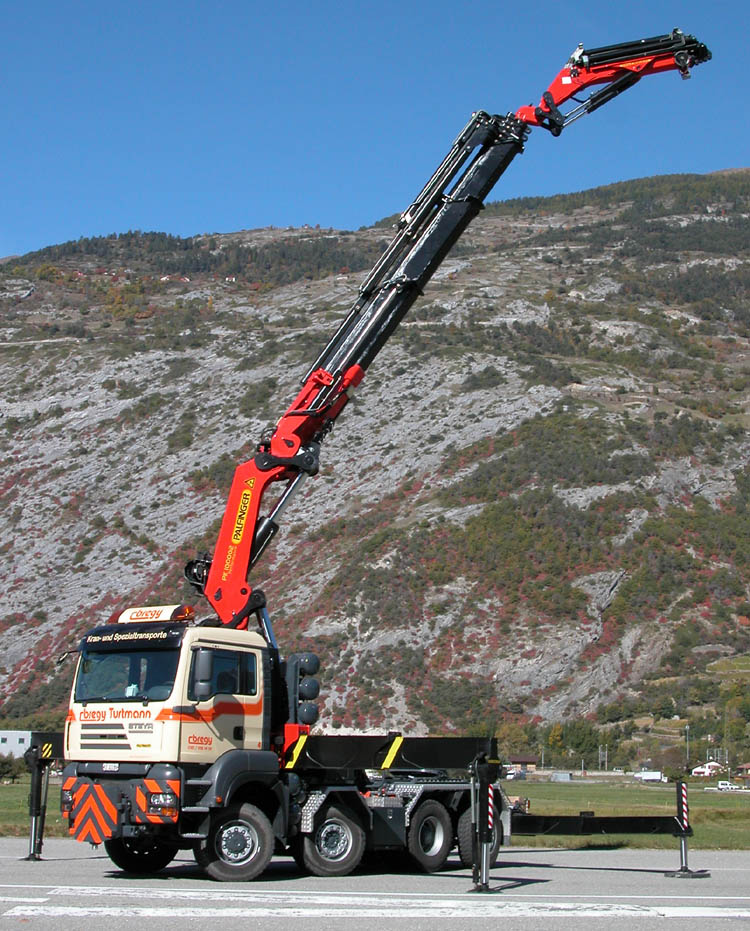 The jib extends another 6x hydraulically and enlarges the hydraulic outreach to 32,5 meters. At that distance the crane lifts 760 kg. With 2 manual extensions for the jib, an outreach of 36 meter is reached. There it lifts 440 kg.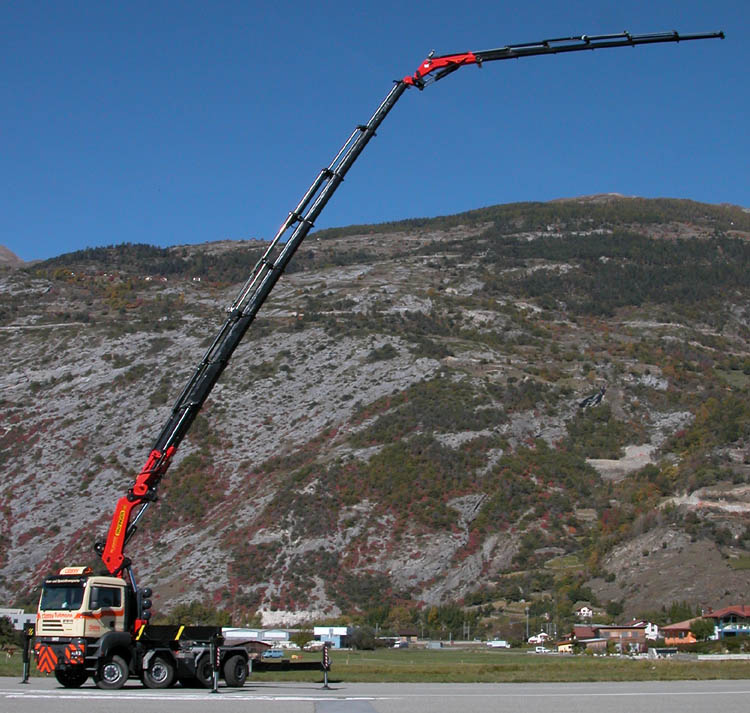 This crane truck is used a lot on building sites. Here the large outreach is more important than the high lifting capacity that the crane can reach near the truck. Also the winch is essential on a lot of those jobs. Some good examples of these jobs can be seen in the photogallery on the website of Bregy.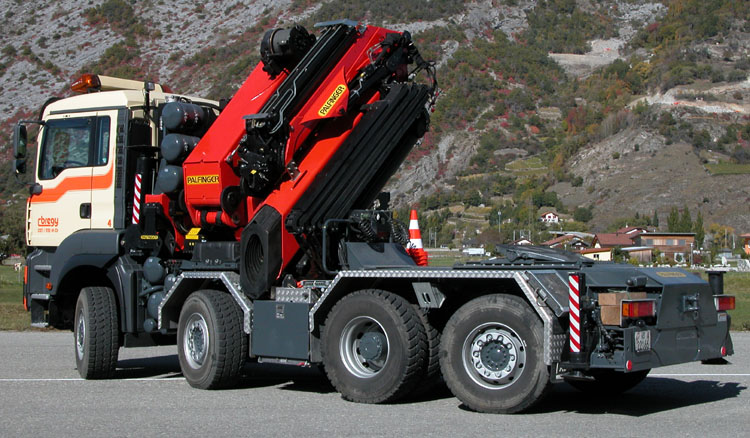 The compact way of building this truck forced them to move some parts, for instance the air barrels and the battery compartment.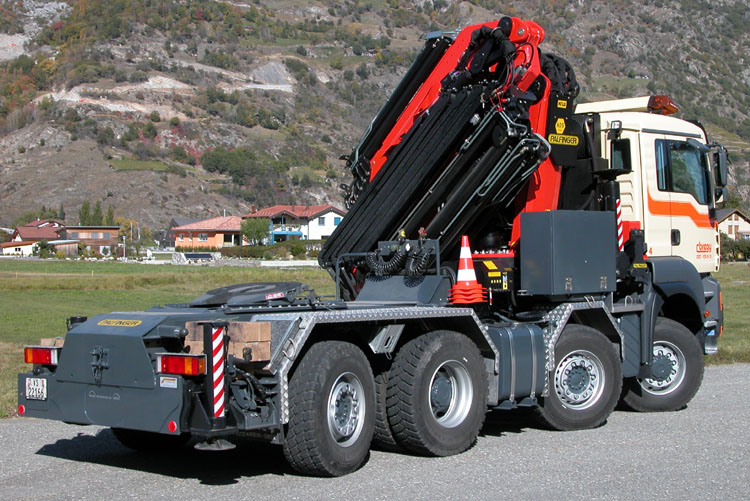 The own weight of this tractor is 27,5 tons, which leave a legally allowed payload of 4,5 tons. The truck can be used as a tractor but also as a truck with a small loader box. A toolbox for chains and cables have been mounted to this side.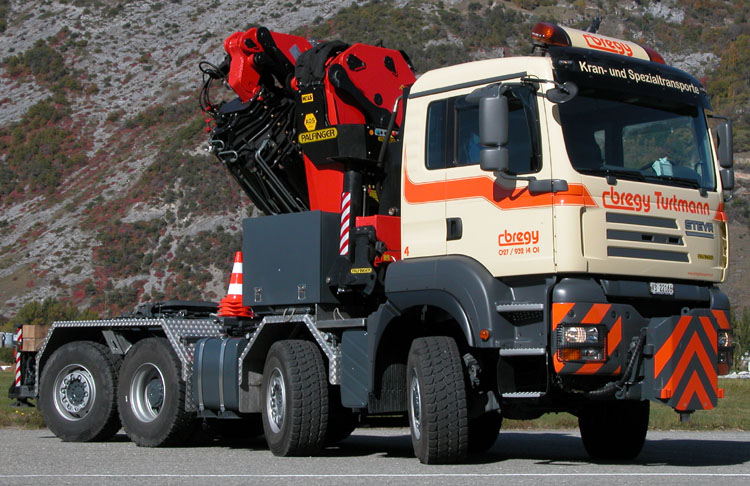 The crane is supported on 4 normal outriggers and on 1 that is mounted to the front bumper. Additionally a ballast block of about 1 ton can be mounted to the front bumper that provides more stability when the crane is lifting to the rear and needs it's full lifting capacity.
Many thanks to Mr. Bregy for displaying this fine cranetruck!
Back to the: MAN/Steyr index / Palfinger index