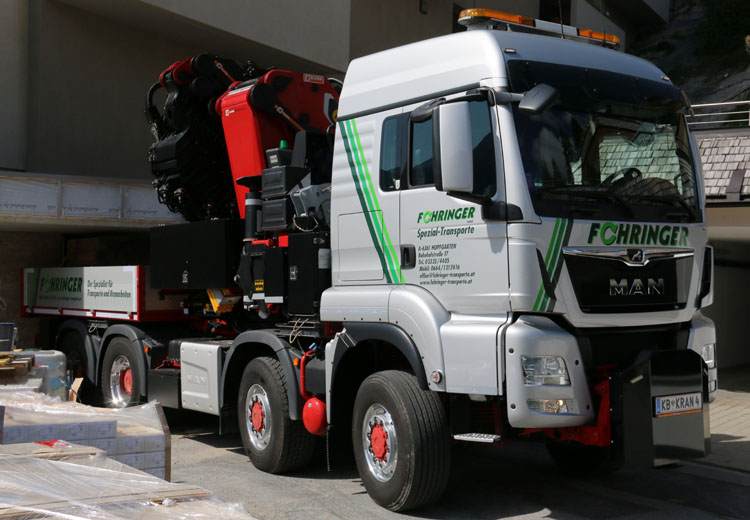 This is the new MAN TGS crane truck of Fohringer from Hopfgarten (A).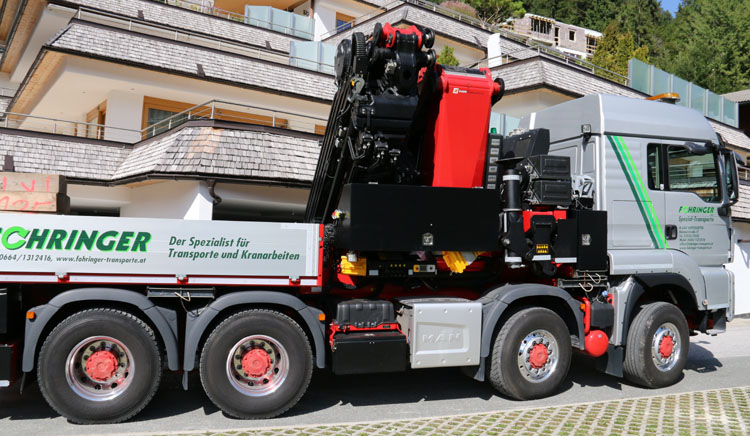 It is an MAN TGS 41.500 in 8x6 layout. MAN builds their 8x6 version with a driven 2nd fron axle. The 1st front axle looks identical from the side, but the axle body is thinner and the hub is empty. An 8x6 has the same wheelbase as an 8x8, but is a bit lighter at the front.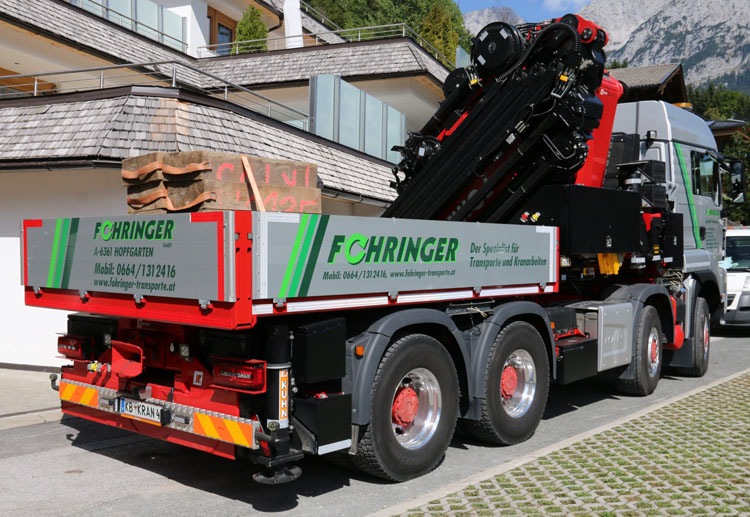 This side of the chassis holds the muffler, the battery compartment and a storage box. Another box is place above the rear outriggers.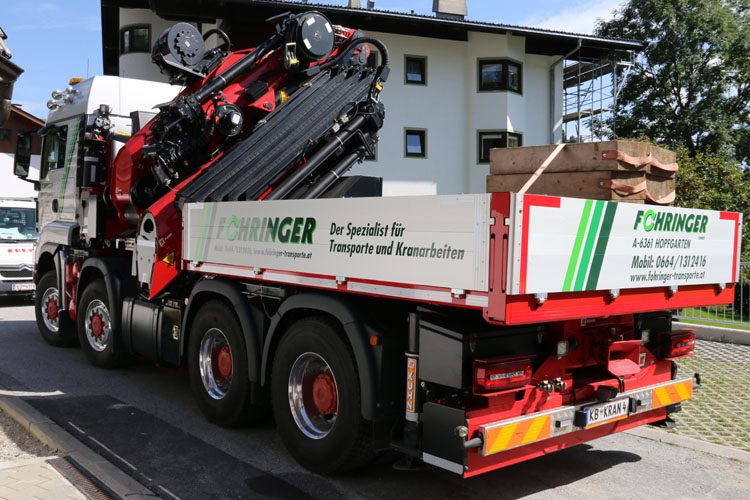 The same on this side, also a box above the outriggers. The flatbed can be taken of and the truck can be used as a tractor unit.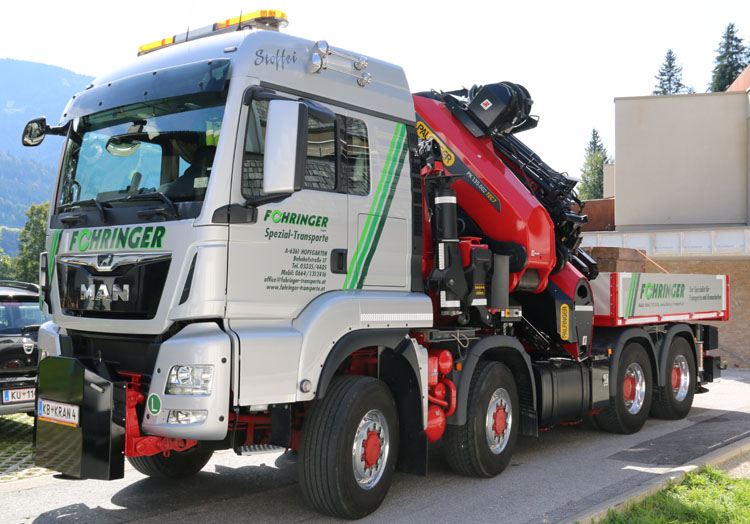 This side holds the dieseltank and another storage box. At the front bumper we see an additional outrigger for more stability while lifting to the front. The chassis wasn't reinforced though.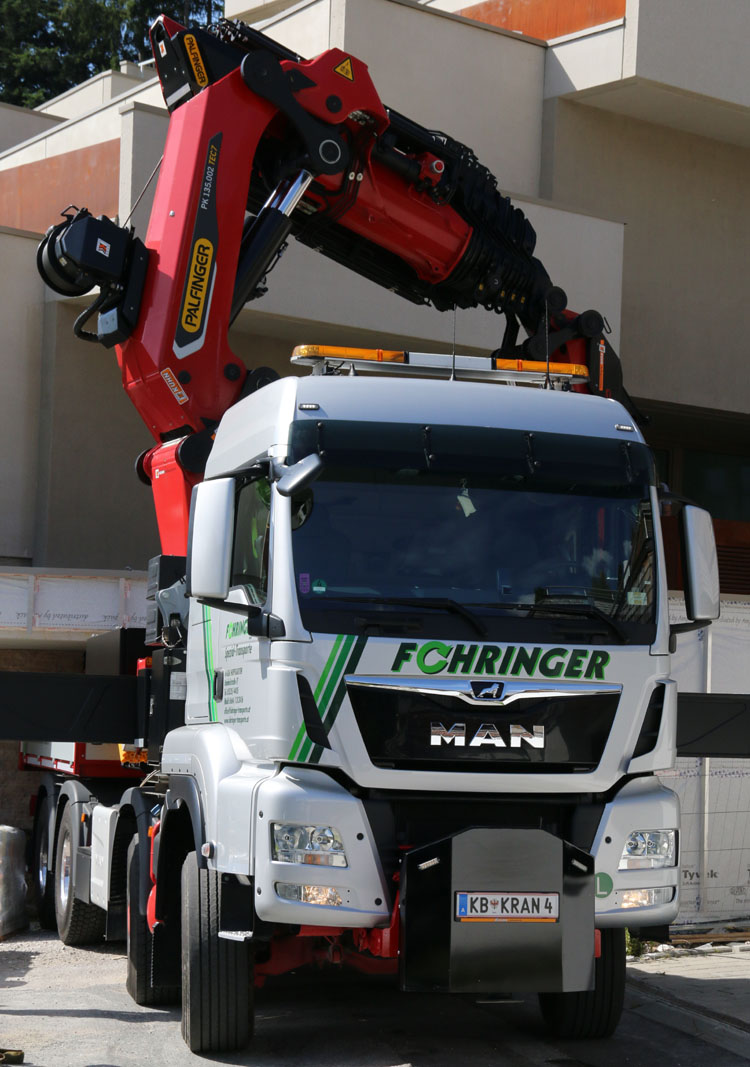 Behind the cab stands the new Palfinger PK135002 TEC7 crane. This is the small version of the large PK165002 and offers a good combination of lifting capacity and own weight.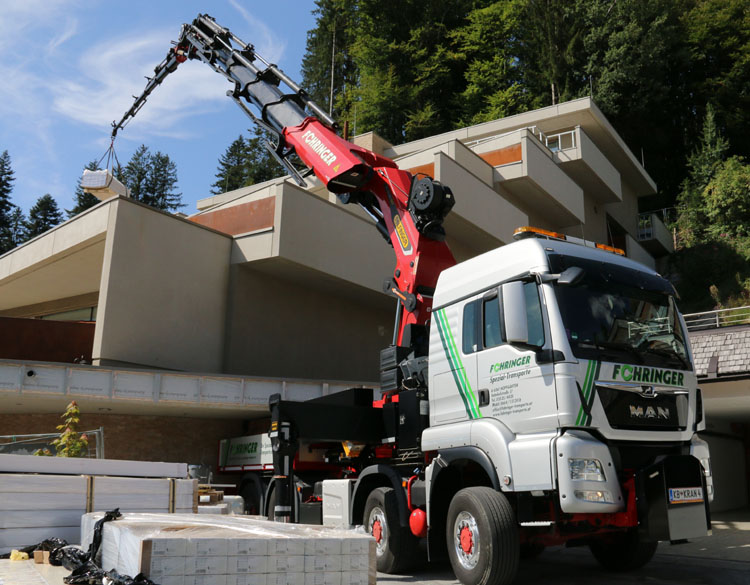 The installed G-version of the crane, so with 8 hydraulic extensions, extends up to 19,4 meters. At that distance it can still lift 4,4 tons.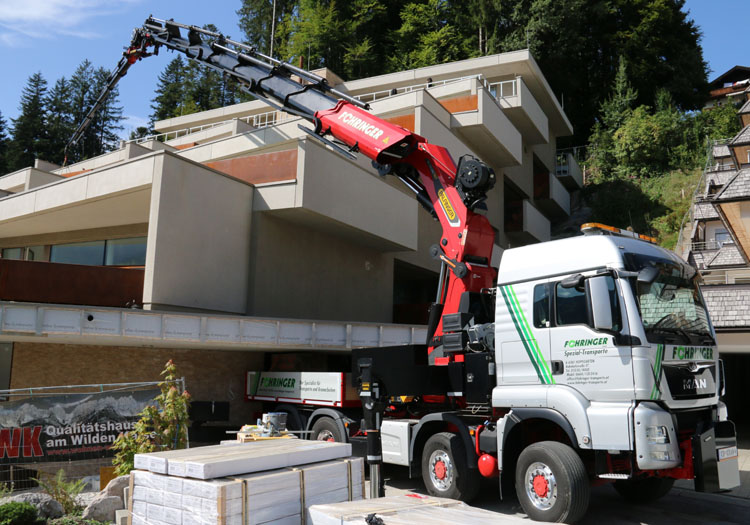 Here it is combined with the PJ190E jib, that extends 6x and reaches up to 32 meters with 1280 kg capacity. With the DPS-C (Dual Power System Continuous) the capacity of the jib is maximized in all posible conditions. Maximum capacity of the jib is 10 tons. With the DPS system it can lift 7 ton up to about 20 meters.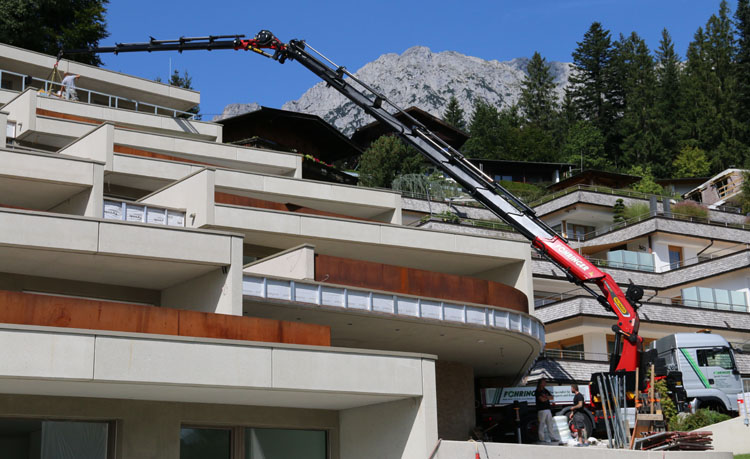 Here the crane had to lift some building materials onto the balconies of this new building. An ideal job for this crane that was done in about 1 hour of time.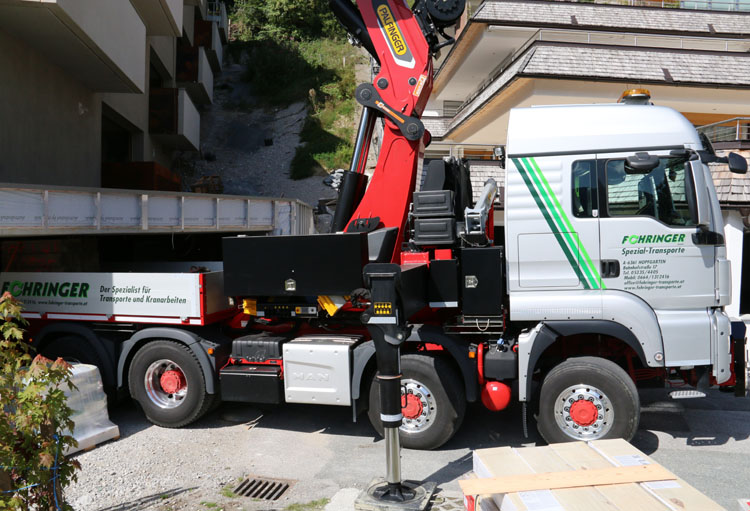 To be able to put the crane as close as possible to the house, the back of the truck was parked below the entrance of the parking garage.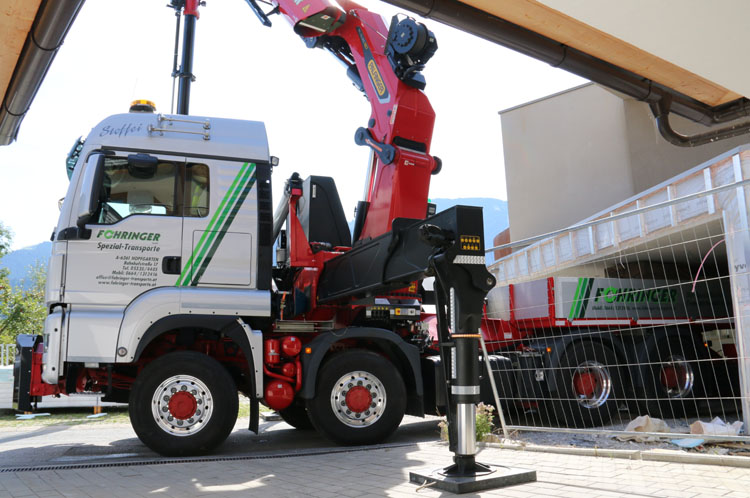 The support behind the cab holds the MFA, a manual 2nd jib that ads another ca. 5,5 meters of outreach to this crane.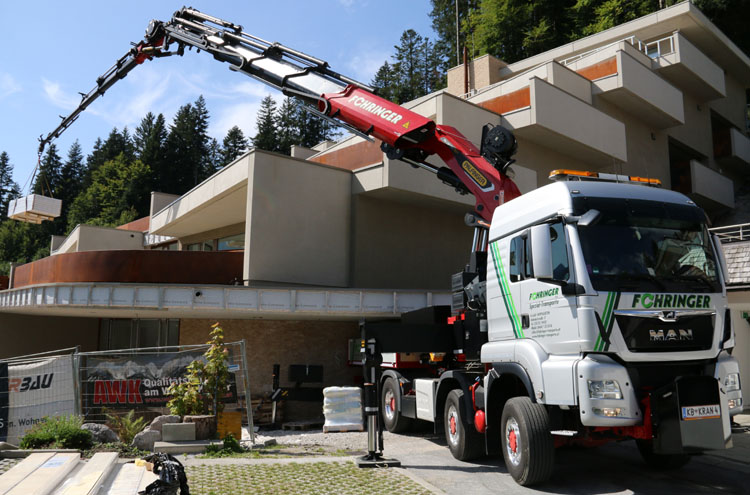 The PK135002 combined with this 8x6 MAN chassis neatly stays within the 32 ton limit and therefore can also be used for international jobs.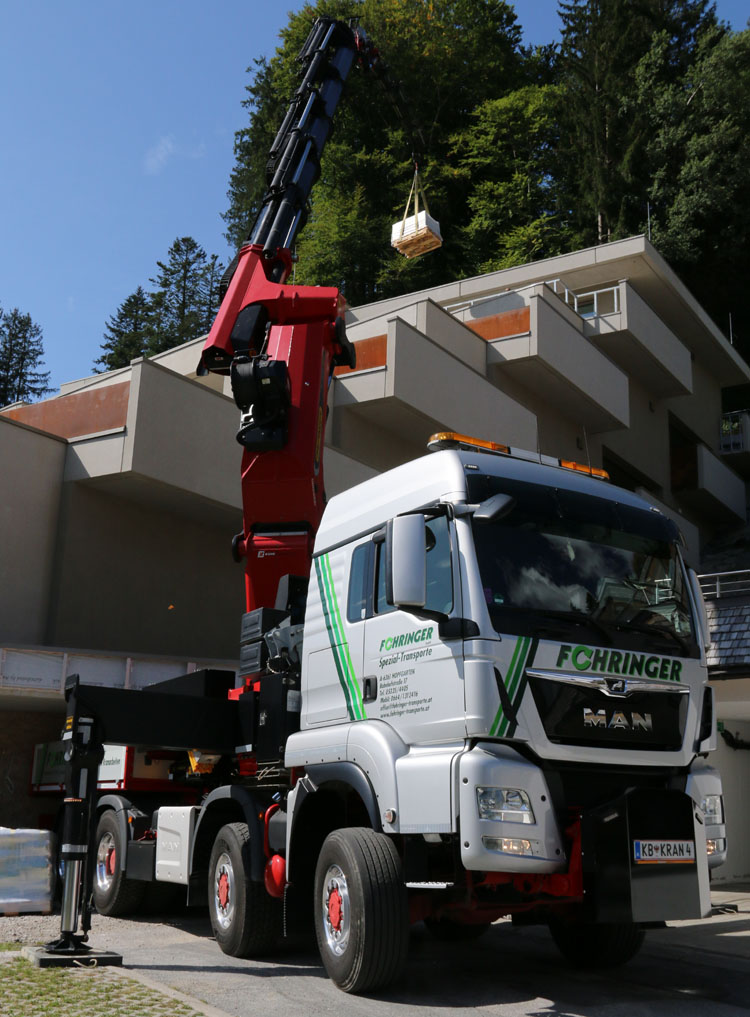 With the high LX cab a nice overall appearance is guaranteed. Also the alloy rims give a nice look to the truck.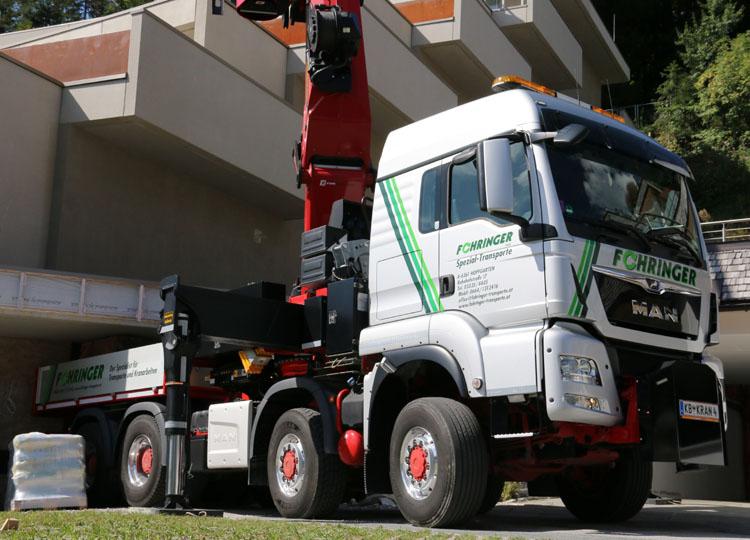 A very nice addition to the already interesting fleet of Fohringer!
Below you can see a video of the lifting work.
Back to the: MAN index / Palfinger index