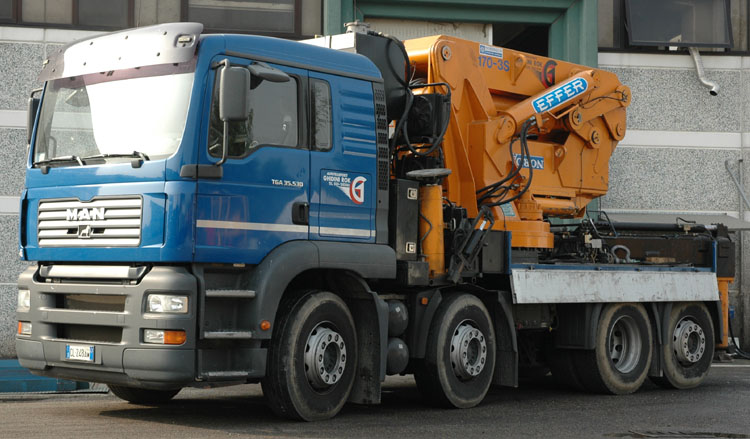 The company Ghidini Rok from Brescia (I) owns this MAN TGA 35.530 in 8x2*6 version, a very manoeuvrable chassis that is ideal for tight locations.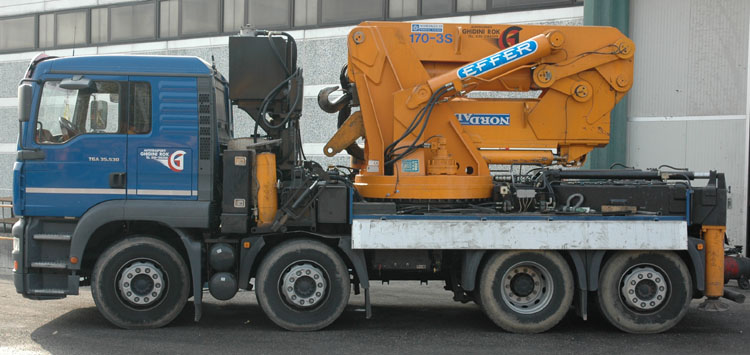 An Effer 170N-3S is mounted on the MAN, the predecessor to the current 2100 model.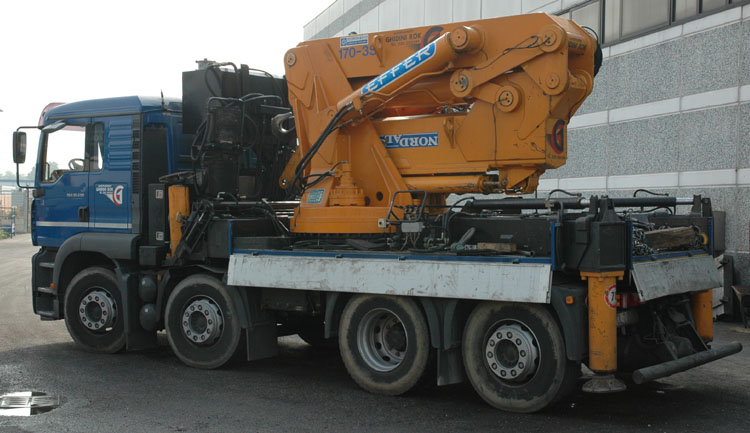 An 170N in 3S version has a maximum lifting capacity of 154 ton/mtr and a hydraulic outreach of 11,65 meters. With 3 manual parts a total outreach of 18,64 meters is reached.
The hydraulic lifting table:
3,5 meter - 39,6 ton
5,52 meter - 27,1 ton
7,52 meter - 20,2 ton
9,52 meter - 16,15 ton
11,65 meter - 12,95 ton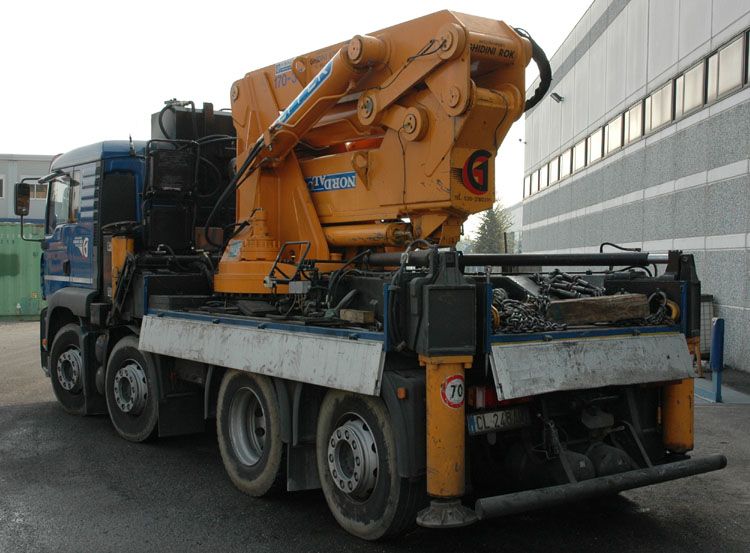 The crane has 2 regular outriggers at the front that extend twice. The rear has 2 cross mounted outriggers that also extend twice. The concept with the swiveling legs that is now available on the 2100 wasn't available back then.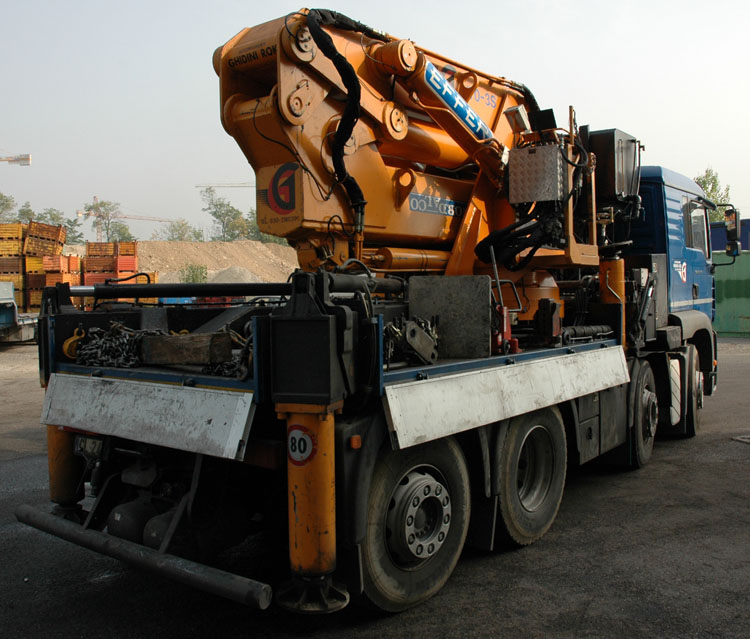 The chassis is filled with material that is needed during machinery movements. A operating stand is mounted to this side of the crane. The MAN has a heavy drawbar coupling so that it can also pull (heavy) drawbar trailers.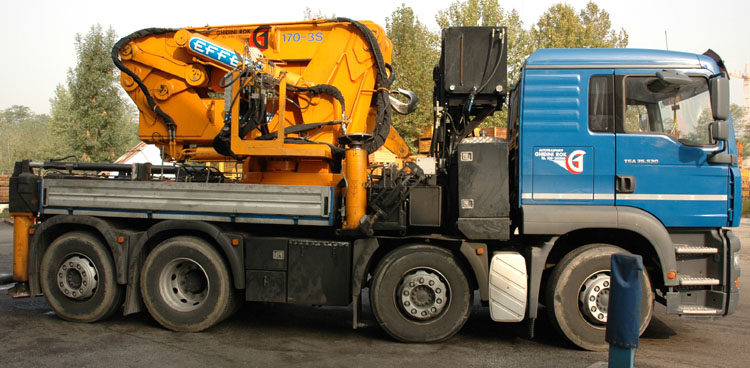 The attentive visitor of course has noticed that the age of the crane and that of the truck are not really compliant :)
This is right, the crane was built in 1996 and was originaly mounted on a Mercedes SK3050 6x4 with WSK, a very interesting combination of which I couldn't take photos anymore. The Mercedes was also used to carry out heavy transports, as it was a ideal ballasted tractor with this crane on it's chassis. On the website of Ghidine Rok you can see some pictures of this truck. The Effer was mounted on the MAN in 2005 by Nordalco Srl.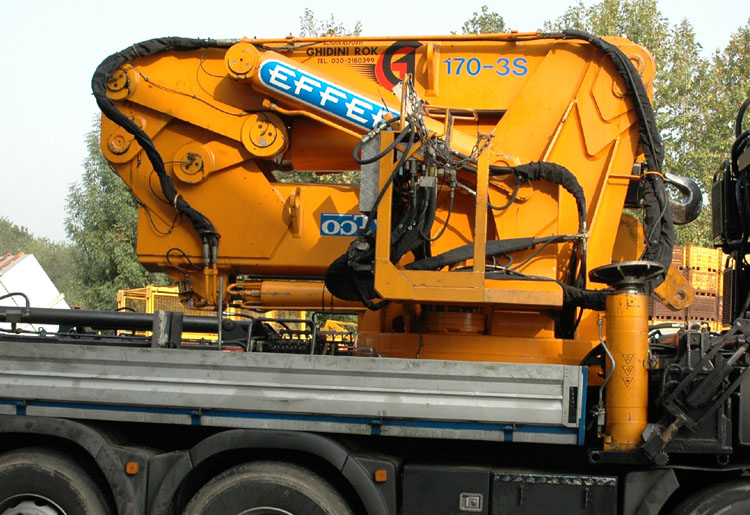 A better picture of the crane. It is a crane with the main boom and the telescopic boom in one line, this way there is no torque to the side during a lift. This construction is also the reason for this way of folding together, the telescopic boom is folded between the crane foot. To the right of the foot we see the end of the telescopic boom, it has a raised hook mount. With this mount they can work as near as possible to the roof.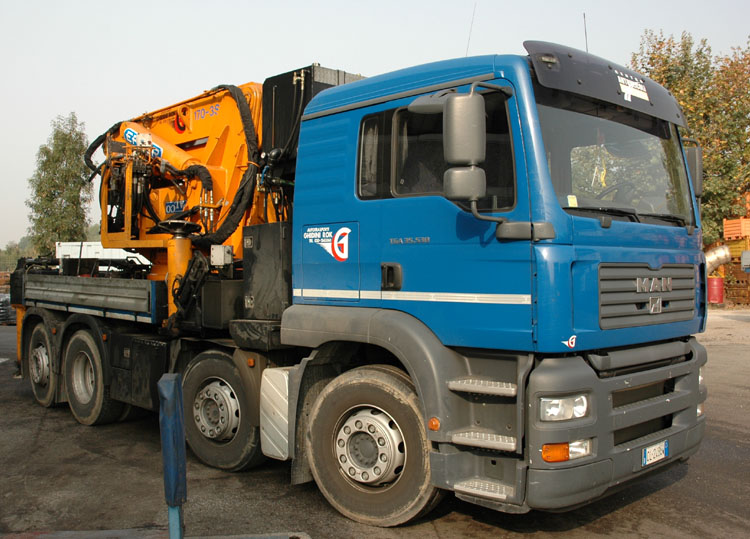 Again a nice example of a classic Effer of the TxM & N series that is still so good after it's first truck, that it can be used for the lifetime of a second truck!
Back to the: MAN index/ Effer index