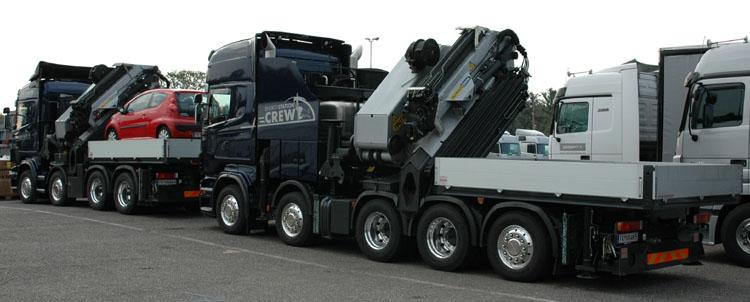 In the morning both vehicles where standing at the parking lot and have to wait until the builders are ready with laying out the base of the Energy Station.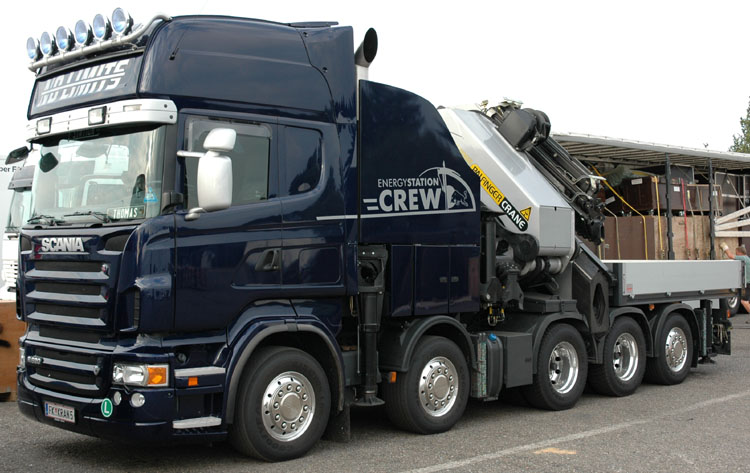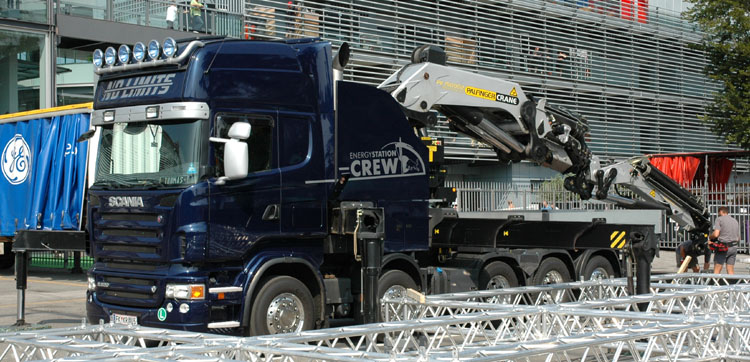 As soon as the base is ready the lifting of the singe modules can begin. Therefore the crane has to be set up, here the cable of the winch is mounted.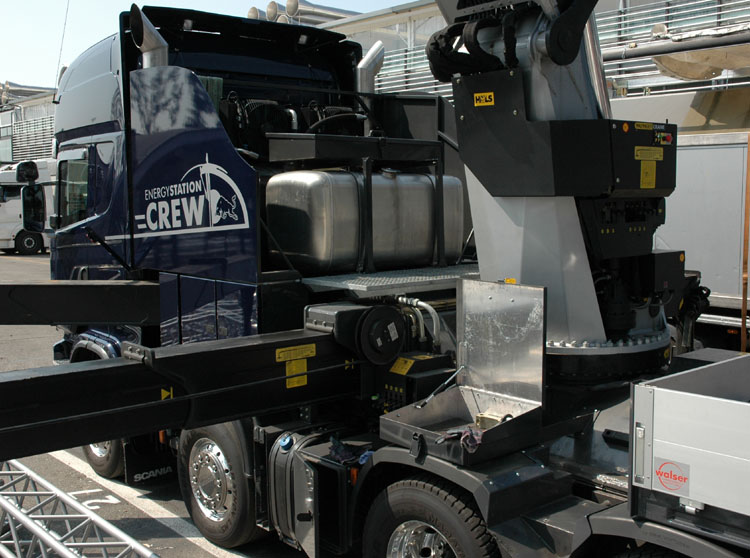 A better view on the tower. Here we see the dieseltank, in front of that are the oiltank of the crane with the coolers.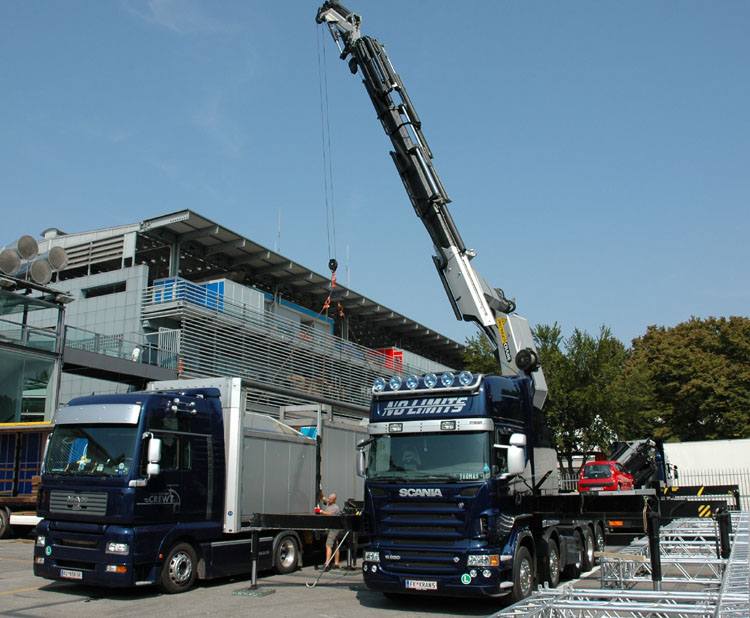 The motorhome of Red Bull & Torro Rosso is delivered in many singel units. All together they need 22 trucks to carry them. Here the first part is unloaded, it is the kitchen unit. In the background we see that the R580 already is in position.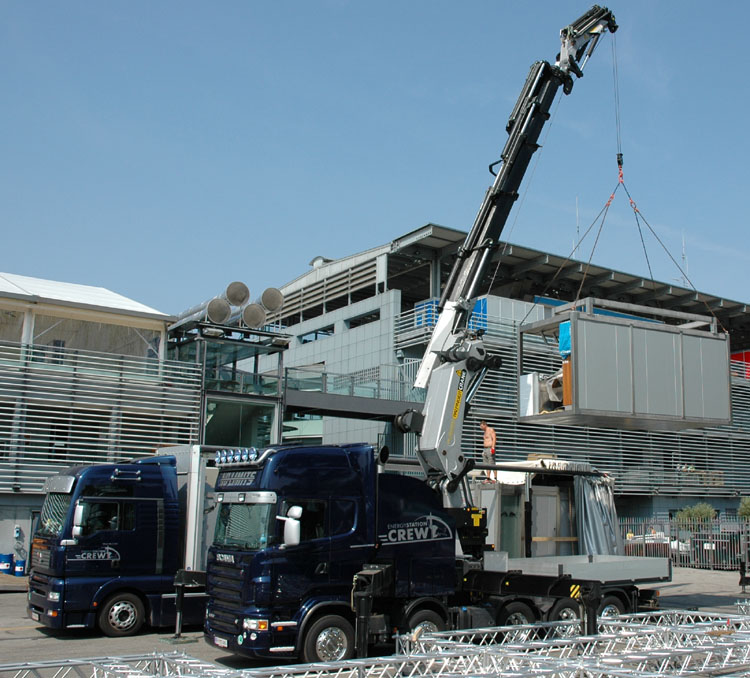 The parts have weights of about 6 to 7 tonnes. With the double sheeved winch these parts can be lifted with the winch. The base is made of a lot of smaller beams that are bolted together.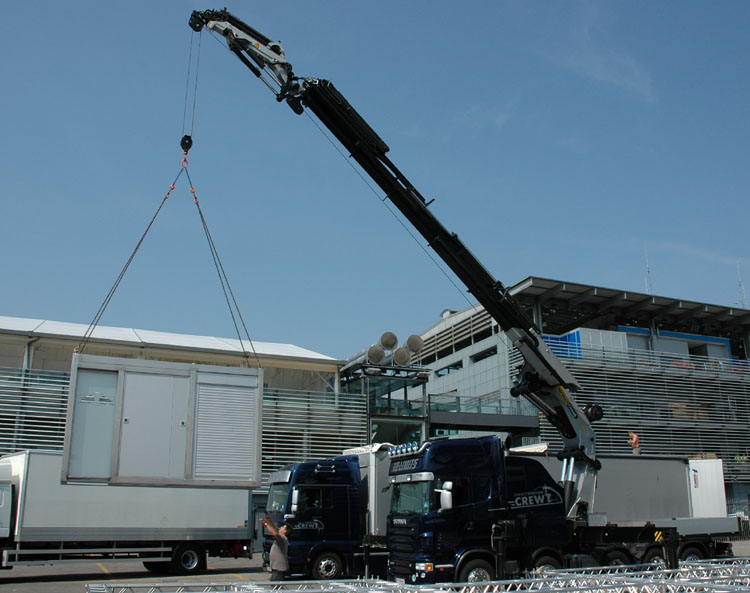 One of the next units is set aside, here the lifting capacity to the front is needed.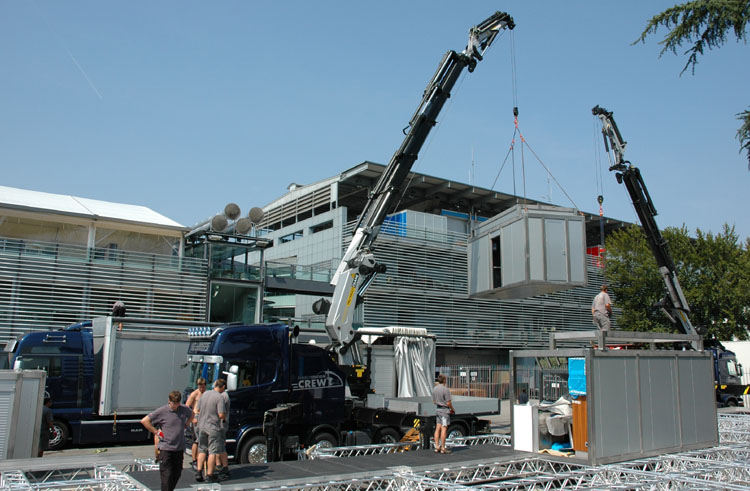 The kitchen is placed in the middle and is the base for the rest of the home. Here the PK150002 is lifting a larger unit. With the remote control the crane driver can stay close to load, which is of great advantage when modules like this have to be placed with precision.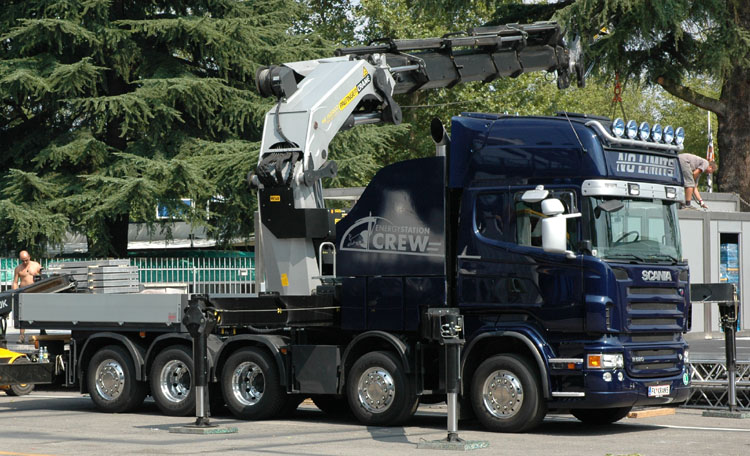 The larger module is placed behind the kitchen. Such outreaches are not a problem for this crane. With these kind of crane it is possible to keep the boom rather close to the load, in this case that is usefull to lift this module underneath the tree.
A top view on the building activities. The 150 is lifting another large unit over the front legs.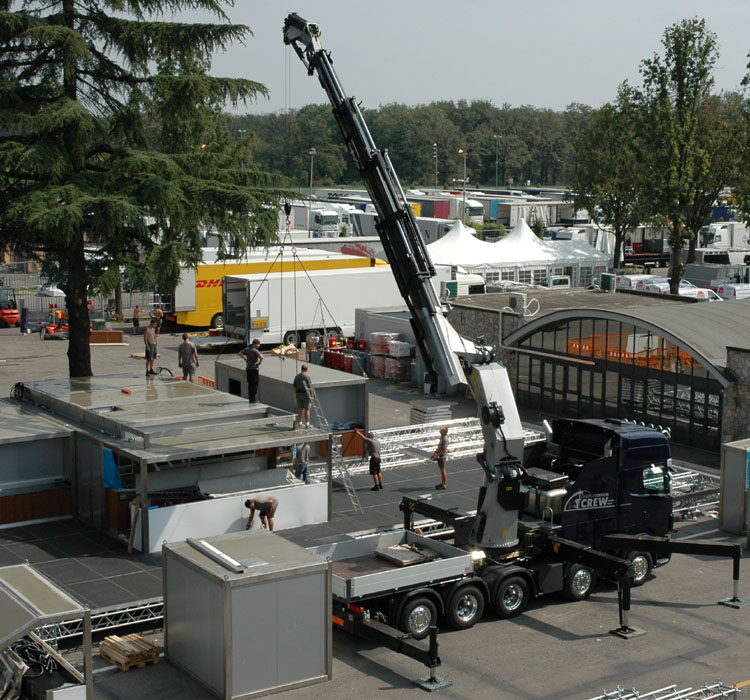 The basic shape of the motorhome is starting to appear.
And from the other side, the cross legs are clearly visible now.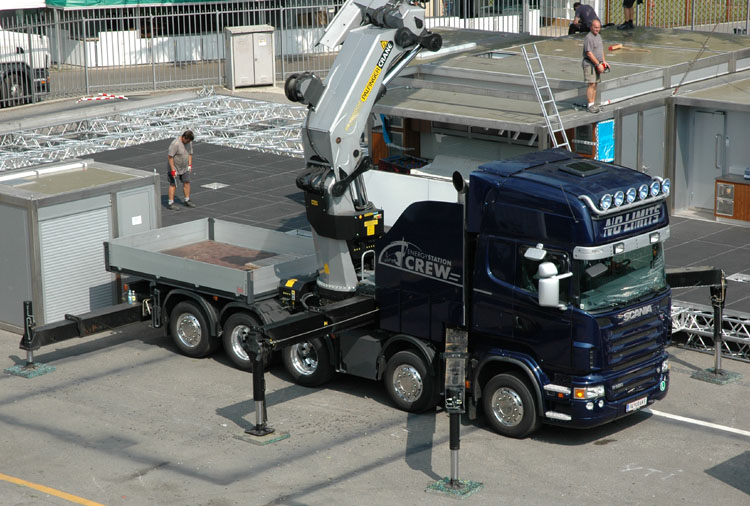 The middle and rear legs are not fulle extended here. The unloading trucks need space at this side and the crane has enough stability to this side for such close lifts.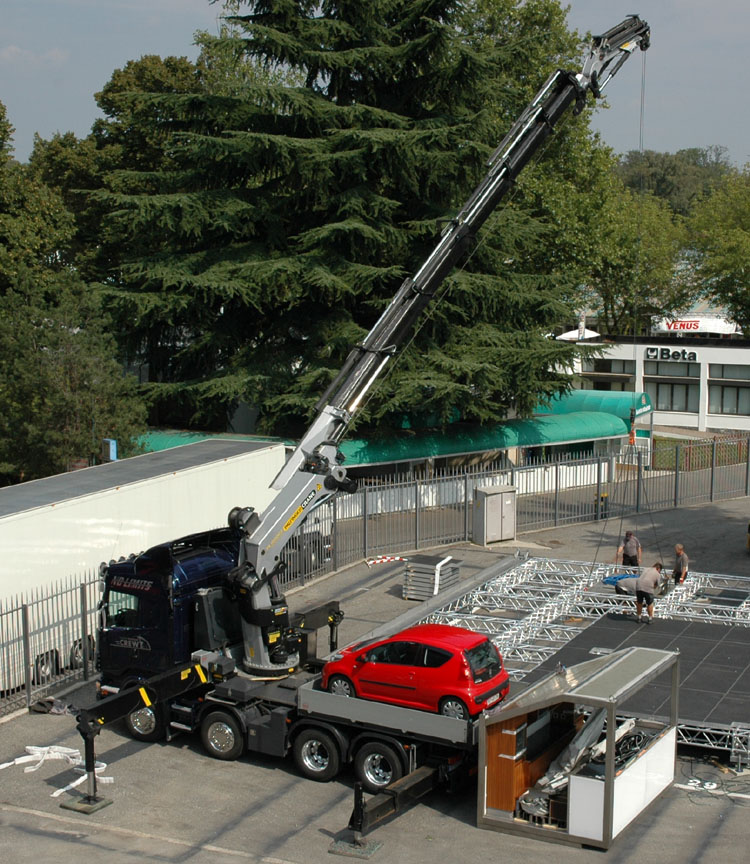 As soon as the larger units are set by the big Palfinger, the PK100002 also starts installing modules. The Toyota on the box is used for local transportation.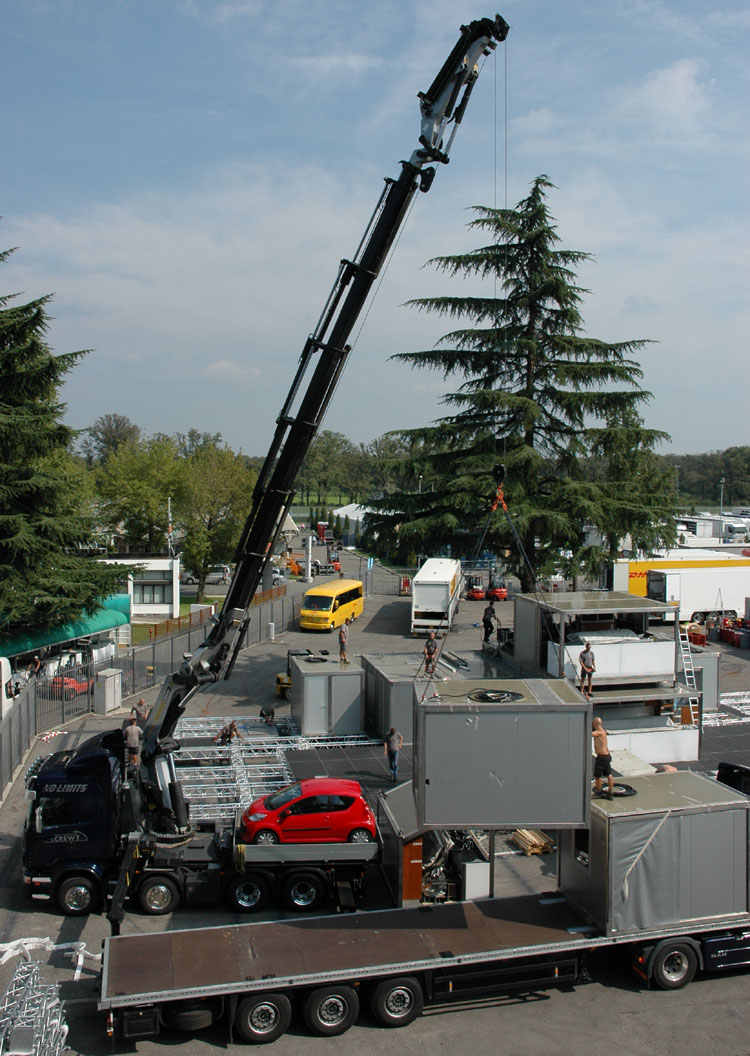 Here a mid-sized unit is picked up from the trailer, also using the winch which gives better control and allows fast lifting.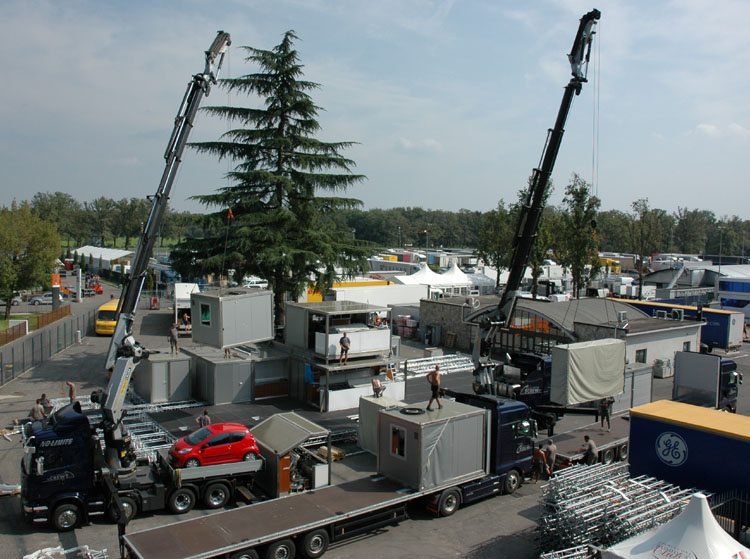 Now 2 trucks can be unloaded at the same time. This way the motorhome is built in a few days.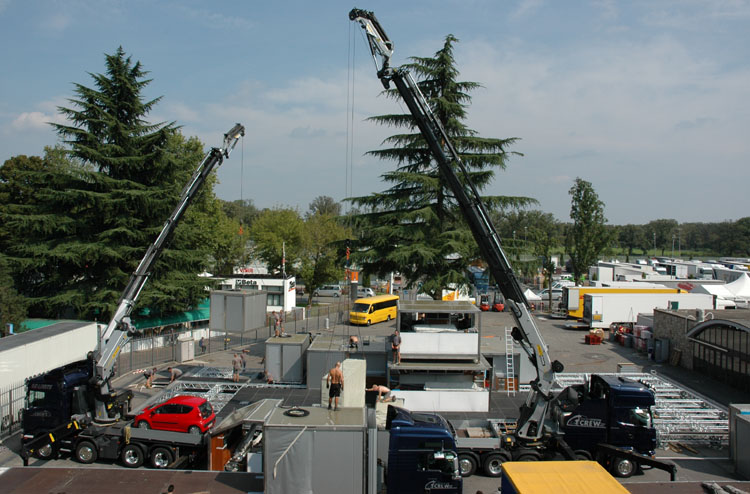 A very interesting job that occupies both crane trucks for about half a year!!
Back to the events index