TCM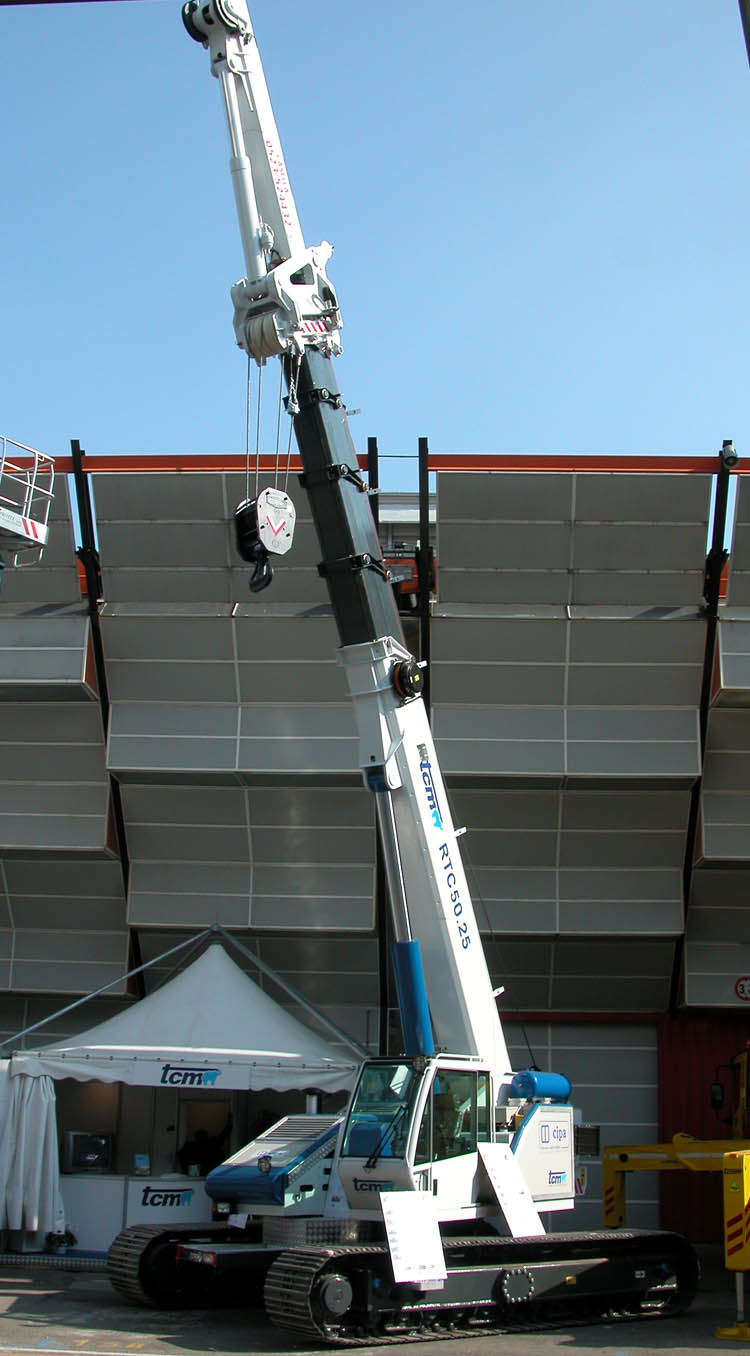 TCM displayed several cranes, including this RTC 50.25 crawler crane. A 50 ton telescopic crane with a hook height of 23,5 meters. With the (here mounted) jib this increases to 35 meters. This one was sold to Cipa.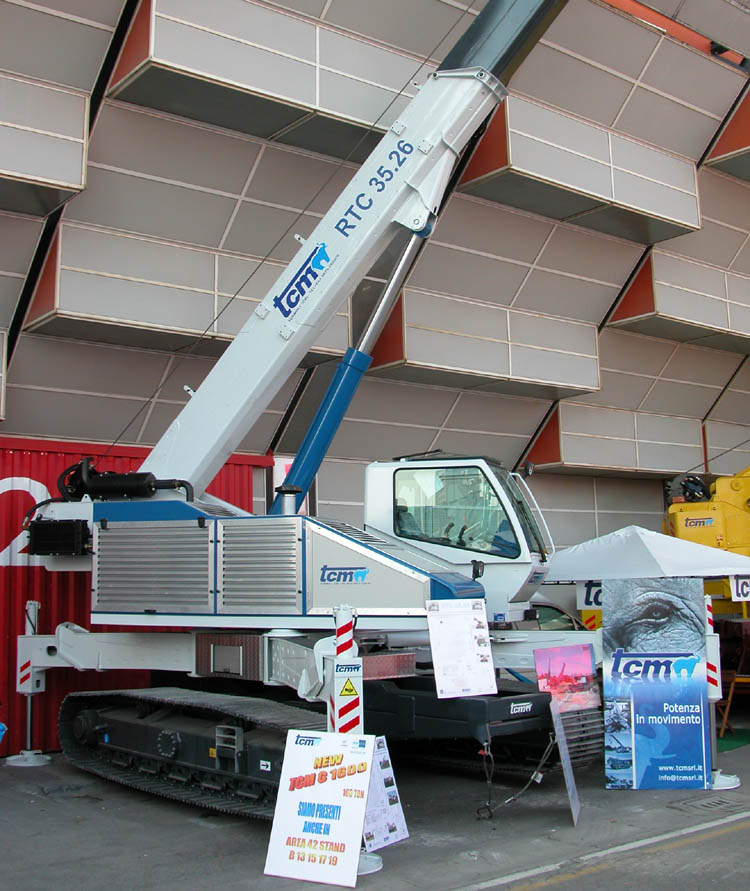 A different version is this RTC 35.26. With the 4 outriggers the crane is being supported. The tracks give the crane good offroad capabilities.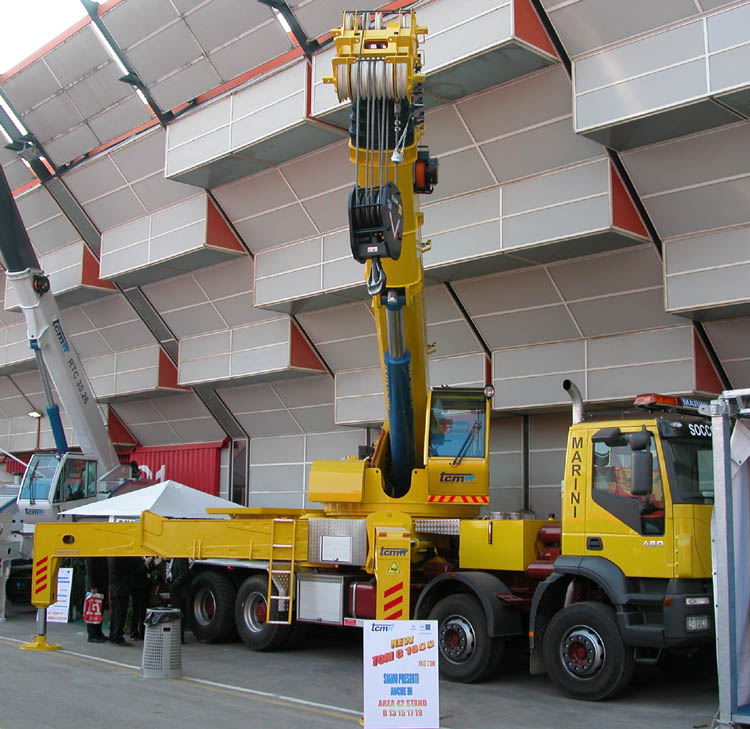 These kind of telescopic cranes are often combined with a recovery unit, this way you get a very universal recovery truck.
Palfinger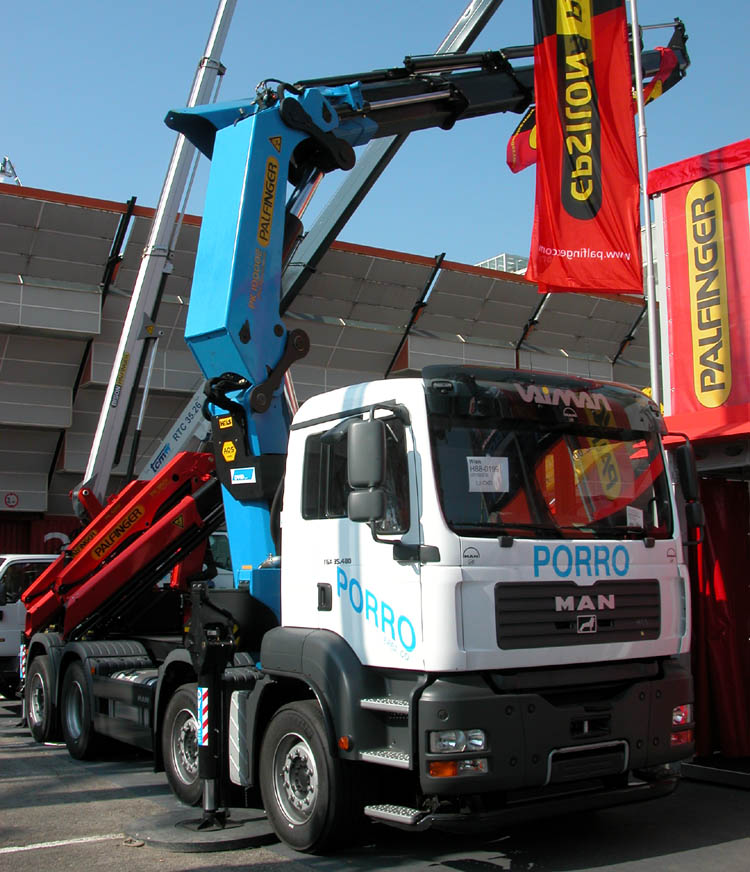 Palfinger showed this MAN TGA 35.480 8x2 with a PK 100002 D that was delivered to Porro.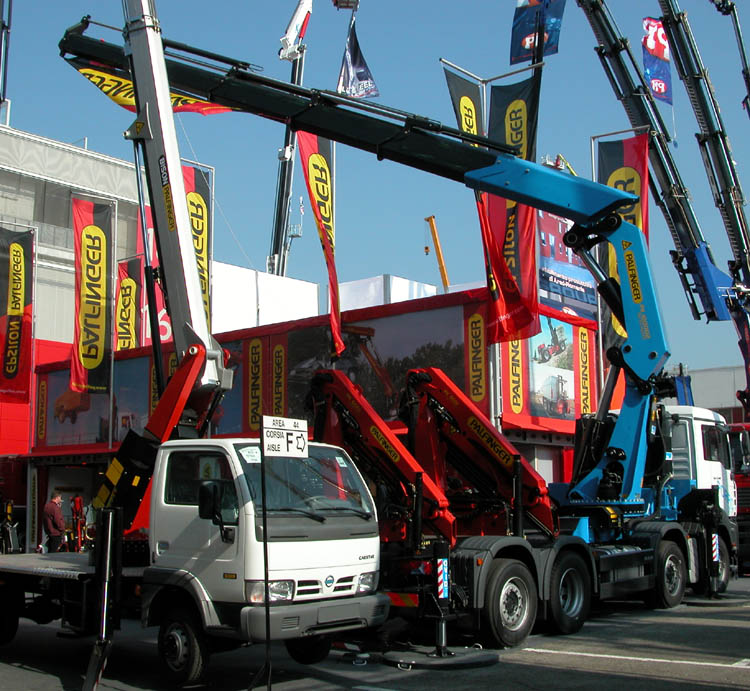 Idrogru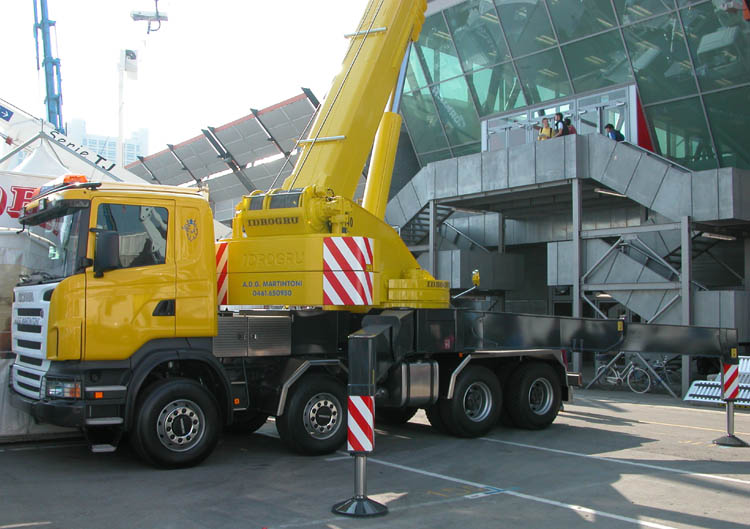 This year Idrogru showed another KT140, this one was mounted on Scania R 8x4 chassis of A.D.G. Martintoni.
Etra (Goldhofer / Mercedes Benz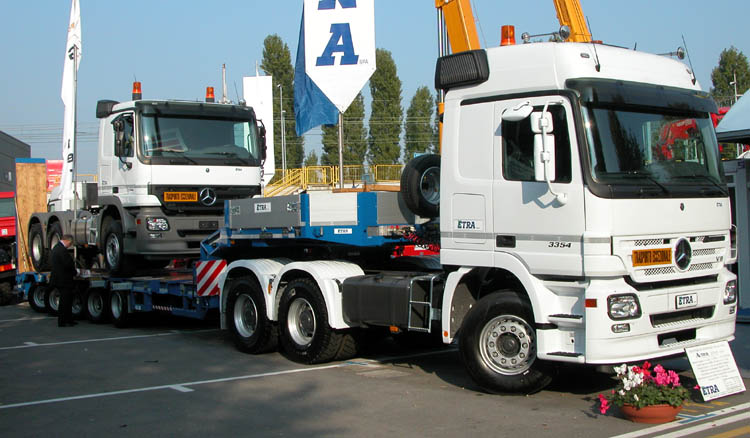 On the Etra stand where again several Mercedes trucks and Goldhofer trailes displayed. For instance this Actros 3354 6x4 with a 5-axled Goldhofer semi-lowloader on which a 2nd 3354 Actros was loaded.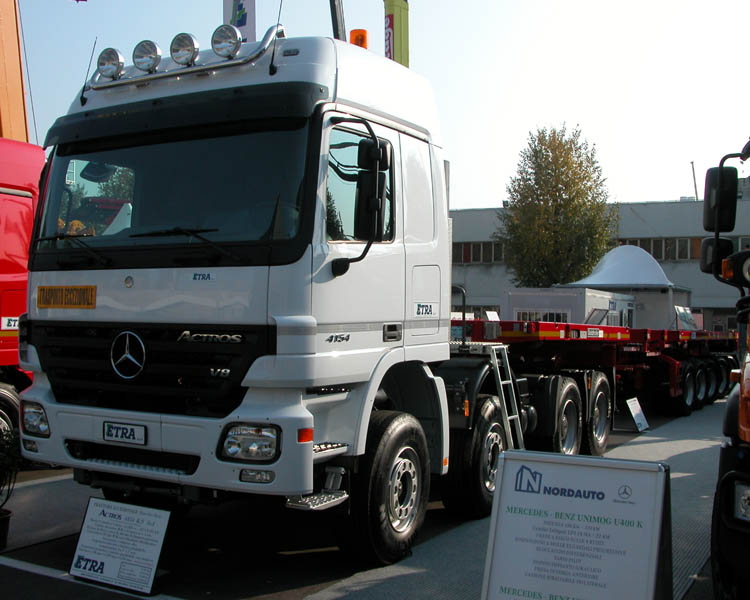 This 4-axled tractor is about the same as that of last year, also a 2+2 axle arrangement. The trailer is a 5-axled extendable flatbedtrailer of Goldhofer. This kind of combinations can be found a lot in the concrete transport in Italy.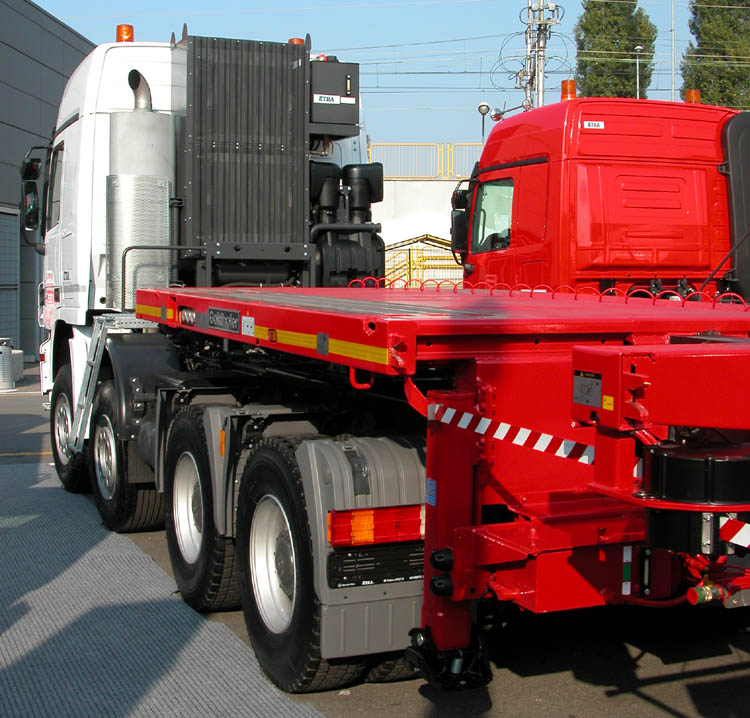 The tractor has been equiped with a WSK400 and therefore needs these large coolers behind the cab.
Effer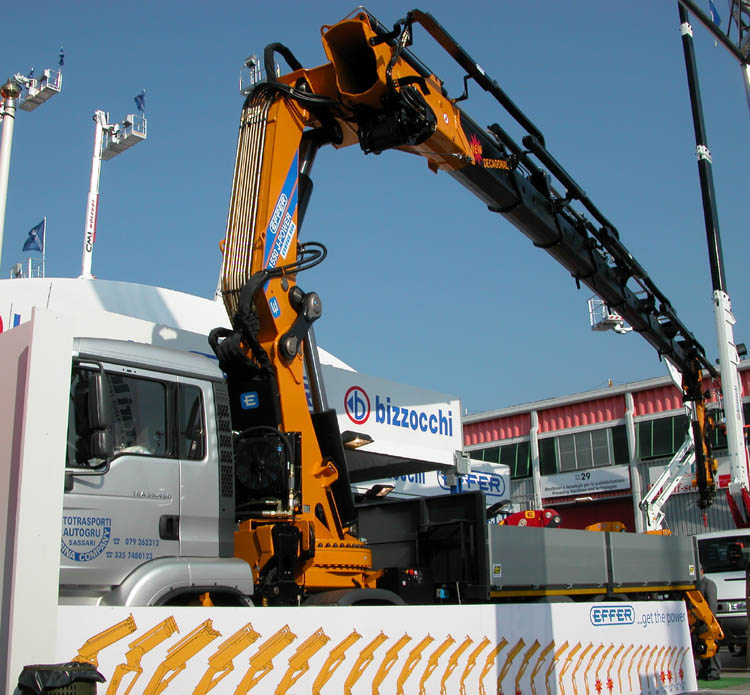 At the Effer stand the renewed 1550 J-Power was displayed. The new feature can be found in the shape of the telescopic boom. This now has the same decogonal shape as the 1750 which gives more strength and lifting power. The here shown 8S (8x hydraulic extension) has a maximum lifting capacity of 107 ton/mtr.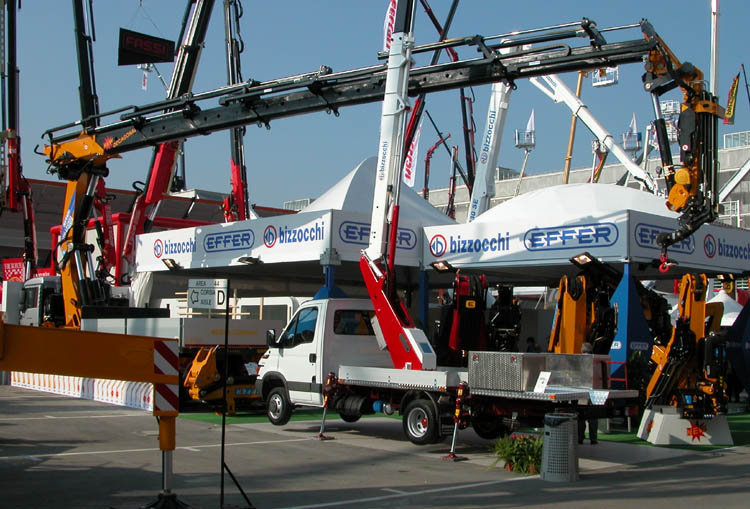 It extends hydraulically to 20 meter and can still lift 4,28 tonnes there. The 6x hydraulic jib increases this range to 32,5 meter. The crane is mounted on a MAN TGA 35.480 8x2 of Messina Company.
Effer also showed this new "Heavy Duty" jib, ment for heavy loads on places that are difficult to reach. It is available from now on for the models 1550 and 1750. It has a lifting capacity of 40 ton/mtr and with that it has 54 % more power than the previous model. The 4S version only weighs about 1585 kg, the double cylinders help keeping it very compact. Shown here is the 6S model.
Part 2 >>