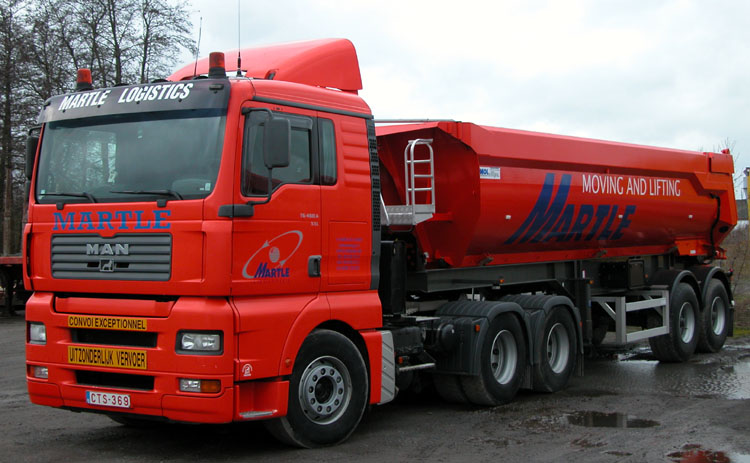 In december 2004 I visited the company Martle Logistics from Knesselare (B). Martle is a transport company that, besides normal transport, is also occupied with cranework and special transport. For the normal transport they have trucks like this MAN TGA with a MOL tipper trailer.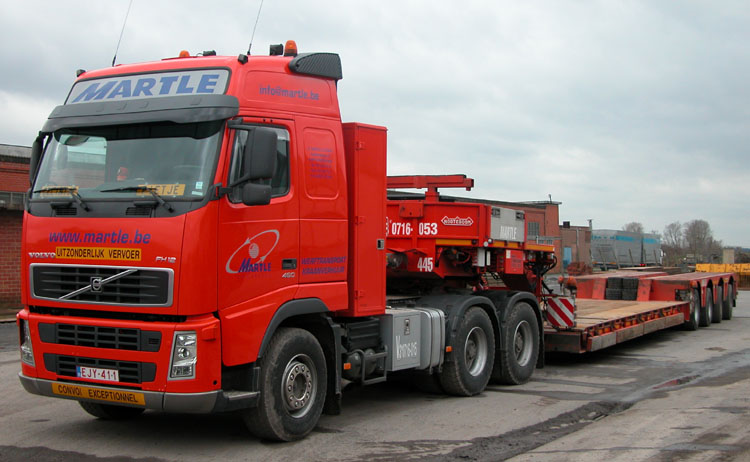 For the heavier transport Martle also owns several lowloaders, including this 4-axled Nooteboom that is coupled to a Volvo FH12-460 6x4 tractor unit.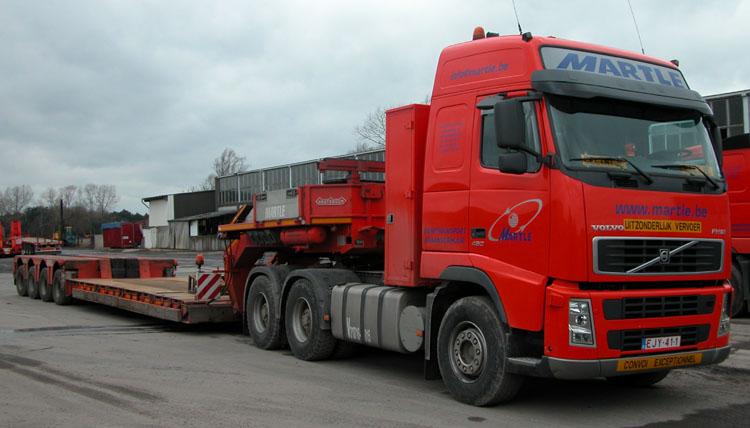 Recently the company bought a new Volvo 8x4 tractor that is combined with a 7-axled lowloader (2-axled dolly with 5-axled lowloader). Unfortunately it wasn't at home when I was there.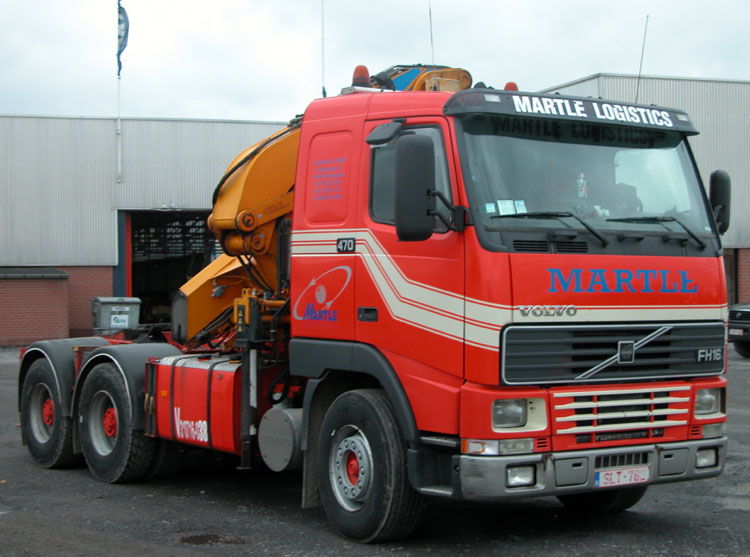 For crane jobs the company owns several trucks with cranes. This is a FH16-470 6x4 tractor with Effer crane.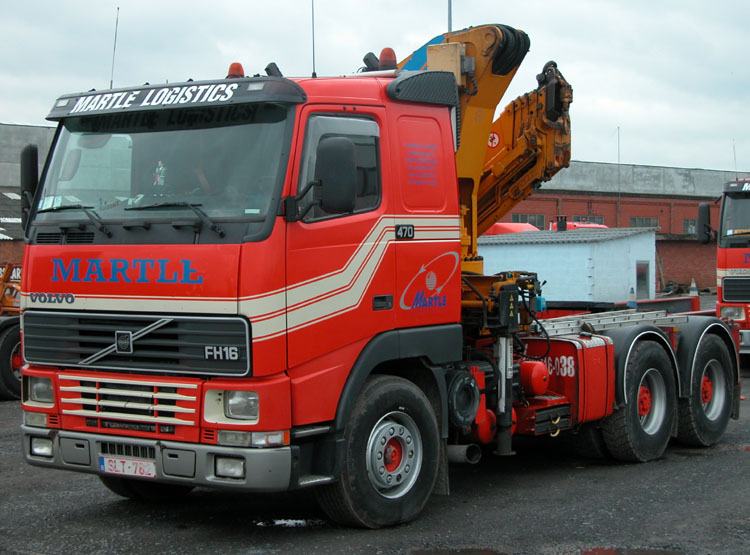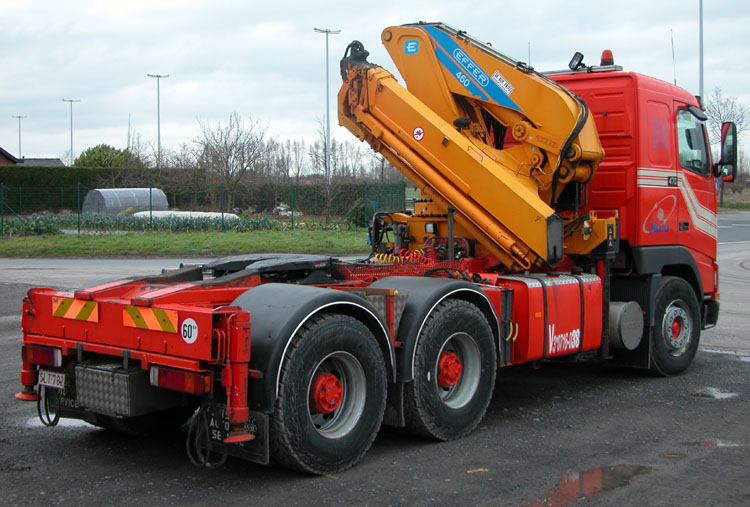 It is an Effer 460 4S, a crane that extends 4x to a length of 13 meter. It has a lifting capacity of about 40 t/m.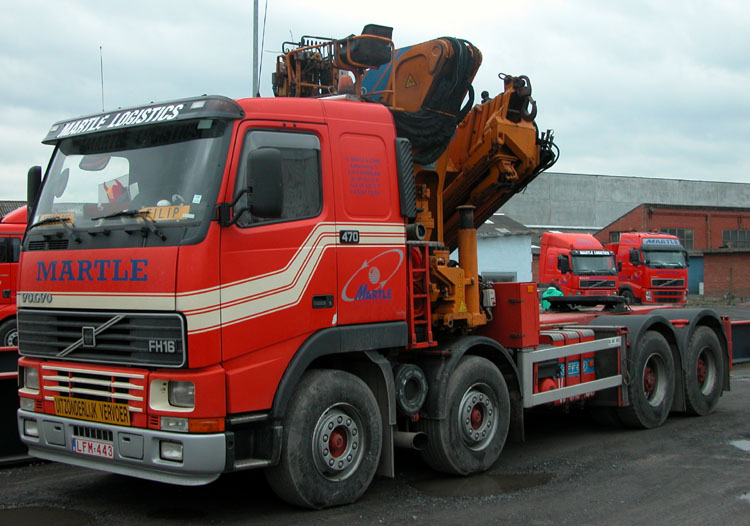 Next truck with crane is this Volvo FH16-470 8x4 tractor.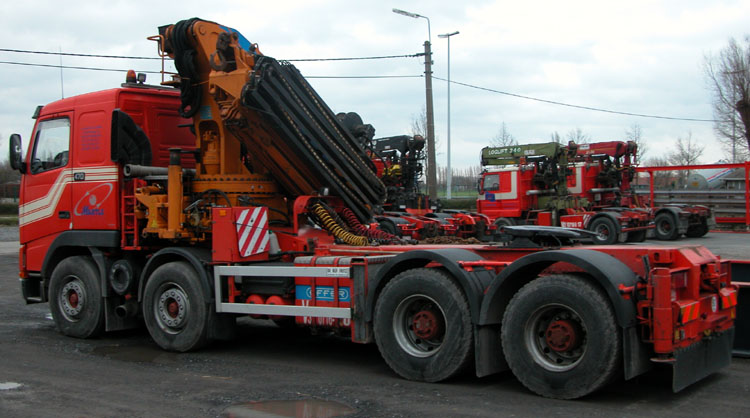 It is equiped with an Effer 720 6S that can be used with a jib (not mounted on this picture). The crane extends 6x and can reach, with the jib, a length of almost 23 meters. Lifting capacity is about 60 t/m.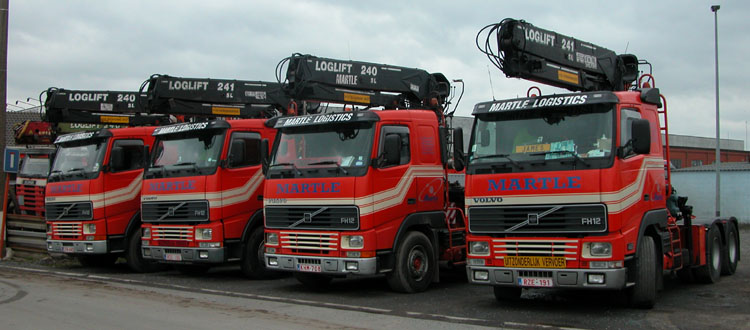 For transporting long materials, Martle owns several trucks with Loglift 240 cranes.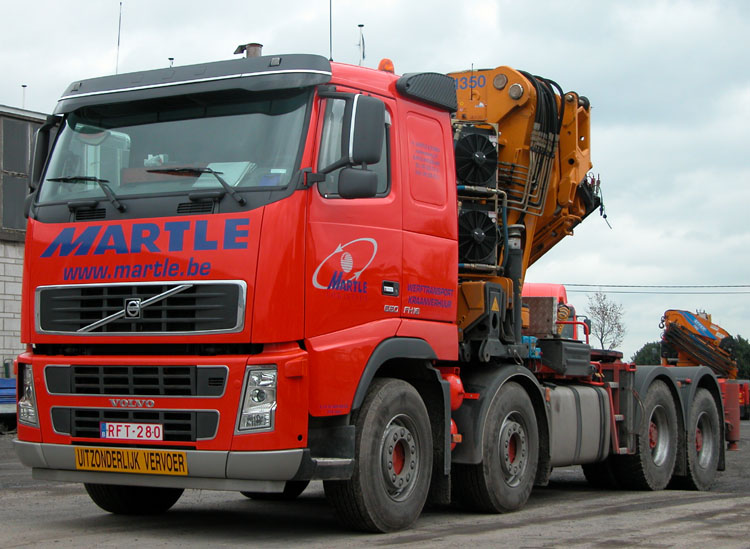 The newest crane-truck is this Volvo FH16-550 8x4.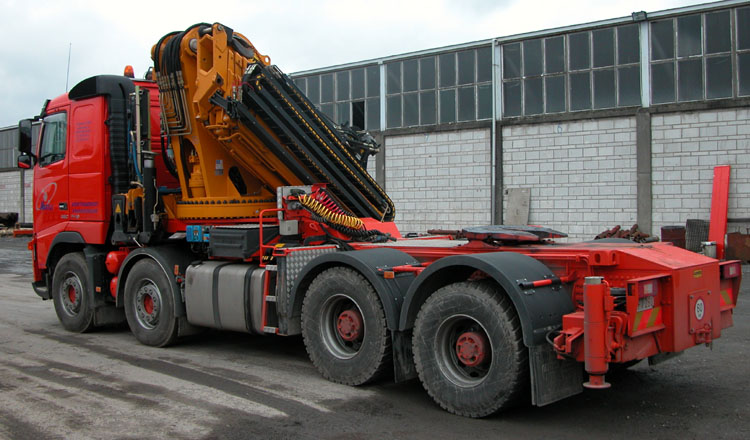 It is equiped with the new Effer model, a 1350 6S.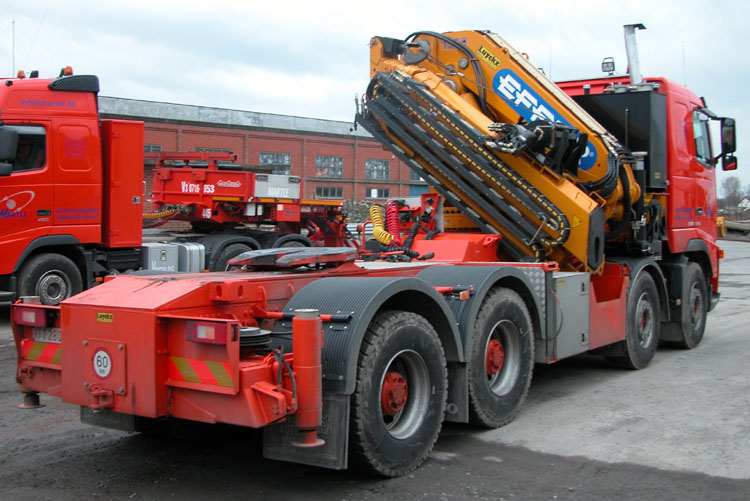 The 1350 has a lifting capacity of up to 105 t/m. The crane has been built up by Luyckx. Twistlock connections have been mounted to the chassis so that the tractor can also be used with a loading box.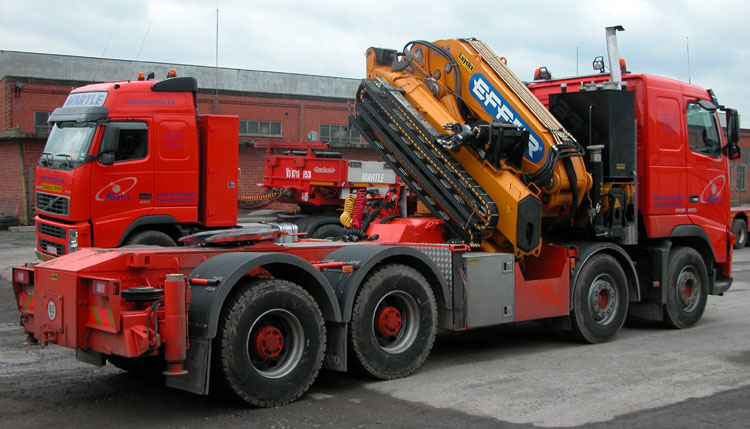 The crane has been deliverd with a winch and a jib that extends 6x. The outreach of the crane itself is 16,6 meters at wich it lifts 5,5 tonnes. The jib increases the outreach to 29 meters, there 1,5 ton can be lifted.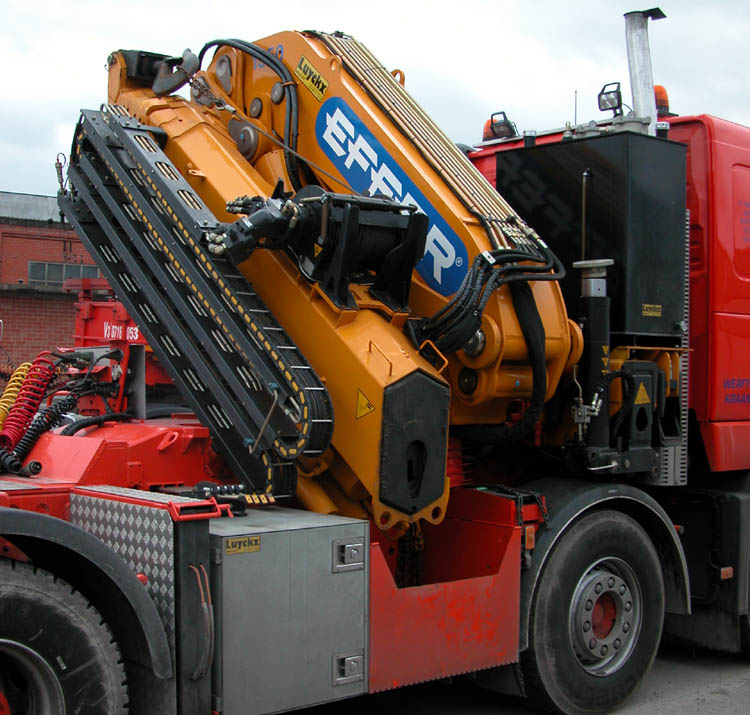 A better view of the crane. The crane is remarkably compact for it's capabilities. Between the crane and the truck stands the large oiltank.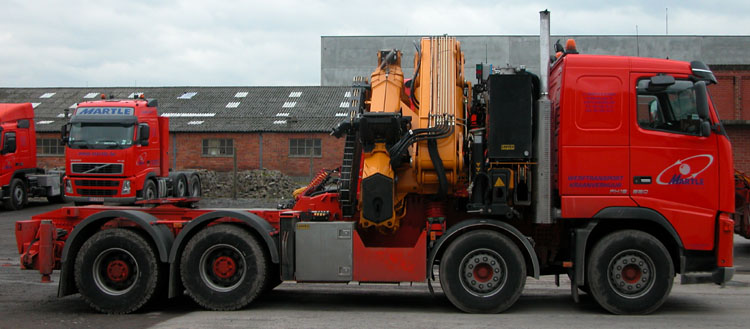 Cranes of this size all take away about one cab's lenght of space. The own-weight of such cranes (including reinforced chassis, outriggers etc...) make a 4-axled chassis necessary, especially when used as tractor (trailer weight on fifth wheel also has to be supported).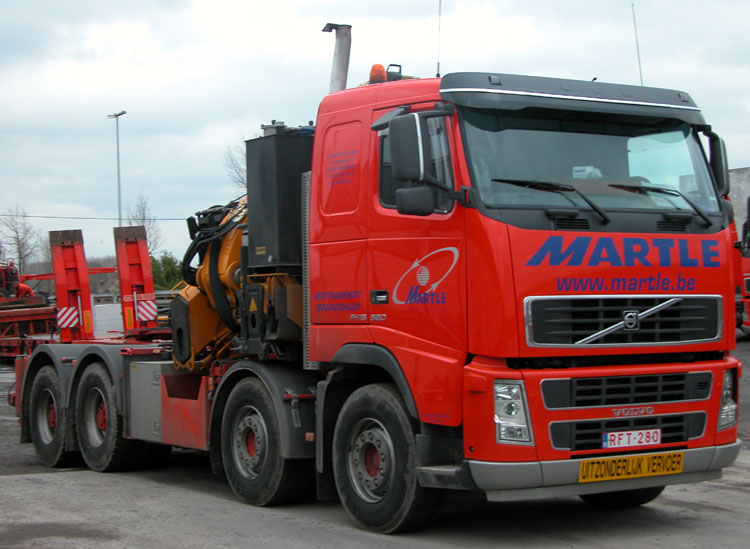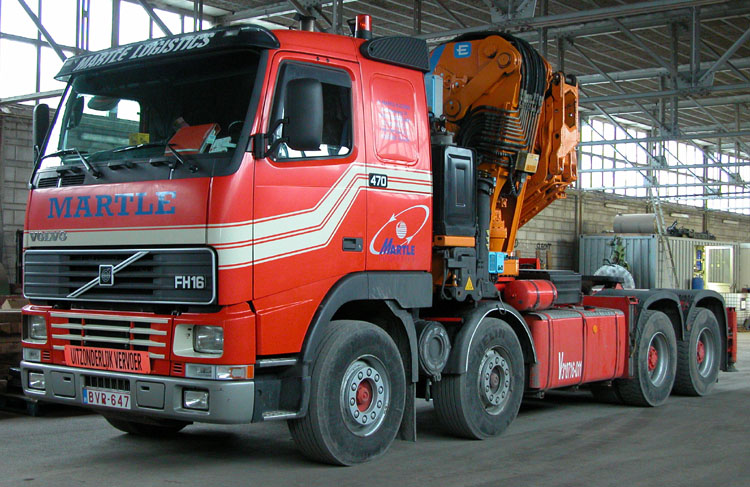 In the large hal stood this Volvo FH16-470 8x4 tractor.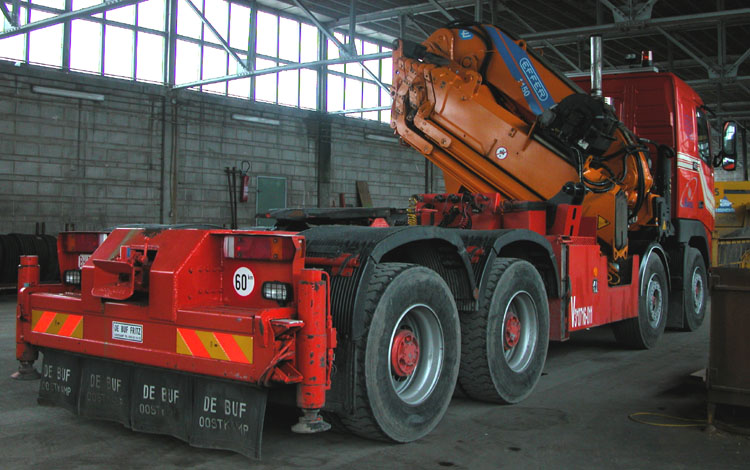 It is equiped with an Effer 1150 6S. A crane that extends 6x to 17 meter and has a capacity of 92 t/m.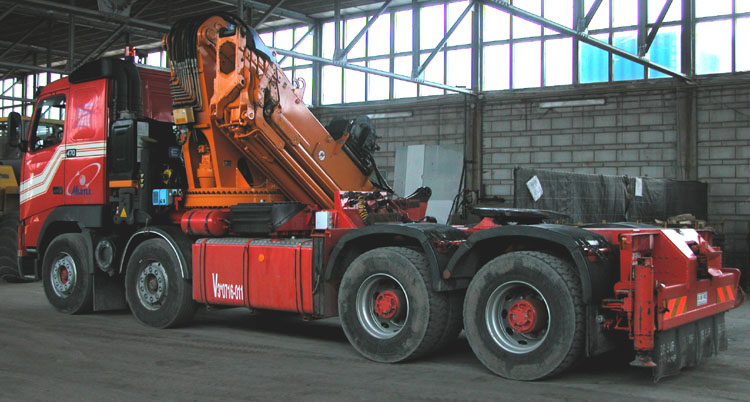 This crane is also equiped with a winch.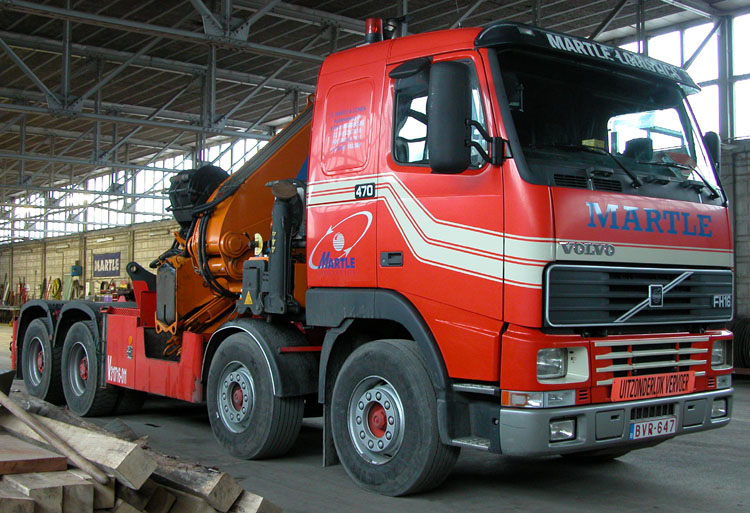 Back to the: Events index / Volvo index / Effer index