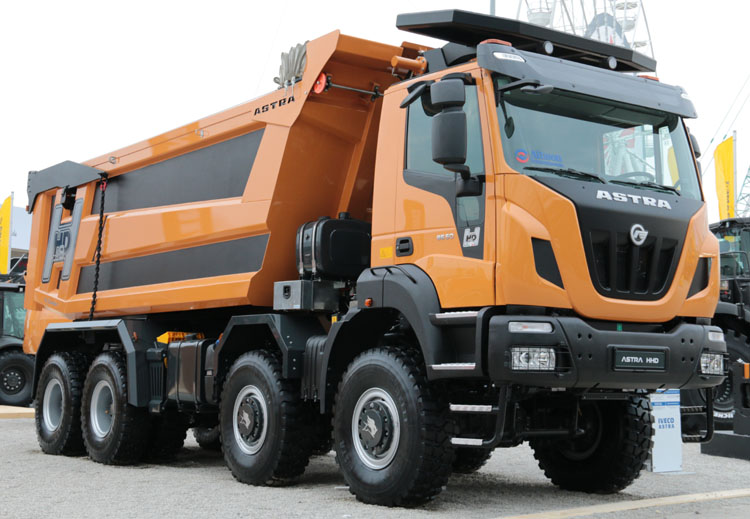 This Astra HD9 was shown at Iveco. This is the HD9 86.50, so a 8x6 with 500 hp and a Allison automatic. The total weight can be up to 65 tons. The front axles are from Kessler, the body is mady by Cantoni.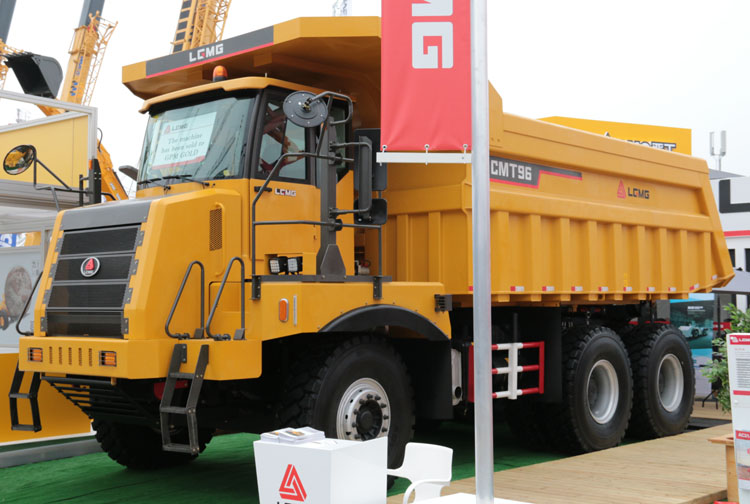 This is the LGMG CMT96 6x4 dump truck with a capacity of 60 ton. It's driven by a 530 hp 13 liter Weichai engine and has a Fast Gear FC6A250 transmission.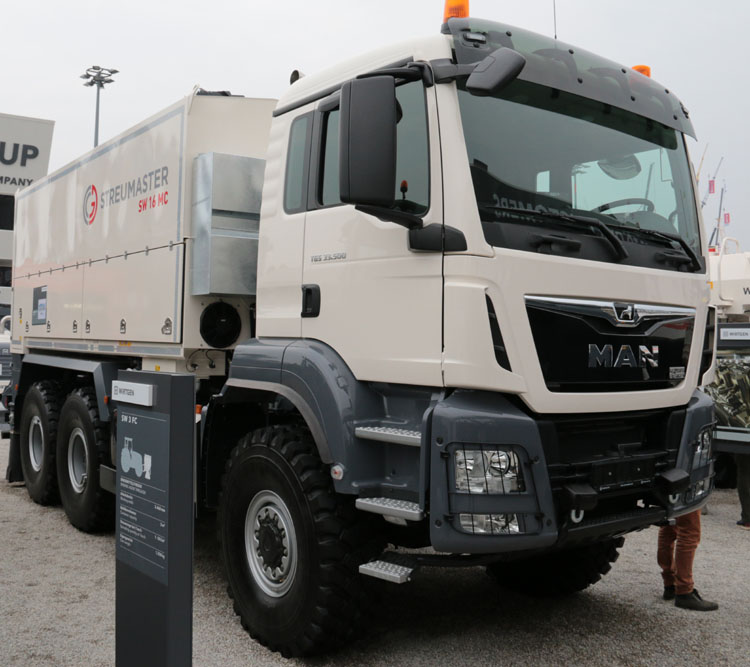 Wirtgen had this MAN TGS 33.500 6x6 on display, which was altered by Toni Maurer. This way the very large tires could be installed on this truck. The body is a binding agent spreader, a Streumaster SW16MC.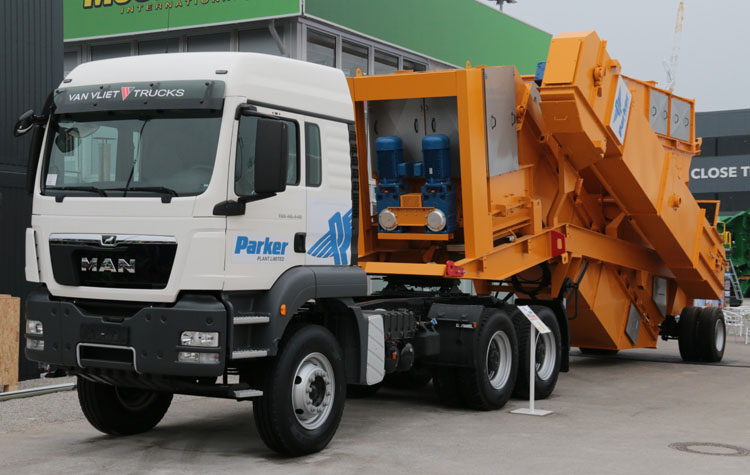 This is the export version of the MAN TGS, also called WW (WorldWide) version. It is a TGS 40.440 6x4. It was coupled to a mobile plant of Parker Plant Ltd.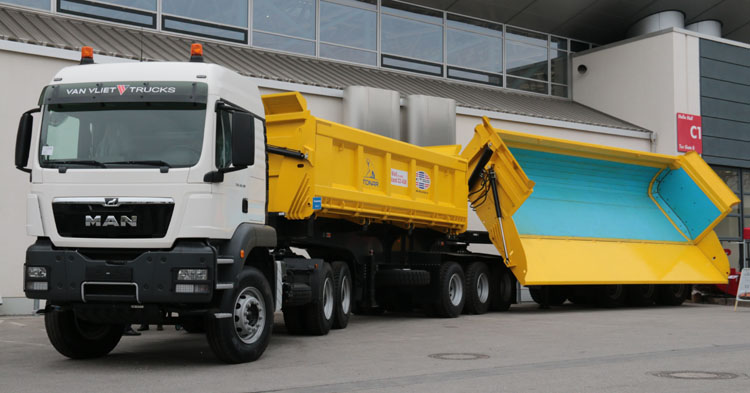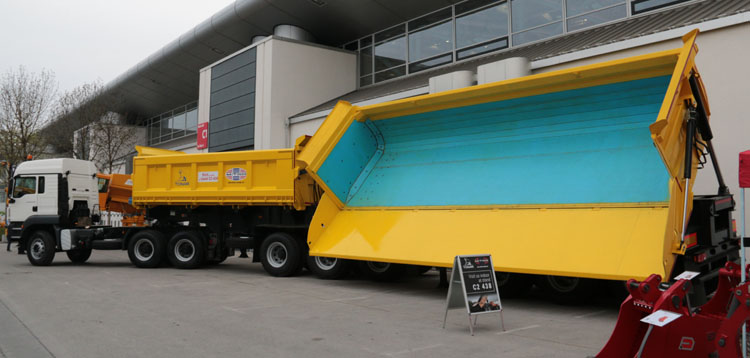 A identical unit was parked between the hals and coupled to a double trailer combination of Mitra/Tonar.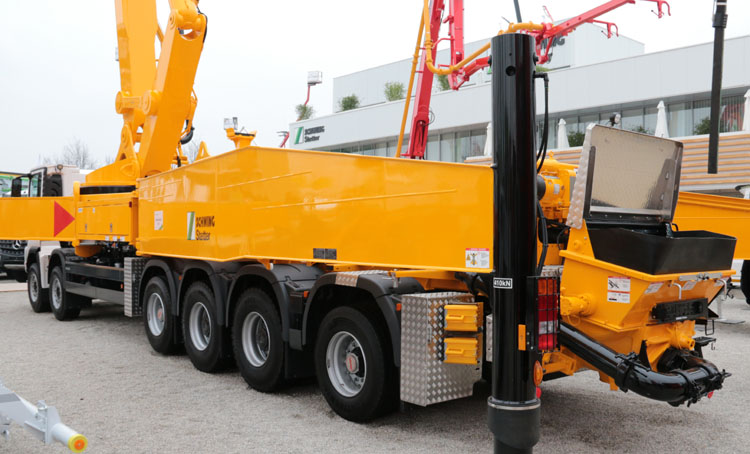 At Schwin-Stetter stood this gigantic S65SXF concrete pump that can reach a height of up to 64,25 meters. The pump was installed onto a 6-axled MAN chassis, that in this case was built by Wierda. The base is a MAN TGS 8x4 that got equiped with 2 additional axles in front and behind the tandem, which makes this a TGS 65.500.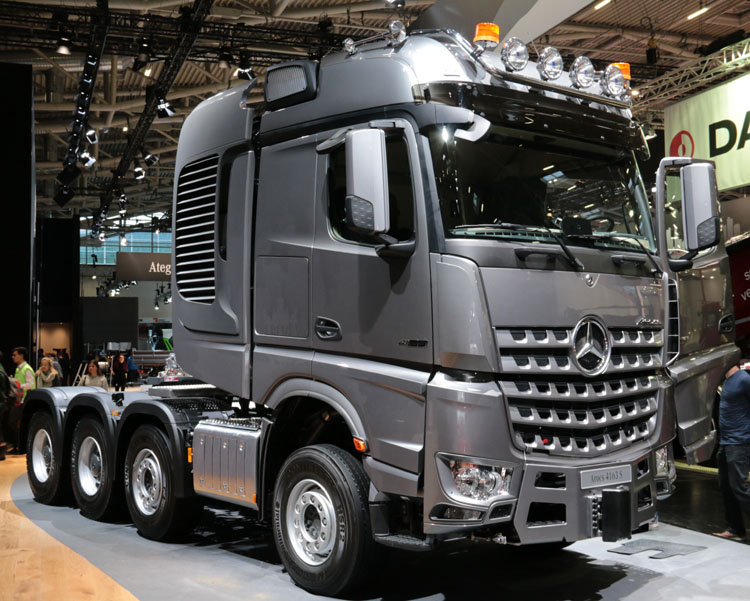 Inside Mercedes had this Arocs 4163 SLT on display. A heavy haulage tractor with a 625 hp 15,6 liter 6-cylinder engine and a Voith VIAB clutch.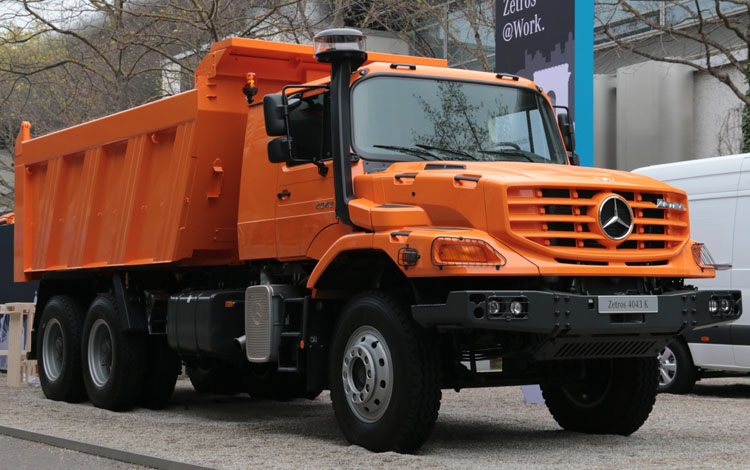 Between the halls they had this interesting Zetros 4043 in 6x4 version.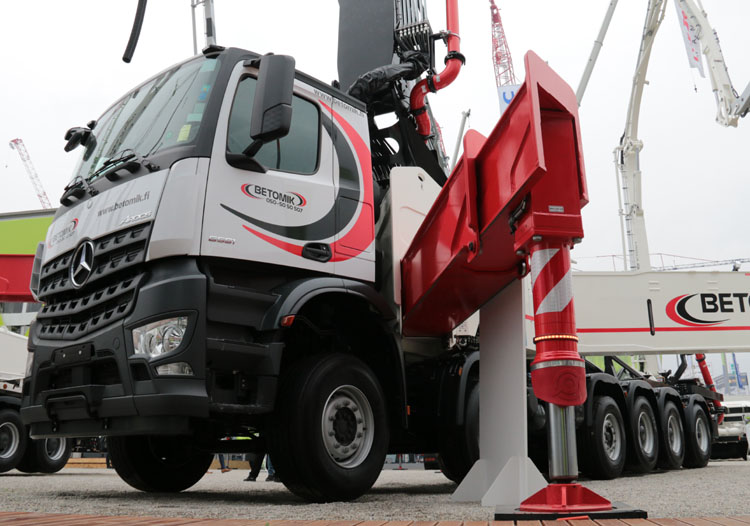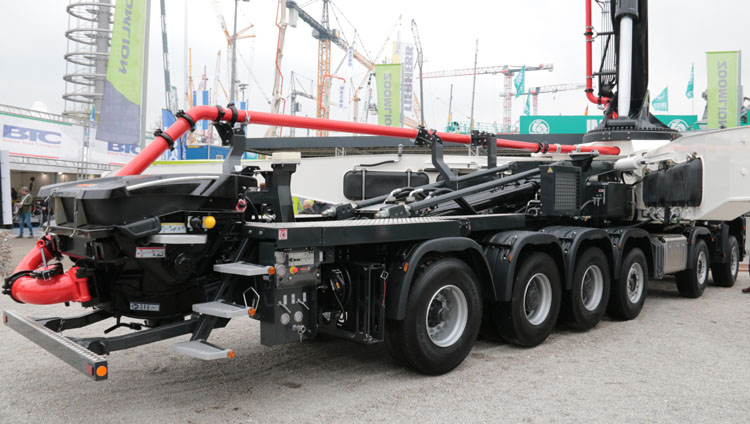 There was also a 6-axled Mercedes on the show, here at the Cifa pumps stand (Zoomlion). The 3rd axle is an original Mercedes axle, the last one is from BPW. On this Arocs 6551 stands a Cifa K67H pump that can reach up to 66,1 meters.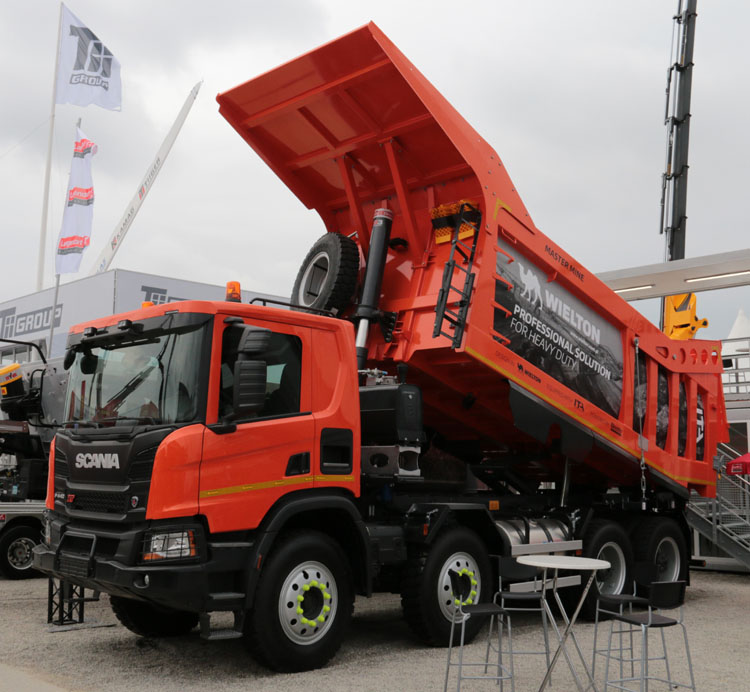 This Scania P440 XT 8x4 tipper was shown at Wielton.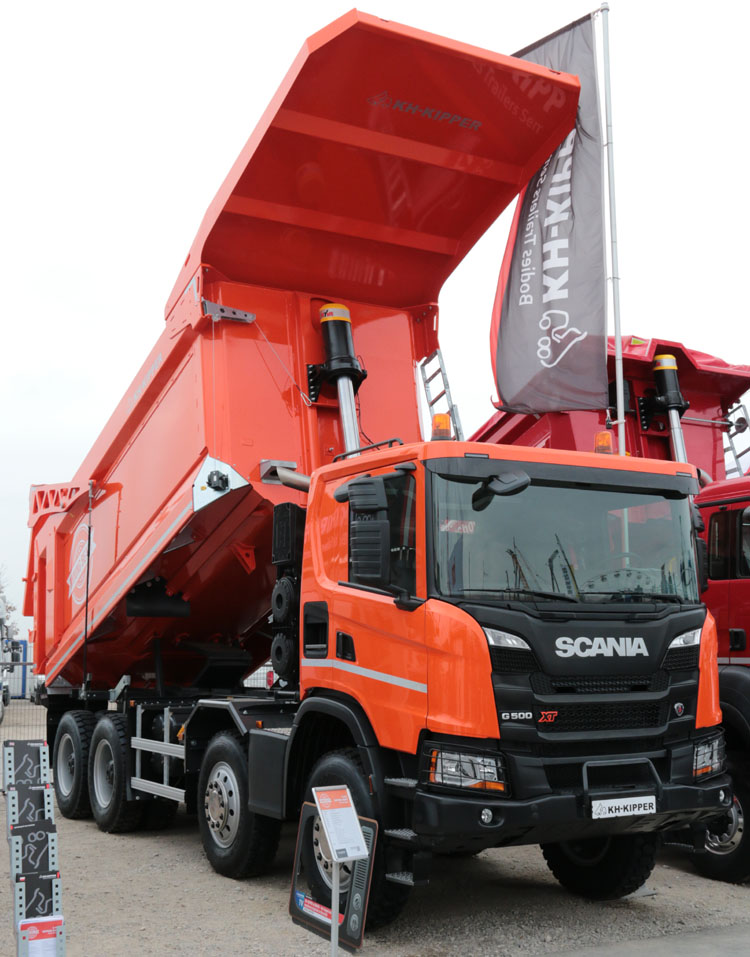 And KH-Kipper showed this G500 XT in 8x4 version.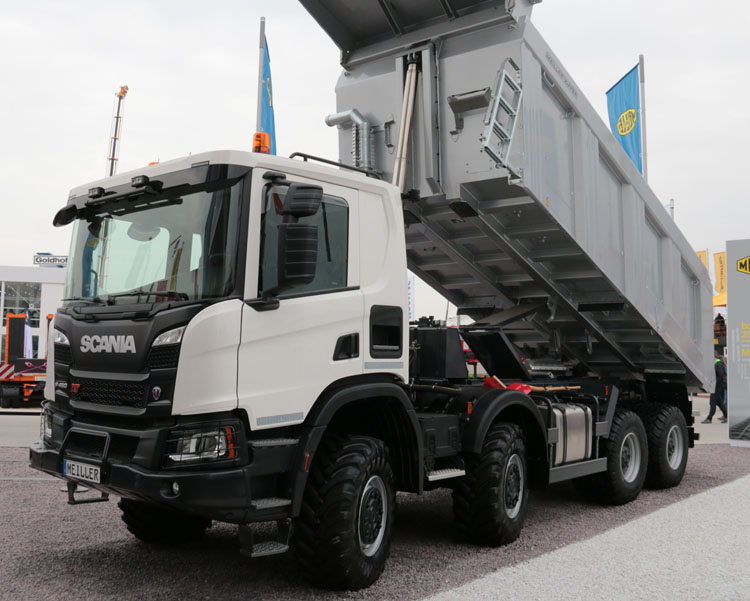 And at Meiller stood this P450 XT 8x8 with special offroad tires.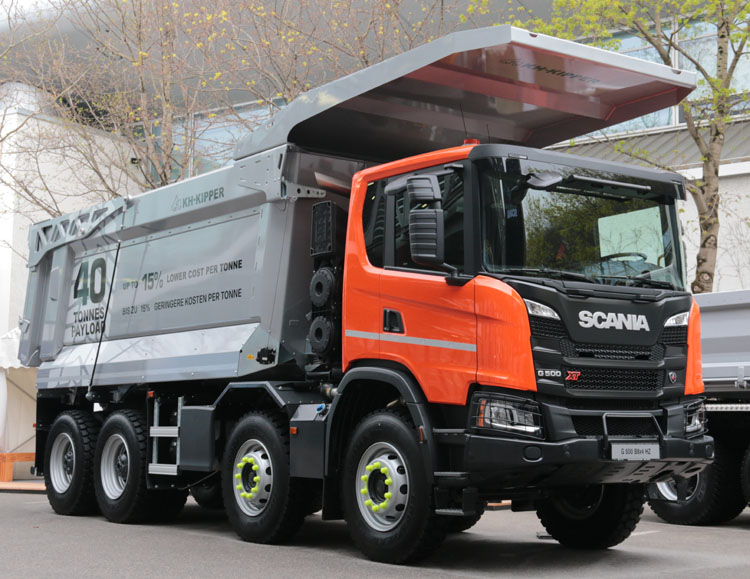 and the tipper displayed by Scania themselfes is this G500 XT with KH-Kipper body. It has 40 ton capacity.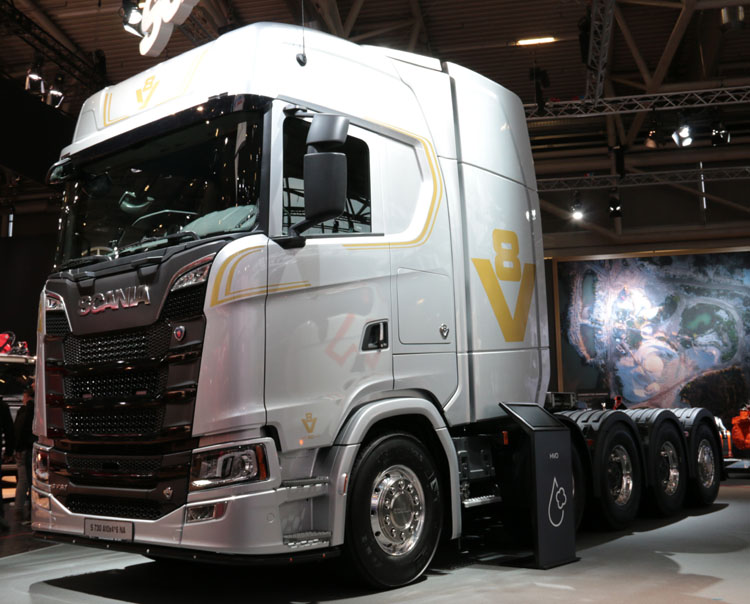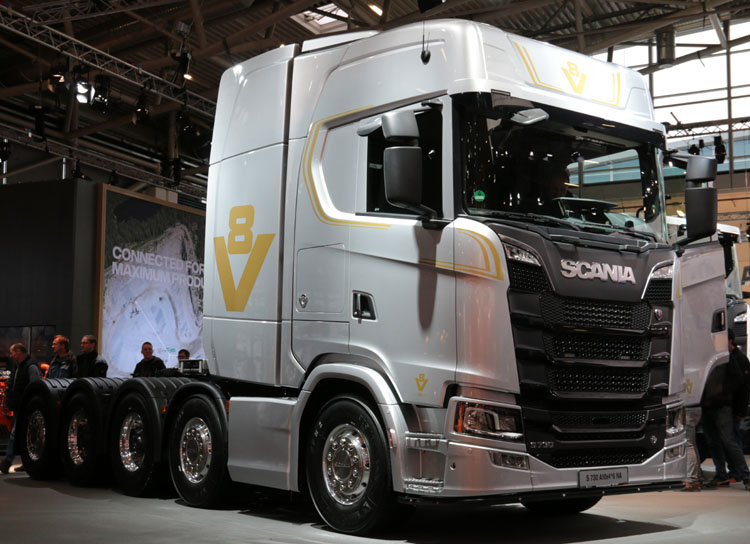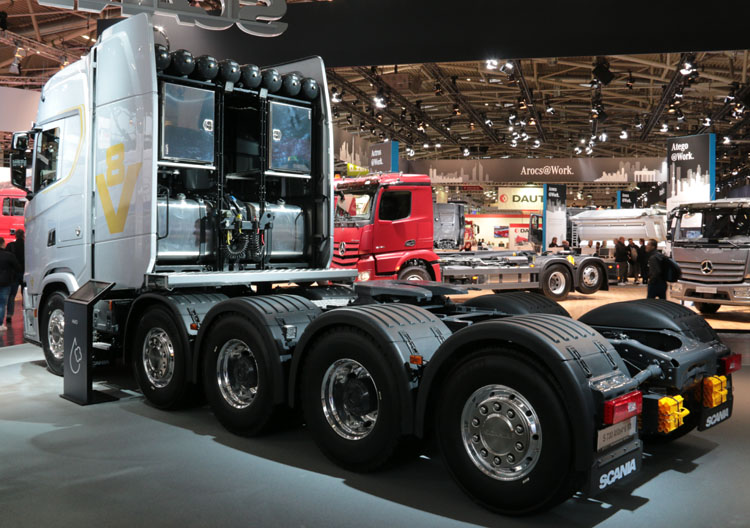 Inside Scania displayed this new heavy haulage tractor. It is a S730 in 10x4*6 version and it is sold to Essers Schwertransporte. The tower holds the 2 dieseltanks, some toolboxes above that and a lot of air barrels on top.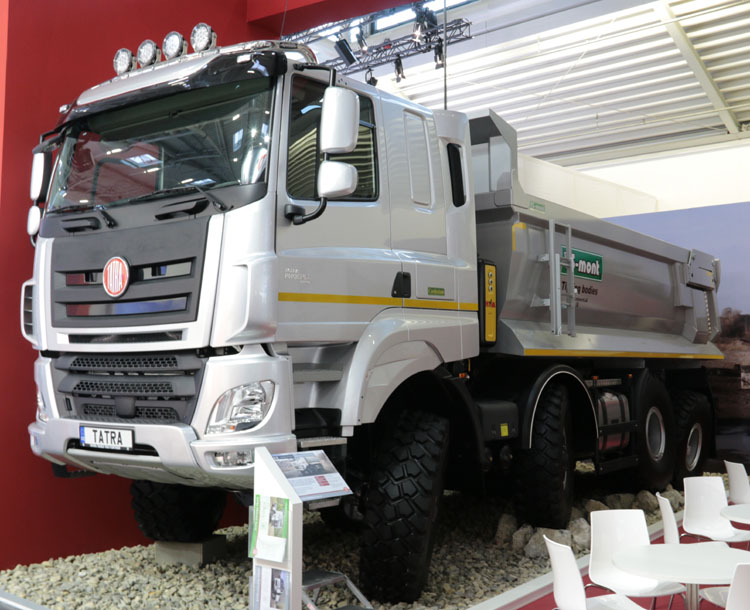 Tatra showed 2 Phoenix models, this is the heavy 8x8 version with VS-Mont tipper body.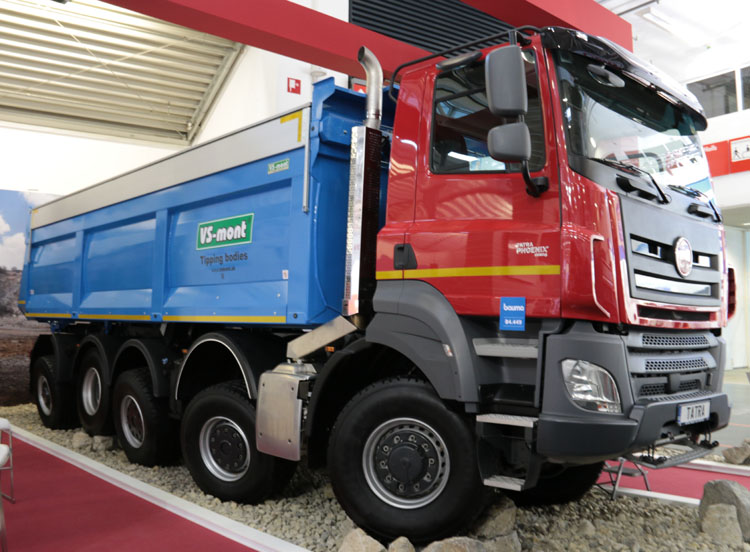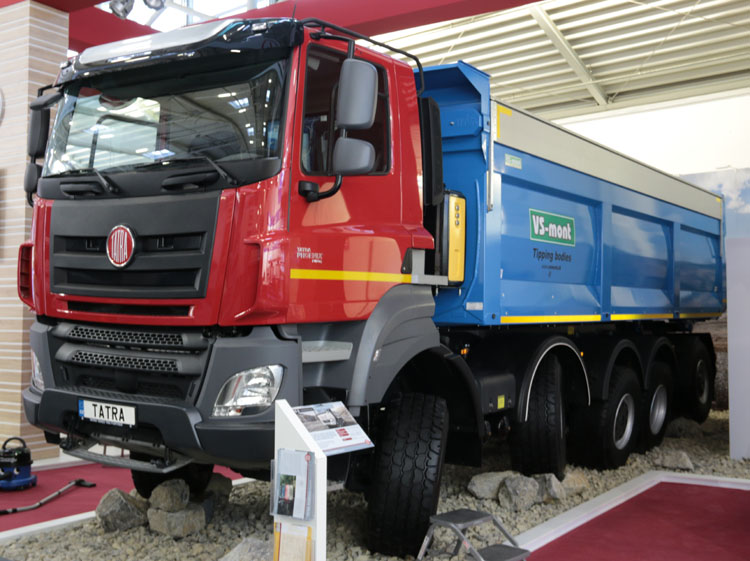 And this is a Phoenix in 10x6 version, also with VS-Mont body.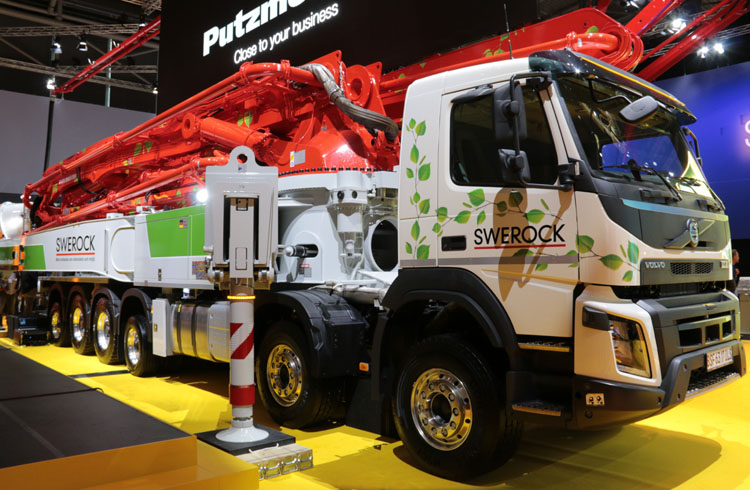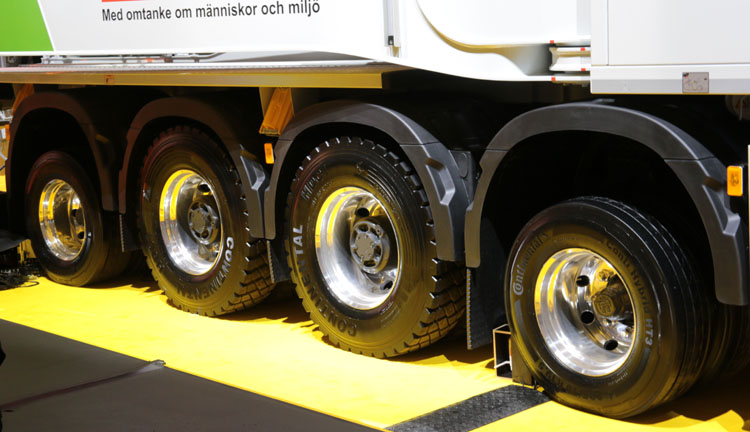 Putzmeister had this interesting Volvo FMX 6-axled unit. The base is an 8x4 that get's equiped with 2 additional steering BPW axles with small tires. In Sweden such axles are also able to get high allowed loads, but they don't take up so much space on the chassis as axles with regular tires.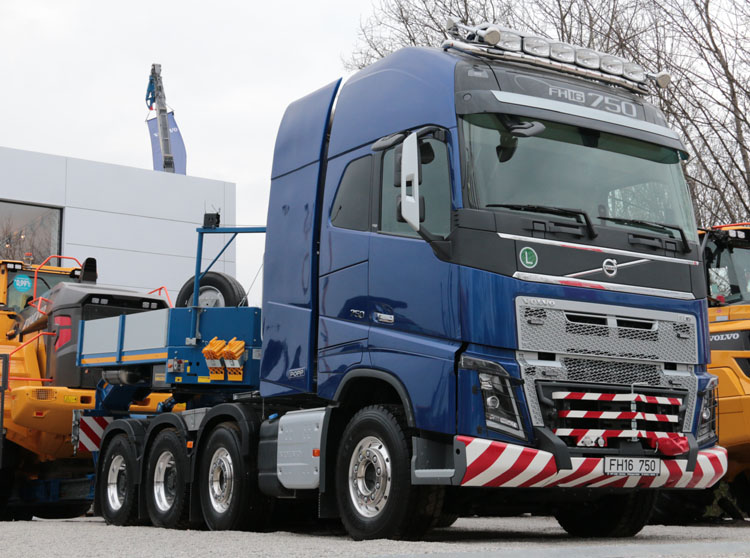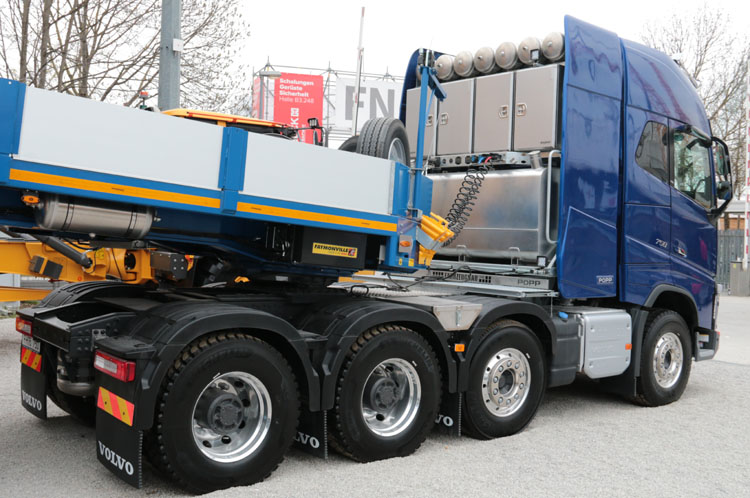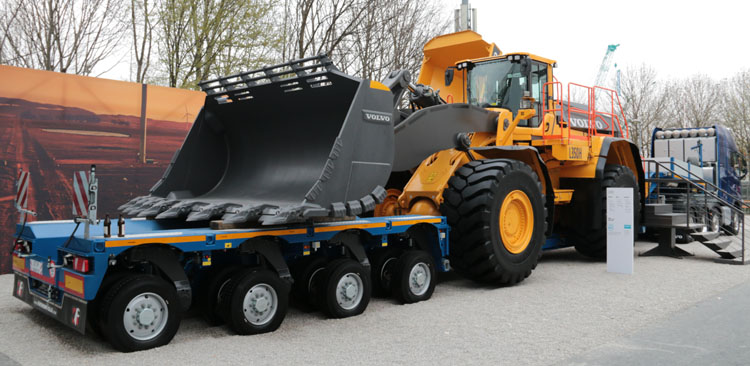 Outside stood this Volvo FH16-750 8x4 heavy haulage tractor that was connected to a 4-axled Faymonville lowloader. It was loaded with a big Volvo wheelloader. The tower behind the cab holds a big dieseltank, many toolboxes and a set of air barrels.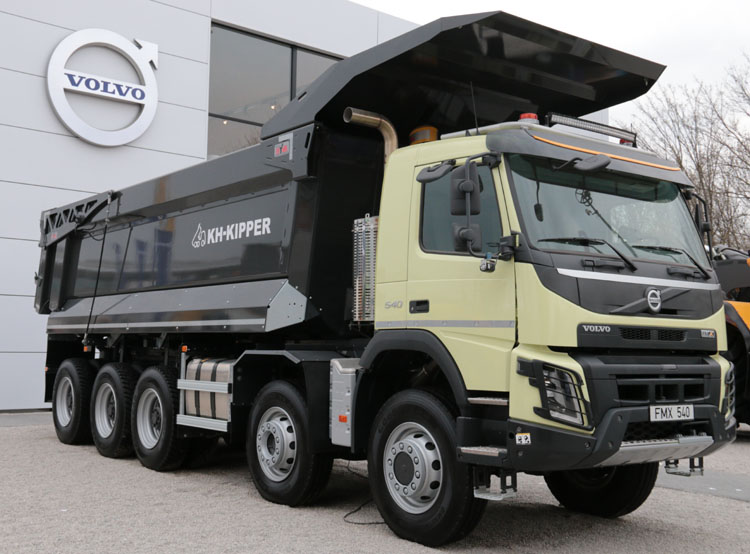 Beside it stood this Volvo FMX540 in 10x6 layout. The rear axle was installed by Terberg Techniek and is steered hydraulically and suspended hydropneumatically.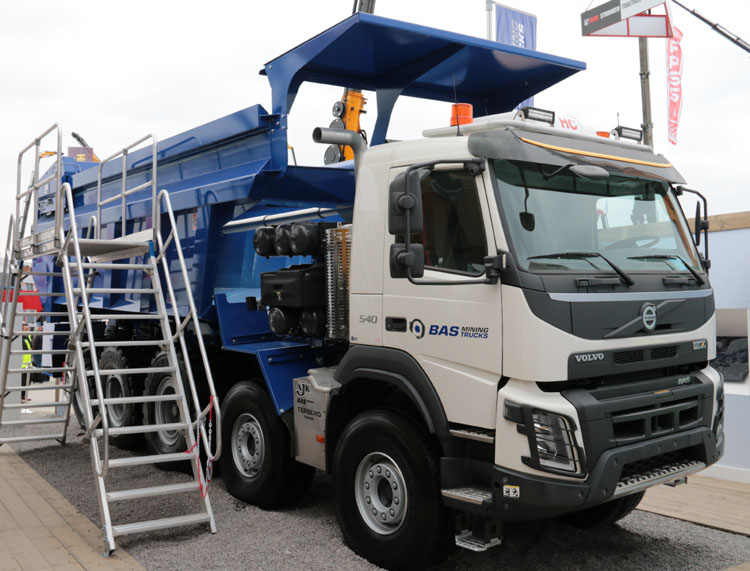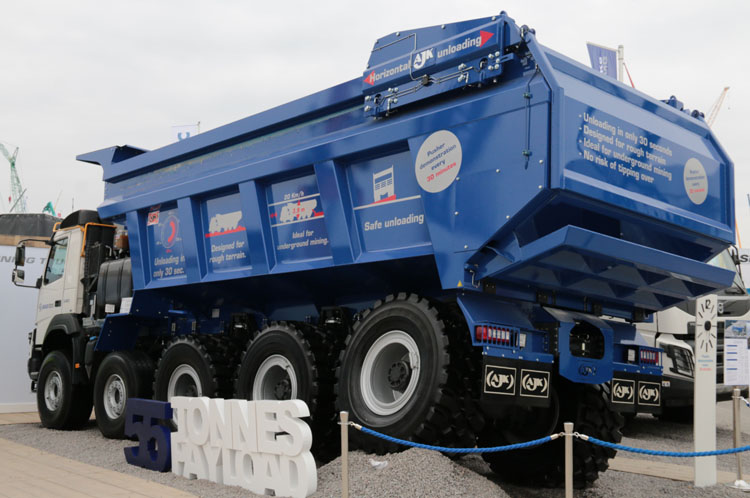 BAS-Mining showed this new version of their FMX dump truck. This is the 10x6 version with heavy offroad tires on the 3 driven rear axles. Only the 4th axle doesn't steer, the others do. The 3rd axle is a driven version from Sisu, the other 4 are from Volvo. The capacity is around 50 to 55 tons. The AJK body pushes the load out, so that it can also unload at an uneven terrain.
This is the 10x4 version of the BAS dumper. This one also has a capacity of 50/55 tons in the AJK tipper body.