Zeppelin NT-07, registration no. D-LZFN. This was the first New Technologie (NT) Zeppelin that has been build in Friedrichshafen, with a large advertisement of my employer on the side. Transmission producer ZF is main-participater in this project. It is filled with helium instead of the, much more dangerous, hydrogen of the old Zeppelins. It can land and take of vertically thanks to the rotors that can be turned forward or upward (gears developed  by ZF). They use them for sightseeing at the Bodensee (Lake Constance) area.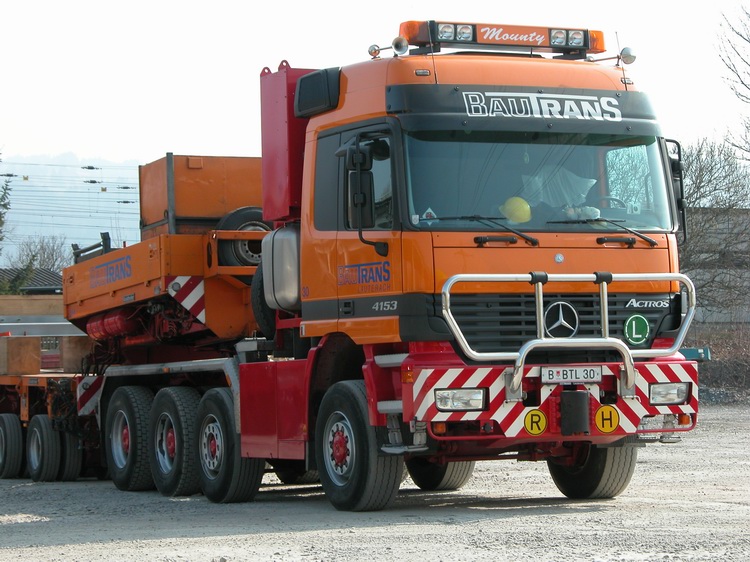 Mercedes-Titan 4153 owned by the company BauTrans. This is a 8x6 tractor unit. The tractor was coupled to a 4-bed-6 Goldhofer moduletrailer.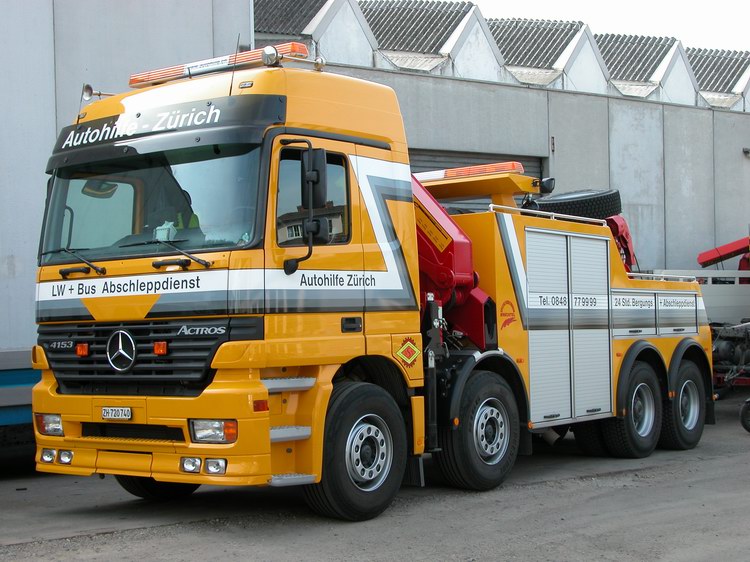 Mercedes-Actros 4153 owned by Autohilfe Zürich. This one is, just like most towing trucks, build completely according to the specification of the customer. It is equiped with a Boniface wrecker and has a 38 t/m HMF crane behind the cab.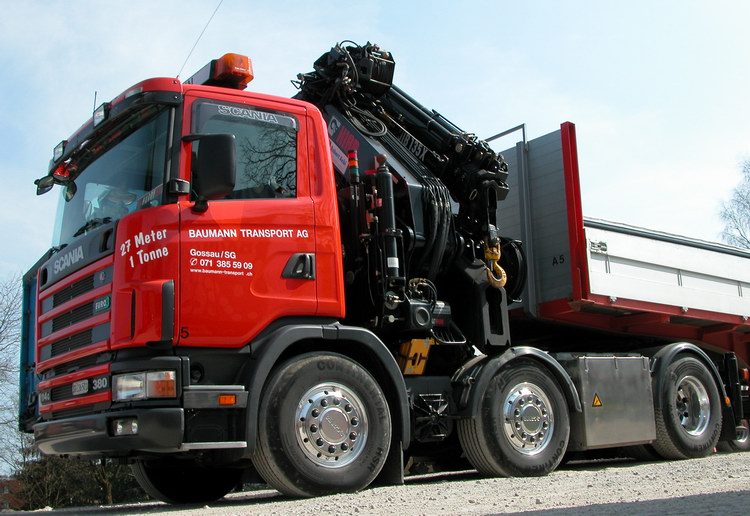 Scania R114G-380 in 6x2 layout of Baumann from Gossau (CH). This Scania is build according to customer specifications, but nevertheless it is assembled completely with standard Scania components. Behind the cab they mounted a Hiab XS 700 with a 135 Jib.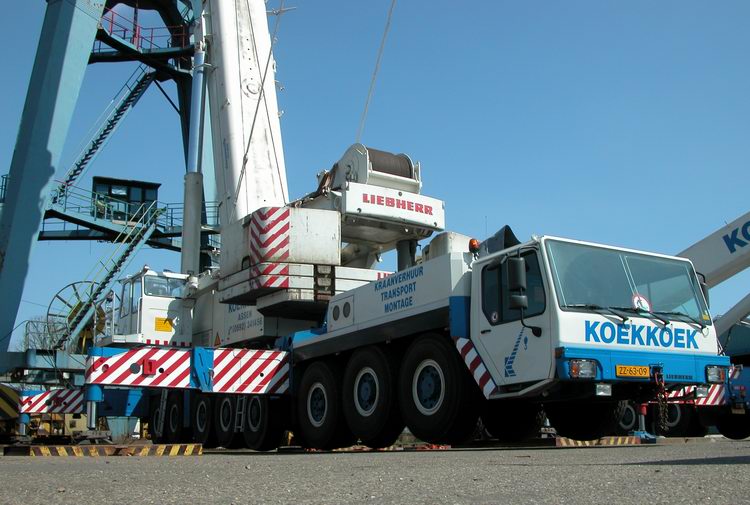 Liebherr LTM 1500 of Koekkoek during the demolition of an old shipyard crane.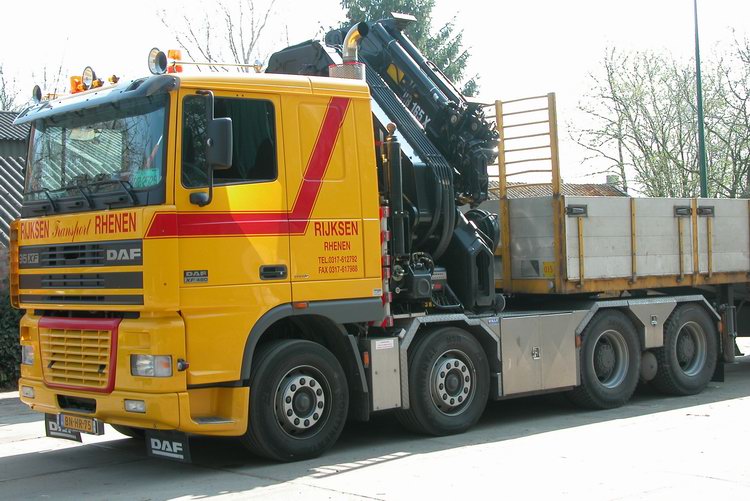 DAF 95 XF 480 in 8x4 uitvoering van Rijksen transport uit Rhenen.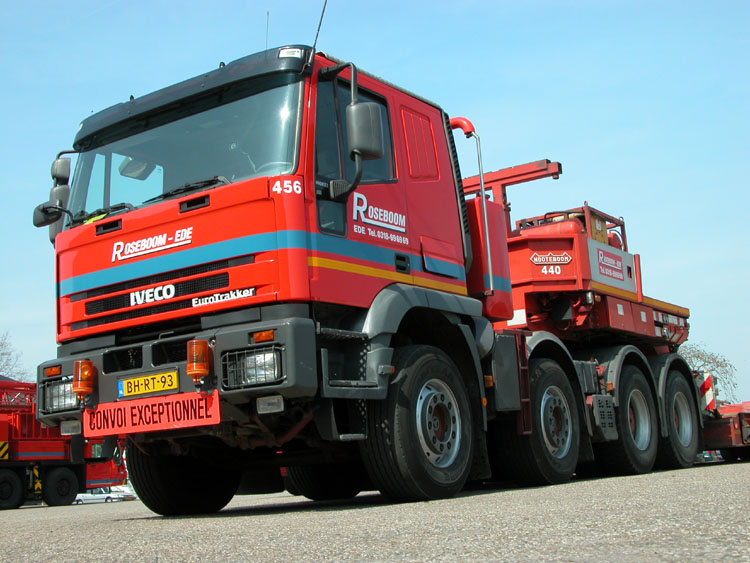 Iveco 410 E 52 van Roseboom transport uit Ede. Met 520 pk, 8x4 aandrijving en een laag dak is dit een unieke combinatie!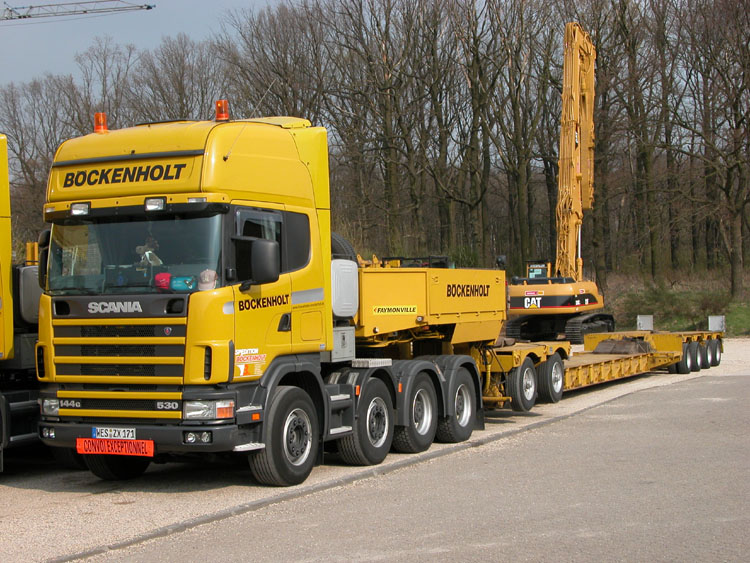 Scania R144G-530 in 8x4 uitvoering met Topline cabine van Böckenholt. De trailer is een Faymonville 2 - bed - 4 dieplader.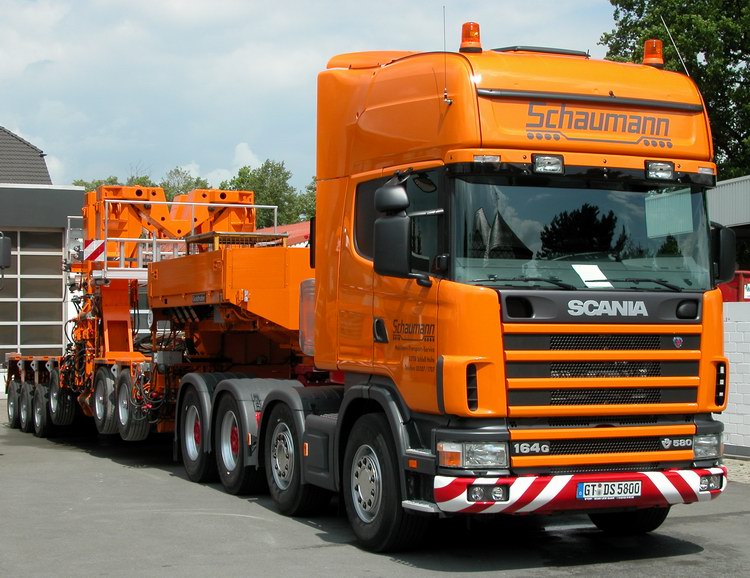 Splinternieuwe Scania R164G-580 in 8x4 uitvoering met WSK-440 en Topline cabine van Schaumann uit Schloss Holte. Dit is de eerste van dit type die in Duitsland geleverd is. De trailer is een, eveneens nieuwe, Goldhofer met een inrichting voor het transporteren van windmolendelen.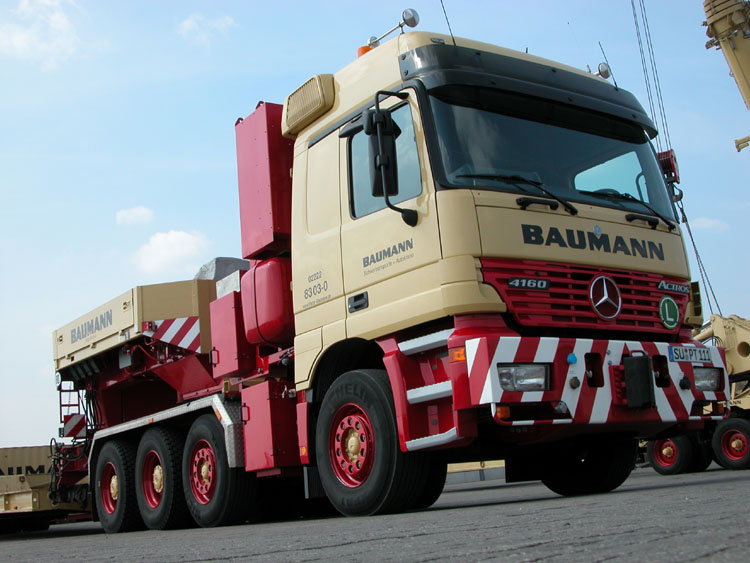 Een van de eeste Titans 4160'ers die geleverd zijn. Deze is aan de welbekende firma Baumann in Bornheim (bij Bonn) geleverd.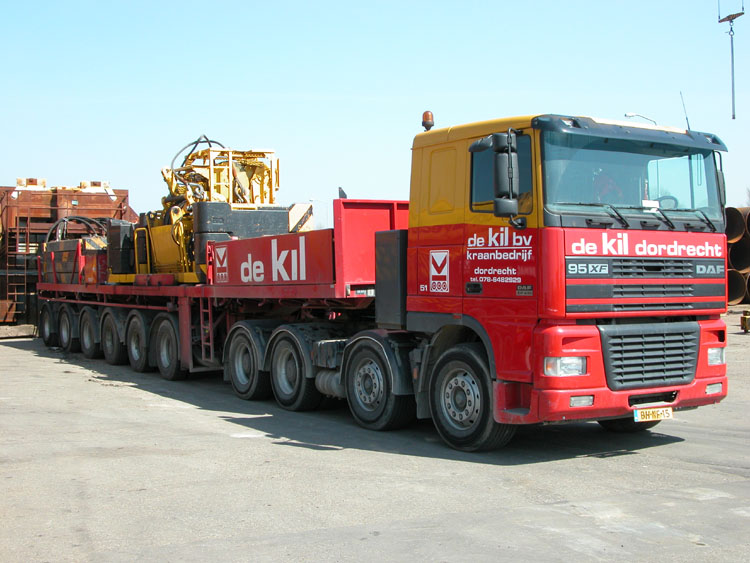 DAF 95 XF 430 ballastrekker in 8x4 uitvoering van Kraanbedrijf De Kil uit Dordrecht. Hij wordt gebruikt om de ballast van een Demag AC650 te transporteren.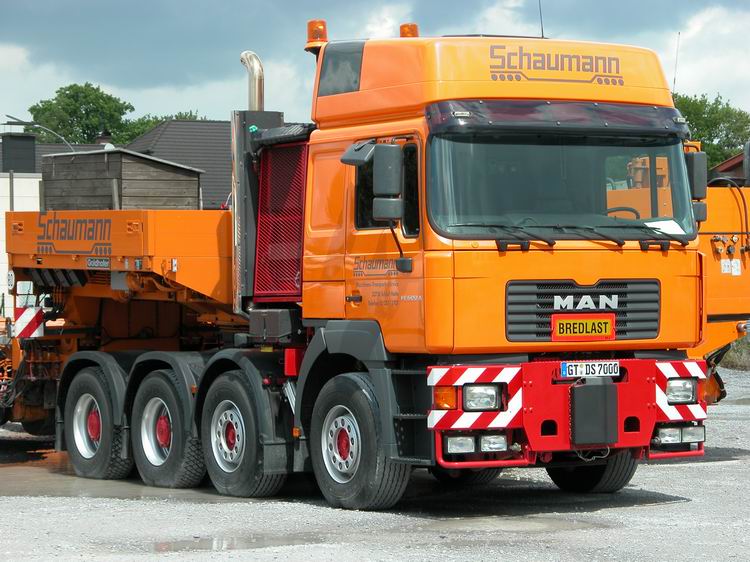 Toen ik de Scania 164G-580 van Schaumann fotografeerde stond o.a. ook nog deze MAN FE600A op het erf in Schloss Holte.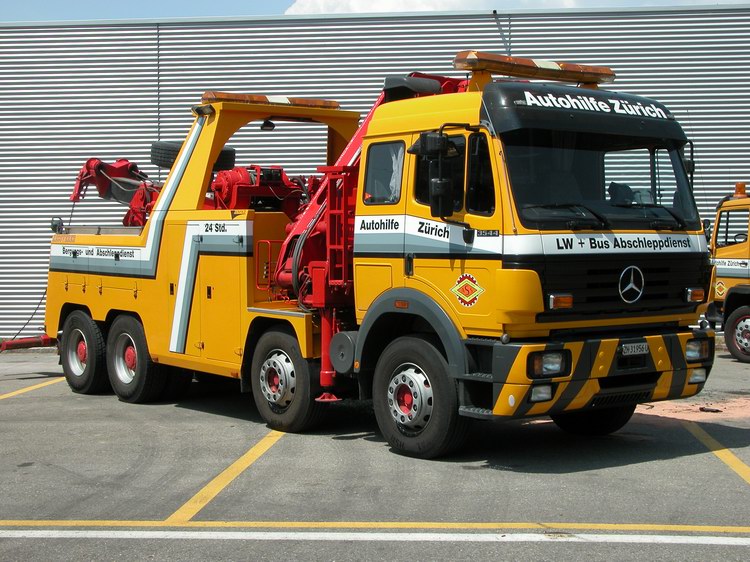 Bij de Autohilfe in Zürich was het afgelopen zaterdag open dag. Hier hun Mercedes SK 3544.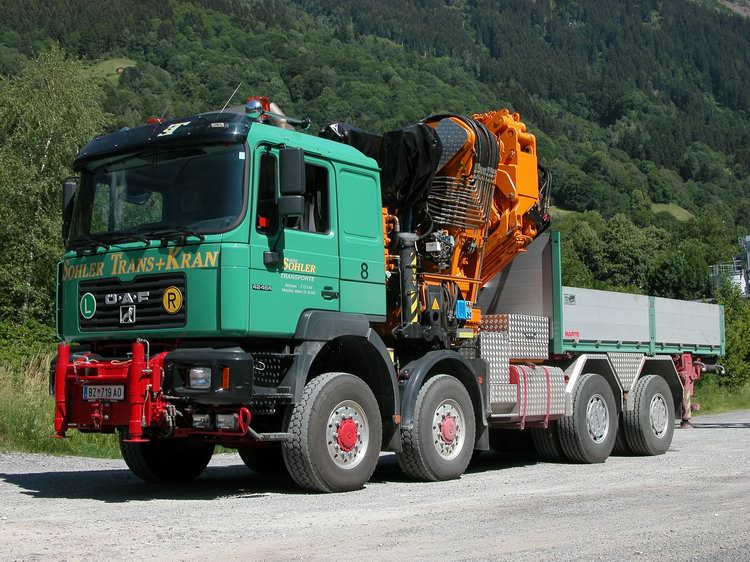 Deze week wat speciaals. Een ÖAF 42.464 8x8 mit Effer 1150 kraan erop van de firma Sohler uit Schruns (A).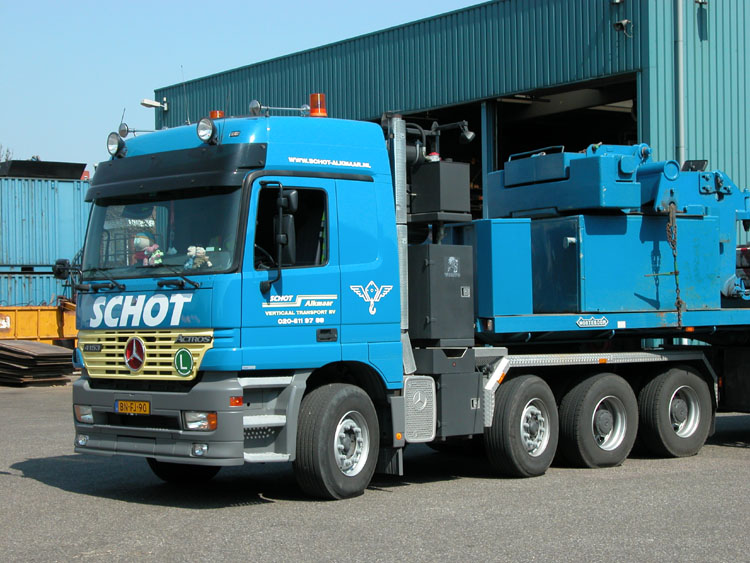 Gezien in Amsterdam. Mercedes Actros Titan 4153 8x4 trekker van Schot uit Alkmaar. Deze trekker wordt ingezet met een 6-assige ballasttrailer van Nooteboom en transporteert de ballast van hun Liebherr LTM1300.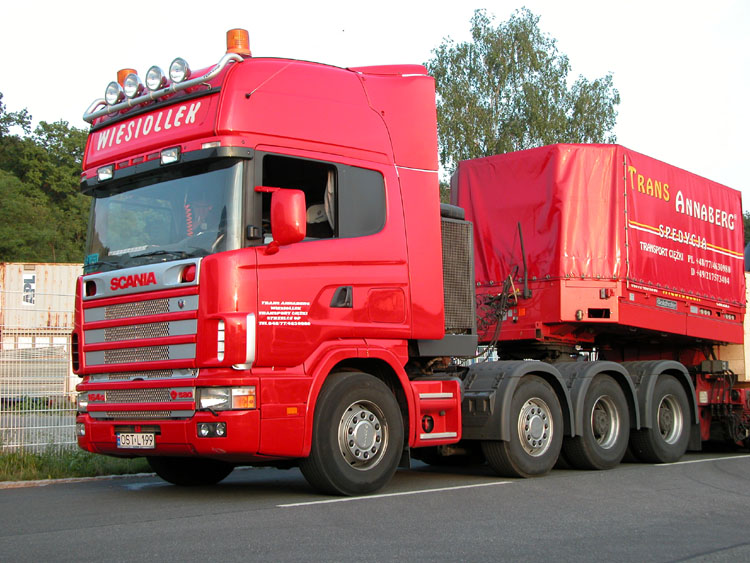 Scania R164G-580 in 8x4 uitvoering van de firma Trans Annaberg uit Polen.
Terug naar het Openingsfotoarchief